225+ Anime Cat Names for Your Nyanko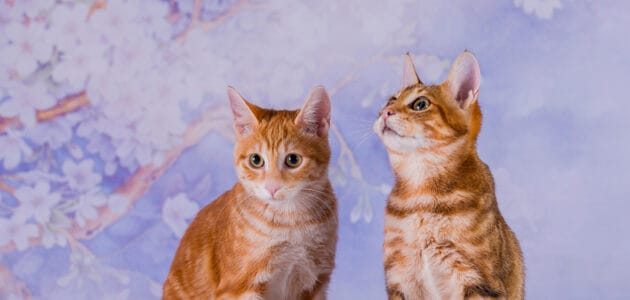 Whether you've just brought home a kitten or adopted an older cat from a shelter, your new nyanko (Japanese slang for kitty) needs a name. It's important to choose a name that you like because cats actually do respond to their names.
However, if this is a rescue kitty, you don't have to worry about confusing it with a name change. If you've ever had a cat (or any pet) before, you've probably given it a number of nicknames and noticed that it responds to most of them. Therefore, it's perfectly fine to change an adopted cat's name to a new one.
That said, you're here because you searched for anime cat names. We've got a ton of names based on actual cats in anime, anthropomorphic cats (including catgirls and catboys), and cool anime characters.
While many of you may already be familiar with Japanese due to your love for anime, don't be afraid to research Japanese pronunciation to ensure you're saying your kitty's new name right. And now, to the names!
Cats in Anime to Name Your Feline After
There are a number of cats in anime. Some of them have more prominent roles as sidekicks or familiars, whereas others are just family pets. If you'd like to name your kitten after an actual anime cat, check out these names.
Artemis – Sailor Moon
Arthur – Code Geass: Lelouch of the Rebellion
Bagel – Donyatsu
Bananya – Bananya and the Curious Bunch
Buyo – Inuyasha
Carla – Fairy Tail
Chi – Chi's Sweet Home
Chomusuke – Konosuba
Diana – Sailor Moon
Doraemon – Doraemon
Frosch – Fairy Tail
Happy – Fairy Tail
Jibanyan – Yokai Watch
Jiji – Kiki's Delivery Service
Karupin – Prince of Tennis
Kaya – Ghost Stories
Kirara – Inuyasha
Korin – Dragon Ball Z
Kuro – Blue Exorcist
Kuroneko-sama – Trigun
Lector – Fairy Tail
Luna – Sailor Moon
Madara – Natsume's Book of Friends
Mao – Darker Than Black
Marshmallow – Sukitte Ii Na Yo
Meowth – Pokemon
Miyu Miyu – FLCL
Molly – The Ancient Magus' Bride
Muta – Whisper of the Heart and The Cat Returns
Nekobasu – This name means "cat bus" because that's what it is — the cat bus from My Neighbor Totoro.
Nekogami-sama – Pani Poni Dash
Neko-sensei – Princess Tu Tu
Nyanko Big – Tada-kun wa Koi wo Shinai
Panther Lily – Fairy Tail
Potya – Yuri!!! on Ice
Poyo – Poyopoyo Kansatsu Nikki
President Aria Pokoteng – Aria the Animation
Puck – Re:Zero
Sakamoto – Nichijou
Taishou – Neko Ramen
Takkun – FLCL
Tama – Sazae-san
Anime Cat Names Based on Stray Anime Cats
There's a common trope in anime where the main character will find an animal, often a kitten or puppy, abandoned in a box. They usually adopt it or find a friend who can give it a loving home. These are the names of some stray cats in anime. If you rescued your kitty, then you might connect with some of these names.
Anpu – The Disastrous Life of Saiki K.: Reawakened
Chobi – She and Her Cat
Cocchi – Chi's Sweet Adventure
Haru – My Roommate is a Cat
Kamineko – Azumanga Daioh
Kuro – Sukitte Ii Na Yo
Maya – Azumanga Daioh
Shamisen – The Melancholy of Haruhi Suzumiya
Sorata – Sekai-ichi Hatsukoi
Catgirls, Catboys, and Other Feline Characters to Name Your Kitten After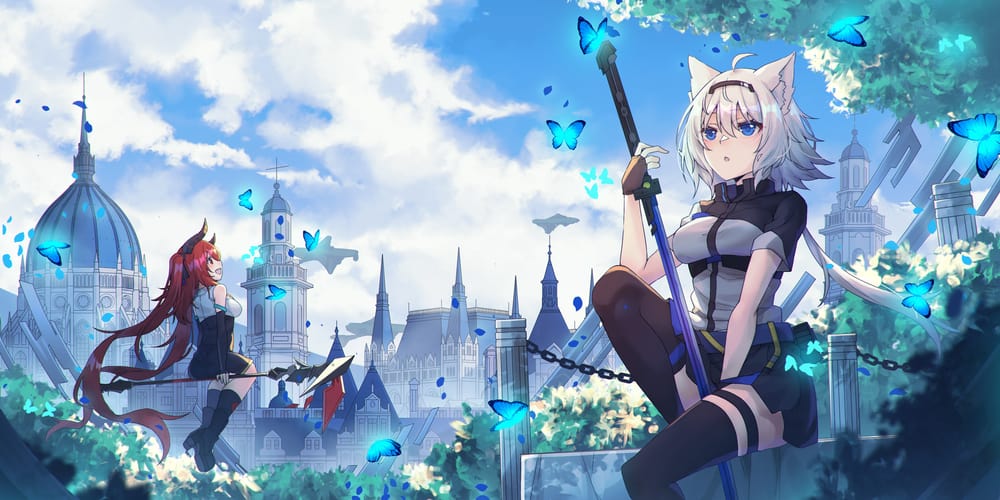 Without anime, we wouldn't have catgirls and catboys. This list includes characters that are just that, as well as some other anthropomorphic (or human-like) characters.
Unlike actual cats in anime, these types of anthropomorphic characters tend to play larger roles within anime and have more screen time. If you'd like to name your cat after a catlike anime character that is more recognizable, then perhaps the name of one of these characters would be perfect.
Aion – Show by Rock!!
Ao Nanami – Yozakura Quartet
Baron Humbert von Gikkingen – Whisper of the Heart and The Cat Returns
Blair – Soul Eater
Boris Airay – Heart no Kuni no Alice: Wonderful Wonder World
Cyan Hijirikawa – Show By Rock!!
Eris – Asobi ni Iku yo!
Gaul Galette des Rois – Dog Days
Haru Yoshioka – The Cat Returns
Himari Noihara – Omamori Himari
Ichigo Momoiya – Tokyo Mew Mew
Ikuto Tsukiyomi – Shugo Chara!
Koma Oketani – Tama and Friends
Kyou – Fruits Basket
Macha – .hack//SIGN
Midori Fuse – Black Bullet
Momo Hanasaki – Tama and Friends
Neferpitou – Hunter x Hunter
Noir Vinocacao – Dog Days
Ritsuka Aoyagi – Loveless
Rokumon – Kyoukai no Rinne
Rom – Show by Rock!!
Ryuko Tsuchikawa / Pixie-Bob – My Hero Academia
Schrödinger – Hellsing Ultimate
Shampoo – Ranma ½
Shino Asado – Sword Art Online
Shino Sosaki / Mandalay – My Hero Academia
Tama Okamoto – Tama and Friends
Tomoko Shiretoko / Ragdoll – My Hero Academia
Tsubasa Hanekawa – Bakemonogatari
Tsumiki Miniwa – Acchi Kocchi
Yawara Chatora / Tiger – My Hero Academia
Yoru – Shugo Chara!
Cute Characters to Name Your Kawaii Kitty After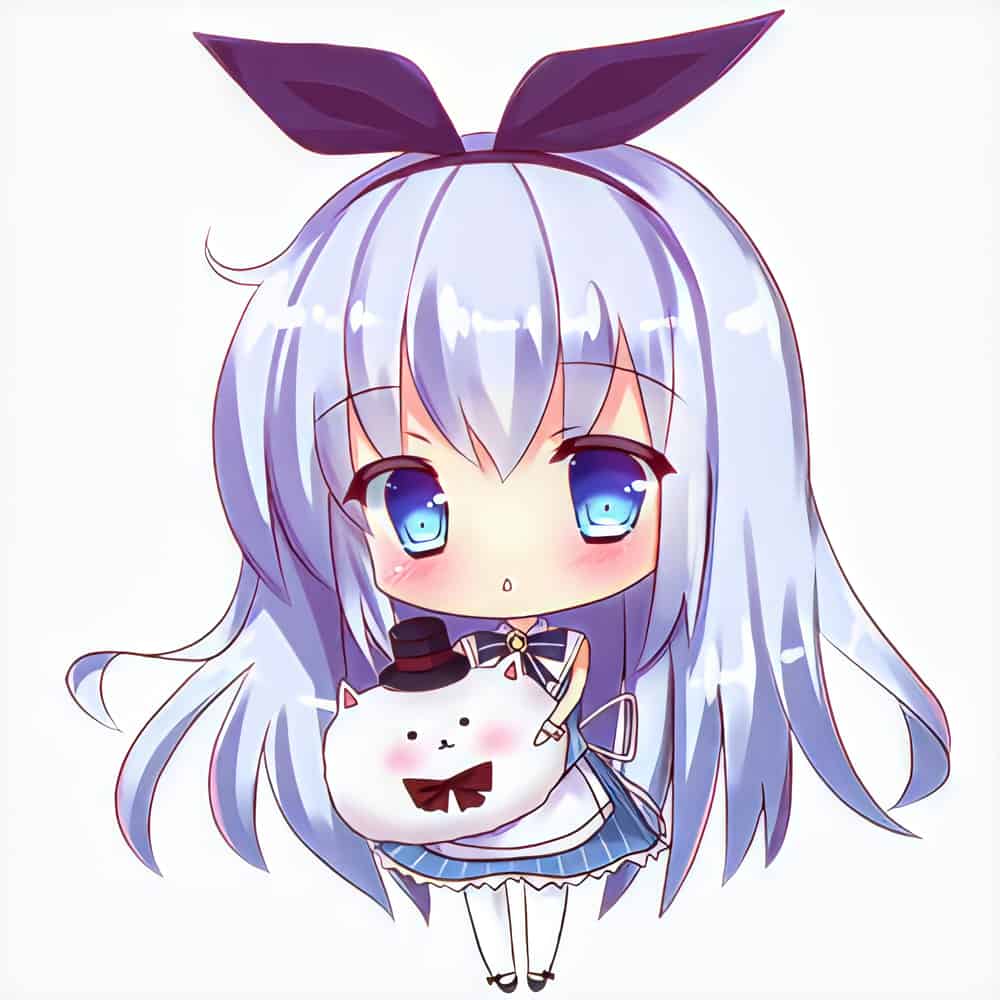 There are a number of adorable characters in anime, whether they're drawn in a chibi style or simply have a cutesy personality. This list includes some anime-cats that are especially "kawaii" as well as human characters that fit the bill. If you think your cat is the cutest in the world, why not name it after an adorable anime character?
Aladdin – Magi: The Labyrinth of Magic
Bushido – Mitchiri Neko
Chika – Kaguya-sama: Love is War
Elza – Nyanko Days
Eri – My Hero Academia
Hippo – Mermaid Melody Pichi Pichi Pitch
Honey – Mitchiri Neko
Kanna Kamui — Miss Kobayashi's Dragon Maid
Kotarou Kashima – School Babysitters
Maa – Nyanko Days
Mitchi – Mitchiri Neko
Mitsukuni Haninozuka/Honey – Ouran High School Host Club
Momiji Souma – Fruits Basket
Nadeshiko Kagamihara – Laid Back Camp
Nagisa Hazuki – Free!
Naru Kotoishi – Barakamon
Nezuko – Demon Slayer
Piyopiyo – Mitchiri Neko
Rem – Re:Zero
Ribon – Mitchiri Neko
Rikka Takanashi – Love, Chunibyo, & Other Delusions
Roo – Nyanko Days
Shii – Nyanko Days
Shiro – No Game No Life
Taiga Aisaka – Toradora
Tsukasa Hiiragi – Lucky Star
Tsumugi Inuzuka – Sweetness & Lightning
Umaru Doma – Himoto! Umaru-chan
Ushio Okazaki – CLANNAD
Yui Hirasawa – K-On!
Cool Anime Character Names for Your Kakkoii Cat
Anime has no shortage of "kakkoii" (cool) characters. There are so many awesome action animes with incredible fight scenes and powerful characters. If you're looking to name your kitten after an anime baddie, this list is for you.
Alucard – Hellsing
Asta – Black Clover
Asuna – Sword Art Online
Bam – Tower of God
Deku/Izuku Midoriya – My Hero Academia
Eren Yeager – Attack on Titan
Erza Scarlet – Fairy Tail
Gildarts Clive – Fairy Tail
Guts – Berserk
Hyakkimaru – Dororo
Ichigo Kurosaki – Bleach
Itachi Uchiha – Naruto
Jotaro Kujo – Jojo's Bizarre Adventure
Ken Kaneki – Tokyo Ghoul
Killua – Hunter x Hunter
Kira/Light Yagami – Death Note
L – Death Note
Levi Ackerman – Attack on Titan
Luffy – One Piece
Meliodas – Seven Deadly Sins
Mikasa – Attack on Titan
Morgiana – Magi: The Labyrinth of Magic
Mori Jin – The God of High School
Motoko Kusanagi – Ghost in the Shell
Mugen – Samurai Champloo
Naruto – Naruto
Saber – Fate/Stay Night
Saitama – One Punch Man
Sakamoto – Sakamoto Desu ga?
San/Princess Mononoke – Princess Mononoke
Sango – Inuyasha
Shana – Shakugan no Shana
Shiki Ryougi – The Garden of Sinners
Shouto Todoroki – My Hero Academia
Spike Spiegel – Cowboy Bebop
Tanjirou – Demon Slayer
Utena Tenjou – Revolutionary Girl Utena
Yoruichi Shuhouin – Bleach
Yuno – Black Clover
Zero/Lelouch – Code Geass
Male Anime Cat Names
If you don't have a specific preference but you want to name your cat after an anime character, then this is the list for you. These are some of our favorite male names from anime.
Akira – Food Wars! Shokugeki no Soma
Arata – Psycho-Pass
Ayato – Diabolik Lovers
Ciel – Black Butler
Edward Elric – Full Metal Alchemist
Gajeel – Fairy Tail
Genos – One Punch Man
Giyu – Demon Slayer
Hak – Akatsuki no Yona
Haruka – Free!
Hisoka – Hunter x Hunter
Izaya – Durarara!!
Jellal – Fairy Tail
Jin – Samura Champloo
Kaede – Slam Dunk
Kakashi – Naruto
Kaname – Vampire Knight
Karma – Assassination Classroom
Kiba – Naruto
Kou – Ao Haru Ride
Kyouya – Ookami Shoujo to Kuro Ouji
Laxus – Fairy Tail
Mikaela – Owari no Seraph
Rin – Blue Exorcist
Saiki – The Disastrous Life of Saiki K
Sebastian – Black Butler
Sinbad – Magi: Labyrinth of Magic
Sonic – One Punch Man
Souji – Hakuoki
Souma – Food Wars! Sokugeki no Soma
Sting – Fairy Tail
Takumi – Kaichou wa Maid-sama
Tatsuya – The Irregular at Magic High School
Tomoe – Kamisama Hajimemashita
Uta – Tokyo Ghoul
Victor – Yuri!!! on Ice
Yato / Yaboku – Noragami
Yukine – Noragami
Zen – Akagami no Shirayukihime
Zero – Vampire Knight
Female Anime Cat Names
Here are some female anime characters with nice names for your kitty. If you happen to have a male kitty but you like one of these names, feel free to use it anyway.
Akane – Psycho-Pass
C. – Code Geass
Chihiro – Spirited Away
Haruhi – Ouran High School Host Club
Himiko – My Hero Academia
Hiyori – Noragami
Inori – Guilty Crown
Juvia – Fairy Tail
Kaguya – Kaguya-sama: Love is War
Kouko – Golden Time
Mai – Rascal Does Not Dream of Bunny Girl Senpai
Maka – Soul Eater
Megumi – Food Wars! Shokugeki no Soma
Megumin – Konosuba
Mirajane – Fairy Tail
Mitsuha – Your Name
Momo – My Hero Academia
Raphtalia – The Rising of the Shield Hero
Saeko – High School of the Dead
Taiga – Toradora
Temari – Naruto
Tohru – Fruits Basket
Touka – Tokyo Ghoul
Tsunade – Naruto
Tsuyu – My Hero Academia
Violet – Violet Evergarden
Wendy – Fairy Tail
Winry – Full Metal Alchemist
Xenovia – High School DxD
Yoko – Gurren Lagann
Yona – Akatsuki no Yona
Yumeko – Kakegurui
Show Your Love of Anime With an Anime Cat Name
Between actual cats and catgirls, there are a lot of kitties in anime! This means there are plenty of anime names to choose from. Of course, there are a number of fully human characters who are adorable or badass, too. If you want to show your love for anime, naming your cat after one of your favorite anime protagonists is the perfect way to do so.