The 11 Best Flea Killers for Yards in 2023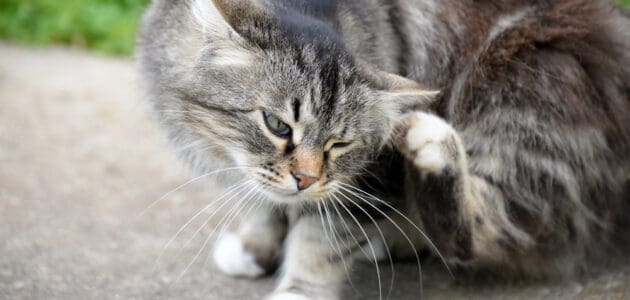 Constant scratching. Red, irritated skin. Hair loss. All are signs that your pet is dealing with flea bites. Try as you might, it's unlikely you'll be able to totally escape the specter of fleas if you've got household pets.
That's because, in addition to living on your beloved pets, it's estimated that there are at least 300 types of fleas in the U.S. alone, and they can find their way into your yard in a variety of ways. The good news is that there are many flea killers you can apply outdoors to keep fleas from your yard.
Important Factors in Choosing a Flea Killer for Your Yard
Most flea killers designed for use in residential areas, like yards and gardens, are pretty much the same, with a few crucial areas to consider in weighing your options.
Synthetic vs. Natural
When it comes to flea killers for the yard, the single biggest choice you'll make will be between synthetic and natural products. Synthetic products use insecticide chemicals to treat yards, while natural products use things like essential oils. Here's a thorough breakdown of all the active ingredients you'll find in these types of products.
Application Type
Most outdoor flea killers come in the form of a sprayer that attaches to a garden hose that causes water to mix with a concentrate that then gets sprayed all over your yard. There are some notable exceptions, for instance, (a granule-based one and a non-nozzle concentrate), but most have the same method of application.
Coverage Area
Each product has a different total area that can be effectively treated with a single application. For the products that made our list, that ranges from 4,500 square feet to 16,000 square feet, with most covering at least 5,000 square feet.
Duration of Effectiveness
Similarly, each flea killer offers a duration of protection, meaning the length of time the manufacturer indicates that your yard will be protected from fleas. This is highly variable, but it's also important to note that this could be affected by things like how accessible your yard is to wild animals, who are often flea vectors, how large it is, or how extensive the flea problem is. In short, your mileage will vary quite a bit, so while it's good to keep this number in mind, if a product is effective for you, it's probably good to stick with it.
Price
This is a concern with any product you buy. However, flea killers tend to be quite cheap, with some costing only $10-$15 for a bottle. They vary, though, and natural products tend to be more expensive.
Now that you know what to look for in a yard flea killer, let's check out the best available options this year.
Top 11 Best Flea Killers for Yards 2023
Complete Guide to Yard Flea Killers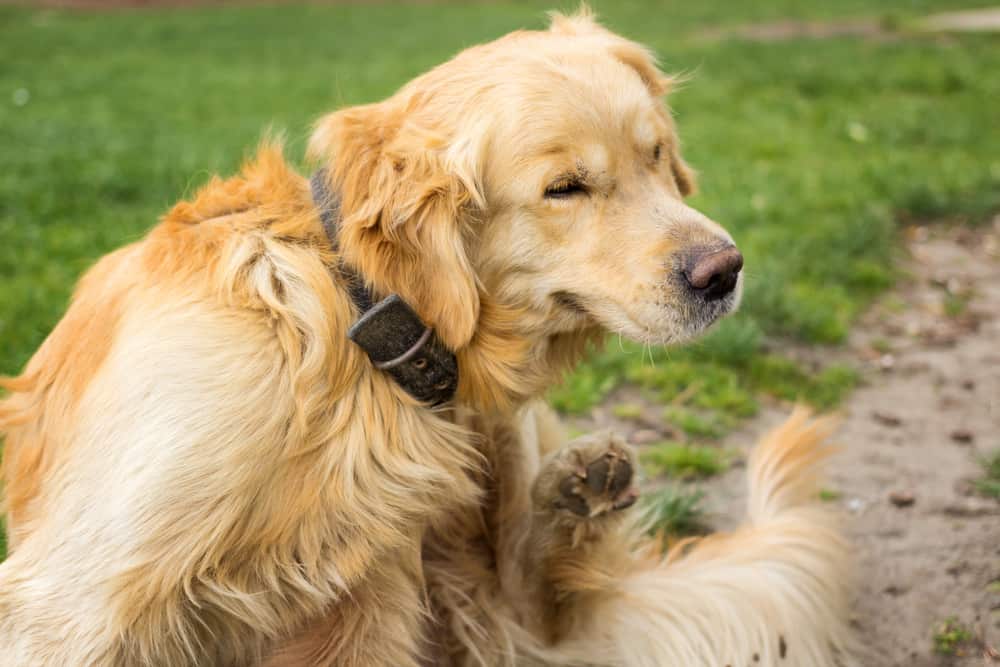 Every flea killer for use outside is a bit different, and understanding those differences is crucial to making a smart decision about which products you prefer.

Active Ingredients
Flea killers can be sorted into two broad camps based on what's in them: synthetic and natural. Synthetic flea killers are made with one or more man-made insecticides, while natural flea killers use naturally occurring substances to control fleas.
The majority of synthetic flea killers on our list are in the pyrethroid family, a branch of chemicals that mimic natural pyrethrins, which are produced by Chrysanthemum and related flowers. When used on insects, they disrupt the nervous system, eventually causing death.
The most often-used natural ingredients are cedarwood oil and peppermint oil, and while they are used to kill and/or repel insects, if humans and other animals ingest large amounts of these some of these oils, they could be sickened.
Synthetic
Here, we'll take a deeper look at the most common synthetic ingredients.
A pyrethroid that can be harmful to mammals, including humans, if ingested, and is harmful to bees. It's included in BioAdvanced Complete granule flea killer.
This is a pyrethroid that's classified by the U.S. Environmental Protection Agency as a possible human carcinogen, which means some evidence suggests it may cause cancer in people, but more study is needed to make a definitive determination. Toxicity in birds is low, but it's extremely toxic to bees. It's included in Ortho Home Defense spray.
A pyrethroid that can be harmful to mammals, including humans, if ingested in large amounts. It's somewhat toxic to birds and highly toxic to bees and many fish. It's included in Bayer Advantage yard spray.
A systemic insecticide that's part of class called neonicotinoids because they mimic nicotine. Mammals, including humans, can be sickened if they ingest large amounts, and imidacloprid, as well as other neonicotinoids, are extremely toxic to honeybees. This is included in BioAdvanced Complete.
A pyrethroid that's highly toxic to fish and bees, though toxicity in bees is lower when the substance isn't ingested. It can be harmful to mammals when ingested. You can find it included in Cutter spray and Black Flag spray.
A pyrethroid that's commonly used in flea collars and spot treatments used on dogs, and it's in some human products to treat lice. High concentrations can be dangerous for cats, and it's highly toxic to fish and bees. It's included in Ortho Home Defense spray and Adams yard spray.
An insect growth regulator, also known by the brand name Nylar, that disturbs the reproductive cycle of insects. Birds, mammals, and adult honeybees are not susceptible to pyriproxyfen, but it can be toxic for fish depending on the species. It's included in Black Flag spray and Control Solutions Pivot 10.
Pyrethroid that's highly toxic to fish and bees, and based on animal studies, the EPA has classified it as possibly carcinogenic to people, though further study would be needed. Included in Ortho Home Defense spray.
Natural
Some flea killers use natural ingredients to get the job. We'll explore some of the most common ones here.

Cedarwood Oil
This is made from the foliage and wood of pine and cypress trees. It can be dangerous if consumed in large quantities by dogs. It's included in Wondercide spray and Natural Chemistry spray.
Eugenol
An oil extracted from cloves, cinnamon, and other spices. It's included in Vet's Best, Natural Chemistry, and Eco Defense sprays.
Peppermint Oil
This oil is made from the flowers and leaves of the peppermint plant. It's included in Vet's Best spray.
Sesame Oil
This is made from non-roasted sesame seeds (not the same as the cooking oil). It's included in Wondercide spray.
Sodium Lauryl Sulfate
Many flea killers that rely on natural ingredients also use a chemical compound, sodium lauryl sulfate (SLS), to enhance the effectiveness of the product, ensuring it's thoroughly applied.  SLS is found in many personal care products, particularly toothpaste and shampoo. Direct skin contact with large amounts of SLS can cause skin irritation, though the compound is not harmful to most people.
Legal Restrictions
To complicate matters even further, the choice between natural and synthetic ingredients could have legal implications. While none of the ingredients on this list have been banned outright in the U.S., one of them — imidacloprid — is controversial because of its believed impact on honeybees.
Imidacloprid belongs to a class of pesticides called neonicotinoids, and a growing body of evidence suggests that these chemicals have a negative effect on honeybees and other important pollinators. Four states so far have enacted legislation to limit use of these types of pesticides, and legislation is pending in several states. Because of that, BioAdvanced Complete flea killer can't be sold in several New York counties and its use may be restricted in Connecticut, Maryland, and Vermont.
In cases where laws don't restrict use, certain products are not registered for sale in some states. For example, Pivot 10, which uses an insect growth regulator, hasn't been approved for sale in Alaska.
It's possible that as scientific understanding of potential negative effects of ingredients in synthetic flea killers continues to evolve, states, cities, and counties could adopt restrictions or bans on certain chemicals. So, in the case of flea killers for the yard, it may be best to keep your mind open to multiple products.
Coverage Area
Each of these products is designed to be sprayed or spread across thousands of square feet, with most products listing a coverage area of 5,000 square feet. While this is a good guideline to follow, the number of pets you have and the extent of any current flea infestation may render that coverage area irrelevant if you need to saturate the ground more often.
Also, understanding exactly where fleas come from can help you be sure that unwanted visitors aren't to blame for your flea infestations. After all, the fleas in your yard probably aren't coming from your cat or your dog. Learn more about fleas (way more than you'd ever want to know, if we're honest) in this article.
In addition to the size of your yard helping to determine what product is ideal, you also should take into account any trees, plants, flowers, or anything else that you want to keep growing in your yard. Some products are relatively safe for plant life, though none are really designed to be plant-safe.
Duration
How long your yard is protected also varies by product, though it's important to note that the duration listed by the manufacturers applies only to ideal application circumstances. What that means is that if you apply a flea killer and shortly before it's completely dry, a rainstorm comes through, it's likely your protection won't last as long as the manufacturer suggests.
On the other hand, if you have a very small yard and use a product designed for a large yard, your protection may last even longer, though you'll likely need to wait longer for that application to dry fully.
The listed duration of protection on the products that made our list ranges from four weeks to 28 weeks.
Application
For flea killers designed for outdoor use in your yard, the most common application method is a spray attachment that you connect to a garden hose. All but two products that made our list have that application method.
Here's a look at the three types of possible application method for flea killers designed for yards:
Hose
Granules
Concentrate
In all cases, the product mixes with water and is left to soak into the ground and dry on top of the lawn, or whatever ground covering exists.
Hose
Hose-based applicators are by far the easiest, though some of them can be tricky if it's your first time using such a product. Many weedkillers, cleaners, and other outdoor products use this method, so you may already be familiar with hose applicators.
Granule
Granule-based products require the use of a seed spreader to ensure an even distribution, though if you're willing to take the time, this also can be done manually (if you're wearing gloves). Once you've spread the granules, you saturate them using a garden hose (or sprayer if you don't have a hose nearby), then wait for the mixture to dry.
Concentrate
Similarly, concentrate products require the use of a container to mix water with the flea killer. A garden pump sprayer can be helpful for this, and they can be used for many functions outside the house.
In every case, even for natural-based products, be sure to cover exposed skin and wear eye protection. Additionally, each product has its own set of instructions, so it's important to understand and follow these, as the effectiveness of a flea killer can be diminished if the instructions aren't followed.

Alternatives
Many of the products that are most effective at killing fleas also are, unfortunately, harmful for other forms of wildlife — especially bees. While it's still possible to use these products safely, depending on what exactly is in your yard and what time of year you're applying the flea killer, some folks may prefer to take a gentler approach.
Here's a look at some DIY recipes for flea killer/flea repellants:
Dish Soap
Fill a plate or bowl with warm water and dish soap and set it outside at night. Depending on the size of your yard, you may need several containers and should repeat the process several nights in a row.
Nematodes
Introduce nematodes to your yard. These tiny worms, which feed on eggs and larvae of fleas and other pests, are safe for people and pets. These can be purchased online or at your local garden center.
Lemon Juice and Vinegar
Create a mixture of lemon juice, water, and vinegar and apply it all over the yard, especially in areas with tall grass, bushes, trees, or shrubs.
Also, try to keep the grass cut short during the mowing season, and avoid having shrubs near doors and windows.
Signs of Flea Infestation
Because of their tiny size, you can't see fleas in your yard, but you certainly can see signs of them on your pets — and even yourself. Some of the telltale signs of fleas include:
Your Pet Keeps Scratching Themselves
Constant itching and scratching by pets, particularly new instances of scratching or restlessness, can be a sign of a flea infestation. In some cases, household pets may scratch areas to the point of creating a sore on their body that could become infected.
You See Dark Specks on Your Scratching Pet
If your pet is scratching constantly, use a comb to separate some of their fur. If you see a dark speck, typically brown, black, or reddish, that moves, that's most likely a flea. Dark specks on your pet that don't move may be flea dirt (which is feces).
There Are Flea Bites on Your Pet
Flea bites also are visible to the eye, and these usually can be found on the belly, rear, neck, and ears of most house pets like dogs, cats — and even rabbits.
There Are Flea Bites on You
You may experience a flea bite, but fleas don't live on humans. You may notice itchy red bumps on your feet or ankles, which may be flea bites.
If you see fleas on your pet or flea bites on your pet or yourself, it's important to thoroughly wash any fabric or other soft surface. Bedding, possibly including yours, must be washed in hot water, and if your pet comes into contact with furniture, that must be thoroughly cleaned as well by vacuuming its cushions and cracks.
Also, in addition to any home remedies or flea killer products, like flea shampoos, most vets recommend cats and dogs receive a flea preventive, which can be in the form of a medication or a topical treatment. A flea infestation can spread quickly, so you should use as many tools as possible to prevent it. We recommend taking your pet to their vet to make sure they receive the proper, safe treatment.
Yard Flea Killer FAQs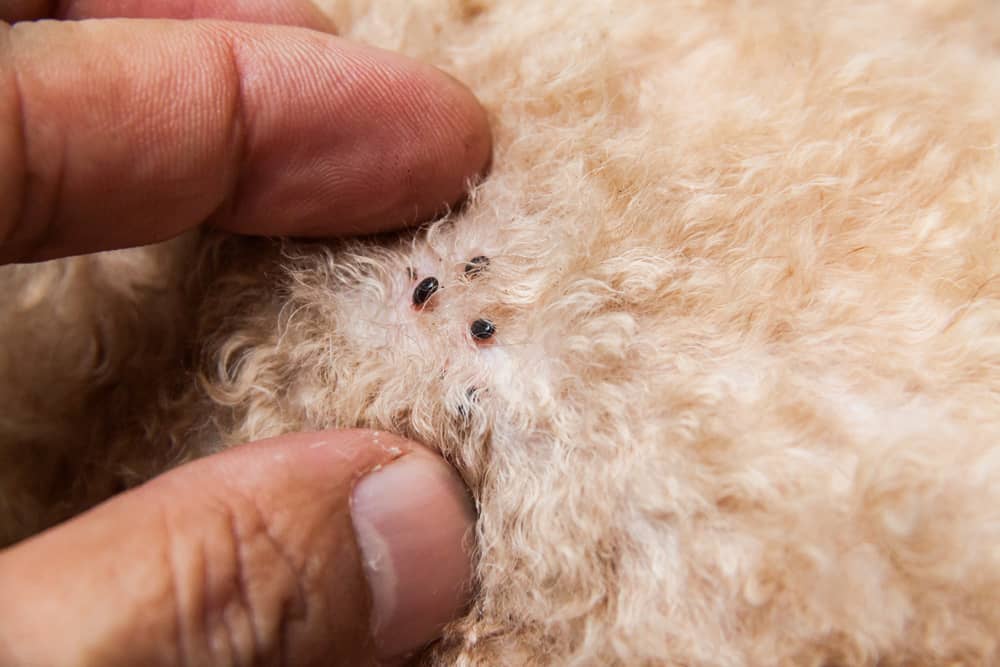 Here's a look at some of the questions readers most frequently ask about flea killers for the yard.
Are Yard Flea Sprays Safe for Pets?
Yes, though it's important to follow all included instructions. All flea sprays designed for yards have a specific length of time they need to dry onto the ground, and if you allow your pet access to the yard before this time is up, it's possible they could ingest or otherwise contact the spray, which could make them ill.
A pet should never ingest any type of flea killer for the yard, regardless of its ingredients.
How Long Does a Yard Flea Killer Last?
The effective duration of yard flea killers ranges from a few weeks to a few months, though this can depend on many factors that are out of your control. This includes weather, seasons, and even wind — these all can cause flea killer products to be less effective. But typical yard flea killers last at least a couple of months.
Are Fleas Dangerous for Pets and Humans?
Fleas do far more than cause itching on humans and animals. In addition to secondary infections caused when a scratch-related wound becomes infected, fleas can be hosts for tapeworm larvae, and pets or people who ingest a flea or parts of a flea can develop a tapeworm infection. Left untreated, a tapeworm can cause a person or pet to develop anemia, which can be life-threatening in some situations. Because they are bloodsuckers, fleas are especially dangerous for young and/or very small animals, including kittens and puppies.
How Long Do Fleas Live?
If it's feasting on a suitable host, an adult flea can live up to one year, though that requires ideal circumstances. They typically live between 60 and 100 days, and female fleas only produce eggs if they are living on a host, but a female can produce 50 eggs per day.
What Animals Carry Fleas?
Housepets like cats and dogs are the ideal host for fleas, but they also can attack other family pets, including ferrets, guinea pigs, and rabbits. Wild animals also are susceptible to fleas, and they can spread fleas into your yard; this includes raccoons, opossums, skunks, foxes, and deer.
Final Thoughts
Pests like fleas and ticks are an unfortunate reality of life on earth. Because you can't encase your yard in a bubble, the chances of never again seeing a flea or the signs of a flea infestation in your yard are low.
The good news is that there are many products designed to help reduce flea and tick populations that, when used in conjunction with prescribed flea preventives, can keep these pesky pests at bay.