The 10 Best Dog Ear Cleaners to Buy in 2023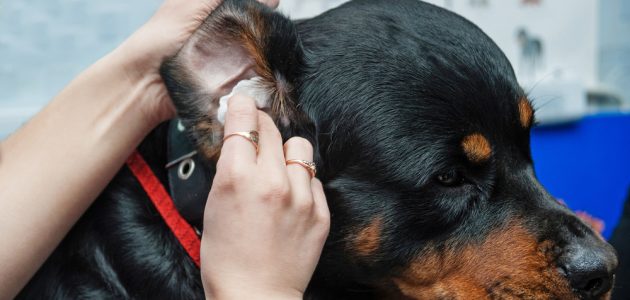 Floppy, hooded, bat, prick – dogs' ears come in many shapes and sizes, and they're incredibly intricate, each ear containing at least 18 muscles. Besides being the source of your dog's phenomenal hearing (dogs can hear about four times better than us!), they also help your beloved companion maintain their balance and express their emotions.
Cleaning your dog's ears is vital to keeping them healthy and functioning, particularly as dogs' ears – with all their nooks and crannies – are more prone to ear problems. Of course, with various types, ingredients and purposes, it can often feel impossible to know which ear cleaner is the best for your dog's needs.
But don't worry, we're here to tell you exactly which ear cleaning products are the best on the market. We'll also help you figure out which one is the most suitable for your pooch.
What You Need to Know About Dog Ear Cleaners
Here, we'll cover the most important information about dog ear cleaners, including the factors you need to consider when picking the right one for you.
How Will My Dog Benefit from Ear Cleaning?
Without proper ear care your dog is more at risk of developing ear problems such as inflammation, excessive wax buildup and infections, all of which can be extremely painful and detrimental to their wellbeing.
For more information about how your dog can benefit from ear cleaning, click here.
Types of Dog Ear Cleaners
Before we get into our top ten picks, you should know there are two main types of dog ear cleaners: liquid cleaner and wipes.
Ear Wipes
Ear wipes are cleansing wipes you can use to remove visible dirt or wax in your dog's ear. While wipes are effective at cleaning the outer parts of the ear, they cannot clean the ear canal. For that, you'll need to use a liquid ear cleaner.
Liquid Ear Cleaner
A liquid ear cleaner is a cleaning solution you squirt directly into your dog's ear canal. You then massage your dog's ear which allows the solution to move around inside the canal and deeply cleanse every part. Put simply, a liquid cleaner gives your dog's ear a much more thorough clean than wipes.
If your dog has a ruptured eardrum you should not use a liquid ear cleaner without speaking to a veterinarian first.
Powder Ear Cleaner
A powder ear cleaner is a type of cleaner that can help keep wet ears dry. They can also help make it less painful to pluck out your dog's ear hair by sticking to the hairs, allowing you to get a good grip. However, these can be messier than other cleaners.
Picking the Best Dog Ear Cleaners of 2021
When determining which dog ear cleaners would make it into this list, we considered the following criteria:
Ingredients
The best dog ear cleaners are made from non-harsh ingredients which aren't going to irritate your dog's ears. Ear cleaners with antibacterial and antifungal ingredients are effective at helping to prevent infections, while plant-based ingredients such as aloe vera and eucalyptus are great at soothing irritation and tackling excessive wax buildup.
Formula
Dog ear cleaners come in various formulas. While some ear cleaners aim to be an all-round general cleanser, others aim to target a particular problem, such as wax buildup or itchy ears. If your dog is experiencing various problems, a multi-purpose ear cleaner will be more effective than a formula designed to address one particular issue.
To help you find the most suitable ear cleaner for your dog, we'll be looking at both multi-purpose formulas and more targeted formulas.
Check out our full buyer guide to find out which ingredients and formula will benefit your dog's ears the most.
Ease of Application
Cleaning your dog's ears can be a fairly tricky process, particularly if your dog hasn't been trained from an early age to be comfortable with their ears being touched! An ear cleaner which is easy to use will help make the cleaning process a little less stressful.
Affordability
You may have to incorporate ear cleaning into your dog's regular grooming routine if they're particularly prone to ear problems. If you have to use an ear cleaning product regularly, it can become expensive in the long term. Due to this, we've factored affordability into our reviews.
So, without further ado, we'll now dive into our choices for the best dog ear cleaners. If you have any queries or need guidance while looking through our top picks, make sure to check out our full buyer guide down below.
Guide to Buying the Best Dog Ear Cleaner for 2021

If you're buying a dog ear cleaner for the first time, it can be hard to know what's the best (and safest) choice for your dog. While you may have a rough idea of what you should be looking for, it's important for your dog's wellbeing that you shop fully informed. In this comprehensive guide we'll be covering everything you need to know so you can feel confident when making your choice.
Why Is Cleaning Your Dog's Ears Important?
Dogs' ears are more prone to ear problems than humans, particularly infections. This is due to their ear canal shape. While humans have a short and straight-shaped ear canal, dogs have an L-shaped ear canal.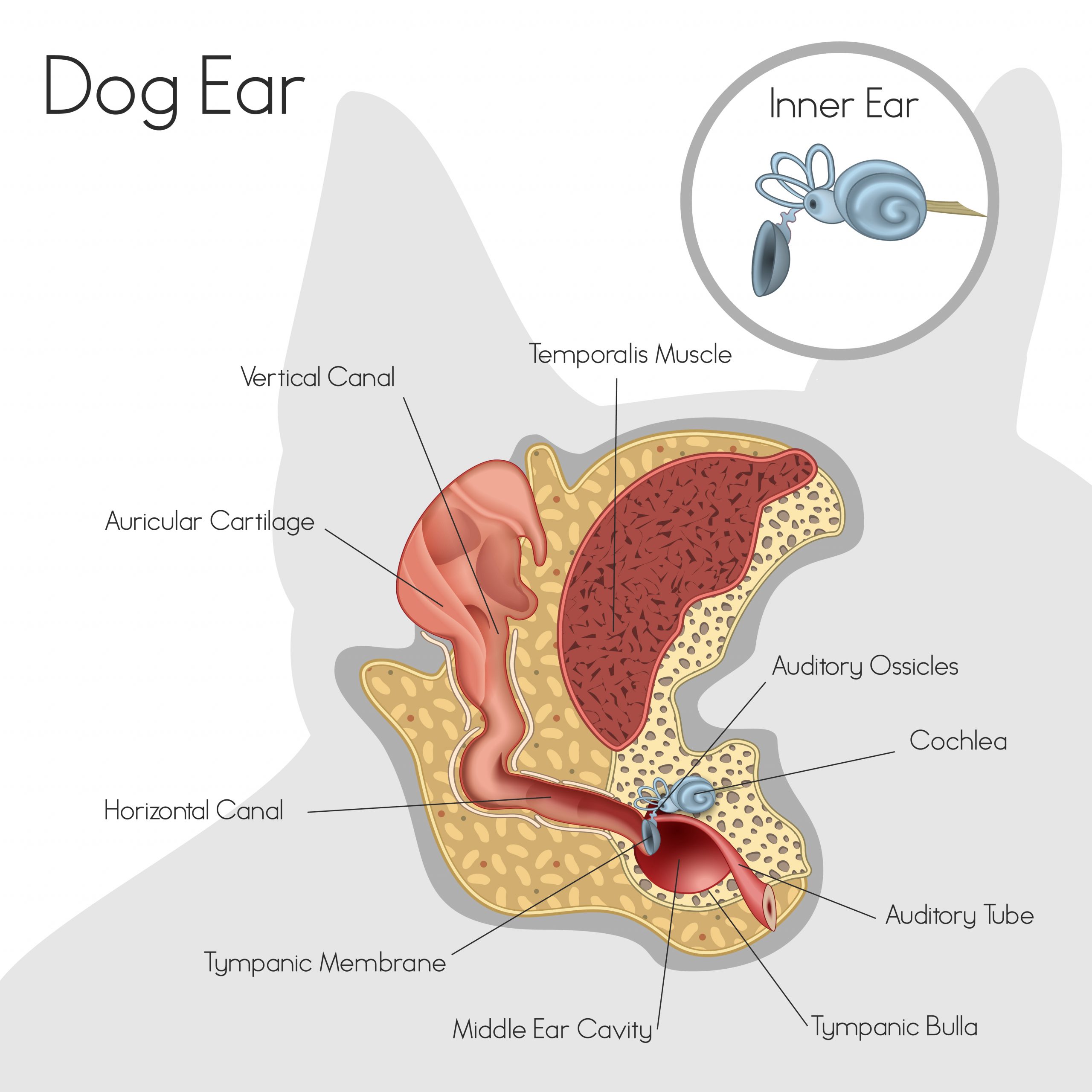 The L structure not only makes it easier for debris and moisture to get trapped, but it also limits airflow and light, creating an environment ideal for harmful bacteria and yeast growth: warm, dark and moist.
Some dogs are also more likely to experience ear problems than others. We talk about this in-depth down below.
Cleaning your dog's ears has many benefits, including preventing infections and relieving irritation.
Prevents Infections
As mentioned above, infections often plague dogs' ears (mainly due to their L-shaped ear canal). In fact, approximately 1 in 5 dogs are affected by a form of ear disease at some point in their life.
Using an ear cleaner can help reduce the risk of ear infections as it deeply cleanses their ears and makes the environment unfavorable for bacteria and yeast growth. Ear cleaners with antibacterial and antifungal properties can also inhibit the growth of bacteria and yeast.
Some ear cleaners, such as ZYMOX's liquid ear cleaner can help tackle infections. However, you should always speak to your vet first if you suspect your dog has an ear infection – don't take matters into your own hands. An infection could be the symptom of an underlying health problem, and an infection which doesn't receive the right treatment quickly could potentially worsen and spread throughout the ear. This can have some serious consequences, such as a ruptured eardrum and even permanent hearing loss.
If you're not familiar with what the symptoms of an ear infection are, Reader's Digest explains them in detail.
Tackles Wax Buildup and Trapped Debris
Excessive wax buildup or trapped debris is not only painful and irritating for your four-legged friend, it can also bring about a whole host of issues, such as ear infections and impaired hearing. Cleaning your dog's ears will help dislodge any trapped debris, and regular cleaning will break down wax buildup before it becomes a problem.
Relieves Ear Irritation and Itchiness
Allergies, trapped debris and infections can all cause ear itchiness and irritation. Many dog ear cleaners are designed to soothe and relieve ear irritation, allowing your dog to feel at their best.
Promotes Overall Health and Wellbeing
The cleaner your dog's ears are the less at risk they'll be to ear problems and the healthier they'll be overall. Cleaning also gives you the opportunity to check your dog's ears for issues such as ear mites, hematomas and infections.
Which Ear Cleaner Is Right for Your Dog?
This will predominantly depend on what ear problem you're hoping to tackle or prevent.
Infections
To prevent or manage ear infections you should be on the lookout for cleaners with ingredients which possess antifungal and antibacterial properties. Ingredients with these properties include:
Aloe Vera – Aloe vera is a succulent plant famous for its various natural medicinal properties. It was once hailed as the "plant of immortality" in Ancient Egypt, and to this day is still referred to as a "wonder plant." It's commonly used in health, beauty, medicinal and skin care products.
Eucalyptus – Eucalyptus is an evergreen tree native to Australia. Besides being loved by koalas, its leaves boast many medicinal properties (much like aloe vera). Eucalyptus oil is made from the tree's leaves.
Boric Acid – Boric acid, also known as boracic acid or orthoboric acid, is a mild acid which takes the form of an odorless white powder. It is commonly used as an insecticide and antiseptic. It's a drying agent and is well-known for its effectiveness at clearing up infections.
Tea Tree – Tea tree oil derives from the leaves of Melaleuca alternifolia (a tree belonging to the myrtle family). Due to its antiseptic and anti-inflammatory properties, it's typically used as a natural remedy for mild infections and some skin conditions such as acne.
ZYMOX Ear Cleaner is highly effective at dealing with ear infections. Although it doesn't incorporate any of the ingredients listed above, it instead uses a patented combination of three enzymes which have antibacterial properties.
Vet's Best Relief Wash is great at preventing infections and it also has an all-natural formula.
Itchiness or Irritated Skin
To tackle itchiness or irritated ears you need to choose an ear cleaner which can provide relief and has a soothing effect. Ingredients which have these properties include:
Aloe Vera – Truly the jack of all trades, aloe vera also has a hydrating effect which can relieve irritated skin.
Glycerin – Glycerin is a natural compound made from animal fats or vegetable oils (such as coconut oil and palm oil). It is predominantly used in skin care products, as it acts as a moisturizing agent and helps soothe irritated skin.
Hydrocortisone – A mild steroid which alters how the body reacts to inflammation, reducing pain, itchiness and swelling.
Witch Hazel – There are many species of witch hazel, but the one that's likely to be used in your dog's ear cleaning product is Hamamelis virginiana. This witch hazel is a shrub native to the United States which has been used for centuries as a treatment for skin ailments. It possesses anti-inflammatory properties and helps soothe skin irritation.
Witch hazel is best suited to soothing milder irritation. Hydrocortisone is a lot more effective when it comes to severe cases of irritation (ZYMOX's ear cleaner contains hydrocortisone).
Excess Wax Buildup or Trapped Debris
To deal with excessive wax buildup or trapped debris, look out for ingredients which are moisturizing and can dissolve or soften earwax, such as:
Plant Oils – Plant oils such as eucalyptus are generally effective at loosening wax, stuck debris, dirt and dead skin cells.
Glycerin – As it's a moisturizing agent, it can actually soften the earwax in your dog's ear.
Propylene Glycol – A synthetic liquid substance that can break down wax buildup.
Most ear cleaners do help remove wax buildup and trapped debris, but if you're specifically looking for an ear cleaner just for this purpose, Nutri-Vet Ear Cleanse is a budget-friendly option.
Bad Odor
To truly eliminate bad odor you ultimately need to find the root cause. If you address the root cause the odor should naturally go away. However, if you wish to remove the unpleasant smell while also treating the cause, you need an ear cleaner which can deodorize. Common ingredients with deodorizing properties include tea tree, eucalyptus and rosemary.
Some ear cleaners like Pet MD's wipes contain fragrance which will also keep your dog's ears smelling fresh.
We recommend checking out Virbac Epi-Otic Advanced Ear Cleaner, as it utilizes patented anti-odorous  technology.
Other Factors to Consider
Before purchasing and using any ear cleaning product, it's always best to seek guidance from your veterinarian. This is because your dog might be allergic to a particular ingredient, or they may have a problem (such as a chronic infection) which needs professional treatment.
Strong alcohols (isopropyl, like rubbing alcohol) should be avoided, as these are likely to burn and sting, especially if your dog's ears are inflamed or ulcerated.
If your dog has sensitive skin, you should stick to a pH-neutral formula or an all-natural ear cleaner with minimal ingredients. This will reduce the chances of irritation. Ear cleaners such as Vet's Best Dog Ear Relief Wash and Earthbath All-Natural Ear Wipes are great for dogs with sensitive skin. Of course, every dog's ears are different, and adverse reactions are always possible.

How Often Should You Clean Your Dog's Ears
The average dog will typically need their ears cleaned at least once a month. However, how often you should be cleaning your dog's ears depends on various factors, the most impactful including breed, earwax production and lifestyle.
Breed
Dogs with drooping ears (such as Beagles) are more predisposed to ear problems throughout their life. This is because drooping ears block airflow from entering the ear canal. As the ears aren't getting sufficient ventilation, it makes for a warm and moist environment – the perfect breeding ground for bacteria and yeast.
Dogs who commonly have hair growth in their ear canal (like Poodles) are also prone to ear problems. Like dogs with droopy ears, hair inside the ear limits airflow.
Some dogs have longer or more narrow ear canals than others (such as Bassets and Shar-Peis). Again, this is another factor which can put your dog at risk to ear problems, as the ear structure makes wax buildup and debris a lot harder to exit the ear canal without external help.
Wax Production
Wax (cerumen) production is the natural way ears self-clean. Wax acts as a vital barrier against external debris and helps remove things trapped in the ear such as dirt, dead cells and pollen. However, if your dog has excessive earwax production, it can become a problem. It can lead to infections, inflammation and cause a lot of pain, so your dog's ears will need regular cleaning to prevent this.
According to veterinary specialist Dr. Byers, Cocker Spaniels are the most susceptible to excessive earwax production, as Cocker Spaniels are "over-represented for a skin disease called idiopathic seborrhea that may ultimately lead to excessive secretion of earwax."
To know what other factors can cause your dog to have excessive wax production, click here.
Keep in mind if your dog has discolored (red or dark) earwax you should get their ears checked by a vet. Discolored earwax can potentially mean your dog has an infection or an underlying health problem.
Lifestyle
Some activities your dog may love can make them more prone to ear problems, especially swimming. When your dog plays in the water, the water can become lodged in their ear canal. This can irritate your dog's ear, and the extra moisture can bring about an infection.
Other activities which put your dog more at risk to ear problems include rolling around in the mud and sniffing about in woodland areas (debris and dirt can easily get stuck in their ears).
Factors such as allergies, underlying health conditions and food hypersensitivity can also impact your dog's ears. In fact, 50% of dogs with allergic skin disease and 80% of dogs with adverse reactions to food will experience ear inflammation.
Avoid Overcleaning
While you should be cleaning your dog's ears, overcleaning can spur complications such as irritation, inflammation and infection. You shouldn't clean your dog's ear if the ear appears healthy and clean and you have no well-founded reason to (a well-founded reason would be that your dog has engaged in an activity like swimming, or is prone to ear problems).
If you're not sure how often you should be cleaning your dog's ears, you should consult your vet for guidance.
How to Clean Your Dog's Ears
Cleaning your dog's ears for the first time can be a daunting experience. But don't
worry, we're here to help.
Checking Your Dog's Ears
If your dog's ears have signs of infection, ear mites or allergies you should take your dog to the veterinarian before attempting to clean their ears, as they may need specific treatment.
What You'll Need
To clean your dog's ears, you'll need your (carefully chosen) ear cleaner and a few other supplies before you get started.
Cotton Balls
You'll need cotton balls to wipe away dirt or wax in the entrance of your dog's ear. If you're using a liquid ear cleaner, you'll also need to use cotton balls to clear up any excess solution.
Gloves
A dog's ears are prone to infections, so if you're working around their ear it's always best to wear gloves. If you don't have gloves, make sure you wash your hands thoroughly.
Clean Towel  (If Using a Liquid Ear Cleaner)
Liquid ear cleaning gets messy (you'll soon find out why down below)! To reduce the chance of you and your newly bought couch from getting covered in mess, make sure you have a clean towel ready to go by your side.
Treats
Some dogs aren't a fan of having their ears cleaned. Rewarding your dog with treats throughout the cleaning process will make the experience a little better for them.
A Helping Hand
You should enlist the help of a family member or friend to help restrain your dog during cleaning, especially if you have a large dog. This can further prevent your dog from making sudden movements while you're working around their ears.

How to Use a Liquid Cleaner
Lift up your dog's ear flap with one hand and hold it up so the inner part of the ear is exposed.
With your other hand grab the liquid cleaner and squeeze a generous amount of cleaning solution into your dog's ear – it needs to be enough to fill up the entire ear canal. Make sure not to touch the nozzle against your dog's ear, as this could cause any bacteria to spread to the nozzle.
While still holding your dog's ear up, gently massage the area below the ear opening for approximately 30 seconds (or however long your ear cleaner instructs). This will make the solution reach every crevice in your dog's ear canal, as well as help the solution tackle any trapped debris or wax buildup. You should hear a squelching noise while massaging.
After you're done massaging, your dog is going to want to shake their head to get rid of the solution in their ear. This is where your towel comes in handy – when your dog shakes, the solution and anything else from their ear will go everywhere. The towel will catch all the mess, so make sure to grab your towel and hold it around your dog's head.
 Once your dog has shaken, hold their ear up once more. Use a cotton ball to gently wipe away any excess solution and debris. After you've cleaned up all the muck, let go of your dog's ears and reward them with praise and plenty of treats.
Repeat this process for the other ear if required.
How to Use Ear Wipes
Hold your dog's ear up with one hand, then grab a wipe and gently start wiping their ear.
You should first wipe the outer area of the ear, and then slowly work your way inwards. Make sure to use outward movements when wiping, particularly when working in the inner parts of your dog's ear. This will prevent any wax or debris from being pushed deeper into the ear canal.
Once you've thoroughly cleaned your dog's ear, use a cotton ball to clean up excess solution and gunk.
Repeat the same process for the other ear if required.
Make sure to pick ear wipes suitable for the size of your dog. If you have a small dog, ear wipes such as Pet MD's wipes are ideal.
Cleaning Information to Keep in Mind
If your dog appears to be in pain after you apply the ear cleaner stop immediately and contact a veterinarian.
If your dog has a lot of hair inside their ears you should take them to the groomers to get a trim before attempting any ear cleaning. Hair not only makes ear cleaning difficult, but it also makes your dog more prone to ear infections.
If the hairs aren't too deep inside your dog's ears you can trim the hairs yourself using Miracle Care Ear Powder.
How to Help Your Dog Enjoy Ear Cleaning
The best way to encourage your dog to be receptive to ear cleaning is by making it a rewarding experience. The more rewarding the experience feels for your dog, the more they'll see ear cleaning as something positive rather than negative, and the less likely they'll resist. You can achieve this result by repeatedly handling your dog's ears and feeding them their favorite treats at the same time.
Make sure to gradually increase the difficulty; you should start with small and light touches around the ear, and when your dog appears comfortable with this, then increase to firmer touches inside their ear.
This method is particularly effective if your dog is a puppy, as they'll learn from a young age that having their ears handled is something pleasant rather than something to be scared of. In fact, if you have a puppy, getting them used to ear cleaning straight away is crucial. If you leave it until later down the line when they're an adult they'll be a lot harder to train.
If you're using an ear cleaner on a puppy, make sure to use one suitable for their age. For example, Virbac Epi-Otic Advanced Ear Cleaner and Bodhi Dog Ear Cleaner are suitable for dogs of all ages.
What to Do If Your Dog Resists Ear Cleaning
Some dogs will still hate having their ears handled, even if you try to encourage them to be receptive to ear cleaning. This is particularly common with older dogs who have not been trained during puppyhood to be comfortable with their ears being touched. It's also common with anxious dogs, or dogs who have had painful ear problems that needed treating in the past (they now associate ear handling with this pain).
With dogs like this, you may find ear wipes easier to use than a liquid solution, as wipes are less invasive.  However, you should never try to force your dog into having their ears cleaned when they're clearly stressed and struggling. This could cause them to lash out (hurting both themselves and you). Instead, take your dog to the vets for further guidance and support.
Frequently Asked Questions
Still have questions? We've answered the most common ones below.
Q: Can I Use a Homemade Dog Ear Cleaner?
A: You've probably seen plenty of homemade dog ear cleaning solution recipes online.
Although a homemade ear cleaner may seem like a more affordable option, making your own solution can be harmful for your pet.
Homemade ear cleaners cannot be clinically trialed, meaning there is no guarantee they're going to work or be safe for your dog's ears. We suggest you stick to commercial ear cleaning solutions, like the ones we've recommended.
Q: Should I Use Q-Tips to Clean My Dog's Ears?
A: While it may be tempting to use Q-tips to get into the hard to reach nooks of your
dog's ears, you should never use them. Q-tips are incredibly dangerous; you risk perforating the eardrum or causing trauma to the ear canal. You could also end up pushing any trapped debris deeper inside the ear.
Q: Can I Use a Human Ear Cleaner to Treat My Dog's Ears?
A: Dogs will never respond the same way as humans. They need to receive treatment specifically targeted for them. If you use a human ear cleaner it'll likely be ineffective and you risk exposing your dog to harmful ingredients.
Final Thoughts
Poor ear hygiene can be detrimental to your dog's wellbeing. By investing in the right ear cleaner you'll enable your beloved pal to live their best life without the looming threat of endless ear problems.
From all-natural ear cleaners to ear cleaners targeted at solving a specific problem, we've made sure to cover everything, so you can find the perfect ear cleaner for your dog's needs.