The 10 Best Knee Braces for Dogs in 2023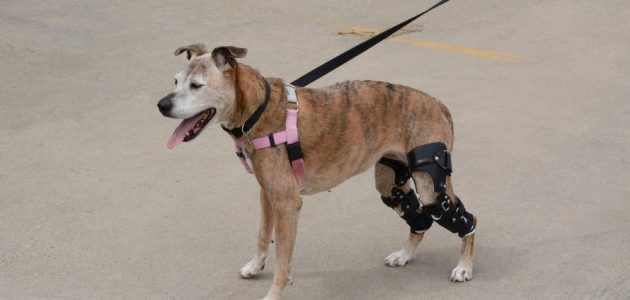 Whether it's an injury obtained from too much play or the byproduct of natural aging, a dog's knee injury is no simple matter. Just like humans, dogs can suffer from a myriad of knee and joint-related issues such as sprains, torn ligaments, and arthritis. The severity of these injuries ranges from being mild and unobstructive, to being painful enough to require surgery.
For pet owners who want to make sure their dog is comfortable despite their knee injury, a dog knee brace is a good investment. Braces help support the muscles in the leg and the joints in the knee, providing your dog with increased mobility and faster injury healing. In some cases, braces can make a great alternative treatment to expensive knee surgery.
Searching for the perfect dog knee brace is not the easiest task, which is why we've set out to help. We've broken down the most important things to look for in a knee brace and gathered a list of the best products available today to help you narrow down your choices.
Why Use a Dog Knee Brace?
Dog knee braces are an excellent option for providing support to your pup's muscles and joints. They can relieve arthritis pain and increase your dog's range of mobility. In the cases of torn ligaments, such as an ACL strain (we talk more about this later in our guide), a knee brace can be used in place of an expensive surgery to help heal the injury.
Things to Consider
When looking for a knee brace, there are a few important things you need to keep in mind to ensure that you select the best product for your dog and their injury.
Comfortable Fit
Having a brace with a comfortable fit is incredibly important if you want your dog's injury to be properly supported and healed. The brace cannot be too loose or too tight or any benefits will be lost. To ensure a snug fit, make sure to properly measure your dog and double check the sizing requirements of the brace provided online.
Front or Back Leg
Which leg your dog's injury is on determines the style of knee brace you will be buying. While back leg braces are more common, you can find front leg ones that will effectively support your dog. Make sure to check the style of the brace you are purchasing to confirm it will fit on the correct leg.
Material
Ideally, you want to select a material that is both breathable and flexible, while still providing an unyielding support for your dog. You can also look for material that is long-lasting and easy to clean. Whichever material the brace is made from, it should let your dog move freely and comfortably without pinching their skin or slowing them down.
Level of Support
Some dogs, and knee injuries, require different levels of support. When looking at braces, be sure to select one that provides enough support to address your dog's specific issues. For instance, a brace that loops over the hip like the Ortocanis Original Knee Brace is better for ACL support, while a brace like the AGON Canine Front Leg Brace is better for arthritis support due to its smaller size and localized placement.
Now that you know what is important to look for in a dog knee brace, let's head straight into our list of today's top picks!
Full Guide to Buying a Dog Knee Brace

Dog knee braces are a complicated product to purchase. Not only do you have to consider things like sizing and materials, you also have to make sure the support provided is enough for your dog's specific injury. In our full guide, we will go more in-depth on the different types of dog knee injuries and how knee braces can help.
Benefits of a Knee Brace
A knee brace can provide many benefits to your dog and heal a variety of different ailments. One of the most notable injuries a dog can get is a torn ACL/CCL injury, which is a ligament injury resulting in a damaged knee. A leg brace can help to reduce pain from the tear, and in some cases, assist the injury in fully healing without the need for surgery. A veterinarian will help you determine if a leg brace is the best option for you and your pup's ACL/CCL injury.
Additionally, knee braces can help reduce inflammation in the joints of dogs with arthritis, thanks to their heating and insulating powers. They also provide the support that is necessary for arthritic dogs to comfortably exercise so they can stay fit and healthy. It is an overall cost-effective way to help improve the quality of life in dogs with joint pain.
Some braces, like the Labra Dog Knee Stifle Brace Wrap, aid dogs in rehabilitating their muscles after an injury or surgery. This is an important healing step as it exercises the muscles to avoid future stiffness and muscle imbalance after the dog is healed.
What Is an ACL/CCL Injury?
A torn CCL, the canine cruciate ligament, is one of the most common injuries a dog can sustain. The CCL is in the same area as a human's ACL, the anterior cruciate ligament; many veterinarians and lay-people use CCL and ACL interchangeably when referring to an injury of this nature.
The CCL connects the back of your dog's femur bone to the front of the tibia. More simply put, it is the ligament behind the knee that connects the bone above the knee to the bone below it. When this ligament is damaged, either by a tear or a strain, the area becomes swollen, causing your dog pain. Damage can occur at any time, but it usually sustained during intense exercise or running.
A CCL injury requires rest and immobilization to repair itself. This is where a knee brace comes in. By providing support to the leg muscles, the CCL can begin to repair itself, and your dog can regain their mobility during the healing process.
Surgery Costs
In some cases, surgery may be needed to fully repair your dog's torn ligament. ACL/CCL surgery can be prohibitively expensive, costing from anywhere between $1100 to over $4500 depending on the type of surgery and who is performing the procedure.
Many veterinarians recommend pet owners begin treatment with a knee brace and pain relievers to see if the ligament will repair itself before jumping straight into surgical options. Some dogs may also be ineligible for surgery due to other medical conditions, which leaves them with a knee brace as their only choice for healing.
How to Tell if Your Dog Is Injured
If you suspect your dog has an ACL/CCL injury, they may be exhibiting any one of these signs.
Lameness
Lameness, including dragging legs and limping, can come on suddenly as a result of a tear or get gradually worse over time, with your dog showing occasional improvements before worsening again. You may notice that rest seems to improve the issue, but as soon as your dog starts moving, the symptoms return.
Sitting Abnormally
If you notice your dog sitting differently than how they usually would, they may be nursing an injury. Usually, your dog will sit or lie with their leg sticking out an awkward angle, as it hurts them too much to bend the knee.
Clicking Sounds
When your dog is walking on an unstable knee, more pressure is put onto other joints as they try to compensate. This can wear away the shock-absorbing cartilage in the knee, and creates a clicking sound that can be heard when your dog begins walking. To fully support the knee in these instances, we recommend an encompassing knee brace such as the Ortocanis Original Knee Brace.
Knee Swelling
Inflammation is one of the main reactions caused by a torn CCL. This can result in swelling over time as scar tissue develops in the knee. If one of your dog's knees is looking bigger than the other, you should be consulting with a vet as soon as possible.

Do I Need a Pair of Braces?
While not necessary to heal a torn CCL or other leg muscle strain, having a pair of braces might be a good idea if your dog's pain is caused by a torn CCL or arthritis. With these injury types, it is common for a dog to begin favoring their other legs more heavily, resulting in a muscle imbalance and potential further injuries. A pair of braces will support both legs evenly, improving muscle tone and preventing future pain, which is especially helpful for arthritic dogs.
How Long Does an ACL/CCL Injury Take to Heal?
It is hard to say exactly how long an ACL/CCL injury will take to heal, as this depends very much on the dog and the severity of the damage. In some dogs, the process may only take a month or two, but in others, it could take up to a year. Small dogs that weigh 30 pounds or less do tend to heal faster than larger dogs.
A brace can help speed this process up, but if your dog is not showing improvements within a month or two, surgery may be required. The best approach is to keep in touch with your veterinarian and monitor your dog closely as they wear the brace to determine if further intervention is required.

Dog Breeds Prone to Knee Issues
Certain breeds are more prone to developing knee issues than others. Larger dogs such as Golden Retrievers, Great Danes, German Shepherds, Labrador Retrievers, and Mastiffs are especially predisposed to knee and joint injuries, including arthritis, because of their size.
That being said, smaller breeds such as Dachshunds, Corgis, and Basset Hounds are not exempt from developing knee issues. All of these breeds are short with longer backs, causing most of their weight bearing to be in their front and back joints. Over time, this could result in the development of arthritis or torn CCLs.
Obesity is another trait that can lead a dog to develop knee injuries. Too much weight on a dog is rough on the joints; this pressure causes muscle strain, torn CCLs, and onset arthritis. If you suspect your dog is becoming a little too chunky, check out this guide on getting started with dog weight loss.
Alternative Recovery Activities
A knee brace is one of the best alternative recovery options for a knee injury, but there are other activities you can involve your dog in that will help to reduce joint inflammation and strengthen muscles.
Swimming
Hydrotherapy is water therapy, and is used in both human and dog rehabilitation. Exercising in water provides both resistance and buoyancy, which will allow your dog to strengthen their muscles without any stress being placed on their joints.
In this type of therapy, your dog will be walked along an underwater treadmill, the modifications of which can be adjusted to their exact recovery needs. It is a great option for pain relieving and mobility recuperation.
Massage
Dog massage therapy may seem like an extreme form of pet pampering, but it is actually a very helpful technique that works to rehabilitate your dog's muscles. By gently stimulating and stretching out the injured ligaments, blood circulation is improved which can increase mobility. The muscles may also be more relaxed, reducing overall pain and inflammation.
You can learn simple dog massage techniques at home if you so choose. This video can help you get started. Just remember to be gentle every time you touch your dog, and stop if they appear to be in pain.
Making Your Dog Comfortable
Whenever your dog is in pain from a knee injury, you can take steps to make them more comfortable throughout the day.
NSAIDs
Nonsteroidal anti-inflammatory drugs (NSAIDs) work to reduce swelling, stiffness, joint pain, and inflammation in humans. Your vet can prescribe a dog friendly version that have these same effects, effectively taking the edge off of your pup's pain. Never give your dog the human versions of NSAIDS like Ibuprofen.
Keep in mind that overuse of NSAIDs can result in kidney or liver complications in your dog. They may also cause an allergic reaction. Monitor your dog while administering these drugs and stop using/contact a vet if they show signs of distress such as labored breathing, lethargy, or vomiting.
Supplements
Adding supplements to your dog's diet can help prevent further injuries and reduce the pain associated with their current injury over time. Bone and joint supplements such as this one are loaded with ingredients that work to repair and heal knee injuries.
Supplements can take several weeks before their effects start showing, so these are better for prevention, attempting to relieve pain in an arthritic dog, or healing a CCL injury over time, rather than for treating an acute muscle strain.
Can You Make Your Own Brace?
While you can technically create a knee brace at home for your dog, this is not recommended. A homemade brace will likely not have the support needed to help your dog's injuries heal or be a snug enough fit to help reduce inflammation. It is better to invest in a premade knee brace that is specifically designed for assisting dogs with knee injuries.

How to Properly Measure Your Dog
As you look at knee braces online, the measurements of each brace size should be clearly listed. In order to make sure you receive a product with the proper fit, invest in a reliable measuring tape. From there, look at the areas each product recommends you measure. This could be higher or lower up on the leg, depending on the style of the brace.
Once you have your measurements taken, you can place your order. If you have questions about sizing or measurements, don't hesitate to ask questions. The fit of the knee brace is extremely important if your dog is to benefit from wearing it. Labra Dog has very responsive customer service, so if you have sizing concerns and questions, we recommend looking into this product.
Preventing Dog Knee Injuries
Simple adjustments to your dog's daily routine can reduce the risks of your dog developing a knee injury.
Maintain a Healthy Body Weight
As we discussed above, obesity is a major contributing factor in the development of ligament tears and joint erosion. Keeping your dog at a healthy weight through exercise and proper diet is one of the best ways to prevent a knee injury.
Exercise Your Dog Regularly
Regular, gentle exercise strengthens your dog's muscles and keeps them healthy. Make sure you are not allowing your dog to jump from very high distances or constantly run on very uneven ground to prevent damage to the CCL.
Understand Arthritis Signs
Being informed about the early warning signs of arthritis can help you step in and start giving your dog proper support via a knee brace or other rehabilitative activity. Arthritis can appear quickly, and without addressing the pain as soon as possible, may go past the point of tolerability by your dog, leaving them immobile and dependent on pain pills for life.
The Best Knee Brace for Your Dog
Dogs are cherished members of our families, and when they get an injury, most pet owners will do whatever they can to fix the pain. In cases of arthritis or a knee injury where surgery isn't possible, purchasing a dog knee brace is the best thing you can do to give comfort to your pup.
While selecting a product isn't the easiest task, once you consider your dog's injury, the amount of support needed, and your preferred style of brace, you are one step closer to finding the best knee brace for your dog.