The 10 Best Cat Shampoos to Buy in 2023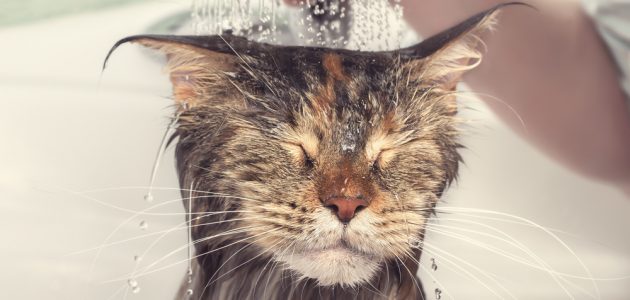 If your cat is dirty or has a skin condition, you're probably far from happy right now. Not only do you have to find the best cat shampoo, but you have to keep your cat from sprinting away from the bath the first time they see it. Unfortunately, cats just don't like baths and think they do a good enough job on their own.
While cats do a great job on their own, they need help with skin conditions like itchy skin, fleas, ringworm, dandruff, and shedding. You might be tempted to take your cat to the vet, but the right cat shampoo can make a huge difference. If you have the grit to bathe your cat, read on. We're going to take you through the ten best cat shampoos you can find.
Features to Consider When Shopping for Cat Shampoos
Type
First and foremost, you need to consider the type of shampoo you want. Cats are fussy animals, so use your discretion when choosing shampoos that require rinses. There are three types of cat shampoos that you'll come across: rinse, waterless, and spray shampoos. While each type of shampoo will keep your furry little friend clean, they do so differently.
Rinse Shampoo
Rinse shampoos are challenging to work with, especially if your cat isn't used to taking a bath. If you've watched your cat interact with water, you'll notice that they barely even enjoy drinking it. So, while rinse shampoo provides a well-rounded clean to your cat's coat, it can be a hassle to work with at first. Keep in mind, rinse shampoos can provide many benefits that other shampoos can't, so sometimes the trouble is worth it.
Waterless
Waterless shampoos are your best friend for cat baths. We can't stress this enough: cats hate water. A waterless shampoo is easy to apply and cleans your cat's coat without needing a rinse. Waterless shampoos can be potent, but the clean they offer is not as good as foaming shampoos. When choosing between the two, you need to consider your choices carefully.
Spray
The spray-on shampoo comes in many different shapes and forms. There are sprays for fleas, dandruff, shedding, and bathing. Generally speaking, the spray is not shampoo in the traditional sense, but some sprays perform a similar role.
The only downside to spray shampoo is that your cat may run in the opposite direction once you spray them. That said, we're sure you've noticed that cats like to handle bathing on their own, so a spray can be a helpful tool that doesn't disturb their routine.
For even more information on cat shampoo types, check out our full guide below.
Purpose
Once you figure out the type of cat shampoo you want to work with, you'll want to examine each shampoo's purpose. Cat shampoo performs different tasks like warding off fleas, reducing dandruff, treating skin irritation, and providing shine to a coat of fur. With all of these potential benefits, you need to focus on what your cat needs.
Amount
When you're shopping for anything, you want to know how much you're getting. Cat shampoo is sold in different sizes, but between eight and twelve fluid ounces are standard. When you consider the price of cat shampoos, always be sure to check the amount you get too.
Scent
Not every cat shampoo comes with a scent, but some products smell better than others. Scent comes down to personal preference, and an unscented product can perform just as well as scented products. The only advantage that scented shampoos have is their ability to let you know your cat is clean and fresh.
Price
Cat shampoo can be affordable, but price-wise, there can be extremes on both sides. The good news is that we did the research and grouped each product into three price categories for you. These categories are:
$: Around $5
$$: Around $10
$$$: Around $15
Top 10 Best Cat Shampoos 2023
Everything You Need to Know About Cat Shampoos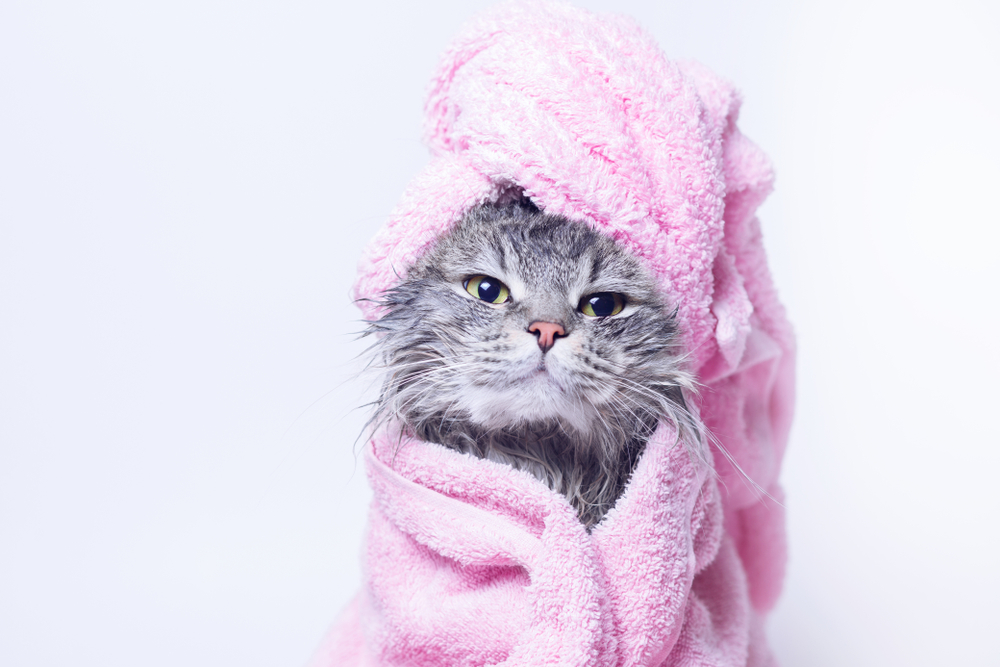 Once you have the best products in front of you, it's easy to make a choice. However, cat shampoo has specific uses, so we want to make sure you choose the right one. So, we're going to take you through everything you need to know about cat shampoo and help narrow down your options.

Choosing the Right Type of Shampoo
Before we dive into specific cat shampoos, the first thing we need to cover is selecting the right type of shampoo. Each type of shampoo has its particular uses, sure, but deciding which shampoo you're willing to work with is a crucial part of the shopping experience.
Rinse Shampoo
Rinse shampoos are the most medically enabled shampoos, meaning they can provide the broadest range of benefits. The only downside to rinse shampoo is that they can be challenging to work with. You know how cats hate water? Well, that's not going to change overnight magically. So, if you're considering a rinse shampoo, you're going to need patience and practice before it gets easy. Also, we recommend starting with kittens because they're more impressionable.
If you're looking to give rinse shampoo a try, we recommend starting with Pro Pet Works Oatmeal Shampoo. While this shampoo doesn't provide any medical benefits, it's an excellent rinse shampoo to get your pet started with.
Waterless Shampoo
Waterless shampoo is the most straightforward shampoo to work with because, well, it doesn't need to be rinsed out. Your cat will welcome this shampoo with purrs, and you won't get on their bad side. Plus, waterless shampoos penetrate hair and skin deep enough to provide a well-rounded clean. They're not as strong as rinse shampoos, but they come in a close second.
If you like the sound of a waterless shampoo, there are fewer options than you think. The good news is that the Vet's Best Waterless Cat Bath is a great waterless shampoo that gives rinse shampoos a run for their money. If you want to keep your cat clean, without doing too much work, waterless shampoos are a solid choice.
Spray
Spray shampoos are the weakest shampoos you'll come across, meaning they don't provide many cleaning benefits. If your cat prefers to clean themselves, which many of them do, a cat spray is a great way to support their efforts. Sprays can also keep your cat smelling fresh and clean, and some sprays can reduce skin irritation too.
If bathing your cat sounds like a hassle, it's time to take a look at spray-on alternatives. The best spray you can find is the Bodhi Dog Anti Itch Oatmeal Spray because it can reduce itchy skin.
Helping Out With Itchy Skin
Cats love to scratch themselves, and they do so frequently. While this behavior is normal, excessive itching can mean there is a problem. For example, if you notice that your cat is focused on one spot, it can be an early sign of irritated skin. Itchy skin in cats also has some visual symptoms you can look out for, including a diminished shine to their coat, and white flakes.
So, what causes itchy skin? Itchy and dry skin are usually caused by your cat's diet, weight, and age. If your cat is eating a food that's not rich in Omega-3 fatty acids, it can lead to areas of dry and flakey skin. Overweight and older cats will generally get itchy skin as a result of poor hygiene. While dietary changes can take a long time to improve if you want to make sure your cat is comfortable, a cat spray is a great choice.
The best spray for dealing with dry skin is the Bodhi Dog Anti Itch Oatmeal Spray. This spray is easy to apply, and you can target specific areas of patchy and dry skin. Plus, since it's a spray, you don't have to worry about any retaliation from your cat.
Getting Rid of Pesky Fleas and Ticks
One of the most common things a cat can suffer from is fleas and ticks. Unfortunately, fleas and ticks can be found across the country, and they love to make themselves at home in your cat's cozy coat. If you notice that your cat is aggressively biting and scratching themselves, there is a good chance that you're about to have a flea problem.
Before you pick up a flea fighting cat shampoo or take a trip to the vet, make sure you do a thorough examination first. To do so, watch for any movement within your cat's coat, and gently brush their fur with a fine-tooth comb. If you look closely enough, you'll be able to see a handful of fleas, ticks, or flea eggs.
If your cat has fleas, it's not the end of the world, not even close. While a trip to the vet can be expensive, flea and tick cat shampoo is more affordable and may provide the same results. A great flea and tick shampoo to use is Adams Plus Flea & Tick Shampoo because it prevents and kills fleas, ticks, and flea eggs.
Dealing With Bacteria, Fungus, and Ringworm
Bacteria, fungus, ringworm, and yeast infections are all skin-based ailments that your cat can struggle with. Among these conditions, ringworm is the most common and has symptoms that you can diagnose at home. So, if you think your cat has ringworm, brace yourself.
Ringworm manifests just beneath your cat's skin and comes with a handful of frightening symptoms. Symptoms include redness, loss of fur, a circular patch of missing hair, frequent itching, and skin lesions. If you notice any of these issues, you need to act right away to prevent further damage to your cat's skin.
One of the best treatment options you can employ is the BEXLEY LABS Curaseb Antifungal & Antibacterial Shampoo. This product is FDA approved and backed by vets for its effectiveness.
Getting a Handle on Shedding
Most of the time, we blame dogs for shedding all over the house, but cats shed too. Their hair is shorter, so at first, it's harder to notice, but you can usually see excess fur building up if you regularly brush your cat. While shedding is a normal thing, especially when seasons change, we know how much of a hassle it can be.
So, if you're looking to get a handle on your cat's shedding problem, consider a product like TropiClean Shampoos for Pets. While it may take some time for your cat to adjust to this rinse shampoo, you'll notice a reduction in shedding almost immediately.
Controlling Dandruff
Dandruff is generally a small issue that cats face, and it rears its ugly head as white flakes throughout your cat's coat. Most cats can mitigate dandruff on their own, you know, since they're such great bathers. Unfortunately, not every cat can handle their dandruff, and they'll gladly welcome a little help from their human.
Combating dandruff is simple, and only requires a spray. The best spray for the job is Burt's Bees Natural Dander Reducing Spray. Simply spray your cat's coat every 2-3 days, and watch their dandruff disappear.
Keeping Your Kitten Clean
We've talked a lot about cleaning your cat, but what about your kitten? Kittens deserve a little bit of love too, and like babies, their fur and skin is more sensitive than adult cats. This means that skin problems and irritations are more likely to happen in kittens. Plus, if you start bathing your cat when they're young, they'll put up less of a fuss later in life.
If you're going to bath your kitten, you need a tear-free and gentle cat shampoo. The perfect shampoo for the job is Burt's Bees Tearless Kitten Shampoo.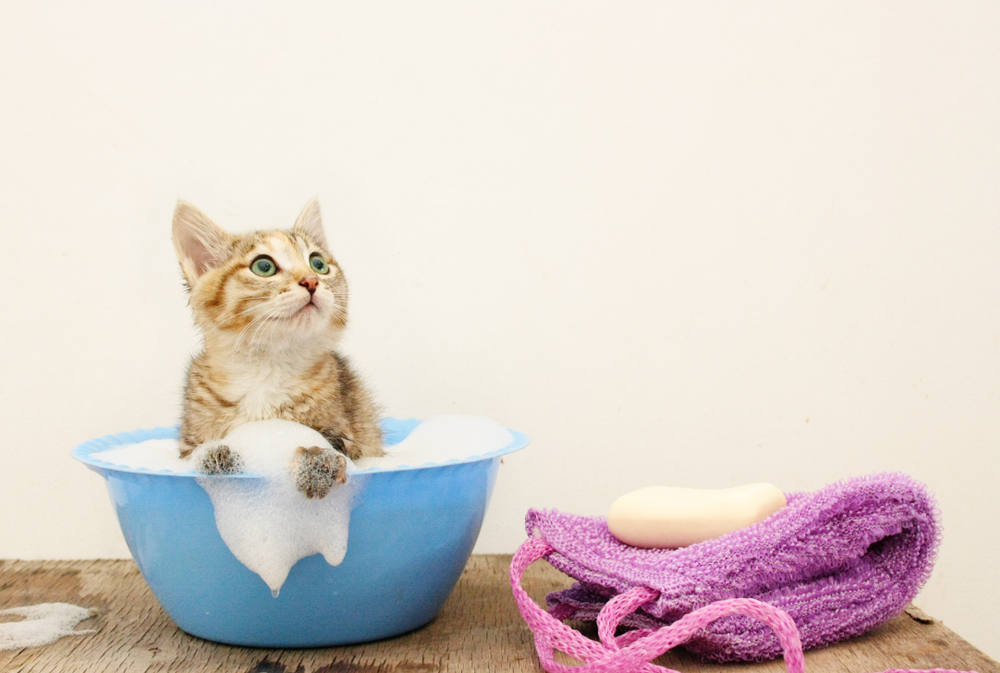 Setting Up Your First Cat Bath
Now that you have a good idea of which product you need, it's time to go over the details of a cat bath. Setting up a cat bath can seem intimidating because the process is a bit different than a human shower. The process is relatively simple; it just takes a little longer, especially if your cat makes a fuss out of it.
To begin, figure out a designated bathing location that your cat can get used to. We always recommend using your sink or bathtub because you can control the temperature of the water. Speaking of water, since a cat's average body temperature is 101 degrees Fahrenheit, make sure your water is roughly a degree or two hotter than that to make them comfortable.
A rinse shampoo bath is the most challenging bath to set up, but the process isn't too hard. To begin, make sure you cover your cat in an adequate amount of shampoo, but make sure you wet their coat first. Once you have the shampoo spread well, let it sit for between five and ten minutes, depending on the product. Then, simply rinse away.
Waterless shampoo is even more natural than rinse shampoo because you don't need any water. Apply waterless shampoo the same way you would apply sunscreen on a hot summer day; rub it into your cat's fur until you can't see it anymore. For bonus points, brush out your cat's coat while you do it, and see how much they love you later.
FAQ
Can You Use Human Shampoo on Cats?
While cats can use ordinary shampoos, we recommend sticking to cat shampoos. If you're in a pinch, you can go ahead and use regular shampoo – just make sure it doesn't have harmful chemicals like alcohol, sulfate, parabens, phthalates, and artificial dyes.
What Is a Good Substitute for Cat Shampoo?
There are a few home remedies that you can use, but the best one includes a little bit of apple vinegar and dish soap. Grab four cups of water, and add in one cup of dish soap and one cup of apple vinegar. Mix them well, and give it a shot! It won't smell great, but it might get the job done. Keep in mind, this won't help with any major skin or medical concerns; a specialized cat shampoo is a better option overall.
Can I Wash My Cat With Dish Soap to Kill Fleas?
So, you've heard the rumor that dish soap can kill fleas. While dish soap can kill fleas and their eggs, you need to make sure it's a pH-balanced soap to prevent harm to your cat's skin. For example, Dawn dish soap is a safe option.
How Often Should I Bathe a Cat?
While your cat likes to bathe themselves like thirty times a day, that doesn't mean you should too. The safest way to keep your cat clean, without leading to dry skin, is to bathe your cat every 4-6 weeks. The only exceptions are if you're dealing with fleas, bacteria, ticks, fungus, or yeast infections.
The Right Cat Shampoo Is Out There
The idea of bathing your cat sounds like a bad one, but sometimes it's necessary. If your cat suffers from dry skin, skin infections, dandruff, and shedding, bathing them is the right thing to do. Let's face it, cats are a bit narcissistic, but once you show them the joy of a warm bath and fresh coat, we bet they'll be purring in no time.
Keep in mind, not every bath is going to work with your cat. Some cats will respond differently to certain baths, so if you struggle with one, don't give up. The good news is that cat shampoo is affordable, so feel free to try a few different cat shampoos before settling on one. Good luck!