The 12 Best Dog Food for Goldendoodles to Buy in 2023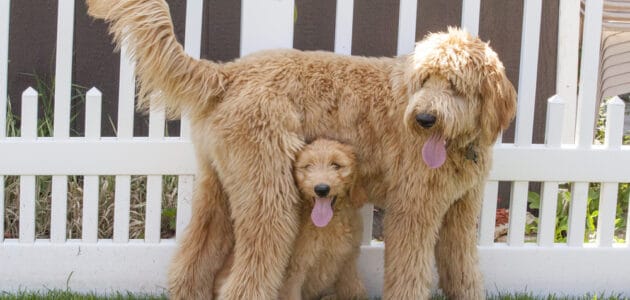 Though they're not officially recognized as a breed by the American Kennel Club, Goldendoodles have become increasingly popular among dog owners, particularly because they are less prone to shedding than other breeds. Or maybe it's because those golden curls are just so irresistible.
Whatever the case may be, picking the best food for your Goldendoodle means striking a balance between a variety of factors related to food options, your individual dog, and your personal preferences.
Most Important Factors in Choosing Dog Food for Goldendoodles
Unlike humans, dogs don't get to just eat what sounds good that day, and as a conscientious Goldendoodle owner, you want to be sure you're feeding them healthy food that will keep them around for many happy, healthy years.
Several factors go into this choice, and it's always wise to consult your vet, who can help you weigh the various options in the ever-expanding dog food market.
Type of Food
Most dog foods consist of dry kibble, but you may choose to feed canned, wet food, mix the two together, or even give supplements or food toppers to provide a nutritional boost. In most cases, Goldendoodles don't need an incentive to eat their food, so flavor-based food toppers don't really make the cut here. Dietary supplements can be helpful, particularly if the parents or grandparents of your Goldendoodle (the canine, that is) have had some of the health issues to which either Poodles or Golden Retrievers are prone.
Grain-Free or Grain-Inclusive
There are many proponents out there of grain-free diets, but the truth is that not every dog should eat an entirely grain-free diet. The inclusion of other ingredients like grains may be just as important as meat components.
Ingredients
Almost all commercial dog foods contain one or more types of protein as their main ingredient but use other ingredients to add calories and balance nutrition. Unless your Goldendoodle has a food allergy, in most cases, these ingredients are perfectly healthy for your dog to eat. On the other hand, avoiding some supplemental ingredients may help your dog avoid health problems to which Goldendoodles are prone, such as heart and vision disorders.
Life Stage
Young Goldendoodles should be fed food specially formulated for puppies, as dog food does not provide the proper nutrition that puppies need to support healthy growth. As they grow, you should switch your Goldendoodle to an food.
Price
Inexpensive dog food isn't necessarily bad dog food. In fact, many mass-market brands have introduced food with wholesome ingredients at a reasonable price. If you have many dogs, an especially economical option may be important, while other Goldendoodle owners may be able to devote their entire dog food budget to one fluffy friend.
Top 12 Best Dog Food for Goldendoodles 2023
Complete Guide to Dog Food for Goldendoodles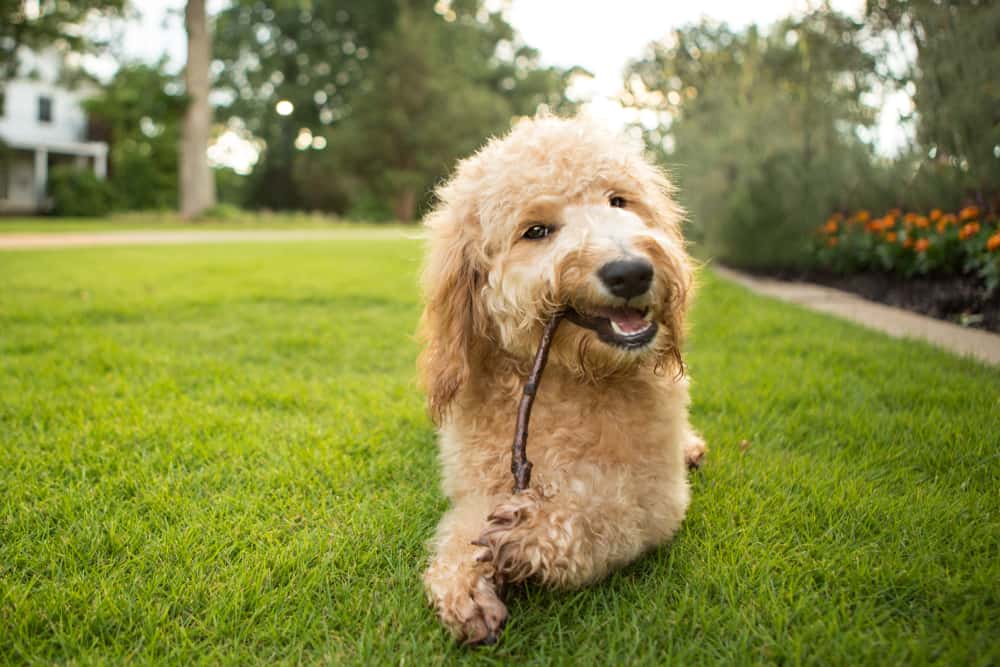 Picking the best food for your Goldendoodle is a matter of balancing several factors that have to do with the food options, as well as your dog and her unique makeup.
Every Dog Is Different
Because Goldendoodles are a blend of two distinct breeds — the Poodle and the Golden Retriever — they often carry many of the dominant traits of each breed. But their hybrid nature also means that each individual Goldendoodle has its own special blend of traits and characteristics drawn from its ancestors.
What that means is that while there may be some traits that tend to be universal for Goldendoodles, they are all truly unique, and deciding which food is best for them is a matter of balancing those unique traits.
Size
Generally, the larger the dog, the more calories it needs to consume to stay healthy. Goldendoodles range in size from toy (about 15 pounds or less) to standard (50+ pounds), and their full size and weight depend mostly on their parentage.
To maintain a healthy weight, a Goldendoodle should consume about 25 to 30 calories per pound of their body weight every day. This means that a miniature or toy-sized Goldendoodle could need as little as 375 calories per day, while the biggest Goldendoodles would need to consume about 1,200 calories per day.
Activity Level
Just as with people, those who are highly active need to consume more calories to keep their physical and mental health well-balanced. That could mean that if your Goldendoodle is a couch potato, even if he's large, you may want to consider feeding a slight caloric deficit to keep him from putting on weight.
The opposite is true as well. If your dog is accustomed to a high level of daily activity, whether from walks with you or playing out in the yard, she may need to eat a higher number of calories to maintain a healthy weight.
Not sure how to tell if your dog is overweight? Your first call should be to your veterinarian, who can provide a proper weigh-in, but there also are some visual cues to consider. Learn more about healthy dog weight here.
Age
Another important consideration is the age of your dog. When it comes to their dietary needs, there are three major phases you need to be concerned about — puppyhood, adulthood, and old age, and each comes with its own unique set of needs.
When they're pups, dogs need more fat and protein in their diets to encourage the healthy development of their brains and bodies. So, most foods formulated for puppies will be much higher in these types of ingredients than other foods, as well as an omega-3 fatty acid called DHA, which stimulates neural development. The puppy foods on our list for both large and small Goldendoodles contain DHA
Once they age out of puppyhood, which is usually around 12-15 months of age, it's safe to feed your Goldendoodle food made for adult dogs for several years. Foods crafted for adult dogs should provide a good balance of nutrients to maintain healthy weight.
Most Goldendoodles can be considered seniors when they're around age 7 or 8, though since smaller dogs tend to live longer, if your Goldendoodle is a mini or toy size, she may not need a senior food until the age of 9 or 10. Most foods designed for senior dogs are similar to foods for younger adults, but they may boost certain ingredients, such as protein, antioxidants, and health supplements.
Food Sensitivities
Your dog's unique history is another important factor. Just as there are foods you probably prefer to avoid for one reason or another, there may be ingredients that can trigger certain reactions in your dog that aren't necessarily allergies.
For example, hundreds of thousands of Americans report having issues with digesting gluten, though far fewer are actually technically allergic to it. Still, even those who aren't allergic may simply not like the way gluten makes their bodies feel. The same food sensitivities we have, dogs have too.
Pay attention to how your dog behaves and how that may connect to the food he's eating. If you notice he seems to produce excess gas or is particularly itchy after a meal, his food may be the culprit.
Protein-based ingredients are common triggers for food allergies or sensitivities in dogs, particularly those that come from dairy. But other triggers can include beef, chicken, eggs, soy, and wheat gluten. If you're concerned that your dog has a food allergy, your vet may recommend an elimination trial or even allergy testing.

Common Goldendoodle Health Issues
Goldendoodles are hearty dogs and tend to be long-lived, but they do have some common health concerns that can be inherited from their two parent breeds, the Poodle and the golden retriever.
Of course, not all dogs will exhibit symptoms of each of these conditions, and your dog may never show any signs of any of these health issues. But it's important to keep in mind what's common for other Goldendoodles so you can closely observe your dog's health and head off any issues before they become serious.
Addison's Disease
Addison's disease is another name for hypoadrenocorticism, which occurs when the body's adrenal glands don't produce hormones like aldosterone and cortisol. These hormones, which are steroids, are important to regulating the function of organs and bodily systems, and in severe cases, the body can be seriously damaged.
The condition is not curable, and dogs that are diagnosed with cases will usually need to remain on medication for the remainder of their lives. But the good news is that in most cases, if the condition is diagnosed before major damage has been done to systems of the body, treatment means the dog's lifespan will be normal.
Several breeds are prone to Addison's disease, including the standard Poodle, which is the primary reason why Goldendoodles may be predisposed to this condition. Symptoms of Addison's disease in dogs include depression, weight loss, vomiting, hair loss, and increased urination, and diagnosing the condition requires blood tests.

Bloat
Gastric dilatation-volvulus (GVD) complex is the technical term for a common-but-often-deadly condition — bloat. Bloat occurs when the stomach feels with air, causing pressure to build and preventing the body from properly circulating blood to extremities and back to the heart. Without treatment, bloat is estimated to lead to death in about 30 percent of cases.
Partially because of their physical build (tall with a deep, narrow chest), several breeds are predisposed to bloat, including the standard Poodle, as well as Setters and giant breeds like Great Danes. Foods that contain oils and fats as the first four ingredients can more than double the risk of bloat, according to one study, and dogs that eat just one meal per day are more likely to experience bloat. Fast-eating dogs also are more prone to bloat, so ensuring your Goldendoodle is unable to scarf her food is important.
If you are concerned about bloat, you should see a vet as soon as possible, but signs of bloat include an enlarged and painful abdo salivation, retching, and restlessness.

Eye Disorders
Both Poodles and Golden Retrievers are disproportionately affected by cataracts, a trait they often pass along to their Goldendoodle offspring. Also common in Goldendoodles are glaucoma and progressive retinal atrophy.
Dogs of all breeds are more likely to experience both cataracts and glaucoma as they get older, but diagnosing each as early as possible is the best way to provide helpful treatments to improve your dog's vision and overall health.
Research has indicated that antioxidants in foods and/or supplements can improve eye function in dogs, and this can be an excellent way to prevent some of the vision conditions to which your Goldendoodle may be prone.
Hip Dysplasia
While hip dysplasia is most common among large breeds, dogs of all sizes can experience this inherited condition. Hip dysplasia occurs when the hip joint does not properly form, and over time, the hip becomes painful and may cease functioning properly.
Labrador retrievers are more prone than their Golden Retriever cousins, but Goldendoodle owners may want to consider some preventive methods for helping ensure healthy joint function throughout their dog's life, particularly as she gets older. Glucosamine and chondroitin are both recommended to prevent the onset of early arthritis, which can exacerbate hip dysplasia symptoms.

Aortic Stenosis
Golden retrievers are predisposed to heart disease, aortic stenosis, in which the aortic valve of the heart is narrower than it should be, making it more difficult for the heart to pump an adequate supply of blood throughout the body.
In many cases, no treatment is necessary, but in more serious cases, long-term medications may be needed to ensure proper blood flow.
The dietary implications of aortic stenosis in dogs hasn't been well-studied, but one heart study in dogs who were found to be deficient in taurine, a key amino acid, indicated that heart function improved with diets that were grain-free and/or legume-rich.
It's always best to consult your vet before making a long-term decision about what food is best for your Goldendoodle, but if you're concerned about heart health in your dog, a grain-free diet may help prevent aortic stenosis and other cardiovascular problems down the road.
Most dog foods don't cover all these areas, though there are a couple that get close. Merrick Healthy Grains has all four of the major health-related supplements (glucosamine, chondroitin, taurine, and antioxidants), while both the Blue Buffalo Natural and Blue Freedom Grain-Free have three.

How to Introduce New Food to Your Goldendoodle
When switching your dog to a new food, it's important to introduce it gradually. Switching over all at once will probably give your dog gastrointestinal problems that will be problematic for you, too.
But there's an easy-to-follow schedule to get your Goldendoodle switched over to a new food in a week.
Day 1-2
On the first two days, your dog should eat a 2-1 ratio of old food and new food. So, if you feed, say, 2 cups of food per day, 1½ cups should be old food, while ½ cup should be the new food.
Day 3-4
On the third and fourth days, feed your dog a 50/50 mix of old and new food. So, in our previous example, that's 1 cup of old food and 1 cup of new food. Remember that you should be feeding your dog smaller meals rather than one big meal, so you'll need to do some math to get the ratios right. Goldendoodles aren't known for being picky eaters, but some may be resistant to change.
If they are avoiding the new food and only eating their old food, you may want to pause on one stage for a day or so to ensure they're getting enough nutrition. But eventually, they will relent since, after all, they're hungry.
Day 5-6
On the fifth and sixth days, the ratio should switch to 2-1 in favor of the new food, so that you are feeding your dog mostly their new food with just a bit of the old food to supplement it. Again, in our scenario, that would be 1 ½ cups new food and ½ cup old food.
Day 7
On the seventh day and beyond, your dog should be completely switched over to the new food.
Other Products for Goldendoodles
Goldendoodles are a beloved breed for a reason and owners love to take great care of their good boys. Consider purchasing some of the following products to spoil your pup.
Dog Food Topper: Whether it's for nutrition or just to provide a little bonus for your pet, a dog food topper is a nice thing for a pet owner to have on hand.
Dog Treats: The right treat doesn't just make your dog's life a little better, but it can help with training and properly rewarding your dog.
Pooper Scoopers: Goldendoodles are large, and, well, that makes them a bit tricky to clean up after. Make the job a little easier with a sturdy popper scooper.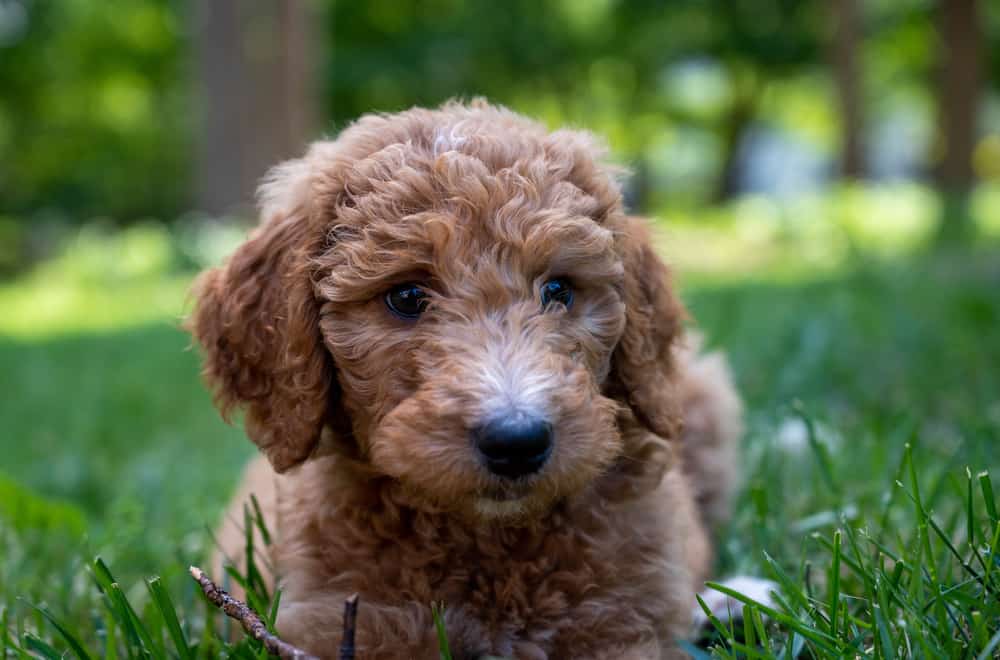 Goldendoodle Dog Food FAQs
Goldendoodle owners have lots of questions about feeding their dogs the best food, and here are a few of the most common.
How Much Food Should I Feed My Goldendoodle?
Age, size, and activity level are all major factors in deciding how much food your dog needs each day. dogs should be fed twice per day and maybe more if you're trying to cut their calorie intake but keep them from being hungry.
Goldendoodles tend to get their size from the Poodle size of their ancestry. That means they can range in size from toy to standard, which tends to equate to 15-50 pounds in weight. As you can see, that's a huge range, so your dog's weight is the most important factor to consider in setting their food allowance for the day.
A good rule of thumb for weight maintenance of Goldendoodles is that a small dog should eat no more than 350 calories per day, which equates to about ¾ cup of most dry dog foods, while a larger Goldendoodle should eat around 1,200 calories, or roughly 2 ¾ cups of most dry foods.
For dogs that are active (or especially inactive), you can adjust the number of calories they're getting per day by simply changing the amount of food they get. Because Goldendoodles can overeat, they should not have access to food all day, and it's best to feed them at set times and in set amounts.
You should also consider any treats, supplements, or other food your dog might get in a typical day. All those calories count.

When Should I Switch My Goldendoodle Puppy to Adult Food?
Puppy foods are high in protein, calories, and fat to meet a pup's developmental needs. But, bittersweet as it may be, all puppies grow out of the need for this type of food, just as human babies make the shift from milk or formula to solid foods.
As with most considerations regarding your dog's food, her size is the biggest factor in determining when to make the shift from puppy food to food. As we've mentioned, Goldendoodles take their size cues from the Poodle side of the family, and they can range in size from toy to standard.
In general, you want to begin feeding your puppy food when they're near their height. In toy breeds, this could be as young as 7-9 months, while bigger dogs reach this point at about 10-12 months of age.
Your vet can help you estimate how large they expect your Goldendoodle to grow, and if you know the parentage history of your dog, that can help in that determination. But it's important to remember that it's generally better to keep an dog on puppy food than to switch a puppy to food before she's ready.
How Often Should You Feed a Goldendoodle Puppy?
When to switch a Goldendoodle puppy to food is an important consideration, particularly since it also means the dog will be getting less food overall. That's because, in addition to having their own special food, puppies need to eat more calories than dogs to meet their nutritional needs.
Most puppies will need to eat about four times per day, and you should follow the feeding recommendations given by the puppy food manufacturer. Puppies tend to be intensely food-obsessed, so you'll probably need to come up with methods to keep them from scarfing their food.
Why Do Goldendoodles Throw Up?
It's certainly unpleasant to find piles of puke in your house, but all dogs vomit from time to time. In most cases, there's nothing to be concerned about, as dogs can vomit from things like eating something that disagreed with their stomachs to eating food too quickly.
However, Goldendoodles are prone to a condition called bloat, which if not treated right away can be fatal. Its scientific term is gastric dilatation volvulus, or GVD, and it occurs when the dog's stomach becomes twisted, cutting off blood supply and sending the dog into shock.
One of the most common signs of bloat is retching, which is when a dog attempts to vomit but little to nothing is expelled. Another key sign is abdominal swelling and pain, so if you notice your Goldendoodle exhibiting both signs, an emergency vet visit is probably in order.
Final Thoughts
They may not show up in the National Dog Show anytime soon, but Goldendoodles have captured hearts across the world thanks to their cute looks and personable, affectionate behavior. While they have some conditions they can inherit from their parent breeds, the Poodle and the Golden retriever, those issues can be managed for a healthy and happy pet with the right food choice.