The 10 Best Pooper Scoopers to Buy in 2023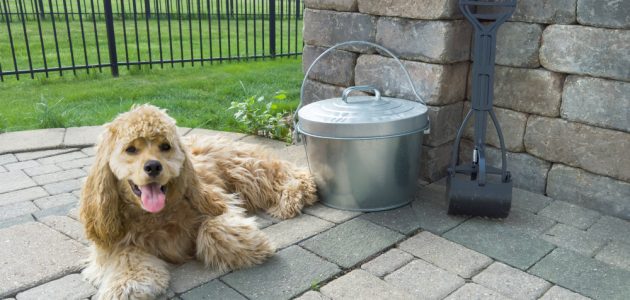 As much as we care for our pets, we don't exactly love the gifts they leave for us in our yards. Dodging doodie landmines is certainly annoying, but the reasons to pick up after your pets go far beyond keeping the bottoms of your shoes clean.
When left on the ground, animal waste can introduce harmful pollutants that impact human and wildlife health. Many communities require pet owners to clean up after their dogs when walking through parks and other public areas. But pet owners may be interested in taking that a step further and ensuring their private property is free of dog poop and other animal waste.
Doing so in the most efficient way could mean investing in a pooper scooper, so let us scope out for you the best products to help you complete this dirty job.
Factors to Consider When Buying Pooper Scoopers
Picking out the best pooper scooper is a more complex task than it might seem at first glance. You'll need to think about the area your pets use as their toilet, who in your household will be doing the actual pickup, how you'll dispose of the stinky mess, and many other factors.
Pooper Scooper Style
Several styles of pooper scoopers are available, and which is right for you depends on a lot of factors unique to your needs. No one style is necessarily best, but there are two you'll most commonly come across.
Jaw scoop. These have scoopers that open and close like a mouth; you place it around the poop while open, then shut the "jaw" with a trigger on the attached handle.
Rake/shovel and bin. These are very similar to a broom and dust bin. You shovel or rake the poop directly into a bin to contain it.
For a more detailed look at the pros and cons of each style, check out our full guide to pooper scooper styles below.
The Landscape It'll Be Used On
Where your dog does his business is another important factor. Picking up piles from thick grass is a different task than taking turds off concrete or asphalt. Dog owners may want to consider a product that does both, like the Balhvit Pooper Scooper.
Pet Number, Type, and Size
Whether you're cleaning up after a dog, cat, or another type of pet, you'll need to be well-acquainted with what your best friend leaves behind after a meal. To pick the right pooper scooper, you need to know when they go, where they go, and how big their poos are.
Frequency of Collection
Knowing how often you'll be scouring your yard for nuggets is another important factor. If your collections are less frequent, you may want to consider products that can hold a few days' waste at once.
Disposal Method
How will you get your pet's waste from the scooper into the trash or toilet? Some products are designed to allow you to scoop the poop straight into a bag that you can then detach and toss. Others will need to be hosed off regularly.
Who Will Use the Pooper Scooper?
The family member responsible for carrying the load is another primary consideration. Many products geared toward children can help parents teach their kids about responsibility, but this isn't right for every house.. To find out if it's right for yours, jump to our detailed guide below.
What's Your Budget?
For any new purchase, price is always a factor. The good news for those in the market for a pooper scooper is that few of them will cost more than $15 or $20.
How We Chose the Best Pooper Scoopers
The most important factors in choosing the best pooper scooper for your family may vary, but here's a look at how we determined the best of the best, as well as what you'll see in each review.
Style
Most but not all products we reviewed are either rake/shovel and bin, or jaw scoop.
Durability
This covers the sturdiness of the materials used in construction and how well products hold up to repeated uses and cleanings.
Ease of use
Your dog uses your yard as a toilet multiple times per day, so products need to be easy for you to use daily or several times per week.
Versatility
Products that can only be used on one type of landscape aren't bad products necessarily, but versatile products will have a leg up (see what we did there?).
Good to Know
This category includes other benefits or drawbacks that don't fit into other categories, such as if products are the only ones to offer certain features.
Value
None of the products we reviewed were particularly pricey, but some certainly provide a bigger bang for the buck than others.
With these factors in mind, let's dive into the best pooper scoopers on the market.
Top 10 Best Pooper Scoopers 2023
Guide to Buying the Best Pooper Scooper
Everybody poops, including your pets. Cleaning up after them is important for several reasons and figuring out how to go about doing this crappy job in the best way isn't always simple. Here's a look at everything you need to know to pick the best pooper scooper for you.
Can I Just Leave Dog Waste in My Yard?
Ruining your favorite pair of flip-flops is certainly a risk you run when your dog's waste is left in your yard. But the U.S. Environmental Protection Agency (EPA) lists pet waste as an environmental hazard, and if it's left exposed to rain, the toxins can make their way into local waterways, causing a number of diseases in humans. Because of this, you should be certain to never leave your dog's waste just lying on the ground—however tempting it may be.

Is Dog Poop Harmful?
In a word, yes. Dog waste contains several types of bacteria and parasites, and the EPA classifies pet droppings as "nonpoint source pollution," meaning pollution that results from rain, snow melt, or drainage. The agency lists dog poop and other pet waste in the same category as toxic chemicals from energy production.
According to the federal Centers for Disease Control and Prevention (CDC), contact with poop from domestic pets like dogs and cats can cause humans to become infected with many types of bacteria, diseases, and parasites, including:
Campylobacter: Causes diarrhea, fever, and abdominal cramps; most harmful for children under 5, adults 65 and older, and those with weakened immune systems.
Cryptosporidiosis: Causes watery diarrhea with cramping, abdominal pain, nausea, and vomiting.
Echinococcosis: Though rare, parasite can cause a tapeworm infection in humans that can lead to the development of cysts in bodily organs.
Giardia: Can cause diarrhea, gas, and dehydration.
Hookworm: Small worms spread through skin contact with animal waste. Though rare, hookworm infection can cause intestinal inflammation in humans.
Roundworm: Two types of roundworm can infect people. One type affects the eyes and can lead to vision loss or retinal damage, and the other affects organs like the liver, lungs, and central nervous system, causing fever, fatigue, abdominal pain, and wheezing.
Salmonellosis: Infection symptoms include diarrhea, fever, and abdominal cramps. At-risk people, such as the very young or very old, may require hospitalization in the case of severe salmonella
Toxoplasmosis: Most often found in cat poop, toxoplasma gondii can cause flu-like symptoms in humans.
Humans aren't the only ones threatened by dog poop. Dogs themselves also could get sick. That's because some dogs have a nasty habit of eating their poop or the poop of other dogs. The scientific term for this particularly gross activity is coprophagia, and while it can have many causes, one study found that about one in four dogs had eaten poop at least once, and 16% were habitual turd-tasters.
Poop eating can be a sign of a behavioral or health problem in dogs, so if your dog is eating its own stool or the poop of other pets, be sure to discuss this with your dog's vet. It may be necessary to have lab tests on your dog's blood and stool to rule out parasitic infection, and you'll need to be sure to eliminate any future triggers of habitual poop eating.
The American Kennel Club has identified several reasons why dogs might eat poop, such as:
Anxiety
Isolation
Attention-seeking
Eating their food in proximity feces
Restrictive confinement
Are There Alternatives to Pooper Scoopers?
Some dog owners may be able to avoid the need to scoop poop in the first place, though this can depend on the size of the dog and the owners' level of skill (and patience) with training. The two best alternatives to pooper scoopers are indoor litter boxes, like those used by cats, or training your dog to use a toilet.
Toilet Training
Anybody who has ever had a puppy already knows the term "toilet training," but they probably assume it means training the dog not to use the potty in the house. But some dog owners may be able to train their dogs to use the toilet in a bathroom inside their house.
This requires an extreme level of dedication, as it's not necessarily a natural transition for a dog, especially an adult dog. Check out the steps needed and decide for yourself if it's possible (or advisable).
Litter Boxes
Most dogs can be trained to use litter boxes just as cats are, and there are several products designed for apartment dwellers and others who don't have outdoor spaces where their dogs can relieve themselves. These boxes come in a couple of varieties — those with absorbent materials like newspaper or clay and those designed to mimic the look and feel of grass.
The first type functions just like a cat's litter box, with liquid and solid waste coming into contact with the litter material and drying out, which makes disposal easier. The second type is an elevated platform with a patch of artificial grass over a slotted tray that drains into a receptacle. This receptacle can be drained and cleaned, and some products allow for puppy pads or newspaper to be placed into the receptacle. It's also easier to remove droppings from the artificial turf than from real grass since the turf material is shorter than grass.

What Pooper Scooper Style Is the Best?
Which style of pooper scooper is best depends on a ton of factors and is largely a matter of personal preference. The good news is that most pooper scoopers are cheap, so it may be possible to experiment with a few types before settling on the one that's right for you. Let's check out the characteristics of the two main types: jaw scoops, and rake/shovel and bin.
Jaw Scoop
Jaw scoop pooper scoopers work by placing the open scoop around the poop and then pulling or hitting the trigger of the handle. This causes the jaw to close around the poop, letting the user lift it off the ground and dump it into a bag or bucket for disposal.
Some jaw scoops are designed so that the scoop itself can be covered with a bag, and many are collapsible for easy storage. These all-in-one units may be more suitable for homes with small dogs, given the limits of the size of the scoop.
With jaw scoops, another consideration is the edge design of the scoop. Those with particularly sharp edges may get caught on a hard surface like concrete or asphalt and make pickup a challenge. Some jaw scoop versions are designed specifically for pavement.
Rake/Shovel and Bin
This is the more traditional style of pooper scooper, and this format is based on the simple premise of a broom and dust bin. Some units come with rakes, while others come with flat-headed shovels or trowels.
Some bin units are made to swivel, and some bins can take bags for easier disposal. Some but not all units will require assembly, and most come with clips to keep the rake/shovel handle and bin handle attached.
Users will be more likely to find adjustable handles if they go with this type of scoop.
Other Factors
The form factor of the pooper scooper isn't the only consideration that goes into deciding the best product for you. While the ergonomics of how each style functions is important to note, here's a look at the other important factors you'll need to consider before deciding:
Landscape: Jaw scoops with jagged edges aren't best for those collecting turds from asphalt or other relatively flat surfaces. The edges may prevent the scoop from closing around the droppings. But rake-and-bin styles might not work for these landscapes, either, as the teeth of the rake scraping against concrete or asphalt will be unpleasant and possibly less effective. A shovel-and-bin style may be best for those most often cleaning poop off flat surfaces.
Pet number, type, and size: As mentioned, jaw scoops tend to have smaller collection baskets than bin-style scoopers, so these may not work for families that have several dogs or large dogs. But for homes where smaller dogs or outdoor cats live, these smaller units could be perfect. Understanding the health and consistency of your pets' poop is also important here, as some dogs have bigger poops, while others may be prone to digestive problems.
Disposal method and frequency of collection: How often you'll be scooping the poop is a huge factor. If you're doing daily pickup and delivery of dog poop, you may not need a particularly high-capacity scooper. On the other hand, if you want to be able to pick up several days' worth of poop and have it immediately contained within a bag, you'll need to consider a product that has a large bin that comes with bags.
Do Local Laws Apply to Dog Waste in My Yard?
Possibly, though this depends on where you live. In many cities and towns, pet owners are required to curb their cats and dogs in public areas and private spaces other than the pet owners' property. But in other cities, these requirements extend to the owners' property as well.
For example, the Seattle-area city of Bothell requires residents to pick up their dog's poop from public areas as well as their own yards or face a fine of up to $250. Charleston has a similar law on the books that applies to public and private property alike, and Chicago lawmakers a few years ago considered such an ordinance, though it did not pass.
If you're unsure about what laws apply where you live, many cities and counties have published all local codes and ordinances, or you can contact local public works or parks departments to find out what's allowed.

Should I Get My Kids Involved?
It's become something of a cliché, but many parents who give into their kids' pleas for a puppy will condition the introduction of a dog into the family on their kids "taking care of" the new pet.
For parents who want to instill responsibility in their children through dog ownership, getting the kids into the habit of cleaning up their dog's poop may be a good option. This probably isn't the best idea for young children, as they may be susceptible to several types of parasites that can be transmitted through contact with dog poop. Very young kids may not have the physical coordination to avoid physical contact or the hygiene habits to effectively clean their hands off afterward.
If you do want your tweens or teens to take care of your dogs' business, consider pooper scooper products that are on the shorter side, or consider investing in one long-handled and one short-handled device.
What Are the Best Practices for Using Pooper Scoopers?
A good pooper scooper is only as effective as your habit surrounding the use of the product. What are some ways to make this a task that doesn't stink?
If you can, do the deed daily or at least weekly: The average dog poops at least once a day and probably more depending on how many times he's fed. If you clean up the yard daily, the job will be easier than if you leave piles to accumulate for weeks.
Gather all the tools you need: Decide on how you will go about collecting and disposing of the poop and be sure to take all the tools you'll need with you. For example, if you're dumping your dog's dumps into a bucket and then tossing the collected turds into the trash, bring that bucket with you rather than taking the pooper scooper to the bucket. The fewer steps it takes you, the better.
Scoop everything suspicious: Not sure if the pile before you is a gift from your dog or simply a clump of mud? Scoop it anyway. Better to accidentally scoop up some dirt than leave a turd in the yard.

Learn your dog's patterns: Your dog probably likes to poop in the same few spots day after day, so if you pick up a pile from one area, before heading to another area, look all around that spot. Chances are good there's another pile nearby. Alternately, train your dog to poop only in a specific area of the yard so you have a smaller area to clean.
Pick a side: According to poop-scooping experts DoodyCalls, the side of the pile that appears most stuck to the ground will be the one that's easiest to pick up.
Clean your tools: All pooper scoopers must be regularly cleaned to ensure they are free of fecal residue. A garden hose is helpful in this effort, and getting into the habit of cleaning the scooper after every use will ensure you can get right down to business once it's time to clean.

Don't look away: Dog poop is gross, there's no reason to claim otherwise. But some health problems our dogs experience can show up in their droppings. If you note a change in the color or consistency of your dog's poop, that can be a sign of intestinal distress. Check out this article to learn more about what healthy dog poop should look like, and if you spot any concerning issues, be sure to call your vet.
The, Uh, Bottom Line
It's a common misperception that dog waste is a fertilizer in the same way that cow feces is used to grow crops. The presence of a host of undesirable materials in dog poop means that far from helping your tomatoes grow, your dog's waste may, in fact, make you and your family sick. Using a product designed to make this dirty job less crappy could mean improving the health of yourself, your pet, your family, and even your local waterways.