The 10 Best Grain-Free Cat Foods in 2023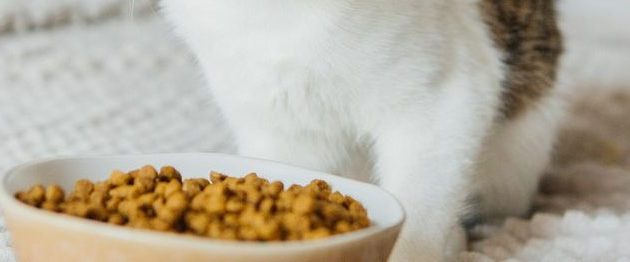 As a loving cat owner, one of the best things you can do for your feline friend is to provide them with nutritionally complete food. A good diet is key to lifelong good health, which in turn grants more time with your furry friend as it can extend their lifespan. Grain-free cat food is well-suited for daily consumption as it is the closest match to the ancestral diet of cats, who are obligate carnivores,
With the many kinds of tasty cat food available on the market, it can be overwhelming to try and pick the type of grain-free cat food that best suits your kitty's needs. Don't worry! We're here to help.
What Kind of Grain-Free Food Should You Buy?
As carnivores, cats need nutrients found only in animal products to sustain their daily activities. Their best diet contains plenty of protein, some fat and minimal carbohydrates as they eat mostly meat. By understanding what your feline friend needs in terms of nutrition, you'll be able to make an informed decision when choosing a product that meets the needs of both you and your cat.
Grain-free cat food is divided into two main types – dry food and wet food. Depending on preference, cats can be fed with exclusively dry food or wet food, or they can be fed a combination of both dry and wet food. As long as the amount of food meets your kitty's daily calorie intake requirements and both cat and owner are happy, any proportion of cat food will do.
Besides the usual dry and wet food, grain-free cat food is also available in high protein and limited ingredient varieties, like Blue Buffalo's high protein and grain-free Wilderness range and Natural Balance's Limited Ingredient Diets grain-free range. High protein and limited ingredient grain-free cat food is great for cats with special dietary needs as there is more protein and less added ingredients for your kitty to digest.
Choosing the Best Grain-Free Food for Your Cat
You can find the grain-free cat food that best suits you and your cat by evaluating the different kinds of food on the market according to specific criteria. We considered the following features when reviewing our picks for the best grain-free food out there.
Ingredient Quality
Cat food contains meat, but the quality and type of meat is important to keep them healthy and happy. Look for high quality protein sources, high quantities of essential vitamins and minerals, and as few preservatives and artificial ingredients as possible to be sure it is good for your kitty.
Flavor
As cats are finicky eaters, food that is appetizing helps to woo their taste buds. The healthiest food won't make a difference if your resident feline overlord refuses to eat it, so we made it a point to select for flavor to ensure that they get the maximum benefit from a nutritious diet. Taste of the Wild's Rocky Mountain Recipe has meaty flavors that are sure to bring excitement to your kitty's palate.
Freshness
For any kind of food sold, freshness is of utmost importance as old food does not just taste bad, it can hurt your cat's health. We picked options that would last for as long as needed without compromising quality and taste. What you want to look for here are resealable containers or single-serve packaging.
Scent and Litter Odor
What goes in, must come out. Good food will be good for the stomach, too. We look for grain-free cat food that gives a boost to kitty's overall wellbeing, whether that is in terms of body odor or excrement scent. We also look for food that smells appealing to both humans and felines. An example of grain-free wet cat food that helps with litter box scent is the Naked Essentials Grain-Free range from "I and love and you".
Top 10 Best Grain-Free Cat Foods 2023
Guide to Buying the Best Grain-Free Cat Food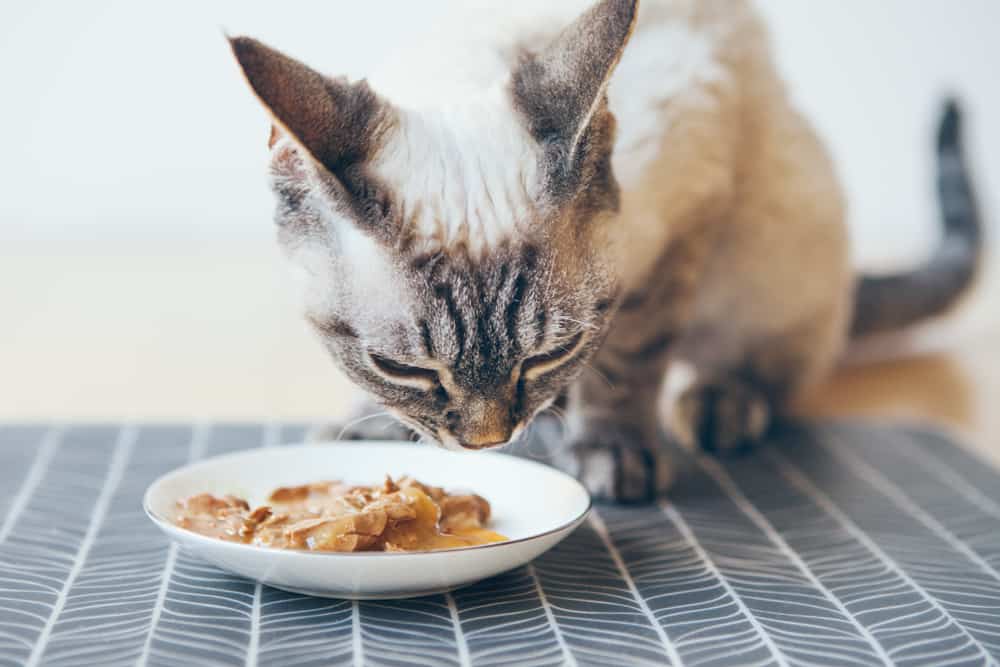 For something as simple and necessary as feeding your kitty, selecting a good grain-free cat food can be surprisingly complicated. Once most pet parents have found a food that works well, they often stick with it for the rest of their lives. This is why a quality grain-free cat food that meets your cat's needs can make a real difference in their health and wellbeing. Keep reading for ideas on what to look out for when choosing grain-free cat food.
Cat Dietary Needs
Meat is biologically essential to the survival of cats as they are obligate carnivores. A wild cat's diet consists of at least 50% protein and 30% to 50% fat, with minimal carbohydrate consumption.
Some of the essential nutrients cats need from their diet are taurine, arginine, and retinol – other animals can get these nutrients from plant matter, but cats cannot. While most cats don't suffer side effects from plants in their food, they have almost no ability to digest vegetation and they will not be able to gain energy or nutrients from anything but meat.
Cats With Special Needs
Some cats have an allergic reaction to grains, where they have skin problems like itching, hair loss and sores as a result of grains in their diet. Other cats have an intolerance to grains, where consuming grains makes for digestive and kidney issues like vomiting, diarrhea and kidney stones. Your veterinarian can help you identify if anything in your cat's diet is causing distress.
Cats with special needs can benefit from specially formulated cat food like Hill's Science Diet for cats with sensitive stomachs or skin, which is recommended by veterinarians.
A grain-free diet also has less sugar and carbohydrates, making it an ideal option for diabetic cats as well as cats who need weight management. CRAVE offers a range of high protein grain-free dry cat food that is an affordable alternative to prescription food for diabetic cats.
Benefits of Grain-Free Cat Food
Grain-free cat food does not contain common cat allergens such as rice, wheat and corn gluten meal. This means that the food is easier to digest for cats, but it can also mean that the cost of this food is higher than conventional food because the usual fillers have been removed and replaced with higher quality ingredients.
A grain-free cat food diet can help cats with weight management and prevention of health problems like liver disease, renal disease, diabetes and loss of muscle mass. Your vet will be able to recommend the type of cat food that best suits your kitty's health needs, so you can build the foundation of your cat's diet and select from the variety of grain-free cat food available on the market.
While grain-free cat food is not meant to be a cure-all for a cat's health problems, many cats do better on it. Its macronutrients can be lower in total carbohydrate content, but occasionally they have more carbohydrates than some non grain-free cat foods. That being said, a high protein grain-free cat food is easier to find than a high-protein cat food with grains. Grain-free cat food is still similar to regular pet food in terms of calories and nutrition, which is good as any diet your cat is on must still meet its nutritional needs.
How to Choose Grain-Free Cat Food
With the sheer variety of grain-free cat food on the market, your kitty and you are both spoiled for choice. Here are some aspects to look into when selecting one that suits the two of you.

Caloric Needs and Special Needs
As with humans, cats have different caloric needs at different stages of their lives. Kittens will need more food rich in calories as they are growing, active little hellions jumping around and playing to explore the world. Meanwhile, senior cats need less calories as they are more sedentary. Outdoor cats need more food than indoor cats as they are often more active, roaming around their territory. Use a calculator to determine the appropriate amount of food to feed your cat.
Your vet will also be able to advise you on how best to feed your cat if they have special needs or health problems. Health issues like hairballs, urinary issues, dry skin, digestive issues and diabetes can be managed using special cat food formulas, or by watching out for ingredients that can aggravate their condition in the food they're eating.
Nutritional Content
Grain-free cat food can wind up higher in fat content as manufacturers sometimes substitute extra fat for carbohydrates, instead of extra protein. This extra fat makes the food smell and taste better, but it can also contribute to feline obesity. Hence, it is important to read the nutrition label and ensure that kitty has a balanced diet. As long as the protein content is at least twice the fat content, and the carbohydrate content is as low as possible, your cat should have no problem with a grain-free cat food diet.
Official Regulation for Labelling Terms
The Association of American Feed Control Officials (AAFCO) provides nutritional standards guidelines that pet food companies must adhere to before they can advertise their products as "complete and balanced". If the food you are considering has evidence that it is "complete and balanced", chances are that the food complies with these nutritional guidelines.
The terms "natural" and "organic" are also regulated. According to the AAFCO, pet food or ingredients must be derived exclusively from plant, animal or mined sources to be labeled "natural". The USDA National Organic Program (NOP) states that organic products must be "produced through approved methods that integrate cultural, biological and mechanical practices that foster cycling of resources, promote ecological balance and conserve biodiversity", with no use of synthetic fertilizers, sewage sludge, irradiation and genetic engineering allowed.
Type and Texture
Cats need to use their teeth to prevent plaque that becomes tartar build up. If left unchecked, tartar build up can turn into dental health issues like tooth decay and gum disease. Crunchy, dry kibble works like a toothbrush when chewed and eaten, helping your kitty maintain its pearly whites. Purina's ONE True Instinct dry cat food has a mix of meaty bits and crunchy kibble to add to the feline dining experience.
Dry kibble comes in different shapes and sizes – larger kibble size is more difficult to chew, so your cat eats slower and less because it feels full faster. If your cat has no teeth, weak teeth or any dental health issues, it might be a good idea to feed it with smaller sized kibble, dry kibble with water, or no dry kibble at all.
Wet Food
Wet food is prepared in a few different ways, namely pate, shredded, minced, cubes and flakes. Pate wet food is normally fed to kittens as it is easier to chew and digest, while older cats are usually fed shredded wet food. That being said, it depends on what the individual cat prefers as some older cats may prefer softer food like pate due to dental health issues making it difficult to bite and chew well. A great option for pate form wet food is Purina's Fancy Feast Classic Pate Collection.
As wet cat food contains about 60% moisture compared to 15% moisture present in dry food, your cat will get most of its water intake through its food. However, while wet cat food has an increased moisture content, the added water sometimes replaces nutritional content. If you are feeding your cat on an exclusively wet food diet, you will need to feed it more than you would if you were feeding it any dry food.
Pate style wet cat food generally contains more protein than chunks in gravy wet cat food, as the gravy functions more as a filler and does not actually contain much in terms of nutritional content.
Ingredients
The ingredients list of your chosen dry cat food should contain at least one good source of protein, taurine, vitamin C, vitamin E and omega 3 & 6 fatty acids. It should also contain fermentable fiber like oatmeal, lentils, psyllium or beet pulp. Ideally, the ingredients list should be short with minimal fillers, additives or preservatives.
Taste
There are many kinds of grain-free cat food available to satisfy your feline friend's taste buds, including duck, chicken, beef, salmon and turkey flavors. A higher meat content will add flavor to the food. You can also feed your cat wet food, dry food or both depending on its preference – some dry food can even be served wet by adding water.
Dry kibble tastes alright, but for some reason, finding a delicious wet cat food is difficult. Manufacturers often add harmful artificial coloring and flavoring agents to wet food to make it more appealing to the palate. When looking at the ingredient list, try to select for natural ingredients and natural preservatives that add to your kitty's health instead. Try mixing flavors to keep things interesting, like Sheba's Perfect Portions Cuts in Gravy range.
Price
It's important to be consistent in the type of food you feed your cat – generally, cats are picky eaters that do not respond well to frequent changes in food type and flavor. Choose the food that suits your budget and your needs, because the best, most expensive grain-free cat food is not always the best for you or your cat.
Budget options like Purina's Beyond Grain-Free Natural range give you grain-free nutrition without breaking the bank.
Wet cat food is more expensive than dry cat food, especially when you consider that you'll have to feed your kitty more on an entirely wet cat food diet as compared to the amount you'd need for just dry cat food. Due to the higher cost, wet food is a less popular option than dry food. If you'd like to feed your cat wet food, consider mixing it with dry food or alternating dry and wet food for meals to reduce the cost per serving.
Final Thoughts
At the heart of it, selecting the right food to feed your cat will set it up for life. As pet parents, we want the best for our cats, and we love to see them thrive. When in doubt, refer to your vet for advice and recommendations on the best feline nutrition for your cat's health. The products we've reviewed have a range of benefits that can work for every need, take joy in picking out the grain-free cat food that will best suit you and your kitty.