The 8 Best Pet Adoption Websites in 2023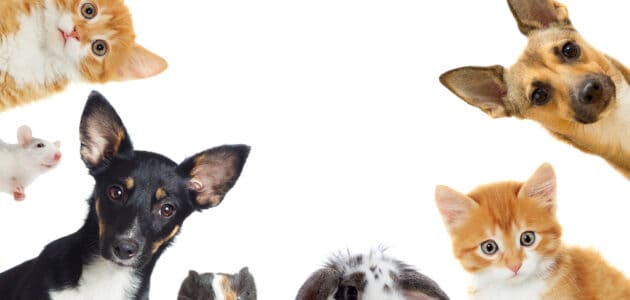 Adopting is a fantastic option when it comes to adding a pet to your household or family. It requires a bit more effort than buying through a breeder or at the pet store, but it's a decision with ethical benefits. By providing a fur-ever home to a pet from an adoption center or organization, you are basically saving that pet's life.
Traditionally, you'd need to go to a pet shelter or a rescue group to see the adoptable animals and start the adoption process. But thanks to the Internet, you can now view the adoptable animals in your area online. There are a huge variety of legitimate options, but we've gathered the best pet adoption websites below to make it easier for you to find your new best friend.
8 Best Pet Adoption Websites
1. Petfinder
The most reputable pet adoption website, Petfinder has an extensive selection of animals including dogs, cats, birds, reptiles, rabbits, small animals like chinchillas and guinea pigs, horses, and barnyard animals like pigs, sheep, and alpacas. They have over 20 years of experience in the industry and work with 11,000 animal shelters, rescues, organizations, and individuals.
This user-friendly and easy-to-navigate website has a huge selection of available pets that you can filter comprehensively. You can also add potential pets to your favorites.
Since they update their database every day, you'll have access to all the available pets at any time of the day, no matter the day of the week. If you sign up, you'll be able to favorite the ones you're interested in, and they will all show up on your Favorites page for easy viewing.
If you're looking to adopt a dog, they have a dog quiz you can take to help match you with a suitable dog.
The Search
After clicking on the type of pet you want to adopt, you'll be taken to a list of results, which you can filter according to the following criteria: breed, age, size, gender, compatibility with kids and other animals, coat length, color, care and behavior, and more. You can choose to save your search so you won't have to plug in the same information the next time you visit the site. There's also an option to allow them to email you daily if there are new matches.
A lot of the pets only have their most basic information on their profile, like their size, gender, whether they're an adult, and whether they've been spayed or neutered, so you'll have to do some more digging to see if you've found a good match.
You can click on the "Ask About <pet name>" button to ask the shelter, rescue or individual about the pet. Once you've submitted an adoption inquiry, the adoption group that the pet is with will contact you about how to proceed.

2. Adopt-a-Pet.com
Formerly 1-800-Save-A-Pet.com, Adopt-a-Pet.com works with over 21,000 adoption groups to get homeless pets into loving homes. Apart from dogs and cats, you'll also find rabbits, birds, and small animals listed on the site.
Like Petfinder, you'll be able to add a pet to your favorites if you sign up. But their New Pet Alert feature is an upgrade from Petfinder's email subscription. You get to choose between a free alert and a premium alert. If you pick the free alert, they'll email you a list of new matches from the past 24 hours.
If you pick the premium option, you'll instantly get an email every time there's a new match. It's a convenient option that costs $10 per month, and all of the profits are used to help the non-profit. You can also cancel anytime. Special features like these are what make Adopt-a-Pet one of the best pet adoption websites around.
The Search
To start, you need to select the type of pet you're looking for, enter your location, and then click Search. Since you can only filter through the results by breed, age, gender, size, and color, you'll need to spend more time finding the right match. However, you'll find that there's a lot more information available on each pet's page compared to Petfinder.
Apart from the pet's basic information, you'll also see their "story," the adoption process of the group or individual caring for the pet (which varies a lot depending on the group or individual), and that group or individual's background.

3. Get Your Pet
Easily one of the best pet adoption websites you'll ever find, Get Your Pet is an online community that connects people who want to adopt a pet (Adopters) with people who need to rehome their pet (Guardians). Adopters adopt directly from pet owners, so they'll have access to a lot of information that would help them decide whether they're a good match with the pet.
It's arguably the most humane way to adopt a pet. By rehoming a pet, you're able to keep it out of the shelter or rescue system. Shelters and rescue groups can then focus all their resources on animals that don't come from loving homes, like strays and abused animals.
Not only that, but when there's more available space, fewer animals will be euthanized as a result. You probably didn't know this, but of the 6.5 million companion animals that enter U.S. shelters each year, a staggering 1.5 million are euthanized.
Another thing that makes Get Your Pet an excellent pet adoption website is that Adopters learn about potential pets straight from Guardians, who have spent quality time with them in an actual home setting.
Adoption Process
After finding a pet you'd like to adopt, you can exchange secure messages with its Guardian and then arrange to meet at a convenient location where you can see the pet's natural behavior. If it's a match, you'll have to take the pet to a local Get Your Pet vet for examination—at no additional cost to the adoption fee—and then adopt the pet legally on Get Your Pet's website.
The adoption package costs $99 for a dog and $49 for a cat. A portion of the profits goes to shelters and animal welfare organizations.
The Search
The search function on the website is a bit different from other pet adoption websites. You'll see a list of all the available animals within a 50-mile radius of your zip code first, and then you can filter the results the way you want. You can filter them by type of animal, distance, gender, age, size (dogs only), claws (cats only), energy level, compatibility with kids and other animals, and coat.

4. ASPCA
Founded in 1866, The American Society for the Prevention of Cruelty to Animals (ASPCA) was the first humane organization to be established in North America. The selection of animals at ASPCA isn't as extensive as the other best pet adoption websites, but seeing as it's a leading organization in animal welfare, you can rest assured that every animal at ASPCA is getting the love and care it deserves.
Adoption Process
The only animals you can adopt through ASPCA are dogs and cats, and you can only do so if you're able to pick up the adopted pet in either New York City or Los Angeles.
Note that their Los Angeles program is exclusively foster-based, but they do have an adoption center in New York City. However, due to COVID-19, the center currently isn't accepting in-person visitors.
It's also for that same reason that ASPCA is only offering remote adoptions at the moment. This means you'll only be able to meet your potential pet through video conferencing, and if the adoption is approved, you'll need to pick them up from the adoption center in New York or the pet's foster parent's home in Los Angeles.
ASPCA does have a database of adoptable pets in your area that you can search through, but the search feature isn't as good as Petfinder's and Adopt-a-Pet's. However, pet profiles tend to have a bit more information here so it's still worth checking out if you can tolerate the subpar interface.
The Search
To view their available pets, you'll have to specify whether you want to adopt a dog or cat in NYC, or a cat in Los Angeles. Once you pick a category, you'll be able to filter the results by age and gender.
What makes ASPCA one of the best pet adoption websites to use is that every animal profile is packed with information about the personality of the pet and what they like and/or dislike. And towards the bottom is a link to the Adoption Survey that you'll need to fill out to start the adoption process.
If you ever need help finding the best cat or dog for your home, you can fill out ASPCA's Meet Your Match survey to make a match based on your personality, what you're looking for, and the needs of the animal. You can then bring your results with you when you visit a shelter.

5. Hearts United for Animals
Hearts United for Animals is a no-kill animal sanctuary that is dedicated to placing dogs and cats in the right homes. Animals that aren't adopted or can't be placed anywhere for any reason are cared for at the shelter for the rest of their lives.
The sanctuary only has one location and that's in Auburn, NE. But don't worry if you don't live nearby—you'll still be able to adopt a pet from them since they're able to fly animals out as long as there are safe flights.
Just know that you'll have to pay for the flight, and the cost can vary depending on the animal's size, the airline, and the method of shipping. Since they use their own kennels to transport the animals, you'll need to return the kennel your pet came in as soon as possible.
The Search
You just need to specify whether you're looking for dogs or cats then you'll get a list of adoptable pets. You can filter dogs by size, age, breed, and gender, but you can't do the same with cats as they only have a handful of adoptable cats at the shelter.
Each pet also has its own profile, and if you click on "Adopt Me," it will say how much the adoption costs and what it includes. There's a long form you need to fill out to begin the application.

6. Best Friends
Best Friends has been running the largest no-kill sanctuary in the United States for over 30 years now. They have a huge animal sanctuary in Kanab, UT, which houses about 1,600 rescued animals, including dogs, cats, birds, horses, farm animals, rabbits, and assorted wildlife.
Adoption Process
Before COVID-19, they transported adopted pets to their new family across the U.S. and Canada. But right now, you can only adopt pets if you're fine with virtual meet-and-greets and picking up your adopted pet from the Kanab sanctuary or one of their adoption centers located in Los Angeles, Salt Lake City, New York City, and Atlanta.
The Search – Animal Sanctuary in Kanab
If you're looking to adopt from the sanctuary, you just need to go to the "Adopt From Our Sanctuary" page and click on an animal type. You'll get results that you can filter by breed, age, size, color, and gender. When you click on a pet, you'll be taken to their profile, which contains not only their basic information, but also a short biography and a description of what they need and like.
Unfortunately, the profile page doesn't have a feature that will allow you to send an enquiry about the pet. You'll need to email them at [email protected] if you have any questions. However, if you're interested in adopting the pet, you just need to click on the "Adopt" button to start the application process.
The Search – Other Locations
Adopting a pet from one of Best Friends's other adoption centers isn't as seamless. Clicking on a specific location will take you to that center's website. Every website looks different, and depending on the website, they may not have a functioning database of available pets. Those that do usually include a lot of good information in every pet profile.
If there's a pet you want to adopt, you need to complete a survey and wait for an adoption counselor to contact you to begin the process.
7. AKC Rescue Network
https://www.akc.org/akc-rescue-network/
If there's one thing that the best adoption websites have in common, it's that they provide a wide selection of adoptable pets to choose from. It's a good thing if you don't really have any specific breed in mind.
But if you do, the search can be a little cumbersome. Only 25% of pets in shelters are purebreds. Luckily, if you're looking to adopt a certain dog breed, the American Kennel Club (AKC) Rescue Network is here to the rescue.
They offer a database of adoption websites and rescue groups that specialize in a specific breed(s). The breeds are listed in alphabetical order, and if there are any organizations that work with them, they will be listed along with a link to their website. Some of the breeds list multiple available groups, but the less popular ones may not have a single one listed.
Because these groups are their own entities, both their websites and adoption processes are structured differently, so there's a lot of researching and navigating to do if you want to adopt a specific breed of dog. But that's a small price to pay for finding your purebred companion.
8. Petco Foundation
https://www.petcofoundation.org
The Petco Foundation teams up with adoption groups to place animals in fur-ever homes. They work like Petfinder and Adopt-a-Pet in that they allow organizations to advertise pets on their website for free. They might also coordinate with shelters and rescue groups to host adoption events in your area, so be sure to check with your local Petco.
The Search
The form you need to fill out to begin your search is a bit more comprehensive than the ones on Petfinder and Adopt-a-Pet. You'll need to plug in the necessary information, which includes your zip code, the mile radius, and the type of animal you're looking to adopt (dog, cat, reptile, bird, rabbit, or small animal). Although optional, you can also specify the age, gender, color, size, and breed in the form.
Pet profiles include basic information about the pet, the shelter or rescue group's adoption process and fees, and that shelter or group's background and/or description. There are also buttons you can click to contact the group via phone call or email.
How to Go About Adopting a Pet
Pet adoption is a journey that can take weeks or even months. To make the entire process as seamless as possible, be sure to read the information below about where to adopt a pet and finding the best places to adopt from.
Where to Adopt a Pet
As you've seen above, you won't exactly be adopting straight from the website you choose, although there are websites that do work that way, like ASPCA, the animal sanctuary at Best Friends, and Hearts United for Animals. It'll be up to you to decide whether it's best to adopt a pet from a shelter, a rescue group, or another individual.
Animal Shelter
Shelters are typically funded and run by local governments. Often called the pound, these shelters include city and county animal shelters, police and health departments, and animal control.
There are private shelters as well, and they normally have "humane society" or "SPCA" in their names. Since they often have an actual facility you can visit, the easiest way to adopt a pet they listed online is to visit the facility during business hours.
Rescue Group
Rescue groups are typically private organizations that get their funding from donations and adoption fees. Most of their staff are volunteers, and many of the animals are placed in foster homes while waiting to be adopted.
Check out these pros and cons of adopting from an animal shelter or a rescue group if you're not sure which option is right for you.
Private Owner
When you take home someone else's pet instead of adopting from a shelter or rescue, you'll have the advantage of learning about important details related to the pet's needs, behavior, and health that only someone who has spent enough time with the pet should know.
Get Your Pet is no doubt the best website for adopting directly from a private owner, but the selection of available pets might be limited since it's not as popular as the other best pet adoption websites we've featured.
If you can't find a good match on Get Your Pet, be sure to check out Petfinder and Adopt-a-Pet.
Finding the Best Place to Adopt From
Animal shelters, rescue groups, and animal welfare organizations all want to find unwanted pets a loving home. But just because they share that same goal doesn't mean that the care they provide to the animals and their adoption processes are the same. Our list of websites are all great choices, but, but you will need to do your own research to make sure you are adopting from a good place – especially if it's a private owner.
Adoption Process
On some of the websites, the adoption process is already included in the pet's profile. If it's not included, you should give the shelter/rescue/individual a call to ask about the process. They should allow you to meet with your potential pet, whether virtually or in person, before going through the adoption process.
As for the fee, it should be a reasonable amount and something you're comfortable with paying. Remember to ask what the fee includes. In many cases, it already includes the vet fees, spaying or neutering, the microchip, and the necessary vaccines. If it doesn't, these extra costs can be expensive.
Return Policy
Sometimes, no matter how much a pet owner tries, they just aren't a good match with the pet they adopted. There are also cases when big lifestyle changes—often unforeseeable—make it difficult or impossible to keep caring for the pet. With this in mind, you should pick a place that has a good return policy so that the pet has somewhere to go in case you can no longer care for it.
Other Considerations
Not all adoption centers have the same high standards, and there some warning signs to look out for that may indicate your new pet is not coming from the best place.
Final Thoughts
Taking an adopted pet home and giving it the love it needs and deserves is a satisfying and wonderful experience. As long as you are patient and you do your own research before you adopt a pet, you should be able to take home a pet that's suitable for you and your lifestyle.
When you've finally chosen the one for you, you can go through this checklist and get the necessary supplies ready before you take your new companion home – that way, it'll already have everything it needs on the day you pick it up.