The 10 Best Kitten Foods in 2023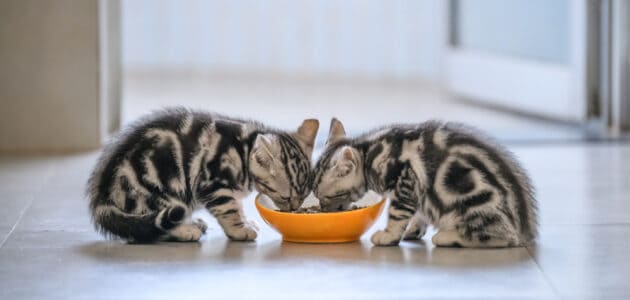 Caring for a new kitten requires patience, lots of toys, and, of course, lots of healthy food. As kittens drink less of their mother's milk, they will need to have a balanced, nourishing source of food that will continue to support them throughout their first year of life.
Many different brands and types of kitten food are available. When first shopping for kitten food, you will be able to select from a range of wet and dry foods boasting a list of ingredients and claims that you may not have heard about before. The process of finding the best kitten food out there can become difficult and just plain confusing.
Thankfully, we're here to help you out. We've done our research and gathered the best kitten foods available today to help make your decision easier. In this article, you can read all about our top picks, what makes them so great, and learn important kitten feeding tips. By the time you're done, you'll be a kitten food expert!
What to Look For in a Kitten Food
The best kitten food will be one that is nutritionally balanced specifically for a growing kitten and full of quality ingredients. You may also choose to purchase a food that is free from any artificial preservatives, colors, and flavorings like Hill's Science Diet as these ingredients may cause upset stomachs and allergic reactions in your kitten.
Ingredients
High-quality proteins are the best things to have in a kitten food. However, there are some other factors you should consider when selecting a product.
Vitamins and Minerals
Balanced vitamins, minerals, and antioxidants are essential to supporting your kitten's growth and the development of their internal systems. Look for a food that states it has vitamins and minerals that support things such as muscle growth, cognitive functions, and healthy skin and fur. From our list, Blue Buffalo Healthy Growth is a great example of this.
You get bonus points if the food you select has fatty acids such as DHA and ARA in it. These ingredients are typically found in the milk of a mother cat and are perfect for nourishing a young kitten who is beginning to be weaned from its mother. If this is something that interests you, skip down to our best overall pick, Purina Fancy Feast Pate.
Protein Density
Cats are obligate carnivores and require meat-based proteins as a part of their diet. A good kitten food should have high amounts of protein in order to support a kitten's growth and give them the energy they need to live happy, active lives.
Carbohydrate Content
In the wild, the only carbohydrates a cat receives comes from digesting whatever is in the stomachs of their prey. As such, kittens do not need high amounts of carbohydrates in their food; eating too many could lead to weight gain or other health issues.
Choosing Between Wet and Dry Kitten Food
From a health perspective, both wet and dry cat foods can contain all the nutrition a kitten needs to be healthy. This means that choosing between the two types of food is mostly a matter of personal preference and is for you and your kitty to decide. See our buyer's guide below for a more detailed look at the difference between the two.
Keep in mind that very cheap foods, both wet and dry, are often filled with fillers and wheat products which can be upsetting to some kitty's stomachs. Whichever version you decide on, as long as it is a quality product, your kitten will be happy.
Now that we've discussed what to look for in your kitten's food, let's pounce straight into our list!
Your Full Guide to Buying Kitten Food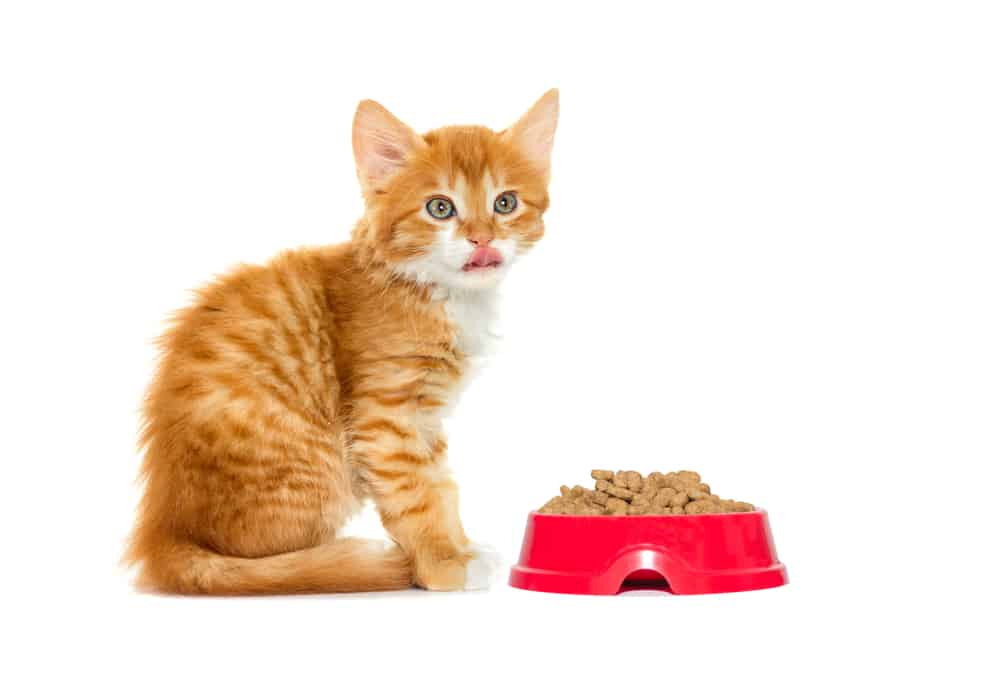 Selecting the best kitten food is not an easy task, especially when there are so many things to consider. In our full buyer's guide, we will discuss everything you need to know about feeding a kitten, so you can learn the best way to feed your feline friend.
Kitten Food vs. Adult Cat Food
All cat foods are blended based on the intake requirements set by the Association of American Feed Controls. Since kittens have different caloric and nutritional requirements from adult cats, they should typically only be fed food specifically blended for kittens. Adult cat food can leave them lacking in the nutrients they need to grow and develop properly. Some all stage foods are ok for kittens, but it is best to consult with your vet about feeding amounts in this case.
Adult cat food is lower in calories, higher in fiber, and mostly features special blends that help maintain overall health and treat adverse conditions such as hairballs or sensitive stomachs. If you feed an adult cat food made for kittens, they will likely gain excessive weight from the extra calories or end up with upset stomachs from the overload of nutrients they no longer need.

Wet vs. Dry Food
The wet versus dry food debate is one that has been going on for decades. There are pros and cons to each type of food, so your decision really comes down to a few differentiating factors.
Texture
The texture of a food is extremely important as it determines whether or not your kitten will be able to eat the food easily. Wet foods are softer and come in a variety of densities; they are better suited to younger kittens who haven't fully developed all of their teeth yet. Dry foods are composed of kibbles and are better for your kitten's teeth. The rougher surface works to eliminate plaque as your kitten eats.
Ingredients
Both wet and dry food have a range of ingredients and formulas. You are more likely to find grain-free recipes with wet cat food due to it not being shaped into hard kibbles, but some dry foods, like Merrick Purrfect Bistro are also grain-free.
Moisture Content
Intaking ample amounts of water is extremely important to your kitten's health. Cats can easily develop chronic dehydration and urinary issues if they do not have a source of fresh, clean water. That being said, the moisture content of wet food is upwards of 60 percent, while dry food hangs around the 10 to 15 percent range. If you're worried your kitten isn't drinking enough water, a wet food like Wellness Complete Health is a good choice.
Price
On a caloric basis, wet food is more expensive than dry food. This is because dry food is more condensed and provides a more direct source of nutrients. The moisture content in water bulks up wet food, but water does not provide any extra nutrients or calories to your kitten, so you will have to feed them more wet food than you would dry food.

How to Introduce a New Food
Introducing a new food to your kitten has to be done slowly to prevent them from getting an upset stomach or reacting poorly to the new food.
With whichever foods you are transitioning between, the best way to introduce it to your kitten is to start mixing the foods together at meal times. You should start with a ratio of ¼ new food to ¾ old and increase the amount of new food each day until that is all you are feeding your cat.
As you move between foods, keep an eye on your cat for signs of allergic reactions or digestive issues, such as diarrhea, vomiting, itching, lethargy, or refusing to eat.
When to Start Feeding Kitten Food
Kittens should begin being weaned at approximately 3½ to 4 weeks old. Kittens this young should start off being fed formula mixed with wet food, gradually decreasing the amount of formula until they are eating just wet food.
At around 5 to 6 weeks, kittens start getting their teeth and can begin nibbling on dry food. You can start them off by mixing formula or water with their food to make it softer and then gradually decreasing the amount.
Watch your kitten closely for signs that their new food is causing them issues such as loose stools, a hard, distended belly, or refusing to eat. Your kitten should be gaining approximately 3 to 4 ounces a week.
By the time your kitten is about 8 weeks old, they should weigh 2 pounds, and you can begin to experiment with flavors and textures of both wet and dry food to find out what they prefer. We suggest a variety pack like Purina Pro Plan for food experimentation.
How Often Should Kittens Be Fed?
Your kitten burns much more energy than an adult cat and needs many more calories to keep up with their constant growing. How often you feed a kitten depends on their age.
Newborn – 4 weeks old: Kittens this young should be fed with kitten formula every 2 hours during the first week of life and 4 to 6 times a day after that point.
4 – 6 weeks old: Your kitten should be eating 3 to 4 times a day.
6 weeks – 10 months old: Your kitten should be eating 3 times a day and gaining weight steadily. This is the period of time they grow the most.
10 months – adulthood: You can reduce feeding to twice a day once a kitten reaches 10 months old.
Free Feeding
Some pet parents choose to free feed once their kitten is regularly eating food. Free feeding involves leaving food out in your cat's bowl for them to graze on throughout the day. This should only be done with dry food since wet food will spoil if left out too long.
Free feeding can be convenient, especially if your kitten can self-regulate, but many cats struggle with obesity as a result of free feeding. If you notice that your kitten seems to be eating too much or gaining weight much faster than they should be, you may want to switch to designated mealtimes.
How Much Do Kittens Need to Eat?
Almost every single kitten food will come with the calories listed on the side. This will tell you how much of the food you need to feed your kitten to keep them healthy. If you are feeding your cat dry food, see this article to learn more about how much to feed them.
The amount is determined by the weight of your cat and can be adjusted if your kitten is becoming either under or overweight. This feeding chart can help you determine the approximate number of calories needed.
Signs Your Kitten Likes Their Food
You may be wondering if it's possible to tell when your kitten likes their food. Apart from your pet getting excited at meal times and eagerly finishing all their food, there are some things you can look for that will tell you if their food is a good match or not.
Your kitten will be healthy and alert. They will be playing, active, and reactive.
Your kitten's fur will be soft and shiny and their eyes bright.
Your kitten should be gaining weight steadily. Kittens will continue to gain weight until they are approximately a year old.
Your kitten shows no signs of illness or digestive upset such as diarrhea, vomiting, lethargy, skin rashes, or excessive itching.
If you checked off all of the things on the above list, then your kitten's food is likely a great match for them.
Foods You Shouldn't Give Your Kitten
You may be tempted to give your kitten a little something off your plate from time to time, but it is important to be careful what you feed them. There are certain foods that kittens and cats cannot tolerate and should never be given to them.
Milk
While milk can be given to younger kittens in small amounts, such as in Purina Fancy Feast's pate, as your kitten gets older and becomes an adult, you may want to stop feeding them dairy products. Many cats become lactose intolerant or find it hard to process milk as their body changes from that of a kitten; they can end up with digestive issues if they ingest too much.
Chocolate
Chocolate is highly toxic and potentially fatal to cats and kittens. It contains both theobromine and caffeine which can lead to increased heart rates, muscle tremors, seizures, and heart failure. The darker a chocolate is (the higher the cacao content is), the more dangerous it will be if your pet accidentally ingests it. You should contact a veterinarian immediately if you believe your kitten has eaten chocolate.
Grapes/Raisins
Grapes and raisins can lead to the sudden development of kidney failure in cats. Pets that are predisposed or have existing kidney issues are more likely to be affected by grape and raisin toxicity and some other pets may not react at all to eating a grape. However, it is better to be on the safe side and keep these items away from your kitten.
Onions and Garlic
Onions and garlic both belong to the allium family. They can cause digestive upset in cats and have the potential to cause anemia – a lack of oxygen in your pet's blood which can lead to many other health issues.
Caffeinated Products
Caffeine can increase your kitten's heart rate and breathing. It can also cause muscle tremors or spasms. It is unlikely to kill your pet, but it is still a dangerous ingredient that needs to be avoided.
Alcohol
Alcohol can cause severe liver and brain damage in cats. This danger is especially heightened in the still-developing bodies of kittens. You should not let your kitten come anywhere near alcohol, even a tablespoon is enough to be fatal.
Raw Meats
Raw meats have the possibility of giving your kitten a disease such as E. coli or salmonella, which can lead to an enormous amount of gastrointestinal problems. You should also stay away from giving your kitten any fat trimmings as these can cause acute pancreatitis.
Pro Tips for Kitten Care
Giving the best care to your kitten means that they will live a happy, healthy life. Follow these pro tips to make your furry friend as comfortable as possible.
Feeding
Selecting a healthy food is the number one thing you can do to care for your kitten. Go back and check out our list if you need some help with this.
Additionally, you should always make sure there is fresh, clean water available, preferably in multiple places in your house. To encourage your pet to drink, you can purchase a water fountain to give them a source of running water.
Kittens and cats prefer stainless steel and ceramic bowls to plastic, so invest in a couple to give your friend the best feeding and drinking experience possible.
Safe Areas
Kittens need certain areas that they can retreat to in order to feel safe, and to relax and sleep. Make sure to have several spaces that are quiet, comfortable, and partially enclosed so that your kitty can nestle into them any time they need a break from playing.
Making Time for Exercise
Spending time with your kitten is an important part of bonding with them. It helps to keep your pet social and encourage positive interactions. It will also help your kitten exercise and maintain a healthy weight.
Experiment with toys and find ones your kitten loves. Set aside at least 10 to 20 minutes of playtime a day and give your kitty attention, toys, and praise. Designated playtimes can also help your kitten act less destructive when you aren't at home.
Raising a Healthy Kitten
The number one thing every pet owner wants is for their kitten to be happy, healthy, and grow up into a strong adult cat. The best way to ensure this is by feeding them quality kitten food that supports all of their dietary needs. It can be difficult to select a product once you start looking at all the options out there, but as long as the product you decide on is made with nutritionally balanced, quality ingredients, your kitten will be off to a great start in life.