The 10 Best Probiotics for Your Cat in 2023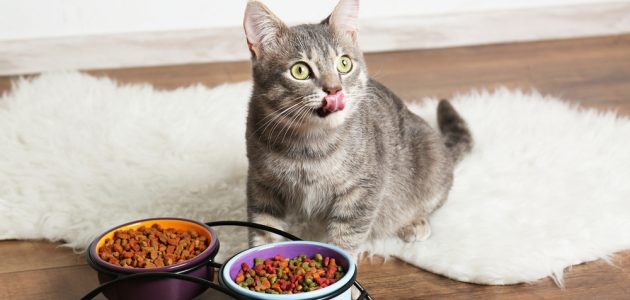 When things go well, you may not think about your feline friend's digestive tract often, but when your cat is having digestive issues, you'll notice. Vomiting, weight loss, and frequent trips to the litter box are unpleasant for both you and your cat to suffer through, and can lead to a lower quality of life for your kitty.
Probiotics can help combat these digestive upsets and fight the symptoms of common cat afflictions such as diarrhea, vomiting after meals, and food sensitivities. They can even go a long way towards improving chronic feline digestive issues like IBD.
Choosing a probiotic is certainly not an easy task, especially when seeking a medically safe and effective product for your cat. To help you out, we've gathered a list of the top ten cat probiotics available today and analyzed their benefits. Read on to find out our top picks and learn all about the advantages of feline probiotics.
How Can Probiotics Help Your Cat?
Probiotics provide a number of benefits to your cat, including improved immune system function and relief from digestive tract upset. If your cat is suffering from medical conditions such as Inflammatory Bowel Disease, has just finished a course of antibiotics, or you want to improve their overall health, there is a probiotic out there to help.
Types of Probiotics
Probiotics are manufactured in a number of different forms ranging from powders to gels. When deciding which probiotic to purchase, take into account how your cat would tolerate taking each type – the last thing you want to do is boldly purchase a pill and have to fight with your cat every day trying to get them to take it.
Powder
Powder probiotics are one of the most popular probiotic categories. They are often colorless and flavorless, meaning they can easily be added to your pet's food or water. Most cats don't mind or even notice probiotic powder on their food, so this makes it a good choice for picky pets who refuse to take pills and gels.
Liquid
Probiotics in liquid form can be added to food or dropped directly in your cat's mouth. Some, like Probonix's cat probiotic is liver flavored to help sweeten the deal for your kitty. If your cat won't stay still long enough to take their medicine, adding their daily dose to a treat or to their breakfast might be a better option.
Pills
It can be very difficult to get some cats to take pills, but if you can manage it, this is an excellent way to dose probiotics. Pills can pass straight through the stomach and release directly in the intestinal tract delivering the maximum amount of probiotic benefits to your cat. If your cat has medical issues such as IBD, pills, although inconvenient, may be the best way to administer their probiotics.
Gel
Gel probiotics are typically administered via a syringe straight into your cat's mouth. Due to the consistency, your cat will likely swallow it easier than they will a pill, though they can still be a pain to administer.
Chews
Chews are similar to treats and have a probiotic dose blended into a chewy formula. Pet Naturals probiotic chews are duck flavored, so even finicky felines will chow down on these treats, never even realizing they're probiotics. Chews are another good choice for cats who detest pills or gels.
Probiotic Considerations
In each type of probiotic, there are several factors related to the gut-healthy bacteria each supplement contains worth considering.
CFUs
CFU stands for colony-forming units. This is an estimate of the number of viable bacteria that are present in the probiotic and able to work their magic on the intestine. A higher number of CFUs doesn't necessarily mean that the product is better as the number of CFUs you need depends on the health goals you have for your cat.
A number on the lower end (under 5 billion CFUs) is great for maintenance and regular daily upkeep. Numbers around 50 billion and up towards 100 billion CFUs are fantastic for intensive repair if your cat has active digestive issues or has just finished a round of antibiotics.
Strains
Each bacterial strain is different, and you want to make sure there is a blend of different strains in the probiotic you purchase. Different strains will complement each other and work together to create a healthier gut microbiome in your cat, improving their overall health.
While one strain can often be enough to get the job done, we recommend at least two or three different bacterial strains in your cat probiotic, but more is always better. The strains Bifidobacterium and Enterococcus are the most beneficial for cats in terms of improving digestive and colonic health.
Some products include prebiotics, fibers meant specifically to help probiotics do their job and propagate in the gut. If your cat has stomach upset from an antibiotic regimen, prebiotics are a great option.
Live vs. Dead Strains
You should try to select a product that features live microbial strains. This ensures that your cat will receive maximum health benefits from their probiotics, as live strains are more potent. You can purchase strains that are considered dead or preserved, but these may not be strong enough to have a major impact on your cat's digestive health.
Added Ingredients
Most probiotics come in a pure form, but they may be mixed with other ingredients or preservatives. For best results, try to select a probiotic that doesn't contain any traces of wheat or soy that are coloring- and preservative-free.
Now that we've discussed what to look out for in feline probiotics, let's head straight into our list!
Top 10 Best Probiotics for Your Cat 2023
Buying the Best Cat Probiotics
Selecting the best cat probiotic can be a difficult process. In our guide, we will provide you with some of the most important things to keep in mind regarding feline probiotics to purchase with confidence.
How Do Probiotics Work?
Probiotics are a good bacteria that, when introduced to your cat's intestinal microbiome, fight bad bacteria and restore digestive balance. The strains form colonies in your pet's intestines and get to work supporting the immune system, which has a series of positive effects on your cat's health. All this is to say that a feline with a healthy gut is a cat of culture.
The Benefits of Probiotics for Your Cat
There are many benefits your cat can gain from taking probiotics, especially if they already have digestive issues.
Fighting Digestive Issues
For cats with sensitive stomachs and medical disorders like Inflammatory Bowel Disease (IBD), daily life may be a struggle filled with a regrettable amount of vomiting and diarrhea. Probiotics cannot completely cure these diseases, but they can reduce the severity of symptoms; sometimes symptoms will completely disappear, allowing your cat to live a normal life.
Reducing Allergies
If your cat has food or environmental allergies, adding probiotics into their diet may help reduce symptoms. They are not a complete cure for your kitty, but there is a chance that the severity of the allergy will be reduced and your pet can become more comfortable.
Strengthening the Immune System
Probiotics work to prevent the growth of bad bacteria in the gut. Some strains are also known to help synthesize naturally occurring antibodies, leading to a strong immune system. This can aid your cat in fighting off any illnesses and leading an overall healthier life.
Antibiotic Effects
Sometimes cats need antibiotics to help fight off a particularly nasty infection or illness. As with humans, antibiotics can wipe out all the bacteria in your gut, good and bad, and leave your kitty susceptible to developing diarrhea or other digestive issues.
Supplementing your cat's diet with probiotics, preferably one with a high CFU like Dr. Mercola's Complete Probiotics will replenish their digestive tract with healthy bacteria and can often eliminate diarrhea.
Improving Heart Function
Probiotics can reduce total and LDL cholesterol levels in cats, allowing the heart muscles to pump blood more effectively and continue to stay strong. While some cats are genetically predisposed to issues like feline cardiomyopathy, probiotics can help reduce hypertension, which in turn reduces your cat's risk of developing the disease.
How Long Do Probiotics Take to Work?
You may see improvements in your cat within the first couple of days of taking a probiotic, but it usually takes between 2 and 3 weeks to witness the full effects. This is because it takes time for the probiotics to start fighting off bad bacteria in the gut and begin forming healthy colonies.
Can You Give Your Cat Too Many Probiotics?
You can, in fact, overdose your cat on probiotics. While unlikely fatal, too many probiotics can lead to vomiting, diarrhea, and general digestive upset – usually the most common symptoms pet parents hope to treat with probiotics.
In order to avoid giving too many probiotics, stick to a daily feeding schedule that is approved by a vet. If you are adding probiotics in your cat's water, make sure they drink all of their water and rinse/refill the bowl between doses. You don't want to continually add doses into water when you aren't sure they finished the first one.
If you miss a probiotic dose, don't double up on the next one, just continue on the schedule as you regularly would. One or two missed doses is usually nothing to worry about, but be sure to stay consistent with your probiotic supplements for the best results and to avoid further digestive upset for your kitty.
Side Effects of Probiotics
Taking probiotics could increase instances of diarrhea in your cat for the first couple of days. This is part of a transitioning period as they get used to the supplement. If this diarrhea is accompanied by vomiting and general lethargy, discontinue use and consult with a vet.
Another risk factor that accompanies feline probiotics is an issue with human probiotics as well: they are not strictly regulated by any government agency. Most probiotics are sold as dietary supplements, which don't require preapproval by the FDA to be sold. These standards are even lower for pet probiotics due to the fact that they are intended for animals.
When purchasing a probiotic, make sure you are selecting a reputable brand and read reviews of the product to confirm successful medical outcomes. Doing this can help you avoid products that don't have any effect or are dangerous for your cat.
How to Get Your Cat to Take Probiotics
Depending on your cat's temperament, purchasing a probiotic may be the easiest step in getting your cat to take it. Each probiotic will have a different formula, but these pro tips to help you in administering supplements to your furry friend are universal.
Mixing with Food
Powder probiotics such as Purina's FortiFlora are the easiest to mix into food. If your cat refuses to eat it when it is on top of the food, the best thing you can do is mix it in. Wet food can help hide any scent or taste, but you can add a little bit of warm water to dry food and stir that in along with the probiotic if your cat doesn't care for wet food. This method also works well for liquid probiotics.
Getting Your Cat to Take a Pill
Stressful for both you and your cat, administering a probiotic pill can be a difficult task. If you've absolutely settled on purchasing a pill probiotic for your cat, there are some steps you can take to make the process easier.
Step up a comfortable, safe area to give out the pill. Make sure it is easily accessible and that your cat is relaxed in front of you.
If giving the pill by yourself, pull the cat onto your lap. It may be easier to wrap them in a pillowcase or soft towel with just their head exposed to contain their claws.
Add a small amount of butter onto the pill. This ensures it won't stick as it goes down your cat's throat.
Use your dominant hand and hold the pill between your index finger and thumb.
With your non-dominant hand, grasp your cat's head firmly and gently pull it back so their nose is facing up. Their jaw should drop open slightly.
With the pill in your hand, use your ring finger and little finger to open their jaws even further. Put light pressure around the lower lip and front teeth.
As fast as possible, place the pill on the back of the tongue. Aim for the back third of the tongue to trigger an automatic swallowing reflex.
Close your cat's mouth and hold it closed. Return the head to a normal position and gently rub their throat or lightly blow on their nose to encourage them to swallow. Cats will often stick out their tongue and lick their nose once the pill is swallowed.
After the pill has been successfully administered, make sure to give positive reinforcement to your cat. Follow up with their favorite treats, give love, or play with them using their favorite toys. This video can help guide you through the process.
If you have difficulty pilling your cat, ask your vet for guidance or consider purchasing a "pet piller" device to help you out.
Important to Know
When considering adding a probiotic to your cat's diet, always consult with a vet prior to use. A vet can help point you in the right direction of which ingredient and type of probiotic will be the best for your cat, as well as assist you in adjusting the dosage.
As with all supplements, make sure to monitor your cat closely after feeding the probiotic and discontinue use if they show signs of distress such as vomiting, lethargy, or an allergic reaction. Contact a vet if these symptoms don't disappear within a few hours.
Keeping Your Cat Healthy and Happy
Digestive issues can be an unlikable experience for both you and your cat. With the help of the right feline probiotic, however, your cat's digestive health will improve and their trips to the litter box will become regular.
Choosing the correct probiotic may seem difficult, but as long as you keep in mind your cat's specific dietary needs and tolerance for taking supplements, you'll be on the right track to keeping your cat healthy and happy for life.