The 10 Best Aquarium Air Stones to Buy in 2023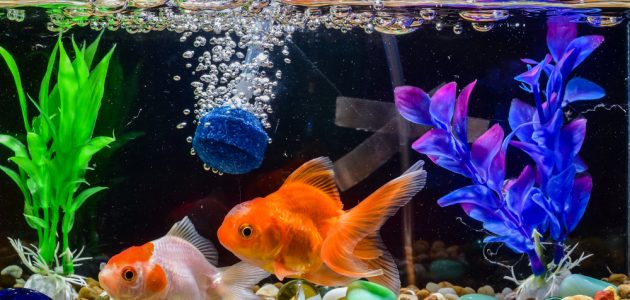 A smooth stream of bubbles will improve the look of any aquarium, no matter the shape or size. As far as we're concerned, that's simply a fact. Unfortunately, it's not just beginners who are late to the bubble show. There are still seasoned hobbyists out there who don't use aquarium air stones, and they're missing out.
After all, a mesmerizing bubble flow isn't the only thing air stones offer – they're also excellent for aerating water, improving circulation, and fixing dead spots. So the more bubbles the better, right? Not so fast.
While an epic bubble flow will help showcase your setup for Instagram (#aquascaping), you can certainly have too much of a good thing. A bubble-filled aquarium may sound dreamy, but dealing with salt stains is a nightmare, and skittish fish will freak out.
Balance is key here – you can't just submerge any old air stone under the water line and hope for the best. Pump power, tank size, and your aquarium's bioload must all be considered. Still, air stones are the best way to add oxygen (along with a little flair) to your aquarium. Here's everything you need to know.
Factors to Consider When Choosing Aquarium Air Stones
Is a disk-shaped stone better than a cylindrical one? What's the difference between an air stone and a bubbler? How about a bubble wand? It can all get pretty confusing.
The good news is that we've done the hard work for you, rounding up the best of the bunch and making sure to include something for everyone – whether you're a seasoned aquarist looking to splash the cash or a complete first-timer who's buying on a budget.
Think of the below factors as a handy checklist for assessing air stones that take your fancy. In fact, these same factors were used as base criteria when evaluating for our top 10 product reviews.
Included Equipment
To run an air stone you need several different pieces of gear. Along with the stone itself, you'll also have to get your hands on an air pump, airline tubing, and a control valve. There are also optional extras to think about, like suction cups, check valves, and tube splitters.
To learn more about what you need to start bubbling, check out our section on the required equipment for air stones.In any case, our reviews include the best singular air stones, multi-packs, air stones with tubing included, and all-in-one kits. You will need to buy the air pump separately, though. If you don't have one already, we recommend the Tetra Whisper.
Size
Air stones typically fall between 1-6″ in size and you should take stock of your tank space before you hit that buy button. Overcrowding your tank with a stone that's too large will disturb your fish. Too small and you'll do little to improve the water quality. If you already own an air pump, take note of the tubing size it needs – it's no good buying a stone because it includes tubing if it doesn't fit your pump! We note the tubing size in all our reviews.
Air Pump Requirements
Every air stone comes with a suggested pump power wattage. Using a 4W capable stone with a 1.5W pump is a sure-fire way to end up disappointed. If you notice that your air stone isn't producing bubbles across the full breadth of its porous surface, this is usually why.
Style
There's a lot of variety here but ultimately it comes down to your visual preference. Don't be confused by alternate terms like diffusers, bubblers, bubble wands/walls, or bubbler ornaments. While each looks slightly different, they all do the same thing. Our review list contains a range of different types, but for simplicity's sake, we always use the term air stone.
Bubbles & Jetting Volume
Each air stone provides a slightly different flow speed and bubble size. Generally, you're looking for a high quantity of small, fine bubbles. The finer the bubbles the better they look, and the quieter they'll be when they break the surface. Notably, jetting volume (i.e., the flow rate per minute) isn't always specified by the manufacturer. Our reviews always state the jetting volume when it's given, and give indications as to expected performance when it's not.
Materials & Durability
Air stones are usually made from a permeable, porous ceramic stone material. They're also relatively cheap – it's not uncommon to find a pack of 10 for around $10. So as you might expect, they don't last forever. We find there's significant variability in the quality of materials used and this is something you should factor into your pricing considerations. Fear not, we've highlighted our favorite premium and budget picks, and always specify the durability for each product we reviewed.
Of course, the specific factors you should prioritize in an air stone will depend on your experience level, the number of aquariums you own, the size of your tank(s), and whether or not you're dealing with aquatic plants.
For a more detailed breakdown, you can head straight over to our guide on choosing the best aquarium air stones for your setup. Otherwise, with these factors in mind, let's jump right into our top 10 picks.
Guide to Buying the Best Aquarium Air Stones
All the air stones to feature in our review list help create water agitation and lead to healthier fish and aquatic plants. But how do they work exactly? Let's kick off our guide with some insight into aquarium oxygen levels and the benefits of air stones.
Are Your Fish Getting Enough Air?
A reduction in swimming activity, rapid gill movement, loss of appetite, and gasping near the waterline are all signs of oxygen deprivation in fish – a big killer of both freshwater and saltwater fish. Here are the three most common causes.
An overstocked tank
A water temperature that's too high
Insufficient water agitation
While the first two can be easily remedied with appropriate care and planning, water agitation is a little more tricky. Enter the air stone – a cheap, simple way to boost your aquarium's oxygen.
How Aquarium Air Stones Work
When connected to a pump, an air stone produces a fine stream of bubbles. An air stone isn't required to create bubbles – simply running an air pump that's connected to an open airline will also do this. The problem is these bubbles are large and loud and will cause disruption to your fish. Attaching an air stone to the pump gives a much finer bubble stream and removes the majority of this noise.
Notably, it's not actually the bubbles themselves that add oxygen to the water, although this is a common misconception. Instead, the bubbles create surface agitation that leads to a gas exchange – swapping the carbon dioxide in the water for oxygen in the air.
Do You Need an Air Stone?
If you use a filter for circulation, then an air stone isn't always necessary, but it's always beneficial.
An air stone is absolutely essential for the well-being of your aquarium if it's the only method of circulation in your tank, as stagnant water has very little oxygen. Otherwise, the need for an air stone will depend on your tank's oxygen levels. Each of the below circumstances makes it more likely that you'll benefit from additional oxygen.
Lower water surface area (i.e., a tall, narrow tank)
A low-powered filter
A heavily planted aquarium
You can monitor your fish for symptoms of oxygen deprivation, or test the amount of dissolved oxygen in your aquarium's water by buying a dissolved oxygen meter. But for most folks, it's simply more convenient to buy an air stone, as they also offer several additional benefits.
Benefits of Aquarium Air Stones
Here are the benefits you can expect to enjoy when using an aquarium air stone.
Improved Aeration
Using bubbles to circulate water and create surface agitation means that more surface water is exposed to air, where there's a gas exchange of carbon dioxide (leaving the water) and oxygen (entering the water).
Better Filtration
With improved water circulation, loose waste and debris is moved around the tank. This makes it more likely to be picked up by your filtration system – leaving you with a cleaner tank, and healthier fish and plants.
Quiet Water Agitation
Adding a stone to airline tubing makes the water agitation much quieter, important for those who keep aquariums in their home and as to not disturb fish.
Fixing Dead Spots
Some aquariums suffer from 'dead spots', essentially a small zone of stagnant water that's prone to a buildup of dirt and debris. Placing an air stone in the dead spot can instantly fix this issue.
A Stunning Aquascape
A stream of fine bubbles makes a beautiful backdrop to any aquarium and many aquarists use an air stone for the visual impact alone.

Picking the Best Air Stone for Your Aquarium
If you still can't decide which of our top 10 air stones is best for your aquarium, we suggest that you prioritize functions that suit the type of aquarist you identify as. Here are the most common.
Beginner Aquarists
If this is your first experience of air pumps and stones and you want to stick to the basics, we recommend that you opt for one of the 'all-in-one' kits – they take the guesswork out of tubing/power sizes and you won't risk any compatibility issues.
Recommendation: Pawfly All-in-One Kit or Hygger Air Stone
Aquascapers
If your primary focus is housing an aquarium that turns heads, you don't want to cut corners. You'll need a stone that blends in well with your substrate, and disk-shaped stones are our favorite pick for this purpose. Alternatively, if your aquarium is kept in a primary living space and/or used as a decorative showpiece, an air stone with LED lighting is just what you need to give your tank that extra pop, after sundown.
Recommendation: Hygger Air Stone or NICREW Multi-Colored LED disk
Nanotanks Owners
If you're the proud owner of a nanotank (<10-gallon volume) then you want a low-powered air stone. Anything above 2W is likely to disrupt your fish, create excessive water circulation, and draw attention away from the rest of your tank. The best-looking air stones subtly complement your aquarium but aren't the focal point.
Recommendation: TEEMO Groot Air Bubbler or NICREW Aquarium Volcano
Large & Planted Aquarium Owners
Conversely, if you own a sizable tank and/or have lots of live plants, you'll need an air stone (and pump) to match and should only consider stones that need a pump power >4W. A strong bubble flow and high jetting volume are the most important factors here.
Recommendation: Like the VIVOSUN Air Stone or Pawfly 4 Inch Air Stone
Multi-Tank Owners
With a multi-tank setup, you may wish to run multiple stones from a single air pump, as it's cheaper and more energy-efficient than buying multiple. If so, you'll need to branch your airline tubing using T-connectors, so a product that includes these will save you an additional purchase. If you anticipate using multiple air stones, but don't yet own a pump – make sure to choose a dual-out air pump, which will effectively double the number of stones you can use with one pump.
Recommendation: Pawfly All-in-One Kit or Wenshall 1.6″
PRO-TIP: Air stones operate 24/7. While large stones are great for their aeration and visual output, there'll usually be a trade-off in noise, as they require a higher-powered pump to function. Bear this in mind if you own a tank that's kept in a living space or bedroom. Everything sounds twice as loud when you're trying to sleep!

Equipment You Need to Get Started
Each product on our review list comes with different accessories. Now you've got your heart set on the perfect stone, use our equipment checklist to make sure you've also got all the other gear you'll need.
Essential Equipment
Air pump: an outlet-powered air supply
Air stone: porous material that disperses a fine bubble flow
Airline tubing: soft tubing to connect your air stone to the pump
Air control valve: manually controls airflow (often sold with air pump)
Optional Extras
Check valve: placed in the tubing to prevent backflow of water
T-connector: used to branch tubing and power multiple stones from one pump
How to Set up an Aquarium Air Stone
Now you've picked your stone and have all the equipment you need, all that's left is to set it up! Here's how it's done.
Soak your air stone according to manufacturer instructions, typically between 1-3 hours
Attach one end of the airline tubing to the pump outlet
Use scissors to make a cut in the tubing (around 5″ from where it connects to the pump)
Fix the control valve between the cut tubing ends
Optional: make a second cut to attach the check valve
Attach your air stone to the open end of the airline tubing
Use suction cups to attach the air stone to the aquarium glass, or nestle it firmly within the substrate
Where to Place Air Stones in Your Aquarium
Ok, so now you've found the perfect air stone and know exactly how to get it up and running. But before you get started, there are some locations you should know to steer clear of. For long-term success, here are three tips for placing your air stone.
Away from the filter: You need the bubble flow to reach the water surface where the gas exchange takes place and a nearby filter can disrupt this process and reduce surface agitation
Amongst natural growth: Placing your air stones amongst plants can help disguise the stone with your tank, helping to maintain a more natural aquascape
Avoid hiding spots: Stay away from the natural hiding places of shy fish to avoid causing unnecessary stress
How to Clean & Maintain Your Aquarium Air Stones

Once you notice that your air stone's bubble production has reduced, they've become larger, or the porous material looks dirty – it's time to clean. Here's our 12 step process for how it's done.
Turn off your air pump (trust us, you'll only forget this step once)
Detach the airline tubing and remove the air stone from your aquarium
Place your air stone in a bowl or drinking glass
Make a simple DIY bleach solution: we prefer a 9:1 ratio of water to bleach
Add this solution to the bowl/glass until the stone is fully submerged
Leave it to soak for ~3 hours
Remove the air stone and discard the cleaning solution
Use a soft-bristled toothbrush to gently scrub the stone in a circular motion
Thoroughly rinse the stone under cold running water to remove any loose debris
Leave the air stone to fully dry (~3 hours)
Re-attach the tubing and air pump and return the stone to your tank
Switch your pump back on and enjoy the bubble show
How often you'll need to follow this process is largely dependent upon the size and quality of your air stone, but monthly is a good starting point. Once you find that the cleaning process isn't sufficient to return your air stone back to its former glory, it's time for a replacement.
Frequently Asked Questions
Is an Air Stone Suitable for a Saltwater Aquarium?
Yes, air stones are routinely used in both freshwater (tropical) and saltwater aquariums. However, you should be careful when using an air stone in a saltwater aquarium, due to salt creep. Salt creep is where water splashes out of the tank, and once the fresh water evaporates you are left with unsightly salt crystal stains. To avoid this, make sure you choose an air stone and air pump suitably powered for the size of your tank.
Can an Air Stone Add Too Much Oxygen to My Aquarium?
Technically yes, an air stone can contribute to excess oxygen in an aquarium. But this is a highly unlikely occurrence and will not be caused by an air stone alone. Usually dangerous levels of oxygen are caused by leaking pipes or rapid water heating and can result in the potentially lethal, gas bubble disease. If you are concerned about excess oxygenation, you may wish to purchase a dissolved oxygen meter.
Why Isn't My Air Stone Working?
If you have a new air stone, the most common reason for it not working is pump incompatibility. Check that your air pump is powerful enough for the air stone to operate and that the tubing used is correctly sized according to the manufacturer's recommendations.
If your air stone has suddenly stopped working, this is typically a result of algae build-up. To solve this, follow our guide on how to clean and maintain your aquarium air stone. If this doesn't work, ensure that your check valve is positioned correctly and that there are no kinks in the tubing. If that doesn't solve your issue, detach the stone and make sure the air pump still works when used with open airline tubing. If it does, it's time to buy a new air stone.
A Health Investment for Your Aquarium
If you were under the illusion that air stones were little more than gimmicky bubble machines, our guide should have helped show you the air-er of your ways. Sorry, we couldn't help it.
Improved circulation, more effective filtration, and increased aeration. Plus, they look great. What's not to love?! If you've been starting to question whether your fish could do with an oxygen boost, it's time to take the plunge and test out an air stone for yourself. Whether you favor the unmissable dazzle of LED lights or prefer to keep things low key with the small 1″ cylinders, you're investing in the health of your fish and plants and will reap the rewards over the long-term.