German Dog Names From Bach to Bock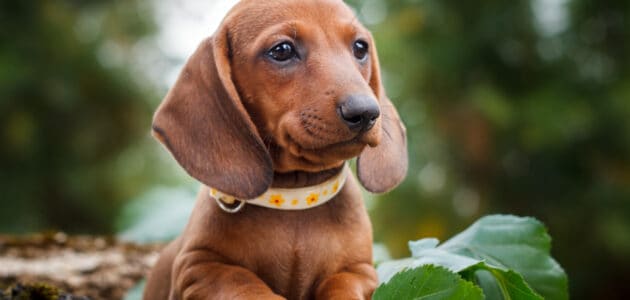 From German shepherds to Rottweilers to dachshunds, many of the most popular dog breeds in the world today originated in Germany. In fact, on the American Kennel Club's most recent list of most popular dog breeds in the U.S., five of the top 11 originally hail from Germany.
Whether your new dog (or the shelter dog you've got your eye on) comes from one of the many dog breeds that once called Germany home, you yourself have German heritage, or you simply like German names, the German language offers many gut (that's good) options for pet names.
German Names for Male Dogs
People have been speaking Germanic languages since at least the 1st century BCE, and German as we know it today began to emerge in the 6th century CE. With that much history, it's no wonder so many German names have become popular options not just for naming children but for picking an perfect (and possibly hilarious) name for a dog.
Here's a look at some German names that work well for male dogs of varying breeds, sizes, and temperament, along with the meaning behind each name.
Archer: Truly bold
Arlo: Hill
Arnold: Eagle power
Bernt: Brave bear
Bruno: Brown one
Claus: Victory of the people
Dirk: Famous ruler
Edsel: Noble one
Friedrich: Peaceful ruler
Gerhard: Brave spearman
Gunther: War army
Gustav: Staff of the goths
Hansel: God is gracious
Hugh: Bright in mind and spirit
Karl: Free man
Mendel: Little man
Norbert: Bright north
Otto: Wealth
Ulf: Wolf
Werner: Army guard
German Names for Female Dogs
A female German shepherd named Rumor was the most recent member of her breed to win the famous Westminster Kennel Club dog show back in 2017. If Rumor doesn't strike your fancy, check out these common German girls' names that are perfect for female dogs.
Adele: Noble, kind
Annika: Gracious, merciful
Brigitta: Exalted
Elsie: God is my oath (German nickname for Elizabeth)
Freida: Peace, calm
Greta: A pearl
Hedda: Battle
Heidi: Of noble family
Katrina: Pure
Liesel: Oath to God
Mathilda: Battle strength
Mitzy: Mary, mother of God (German nickname for Maria)
Sanja: Wisdom
Saskia: Saxon woman
Stefanie: Crown
Trude: Spear strength
Viveca: War
Unna: Woman
Walda: Ruler
Zelda: Strong woman
Gender-Neutral German Dog Names
Many common German names are great for all dogs, whether male or female. Let's check out a few of those:
Billie: With gilded helmet, nickname for Wilhelm/Wilhelmina
Bodie: Messenger
Clove: A spice
Rune: Secret
Von: Child of
German Dog Names Based on Places
Outside of traditional German names, the country offers many points of inspiration based on its many cities and regions. (Need to brush up on your German pronunciation? Check out this guide.) Here's a look at some of the German places, including cities, towns, and natural sites, that make excellent names for dogs of all types:
Berlin: Germany's capital and largest city with a population of about 3.5 million
Bonn: A city of about 320,000 on the banks of the Rhine River
Borken: Two towns in Germany have this name, one in Hesse and the other in North Rhine-Westphalia
Danube: A river that originates in Germany and flows through 10 countries, nearly 1,800 miles in length
Dortmund: A city of just under 600,000 that recovered from near-destruction in World War II
Eider: A river of about 120 miles in length that ends in the North Sea
Frankfurt: The fifth-largest city in Germany and the largest city in the German state of Hesse, in central Germany
Hamburg: The country's second-largest city with a population of about 1.5 million in northern Germany
Leipzig: A city of about 560,000 that's the second-largest city in former East Germany
Mannheim: A city of about 305,000 that's one of the only city's in Germany laid out in a grid pattern
Munich: The third-largest city in Germany, home to about 1.5 million people; the capital of the state of Bavaria in the southern part of the country
Rhine: A river of more than 1,200 miles that originates in Switzerland, the Rhine runs through six countries, serving as the border between Germany and France; six UNESCO world heritage sites along the Rhine are in Germany
Stuttgart: A city of about 630,000 that's home to Mercedes-Benz and Porsche corporate headquarters
Dog Names Based on German Culture
Outside of geography, Germany offers many adorable name options based on food, history, and more. Let's look at some of the options.
Audi: German-based automaker, part of Volkswagen
Bagel: A dense, round bread that may have originated in Germany
Birkenstock: German sandal company that makes eponymous footwear popular around the world
Bock: Bittersweet lager
Bratwurst: Traditional German sausage that's usually made with pork but can also include veal; grilled and served on a bun or alongside sauerkraut
Der Spiegel: Iconic weekly news magazine based in Germany with a name that translates to "the mirror"
Doppelbock: Strong lager that uses dark-colored malt
Doppelgänger: A lookalike, meaning "double walker"
Dunkel: Dark lager beer
Edelweiss: A white flower that was made famous in "The Sound of Music"
Freund/freundin: German for friend
Glücklich: German for happy
Haribo: German candy company famous for gummy bears
Hasenpfeffer: A name that translates to hare pepper, hasenpfeffer is rabbit stew made with onion, wine, and spices like paprika, which can be sweet or hot
Hefeweizen: Unfiltered wheat beer
Hund: German for dog
Hugo Boss: Luxury fashion brand founded in Germany
Jägermeister: Liqueur brand founded and based in Germany
Knockwurst: Boiled sausage
Kohlrabi: A type of cabbage nicknamed "German turnip"
Krampus: A nefarious mythical figure who punishes misbehaved children before Christmas
Kuchen: German for cake
Leica: German company that manufactures cameras
Lieblich: German for lovely, charming, and sweet
Porsche: German automaker famed for iconic sportscars
Sauerkraut: Fermented cabbage that's popular throughout the country, as a companion to sausage or other meats
Schnitzel: A breaded cutlet that originated in Austria but is popular in Germany, where it's often made with ham and cheese and then served with potatoes
Spätzle: Egg noodles served with cheese alongside meats or as main dishes
Strudel: Layered pastry typically filled with sweet ingredients; originated in Austria but is popular in Germany
Süss: German for sweet
Dog Names Based on Famous Germans
Germans have made positive contributions to the world for centuries, and luckily many of these historical figures have names that would be especially cute for a dog. Too long? Try just the first or last name for short.
Johann Sebastian Bach: Composer best known for "The Well-Tempered Clavier," "Toccata and Fugue in D Minor," and "Air on the G String," among other works
Boris Becker: Tennis champion famous for winning six Grand Slam titles, including three Wimbledon championships
Ludwig van Beethoven: Composer best known for works like "Moonlight Sonata," "Adelaide," and "Fur Elise."
Marlene Dietrich: German-born actress and singer
Albert Einstein: German-born physicist who became one of the most important and admired figures of the 20th century
Siegfried Fischbacher: With Roy Horn, half of the duo Siegfried & Roy, who became famous (and then infamous) because of a tiger show
Steffi Graf: Tennis champion famous for winning 22 Grand Slam titles, including one Wimbledon title
Johannes Gutenberg: Goldsmith who invented the movable-type printing press
Angela Merkel: German chancellor, first female chancellor in the country's history
Dirk Nowitzki: German-born NBA star, named 14-time All-Star and first European player to win the league's MVP award
The Red Baron: Manfred Albrecht Freiherr von Richthofen, a German fighter pilot
Max Schmeling: Heavyweight boxing champion
Final Thoughts
German names aren't just for German dogs, and whether you're picking a name for a boxer or a poodle, German language, culture, and history has a name that will be perfect for any pooch.