The 10 Best Dog Foods for Australian Shepherds in 2023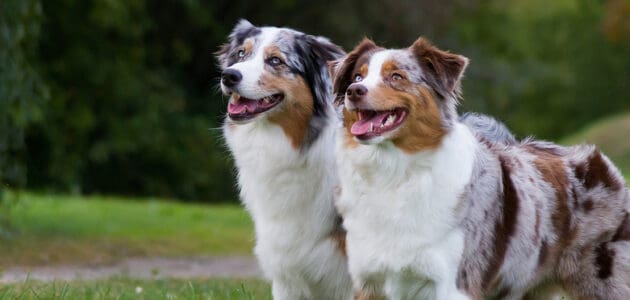 Australian Shepherds are gorgeous dogs known for their athleticism. Aussie owners know that these dogs need a lot of exercise, and it isn't uncommon for them to be used as working dogs on farms.
Therefore, it's important to feed Australian Shepherds a quality diet that provides them with the energy they need to keep up with their daily activities. This often means high-calorie, high-protein and high-fat foods.
To make things easier on you, we've created a list of great options for your Aussie as well as a guide to help you determine how much to feed your dog (and how to get her to eat it!). But first, let's take a look at some of the factors you should consider while shopping around for dog food.
What to Consider When Choosing Dog Food
Lots of us tend to get caught up in the ingredient list when browsing dog foods, but there are so many other important factors.
AAFCO Standards
The Association of American Feed Control Officials (AAFCO) is an authority on pet nutrition. Every year, it publishes standards for pet food manufacturers to follow. It also provides definitions of ingredients and outlines minimums and maximums for guaranteed analyses at each life stage. Furthermore, it publishes guidelines for feeding trials so manufacturers can test their recipes on dogs before releasing a diet to the public.
Responsible pet food manufacturers follow AAFCO guidelines and print an AAFCO statement on the bag. All of the foods on our list meet AAFCO standards.
Guaranteed Analysis
A quick check of the guaranteed analysis will tell you the percentage of protein, fat, fiber, and moisture in kibble. Since Aussies are athletic dogs, you'll typically want a food that is high in protein and fat.
However, if your Australian shepherd is a retired senior, you may not want a high-fat food as it could lead to weight gain. Use the guaranteed analysis to help you make the best choice for your dog.
Some foods have different amounts of moisture in them, so you need to compare them on a dry matter basis. We've converted all the foods on our list to a dry matter basis so you won't have to.
Ingredients
Looking at the ingredient list is important, but not for the reasons you may think. In fact, veterinary nutritionists are urging people to stop making their choices based on ingredient lists alone.
The main reason to look at the ingredient list is to be sure that it doesn't contain any ingredients that your dog is allergic to or that you're uncomfortable feeding to your dog. After the FDA found a link between dilated cardiomyopathy (DCM) and grain-free foods, many people switched away from grain-free diets and prefer to avoid products that include legumes.
In general, it's also good to avoid ambiguous ingredients. For instance, "meat meal" could be made of any kind of meat. Some dogs are intolerant of or allergic to certain meats, so it's important to know exactly what's in your pup's food.
Palatability
Palatability is how good (or bad) a food tastes to your dog. Since our dogs have to eat the same thing every day, it's important that they like it!
Stool Quality
When you're looking at foods in a store or online, you aren't going to know how it'll affect your dog's poop. However, your dog's stool is an indicator of how his body is handling food. Poop that is too hard or too soft is a sign that your dog's diet may not be the best for them.
We've gathered info on each of the products on our list so that you'll have a sense of how dogs' stool is affected.
Health
Your dog's health is directly affected by his diet. Some of the foods on our list have certain benefits such as being optimal for dogs with allergies or improving the look and feel of the coat.
Now that you know what to look for, we're going to take you through the best food for your Australian shepherd.
Top 10 Best Dog Foods for Australian Shepherds 2023
Buying Your Dog Food and Having Them Eat It, Too
Once you've chosen a food, you'll need to know how to safely change your dog's diet and determine exactly how much she should be eating. But first, we have to address some potential issues with shopping online for dog food.
Problems With Buying Dog Food Online
Buying dog food online is incredibly convenient; unfortunately, it comes with its own set of problems. One of the biggest issues is that dog food bags can get ripped during the shipping process. This may affect the freshness of the kibble. If you receive a ripped bag, you should definitely reach out to the company to request a refund.
On Amazon in particular, there seems to be another problem with dog food, which is receiving a product that looks different in some way. Usually, it is the kibbles themselves. They may be dustier, differently sized or shaped, or a different color.
If any of the kibble you get looks different than what you're used to, do some research to see if the brand changed their recipe. If not, you may want to request a refund. Many customers have reported their dogs getting sick after being fed kibble that looked different than usual.
It's uncertain whether these were instances of a counterfeit product or just a lack of freshness. To reduce the likelihood of such a mishap, make sure you purchase products on Amazon from pet food manufacturers themselves rather than third-party sellers.

How to Safely Switch Your Dog to a New Food
You're likely reading this article because you're looking to change your Australian shepherd's diet. However, if you simply buy new food and give it to your dog, it may cause gastrointestinal upset that often leads to diarrhea and vomiting. Therefore, you need to slowly transition your dog onto the new diet. Luckily, this is easy!
All you need to do is mix your dog's new diet with her old diet over the course of about a week or two:
Day 1-3: Mix your dog's dinner so that 25% is the new food
Day 4-6: Mix 50% of the new diet and 50% of the old diet.
Day 7-9: Mix 75% of the new food and 25% of the old food.
Day 10: Feed 100% of the new diet.
If you notice your dog has diarrhea at any point, don't add more of the new food. Stay at the percentage you're on. If the diarrhea doesn't clear up, it may be a sign that the new food isn't the right choice for your dog. This is why you should always start with small bags when trying a new food.

How Much Should You Feed Your Dog?
Determining how much to feed your Australian shepherd isn't exactly a perfect science. The suggestions on dog food labels are just that, and they don't take into consideration a dog's breed, age, or activity level. You can use these guidelines as a starting point and adjust your dog's portion as needed.
However, a better method would be to calculate your dog's caloric needs while taking into account factors like age, activity level, and even whether or not he's been neutered. The Veterinary Medical Center of Ohio State University (OSU) describes just how to do so.
First, you need to calculate your dog's Resting Energy Requirement (RER). Do this by multiplying her weight in kilograms raised to ¾ power by 70:  A 40-pound Aussie is about 18kg, so her RER would be 611 calories.
Next, you will need to multiply the RER by another number to determine the final amount of suggested daily calories.
We've taken this table from the Veterinary Medical Center of OSU:
| | |
| --- | --- |
| Neutered adult | RER  1.6 |
| Intact adult | RER  1.8 |
| Inactive/obese prone | RER  1.2-1.4 |
| Weight loss | RER for ideal weight  1.0 |
| Weight gain | RER for ideal weight  1.2-1.8 |
| Active, working dogs | RER  2.0-5.0 |
| Puppy 0-4 months | RER  3.0 |
| Puppy 4 months to adult | RER  2.0 |
Using this chart, a 40-pound (18kg) active Aussie would need 1,223 calories per day ().
Though this method is more accurate than using a dog food label, you may still need to make adjustments by observing any fluctuations in your dog's weight or energy levels.
Tips for Picky Eaters
Some dogs seem to be uninterested no matter what kibble you buy. It's exhausting to buy brand after brand of kibble, so we've got some tips to help you.
Put Warm Water in Your Dog's Food
It may seem strange, but some dogs actually like their kibble better after it's become mushy and soggy with water. Perhaps the water helps release the flavor of the kibble better. Either way, it's worth a try. It's also easier for dogs with missing teeth to eat their food this way.
Mix in Some Canned Food
There's nothing like canned food to get a dog excited about dinner time. We prefer canned foods that have gravy in them, like Purina's Tender Cuts in Gravy, because they're much easier to mix with kibble. The gravy also allows you to stretch the product further: mix in a few spoonfuls and store the unused portion in the fridge for later.
Top It With Chicken Broth
You can either let the food sit and get soggy in the broth or just mix it in. Making your own chicken broth is easy, but if you prefer to buy something from the store, just make sure that it is low sodium and free of ingredients like onions that are harmful to dogs.
Bon Appetit!
Dog owners are often more considerate of their dog's diet than their own. We're all willing to go the extra mile to ensure that our dogs are eating a healthy, balanced diet. With so many options on the market, though, shopping for dog food can be overwhelming. Just remember that as long as your dog has a healthy coat, normal stools, and her usual energy, her kibble is doing its job.