The 10 Best Low-Protein Dog Foods in 2023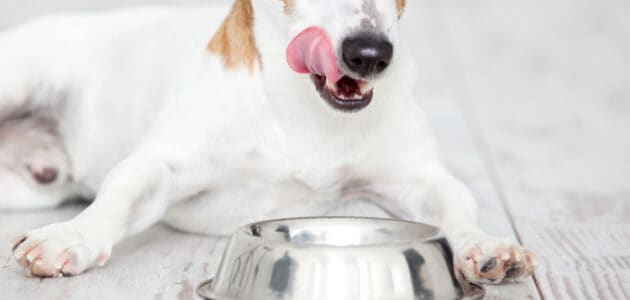 High-protein diets for dogs may get all the attention, but for some dogs, cutting down on protein is better for their health. The bad news is these foods are notoriously hard to find, and there's really no one number to read to know if a dog food is low in protein.
We've scoured through the options to help pet owners decide which low-protein dog food is right for their pup.
Most Important Factors in Choosing a Low-Protein Dog Food
All choices pet owners make regarding what to feed their dogs are difficult and involves any number of considerations. Fortunately, when picking a low-protein dog food, there are only a few reasons why — and those reasons will drive the other decisions.
Reasons for Low-Protein Diet
Most dogs won't benefit from a low-protein diet, but vets often recommend them for dogs that have kidney or liver disease or suffer from another condition that makes it tough for their bodies to process protein. For these dogs, a dietary change can help support other medical recommendations by removing some of the workload of these organs. (You can learn more here about the specific conditions in question and their symptoms.)
Protein Content
Though there is some standardization in dog food labeling, there's no set metric that determines a low-protein food, but it's safe to say that the closer to or below you get to 20% protein, the nearer you are to true low-protein food. This rules out most dog food, so scope expansion is necessary. Plus, a diet that's low-ish in protein may be beneficial, so we've considered dog foods with no more than 28% protein.
Other Nutrition
Your dog will ideally get all the nutrients they need from their dog food, so it's important to have balance, and there are some ingredients that many pet owners consider a bonus. This includes things like glucosamine and chondroitin. Also, for overall health reasons, it's important to limit the phosphorous content in a low-protein dog food.
Flavor
One unfortunate aspect of low-protein dog foods is they tend to taste bad, even from the perspective of a dog. Some dogs don't care and will eat whatever you put in front of them, but if you've got a picky eater on your hands, the flavor may be particularly important to you.
Food Type
All but one of the foods on our list is dry, and the canned food that made the cut also has the highest protein content. Dogs that need a diet low in protein will most likely need to eat dry food, as that's the majority of what's available.
Price
The good news is low-protein foods aren't really any more expensive than high-protein foods, and most of the foods that made our list are widely available and affordable.
Now that you have an idea of what qualities to consider, let's dive into our top choices for dogs who require low-protein diets.
Top 10 Best Low-Protein Dog Foods 2023
Complete Guide to Low-Protein Dog Food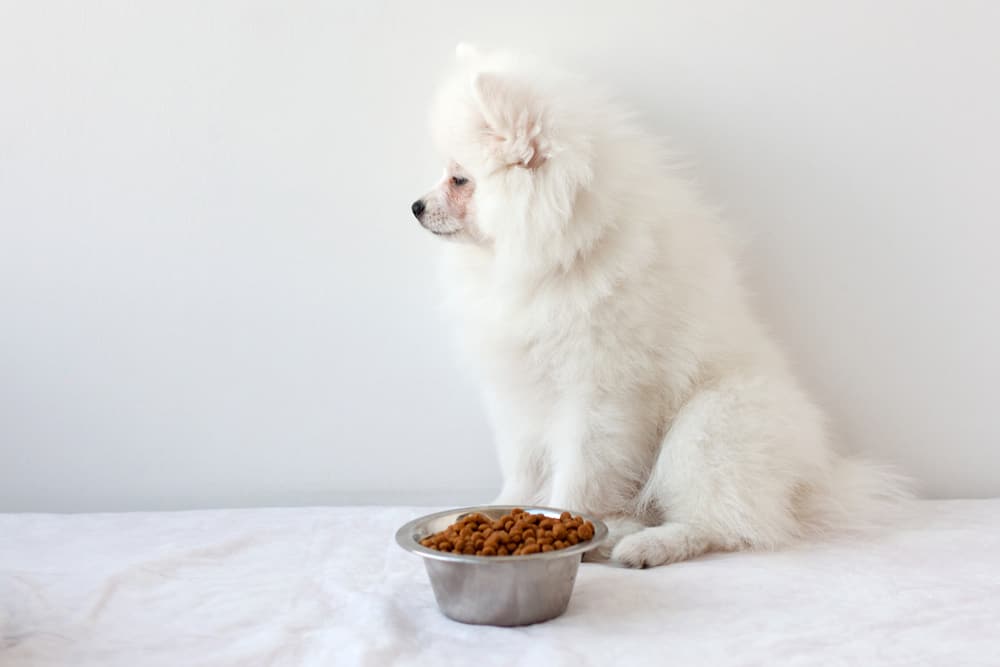 Because most dog foods celebrate their high protein content, it can be especially difficult to understand exactly what makes for a good low-protein option. So, let's attempt to demystify the reasons behind choosing a low-protein diet for your dog and some specific markers of quality in these foods.

Reasons for Choosing a Low-Protein Diet
All living organisms require protein to function, as it's a crucial biological building block for almost every process in the body. But some dogs may benefit from a low-protein diet, mostly because they are dealing with some type of major illness.
Liver Disease
In dogs, as in humans, the liver is a large organ that serves several major functions, including aiding in digestion, detoxifying a dog's entire system, and metabolizing proteins. Age-related liver dysfunction can affect the liver's ability to efficiently perform its biological functions, and in dogs with chronic or age-related liver disease, a veterinarian may recommend a low-protein diet to help take some of the strain off the liver. Signs of liver disease in a dog include weight loss, vomiting, diarrhea, increased thirst, confusion, and jaundice, and it's typically diagnosed through blood tests or diagnostic imaging, such as an X-ray or ultrasound.
Kidney Disease
A dog's kidneys just like in a person filter and balance various substances within the bloodstream, and they're responsible for helping regulate important processes like blood pressure. Through aging or via conditions like diabetes, a dog's kidneys can lose their ability to perform their processing function, and in some cases, it may be helpful to switch to a low-protein diet so that the body has less protein it needs to process. Symptoms of kidney disease or kidney failure in dogs include lethargy, weight loss, decrease in appetite, and changes in urine volume or water intake. Kidney problems are typically diagnosed in dogs using a urine test, but bloodwork may also be involved.
Bladder Stones
Dogs that are prone to a particular type of bladder stone, a urate stone, may benefit from a low-protein diet because the substances that create these stones are found in high concentrations food-based protein sources. Urate bladder stones are relatively rare (only about 5% of all bladder stones in dogs), but some breeds are much more prone to them, including Dalmatians and bulldogs.
Introducing New Food
Even if a major health concern is leading you to make the switch to a low-protein diet for your dog, this change should be made gradually rather than all at once. Dogs who are subjected to sudden, dramatic changes in their food can have digestive problems that can cause dehydration, which can be dangerous for dogs with kidney or liver disease.
Following a schedule can help you safely make the switch without upsetting your dog's system.
Day 1-2
Feed your dog the same number of calories as before but make the ratio 75% old food and 25% new food. If you see signs of digestive upset, dehydration, or other problems, pause the switch and consult with your vet.
Day 3-4
Give your dog a 50/50 mix of old food and new food, and if they tolerate it well, proceed to the next step on the schedule. If at any point, your dog refuses to eat the new food, consider adding a bit of water to it, or try a flavor enhancer like a topper or pieces of a low-protein treat.
Day 5-6
By the fifth day, your dog should get a ratio of 25% old food and 75% new food.
Day 7
On the seventh day, if all has gone well, your dog should be fully switched over to the new food.

How Low Should You Go?
A low-protein diet doesn't mean a total absense protein, and there isn't one single number that indicates when a food is low in protein. For the purposes of this ranking, we found it helpful to consider two big points:
The Association of American Feed Control Officials (AAFCO), an industry group that establishes pet food labeling standards, considers 18% to be the minimum recommended protein content for dogs. Only one of the foods on our list has protein content lower than that — Hill's Prescription k/d, and you can only get it through a veterinarian's prescription.
Dog food advertising tends to take a "the more the merrier" approach to discussing protein content in food. Our analysis found that among popular foods that claim to be high protein, they range from about 30% to 40% protein content. For the purposes of this analysis, we limited our reviews to foods with no more than 28% protein content.
Phosphorous

In addition to lowering protein to help maintain good health in dogs with chronic or acute problems, it's also important to restrict the amount of phosphorous in a dog's diet. Evidence suggests that reducing phosphorous in the diet of a dog with kidney disease can delay the progression of the condition.
The best way for pet owners to do this is to check the balance of calcium and phosphorous in a food and ensure it has more calcium as a percentage of all content than phosphorous. There isn't one ratio that's considered good, but generally, it's better to have more calcium in dog food than phosphorous. Essentially, the further you get from a 1:1 ratio, the more medically appropriate the food likely will be for a dog who has moderate to severe health problems that necessitate a low-protein diet.
Other Ingredients
A low-protein diet shouldn't force you to abandon all other nutrients that your dog needs. For example, if your dog has already had or is a breed prone to joint health, you may want to consider a food with glucosamine and/or chondroitin. If your dog's breed is one that's predisposed to heart trouble, foods that have ingredients like taurine and carnitine may help prevent or delay onset of cardiac problems.
Also, dog food that's low in protein tends to be higher in fat, so if your dog is especially inactive, you will need to closely monitor their weight to ensure they don't gain an unhealthy amount of weight on their new food.
Regular Monitoring
Pet owners should never move their dog to a low-protein diet without consulting their veterinarian. In fact, low-protein diets may be one of many modifications your vet suggests for a dog with the health issues that would benefit from such a diet.
In addition to dietary modifications in consultation with your vet, it's also important that your dog undergoes regular monitoring, which could include urinary and blood tests. This should generally be done more frequently than your dog's once-a-year exams, and your vet will guide you in this area.
But as the person who sees your dog every day, it's also important to monitor her for weight gain or weight loss or any other sudden changes once you make the switch to a low-protein diet. In some cases, these may be temporary, but be sure to communicate any changes with your vet so you can avoid major health complications.
Your Dog's Size, Age & Stage of Life
Older dogs are more prone to the conditions for which low-protein diets are recommended, but canine kidney disease can happen at any stage of life. All the foods on this list are meant for adults or senior dogs, and a low-protein diet is not recommended for puppies. If your puppy has chronic kidney or liver disease, your vet will make a dietary recommendation that will ensure your pup receives the nutrients he needs to ensure good brain development.
Flavor
Unfortunately, the loss of protein often means that these foods won't be winning any gustatory awards from your dog — in other words, they'll probably taste terrible, worse than typical dog food.
It's still important for your dog to eat all of his food to maintain proper nutrition, so many pet owners will enhance the flavor of low-protein dog food by adding a bit of water to kibble, while others turn to treats or dog food toppers, like these soft (and cute) treats. If you do add anything to your dog's food, be sure to appropriately balance his total calorie intake. Or consider adding a low-protein canned food as an enhancer.
Low-Protein Dog Food FAQs
Is a Low-Protein Diet Safe for Dogs?
Most dogs should not be on a low-protein diet but reducing protein in your dog's diet can be among the recommendations a veterinarian makes for dogs that have been diagnosed with kidney or liver disease. For these dogs, high-protein diets can impact their health and even shorten their lives, so low-protein foods are safer for dogs who have these medical issues.
Can You Feed a Puppy a Low-Protein Diet?
Typically, low-protein food should not be given to a puppy. Protein is critical for the function of all living organisms, and it's usually recommended that puppies consume more protein than adult dogs to help stimulate growth and brain development. If your puppy shows symptoms of kidney or liver problems, your vet will help you figure out the best diet to balance all her unique health needs.
What Is Considered Low Protein?
There isn't a single legal or regulatory protein level that's considered low. However, a dog food labeling organization has established a minimum acceptable protein content in dog food of 18%, and our analysis found it was safe to consider anything between 15% and 28% protein to be a low-protein dog food.
What Low-Protein Meats Can I Give My Dog?
Whether they're considering what food to give their dog or just looking for a dog treat that's low in protein, some meats are much lower in protein than others. White fish, also known as crab sticks or imitation crab, is one of the lowest-protein meats, and eggs also are low in protein compared to other meats. Chicken, beef, and pork are the major types of meat highest in protein.
Final Thoughts
It's fair to say that most dog owners searching for a low-protein diet for their dog would much rather not have to worry about that. After all, the reasons that a low-protein diet is better than the alternative all include serious medical problems. But the good news is while there are fewer options when it comes to a low-protein dog food diet, most are affordable and don't sacrifice overall nutrition.