The 7 Best Cat Collar Cameras to Buy in 2023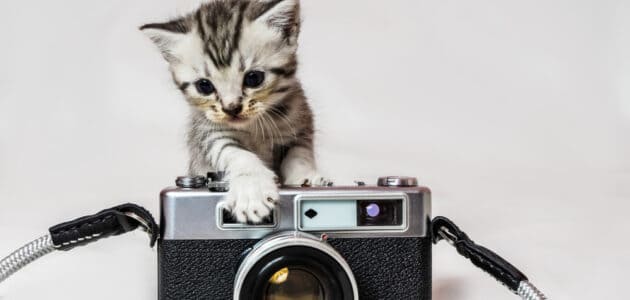 Many housecats spend their days lazily lounging like monarchs of their domain, but some are always on the move. Hunting mice, stalking birds, or just blazing around the house like their tail is on fire.
These excitable felines live adventurous lives, and it makes sense that we want to experience a part of that adventure for ourselves. With camera technology becoming more affordable, the ability to experience the world through our cat's eyes is more readily available to us all.
What to Look for in a Cat Collar Camera
On the market today are a range of miniature cameras that could easily fit on your cat's collar or a simple harness. While many of these cameras market themselves specifically for pets, often the best choices are those marketed to the equally active extreme sports crowd.
By knowing what to look for in a camera for your cat's collar, you can save money, record better images, and have a cat that is more likely to cooperate and wear the camera on their adventures.
Cat Collar Cameras can vary widely in size, ability, and prices. Knowing what factors to look for before looking at your options can save a lot of time and stress.
Size and Weight
When the average housecat weighs ten pounds, the last thing it wants is to feel like it has a yoke around its neck. Your cat will not be okay with you strapping a full-sized camera to its neck, even if it might be the one way to stop it from running around the house so much.
The best cat collar cameras are small and light, as noticeable as a nametag or an adorable bow-tie would be. A camera that weighs more than ten ounces should immediately be dismissed as dangerous to feline health. Fortunately, even our heaviest camera weighs only 5.6 ounces.
Image Quality
For security or play, any cat collar camera on our list provides an image more than suitable for seeing what your cat gets up to. But for the feline movie-star, you may want to fork out for the best. That means 4K video and HD streaming, which allows you to watch your cat's adventures life from around the world at Blu-ray quality. Premium cameras also come with image stabilization, which means editing is far less of a headache.
When it comes to editing, you want a camera that uses common formats that can be used as easily on Windows Video Editor as it can on Adobe After Effects. All the cameras on our list use video formats that require no special codecs. For still pictures, you can't go past the GoPro Hero8, which records in RAW format, the same as professional digital SLRs.
Knowing all the technical details around cameras and video quality can be difficult, and that is why we have included an easy guide below.
Durability
If a camera is to survive on the collar of a small beast that pounces, scratches and crawls through bushes, it has to be ready to handle wear and tear. For outdoor cats, having a waterproof camera is a must.
Our list of the best cat collar cameras includes types to suit every situation, and you are sure to find the perfect fit in your budget.
Top 7 Best Cat Collar Cameras 2023
Guide to Buying the Best Cat Collar Cameras in 2021

A cat collar camera can be a luxury or necessity; an expensive device used to turn your feline friend into the next internet sensation or an inexpensive way to keep track of their comings and goings. Knowing how you are going to use the camera informs the type of camera you need. When you know that, finding the right camera will come easily.
The Wonderful World of Cat Celebrities
Since the internet was born, we have wanted to use it to look at cats. They are cute, crazy, and full of life. Some of these cats became celebrities, the most famous of them even getting Hollywood movies made about them. It comes as no surprise, then, that there exists a documentary filmed by cats.
Of course, no cat could ever be as beautiful, as full of personality as our own. That is why the world needs to see them, see how amazing they are, and, most importantly, see the world through their eyes.
To find the right cat collar camera for our budding cinematographers, we need to consider image quality and stabilization. To edit the videos, we need to make sure we have files that can easily be accessed and are easy to manipulate. We might even consider the desire to stream our cat's adventure's live, for the world to experience in-the-moment.
Knowledge Is Security
It's not only the star-struck that consider the need for a cat collar camera. Having the ability to see through the eyes of your furry friend means you know what they are doing, where they are, and if they are safe. Video quality isn't as important as battery life.
The ability to stream becomes not as important as a cat's willingness to wear their camera all the time. Small, unobtrusive cameras, like the Supoggy Mini Spy Camera, appeal to us for their size and weight as much as the quality of the image.
The knowledge that the Eyenimal Pet Agility Camera has been chosen by universities undertaking research is encouraging too.
We might not even need a camera at all. If we are not worried about the what, and only the where, then a high-quality device like the Jiobit Pet Tracker may actually be a better option.
Understanding Camera Specifications
When looking for the right cat collar camera for your pet, you find yourself bombarded by numbers and jargon that can be quite scary at first. You might ask yourself, "What is "h264" and why do I need 32GB of space?"
It's helpful to understand what you are looking at and why the camera manufacturers think you might care. Fortunately, with the best cameras, there are only a few numbers we need to worry about, and only one rule of thumb is needed. Good videos don't need large numbers. But for the best quality available, the bigger the number, the better the recording.
Quality
The quality of a video is often also referred to as the "resolution". It is measured in the number of "pixels" an image uses, and the larger that number the better. 4K is currently the standard of the best TVs and is the highest resolution offered by services like YouTube.
More commonly, videos you see online are in 1080p, the resolution of a standard Blu-ray disc. That isn't to mean a lower quality video or picture, like 640×480, is hard to watch. This was the quality of our computer screens only a while ago.
Framerate
Measured in "Frames Per Second" (fps), the framerate of a video is the other important number when considering cameras. Unless it is mentioned otherwise, a video camera films at 30fps. This is slightly more than what you see in cinemas. However, cameras that film at higher rates often playback on our screens smoother, especially when there is a lot of movement on-screen. When we get to frame rates as high as 120fps, we have the benefit of slowing down records to create quality "slow-motion" videos.
Storage
Most of the cameras on our list use microSD cards, small pieces of plastic and metal that hold a large amount of information. How much? Well, a 32GB card can hold the same space as 7 DVDs.
If we are filming in high-resolution, each frame can take up a lot of space, and it can be surprising how quickly such a large amount of storage can fill. On the other hand, a lower quality video allows hours of recording time to be stored on the same card.
Frequently Asked Questions
In case you still have questions, we've answered the most commonly asked ones below.
My Cat Already Doesn't Like Her Collar. Will She Even Wear a Camera?
Some cameras can indeed be quite bulky. However, some cameras, like the Eyenimal Pet Agility Camera, were specifically designed with comfort in mind. Others, like the Supoggy Mini Spy Camera, weigh less than a AA battery and will be noticed no more than a nametag.
Can Cat Collar Cameras Be Used for Other Animals or Me?
YES! While we have picked the best cameras for cats in this list, all can be used for home security or attaching to the collar of a more canine friend. Cameras like the GoPro Hero8 are also perfect for taking on holiday or capturing those crazy moments (like jumping out of planes or surfing big waves).
What Do I Need to Know About Privacy Laws?
It is important to look up laws in your local jurisdiction around filming others and their property. This may be of particular importance if your cat tends to enter your neighbor's yard.
If I'm Streaming My Video, Who Else Can See It?
This depends on where you stream it! If you are streaming to your phone, like the Kodak PixPro can, only you (and anyone looking over your shoulder) can see it. However, if you decide to use the streaming choices available on a camera like the GoPro Hero8, you need to make sure to choose the right settings if you don't want the whole world to watch along with you.
Everywhere! While YouTube is the most common place to find our favorite cat videos, they can be put up everywhere, from TikTok to Facebook. You can even submit them to international film festivals!
Follow Your Furry Friend Everywhere!
Cat collar cameras can come with a wide variety of functions, benefits, and prices. From the Hollywood-quality camera for your feline superstar to the long-lasting, form-fitting devices used by researchers, this list is sure to have the camera for your specific needs.