The 13 Best Hamster Foods to Buy in 2023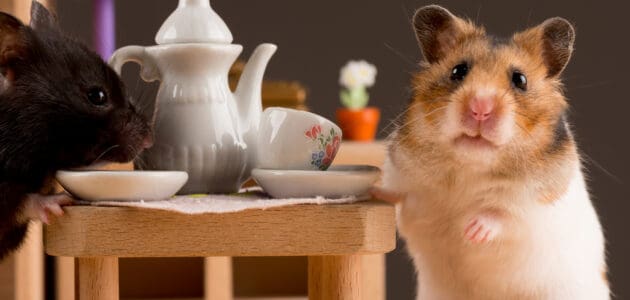 Hamsters are known for stuffing their faces with all their favorite foods. This is incredibly cute, but if you own a hamster, you want to make sure that they are stuffing their faces with the right kind of food. The fact that they are able to fit so much food into a tiny package is amazing, but there are things you need to know when it comes to feeding your little one.
For instance, did you know that you aren't supposed to feed hamsters sticky foods? Or that you aren't supposed to feed hamsters whole oats? This is because hamsters use their cheek pouches to store food to take back to their burrow, and certain foods can damage their cheek pouches.
When it comes to feeding your hamster, you're going to need to know what you are looking for. This can be a bit tricky because of how much is on the market, but once you figure what your hamster likes and what is healthy for them, you'll find that feeding a hamster is an easy and inexpensive thing to do. Because they are so small, bags of hamster food can last for months. Finding a mixture with the right dietary ingredients could have you set for the life of the hamster. So, what kind of foods are there?
Different Types of Hamster Food
A balanced diet for hamsters includes the following three different types of food.
Timothy Hay
Hamsters love chewing on stuff and are going to want something to chew on throughout the day. Hay is perfect for this. Not only does it satiate their need to chew, but it offers nutritional value as well. Timothy hay is a variety of hay grown specifically for feeding small animals.
A common misconception about hamsters is that they are herbivores, and therefore can live on hay alone. This is not true. They're still going to need to get their protein somewhere.
Fruit, Seeds, Nuts, Veggies (Supplemental Mixtures)
All of the other nutrition your hamster needs can be found in mixtures. There is a wide range of these, so you'll want to look more carefully into the ingredients and nutritional value. You also might want to take into account whether or not there is added sugar or preservatives.
Some of these mixtures you can give your hamster on a daily basis, while others might be more of a treat, which brings us to the third food type.
Treats
Yes, even hamsters like treats! Of course, they do! A lot of the time, these treats are more than just a tasty snack. They also help hamsters maintain good dental health. These snacks are normally pretty hard, which allows the hamster to chew on them for hours on end. You can use these to bond with your hamster or leave them knowing that you've given them hours of entertainment.
Those looking for more in-depth information about what a hamster can and can't eat should click here.
Top 13 Best Hamster Foods 2023
There's Plenty to Know About Hamsters, But First, What Kinds Are There?
A lot of people might think that hamsters are just hamsters. Just like there are different breeds of dogs and cats, there are different breeds of hamsters! Some make for better pets, while there are other breeds of hamster you'll probably never see because they live out in the wild.
Types of Hamsters
Syrian Hamster
This is the most common breed of hamster and the breed of hamster you will find in most homes. The Syrian hamster is the first breed of a hamster ever to be found, and is named after its homeland, Syria. Syrian hamsters are very individualistic and do not like living with other hamsters. They prefer dry and warm climates, as evidenced by their Syrian descent. Syrian hamsters have a lifespan of 2 to 3 years.
Chinese Hamster
The Chinese hamster is most well-known for its predominant racing stripe that runs down its back. This is a smaller hamster and is often confused with the Dwarf hamster. Chinese hamsters are known as "striped hamsters" because of the aforementioned stripe, and "rat-tail hamsters" because their tails are long and rat-like. This breed of hamster is more friendly than a Syrian hamster but still does not mind living alone. The lifespan for a Chinese hamster is 2.5 to 3 years.
Dwarf Hamster
Dwarf hamsters might be the most sociable of the hamsters. This means that they are able to live with other hamsters as long as the other hamster is also a Dwarf hamster and the same sex. These hamsters are also totally fine with living alone. The Dwarf hamster, as the name implies, is a smaller animal and could give a pet owner troubles when handling the fluffy cutie. Pet owners can expect these white-bellied friends to live for 1.5 to 2 years
Roborovski Hamster
The Roborovski hamster is the smallest type of hamster that there is, growing up to only 2 inches in length. This is another social hamster that doesn't mind living with others but also doesn't mind living by itself. Some might say that this is the most "chill" of the hamster breeds. Though diminutive in size, this hamster has the longest lifespan of any hamster at 3.5 to 5 years.
European Hamster
The European hamster is worth mentioning because this is a hamster you are likely to only find in the wild. This breed is also on the critically endangered list, making it even more unlikely to see out in the wild. This is an intensely aggressive hamster, but even though it has a fighting nature, that hasn't been enough to protect it from a changing climate and agriculture. Their population has diminished by 94% in Europe and 75% in Asia.
Get to Know Your Hamster Better
There are a lot of reasons that hamsters make for great pets. They are adorable, great for kids, can look after themselves, and aren't wildly expensive. With that said, you do still have to look after them. Here are some tidbits and tips that should make life as a hamster owner a little bit easier.
A Tidy Home
Some people don't like the idea of having pets because they'll have to pick up after them after they… you know. Hamsters are unusually easy in this regard. Once they get comfortable in their cage, they'll find a nice tiny corner to do their business. All you will have to do is scoop it out and add a little bit more of whatever it is you use as a lining. This has two distinct advantages. The first is that with hamsters, you'll hardly have noticeable odors in your home. The second is that they will typically leave the rest of their cage nice and tidy, meaning you will hardly ever have to clean it!
Flying Solo
There are plenty of pet owners who like to get companions for their furry friends. This doubles the cost of having a pet and may steer some hopeful pet owners away. Hamsters, on the other hand, are very individualistic. In fact, most of them flat out don't like each other. When you have a hamster, it is best to have just one. This will keep down costs and also keep down the daily maintenance of your animal.
So Cute!
It's no secret that hamsters are great pets for kids. They are friendly and tiny, making them easy to handle. But, even when domesticated, hamsters like to build a stash of food. Let your kids place a pile of food in their cage and watch as they stuff it into their cheeks.
Once they have fit all they can, they'll choose their favorite piece of food and carry it back to their cache in their mouths. Kids love to watch it. Who are we kidding? Everyone loves to watch it!
Escape Artists
While hamsters are super easy to handle, they can be a bit tricky because they are so good at getting out of, well, anything. This is a survival mechanism for the hamster, which could cause you a pretty big headache when you realize that your hamster isn't in its cage anymore. They are able to do this because of their nearly elastic spines. So, make sure you cover your cage thoroughly or expect a frustrating search.
Is the Doc In?
Before getting a hamster, you will want to have your vet lined up. That is because hamsters are considered "exotic animals" so they can only be seen by specialized veterinarians.
A Good Pair
If you really want your hamster to have a buddy, make sure you know what kind of species it is. Some hamsters, such as Syrian hamsters, absolutely should not live with other hamsters, while other hamsters, like Siberian hamsters, are able to live with others as long as they are the same sex.
Back to the Burrow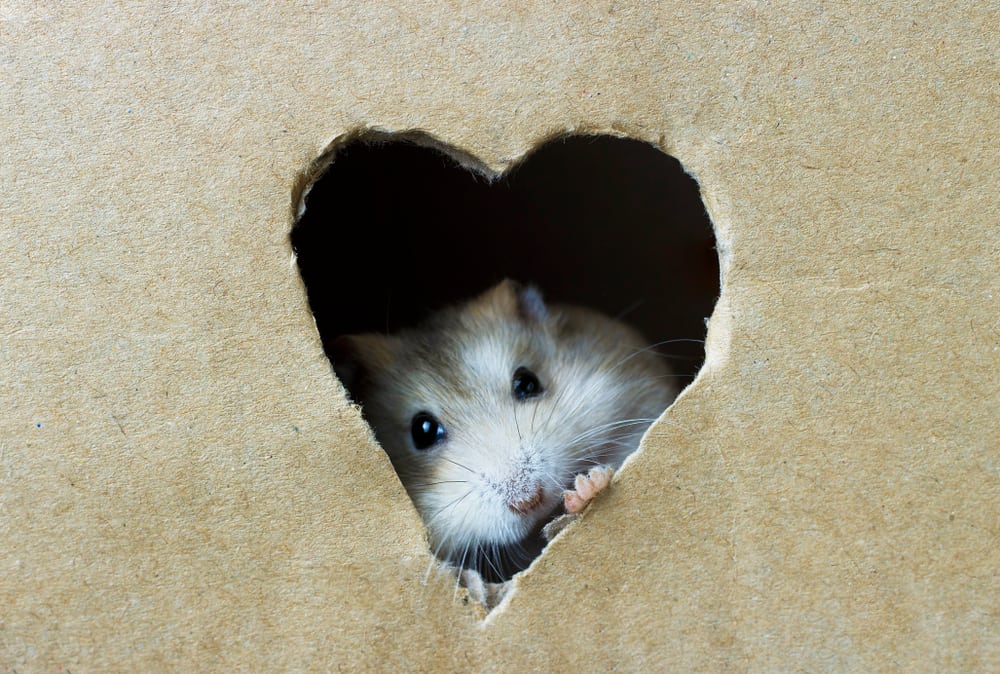 With a little knowledge of nutrition and basic hamster facts, you can have a great time with a hamster. They are very easy to take care of and can be wonderful and loving pets. They are especially good for children. Just make sure to remember to have a vet in place before deciding to get a hamster. This will also give you a wonderful source to help fine-tune your hamster's diet. Once you have everything in place you can enjoy watching them stuff their cheeks while stuffing your heart with cuteness!
Need food for your other furry friends? Make sure to check out our guides of the best grain-free dog foods and the best high fiber cat foods.