The 13 Best Dog Food for Huskies to Buy in 2023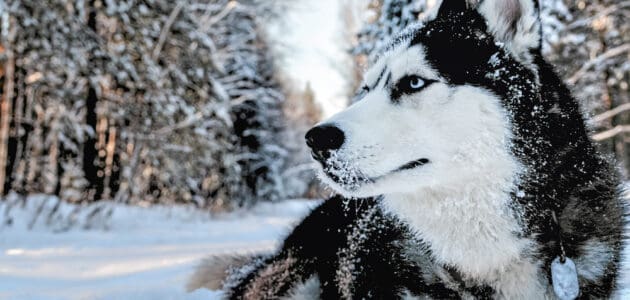 Siberian huskies trace their lineage to Asia and the semi-nomadic Chukchi people. Huskies first gained prominence in the early 20th century when the breed began winning dogsled races.
They're notoriously talkative and high-energy dogs who can be picky about what food they eat while being susceptible to some common health concerns. So ensuring they're eating nutritious food that gives them all the fuel they need is vital to their long-term health.
Most Important Factors in Choosing a Dog Food for Huskies
As with any dietary recommendations for dogs, the individual animal is the single most important factor. There are many peculiarities that could be present in your husky that influence your decision, and you can learn more about how they play a role in food choices here.
Making food choices for your husky involves weighing a variety of factors.
Type of Food
As mentioned, huskies can be picky about food, and it's common for them to lose interest in food over time. Because of that, many husky owners find they need to employ more than one type of food, including regular dry kibble, supplements, and food toppers or treats.
Grain-Free or Grain-Inclusive
In consultation with your vet, you may decide that you want your husky to eat only grain-free foods, though many vets recommend grain-inclusive options. While proponents of either type of diet can border on aggressive, the truth is that either option can lead to a happy, healthy dog.
Ingredients
Beyond a grain-free or grain-inclusive diet, all dog foods, supplements, and toppers/treats include a variety of other ingredients that can play a role in your dog's health. Huskies are prone to a few health issues, including eye and vision disorders, skin and coat problems, and poor joint health. Some supplementation can be helpful if your dog has particular health concerns.
Life Stage
Some foods are recommended only for certain phases of a dog's life (like this one for puppies), though the vast majority of the foods on our list are for adult dogs.
Price
You feed your dog every day, probably multiple times per day. These costs add up, especially for medium-to-large breeds like the husky, so cost is an important factor for the average husky-owning household.
We've grouped the products on this list into categories based on their price per pound relative to all others in their category. That means dog foods are grouped together, while supplements were compared to other supplements, and toppers/treats to other toppers and treats. Here's a look at how the prices break down by category:
 Dog Food
$: $1-$1.50
$$: $1.51-$2.99
$$$: $4+
Health Supplements
Food Toppers
$: $1-$5
$$: $5-$10
$$$: $10+
Top 13 Best Dog Food for Huskies 2023
Complete Guide to Dog Food for Huskies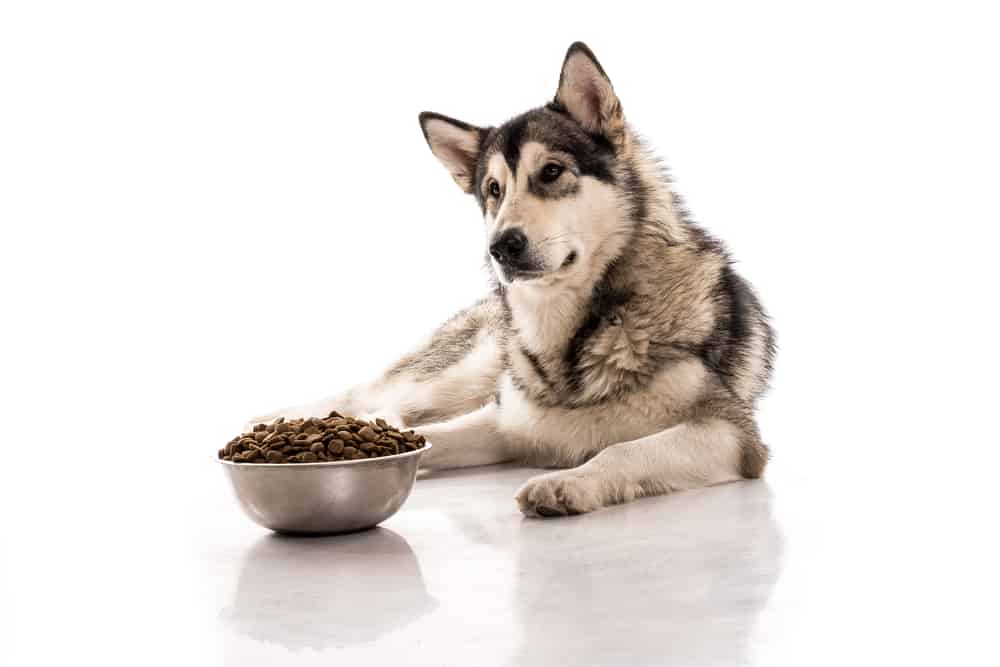 We all want our dogs to lead long, healthy lives, and picking the right food for them is a necessary part of keeping them happy and in good health. Here are the most important things you need to know to reduce guesswork in choosing a food for your Siberian husky.

Every Dog Is Different
Especially if your husky is a pure-bred Siberian husky, there likely are some behavioral and health issues she has in common with others of the breed. That said, every dog is different, and their needs are unique.
So, while our advice below is helpful, it's important to remember that more than doing what's best for the average husky, you need to be in tune with what makes your dog unique. That includes things like:
Size
The average adult weight of a female Siberian husky is 35-50 pounds and 45-60 pounds for the average male, but some huskies are much larger, and some are smaller. In consultation with your vet, you should determine how much food your dog needs to eat in a day to maintain a healthy weight.
Age
As dogs age, their nutritional needs change. Puppies need more calories and fat than older dogs to promote healthy growth. That's why food formulated for puppies, such as Orijen's puppy food, is packed with building blocks for healthy growth. And some dogs may be less inclined to eat as they get older, which can cause muscle mass to waste away. These are normal parts of aging that you should be able to manage, but if you notice sudden changes in your dog's behavior, unrelated to their food, and you think it may be related to aging, you should consult with your vet.
Activity Level
Siberian huskies are athletic and tend to be very high-energy, so they'll need lots of daily activity to maintain physical and emotional health. But some are naturally less inclined to lots of physical activity, and huskies that are less active should generally eat less food to avoid weight gain. Low-calorie foods (like this one) can be helpful in maintaining a healthy weight for less-active huskies.
History
Your dog's health history is probably the biggest factor outside of age that will determine the best type of food for them. If they've never shown issues with digestive problems, then a sensitive-diet food probably isn't worth it, and if they've had grain-inclusive food and thrive on it, there may be no reason to consider a grain-free diet.

Common Husky Health Issues
Huskies' average lifespan is 12-14 years, which is quite high for a medium-to-large breed. But while they tend to be strong, hearty dogs, there are some health issues that are common to the breed.
Husky owners should monitor their dog for signs of any of these issues, and your vet can provide further guidance if you do happen to notice anything.
Eye Diseases
Siberian huskies are, sadly, prone to three genetic eye diseases, though husky-dominant mixed-breed dogs may be less inclined. According to a study on pure-bred Siberian huskies, 8% had hereditary cataracts, while 3% had corneal dystrophy, and less than 1% had progressive retinal atrophy. In severe cases, blindness and loss of eyes can result.
Huskies should receive annual ophthalmological evaluations starting around 12 months, particularly if there's a chance they will be involved in breeding (whether intentional or unintentional).
Other vision problems that commonly strike huskies include glaucoma, corneal ulcers, and retinal scarring.
Hip Dysplasia
Like most medium-to-large breeds, Siberian huskies are prone to hip dysplasia, which is an inherited condition that causes hip joints to develop improperly; this leads to arthritis and pain, especially over time or with excess weight gain.
Signs include difficulty walking or rising from a lying-down position, and while hip dysplasia can sometimes be treated with surgery, this is usually reserved for dire cases, so prevention and pain management are usually the best medicines.

Skin Infections
Huskies are commonly afflicted with a skin infection, zinc-responsive dermatosis, which can cause red skin, hairlessness, scaling, and crusty skin around the face and lesions on the foot pads or nose.
This condition can be treated by ensuring that ample zinc appears in the diet.

Tips for Introducing New Food
Most canine health experts recommend not suddenly switching your dog to a new food unless the existing food is unhealthy or harmful. Rather, you should gradually introduce a new food and progressively give the dog more over time.
Schedule
Plan to switch your dog's food over the course of a week. In the first two days, the dog's diet should consist of a 2-to-1 ratio of old food to new food. If all goes well, on the third and fourth days, the dog should eat a 1-1 ratio of new and old food. On the fifth and sixth days, the dog should get a 2-1 ratio of new food to old food, and then on the seventh day, they should get only the new food.
If stomach upset occurs at any stage, including vomiting or diarrhea, go back to the previous ratio for two days and then try to proceed again. If, after the second attempt, the dog is still having difficulty digesting the new food, consult your vet.
Senior Food
Siberian huskies are considered seniors around the age of 8, and they should begin receiving food and/or supplements formulated for the unique needs of older huskies. Canidae Pure Senior is a great food option for seniors, and here's an ZestyPaws Vision Bites are great for supplementation. Again, introduce the food or supplements gradually to avoid digestive trouble.
Maintain Patterns
While you're gradually introducing your dog to a new food, when and how you feed them shouldn't change. Keep your normal feeding schedule; if they're eating twice a day, keep with that. Huskies are notoriously finicky, and upheaval in their mealtimes could make them associate the new food with anxiety, which can perpetuate unhealthy eating behavior.
Be Patient
It's entirely possible your dog will not like some aspect of the new food, and you may notice as you mix the old and new that your dog is only eating their old food. That's fine, and you should keep going with the gradual change. Chances are your dog will eventually get over it and eat the new food, but if by the fifth or sixth day of the schedule, they're still not eating the new food, consider keeping them on their old food until you can find one they like.
Other Food Products for Huskies
Huskies are well known for not only for being beloved by their families, but also for being difficult to care for. Consider some of the following products to help keep your husky friend happy and healthy.
Husky Dog Food FAQs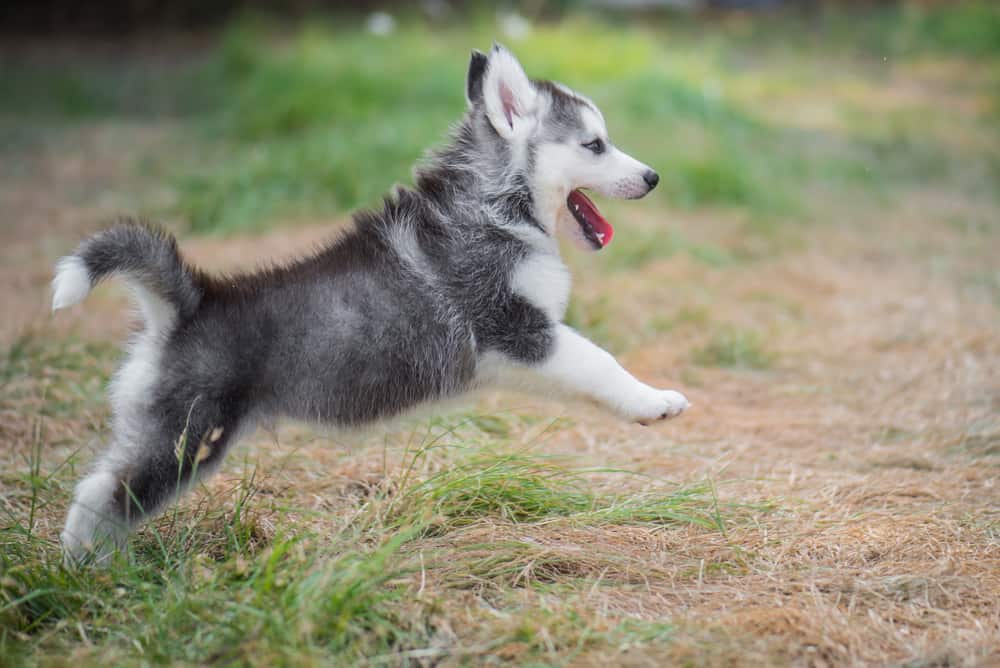 Here's a look at some of the questions readers most frequently ask about picking a good dog food for Siberian huskies.
How Much Food Should I Feed My Husky?
This depends on the size and weight of your dog, but unlike some other breeds, Siberian huskies are not prone to overeating. In fact, many husky owners find they have a tough time getting their dogs, even puppies, to eat all their food. So, it's important to make sure your dog is getting enough calories to keep up with their activity level and to maintain good overall health.
Your mileage may vary, but adult huskies should eat about 2 cups of dry food per day, less if the food is especially high-calorie and more if it's less calorie-dense.
What's the Safest Way to Transition My Husky to a New Dog Food?
Unless the current food is dangerous, or your dog has a stomach of steel, changing foods should take about a week. Mix their old food with some new food and continue increasing the ratio of new to old over the course of the week until the seventh day, when they should be eating only the new food.
If your dog has a bad reaction, like diarrhea, vomiting, or symptoms of skin or coat problems, go back to the last ratio you used for a couple of days and try again. If on the second attempt, problems persist or get worse, pause the transition and call your vet for further guidance or try a different new food.

When Should I Switch My Husky Puppy to an Adult Food?
Siberian husky puppies are considered adults at around 12-14 months, so at that age, it should be safe to begin transitioning them to adult food. But most adult foods don't contain adequate nutrition for a puppy's needs, so it's always better to err on the side of caution. In other words, a young adult dog will get better nutrition from puppy food than a puppy will get from most foods formulated for adults. Remember, though, that puppy food is high in fat (on purpose), so if your young dog is packing on the pounds, it may be time to start weaning them off.
If you're unsure how old your husky is, your vet can help you pinpoint her age, but remember that even after they get to around 12-14 months, they may continue growing a bit, though they typically will stop growing by around 15 months.
Adult huskies are about 20-23 inches tall, and by no longer than 18 months, they should reach their full adult size, though it's not abnormal for Siberian huskies to keep growing a bit until around age 3.
Do Older Huskies Need More Protein?
Once they age out of puppyhood, adult Siberian huskies should eat a diet that's high in protein, and this is especially true for older huskies. Dogs of all breeds, in fact, typically need to consume more protein than their younger counterparts.
That's because as a dog ages, it loses muscle mass, which can cause their overall health to decline. Commonly held (but faulty) views from the past suggested that added protein could damage the kidneys, but studies have shown this is not an issue for dogs as it might be for some other animals.
It's always best to consult with your vet, who can provide advice based on your dog's unique needs, but generally, senior huskies should consume at least a quarter of their calories from a protein source.

Is the Rotation Diet Good for Siberian Huskies?
While conventional wisdom calls for dogs to eat the same food and only be transitioned to a new food gradually and for specific reasons, there's another school of thought that calls for what's become known as the Rotation Diet.
Rotational feeding means switching your pet's food on a regular basis. There is some evidence to support the theory that the Rotation Diet can reduce food sensitivities and digestive problems. Supporters also say it can help keep a finicky dog from turning their nose up at food.
Owners of huskies may be particularly interested in both of those outcomes, as huskies are not only prone to digestive problems but can become easily bored with their food. Most proponents of rotational feeding recommend sticking within either grain-free or grain-inclusive diets and using different flavors or formulations of food from the same brands, such as the multitude of formulations from Taste of the Wild. This can help ensure that the nutritional content is consistent.
If you're considering the Rotation Diet, you can read more about it here, but it's important to remember that even if you're regularly switching up your dog's food, whenever you introduce a new food, it must be done gradually to avoid digestive upset.
Final Thoughts
Our dogs are members of our families, and they deserve to eat food that supports their physical and mental health, and Siberian huskies, while overall a very healthy and long-lived breed, are prone to several potentially serious issues that a quality food can help overcome. While most husky owners know it can be a challenge to get them to eat, finding the right food could be a key part of winning the battle of the bowl.