The 10 Best Cat Grooming Gloves to Buy in 2023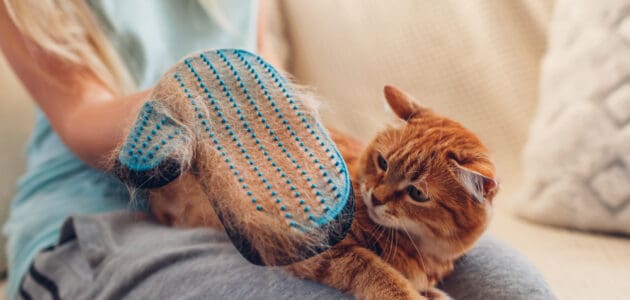 Cats spend a good portion of their day grooming themselves. But sometimes, they need your help to tackle those hard-to-reach areas, and that's where grooming gloves come in. When you groom your cat, you help them get rid of excess hair, which reduces shedding — all while spending some quality time with them, which kitties love.
Cat grooming gloves are relatively new to the market compared to brushes, but they offer an array of benefits that pet owners can't deny. In this guide, we help you determine what to look for in a quality grooming glove while recommending to you the best grooming gloves on the internet.

What to Consider When Buying a Cat Grooming Glove
Buying a pair of cat grooming gloves may seem like a straightforward purchase, but did you know that there are a lot of factors to consider when trying to find the best pair for your cat? While choosing our favorite grooming gloves of the year, we kept the following factors in mind.
Fur Type
A lot of the gloves on our list can be used on cats, dogs, horses, and rabbits. However, since all of these animals have very different fur types, it's important to select a pair that corresponds with your cat's needs. Consider your kitty's fur type as you read through our top picks. This is especially important if you have a long-haired domestic cat who is prone to knots.
Cats are finicky creatures with hearts of gold, and just like humans, they take a lot of pride in their appearance. Grooming your cat can be essential, especially between seasons when they tend to shed the most.
We shopped around and found the best cat grooming gloves on the market, and we reviewed them in detail to help pair you up with the best pair for you and your kitty. However, if you have any other questions or concerns, we invite you to read our full buyer's guide, where you'll find everything you need to know about cat grooming gloves.
Quality
Although most cats enjoy being groomed, some will fight the grooming glove with tooth and nail — literally. For this reason, it's important to consider the quality of each pair of grooming gloves to ensure that they withstand the hands of time. Longevity aside, it's also wise to consider the glove's nodules and whether or not they will be gentle with your cat's coat.
Ease of Use
While brushing your cat with grooming gloves is an easy thing to do, removing the excess hair from the glove can sometimes be a challenge. For this reason, we considered whether or not hair removal was easily accomplished when reviewing the cat grooming gloves on our list.
Glove Style
There are two main types of cat grooming glove: fingerstyle and mitt. As you may expect, fingerstyle gloves fit like traditional gloves, whereas the mitts are one solid surface. This makes mitts easier to clean, but we find them to be inferior when it comes to grooming. Fingerstyle gloves allow for more precision, are more functional when wearing (if you need to turn off the faucet, for example), and give your kitty a deeper massage.
For that reason, all the gloves to make our list are fingerstyle.
Glove Size
Just like cats, pet owners come in all different shapes and sizes. However, many of the cat grooming gloves on the market come in a one-size-fits-all format. Ordering a pair of gloves off the internet only to find out that they are too big or too small can be a major bummer. So, to prevent this from happening, we paid close attention to the size of each glove. As we go through our top picks, we'll fill you in on their sizes. This way, you can select a pair that fits your hand like a glove.
Finally, some gloves are sold singularly, rather than in pairs. Whenever this is the case, it's highlighted in our reviews.
Now you know what to look out for, here's our list of the best cat grooming gloves available.
Top 10 Best Cat Grooming Gloves 2023
Guide to Buying the Best Cat Grooming Gloves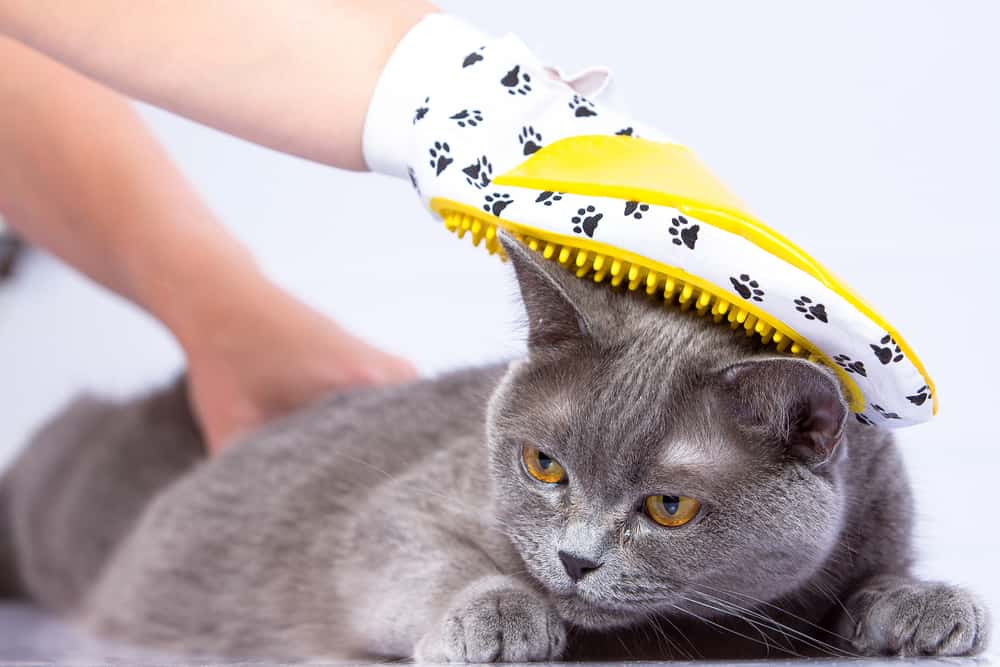 Cats come in all different shapes and sizes, and so do cat grooming gloves. When selecting a pair for your kitty, it's important to consider their lifestyle and personality to purchase the right one for their needs. In the beginning portion of our buyer's guide, we discussed the many factors to consider when buying a pair of cat grooming gloves. But now, we're going to discuss everything from the benefits of owning a pair of cat grooming gloves to how to use them properly.
How Do I Use Cat Grooming Gloves?
The beauty of using a cat grooming glove is that it's as easy as petting your cat. Grooming gloves offer a lot of dexterity and can be used to reach hard-to-reach areas like your kitty's stomach, legs, and face.
When using a cat grooming glove to de-shed your cat, gently scrub them down. If your cat sheds a lot or has an incoming undercoat, brush them in a back and forth motion to disturb the hair. This will also cause friction and static, allowing the gloves to efficiently catch the loose hair.
Once you're done grooming your pet, simply peel off the layer of hair by slowly pulling it off with your fingers. Or, if the gloves don't create a firm layer, rub your hands together to create a ball of fur. You can also use a vacuum to suction off the hair.
How Do I Bathe My Cat Using Grooming Gloves?
When bathing your cat be sure to fill the tub with 2-3 inches of lukewarm water.
Once you have wet your cat, apply a cat-friendly shampoo, and massage it into their fur using your grooming gloves.
Use a single finger to clean their face and be mindful not to wet the inside of their ears. Should this occur, use a cotton ball to dry their ears.
Rinse your cat using a bucket. Or, better yet, use a hose attachment to rinse them off.
Before placing your kitty in the bath or sink, place a towel nearby so you can immediately begin to dry them off once bath-time is complete.
It's worth mentioning that not all cats need to be bathed. In fact, most cats do a very good job of bathing themselves. However, there are times when a cat can get overly dirty and need some extra love and care.
Now, it goes without saying that bathing a cat is no walk in the park. Your cat may try and fight their way out of the tub, but this video gives you a good example of how you should wash your kitty using one of our favorite gloves — the HandsOn Pet Grooming Gloves.
However, keep in mind that some cats can be more confrontational when made to take a bath. So, if your little kitty whips out their claws during bath-time, you might need a pair of gloves that can protect your arms throughout this process. Should this be the case, we highly suggest looking into the Pet Grooming Gloves.
Do Cat Grooming Gloves Work Better Than Grooming Brushes?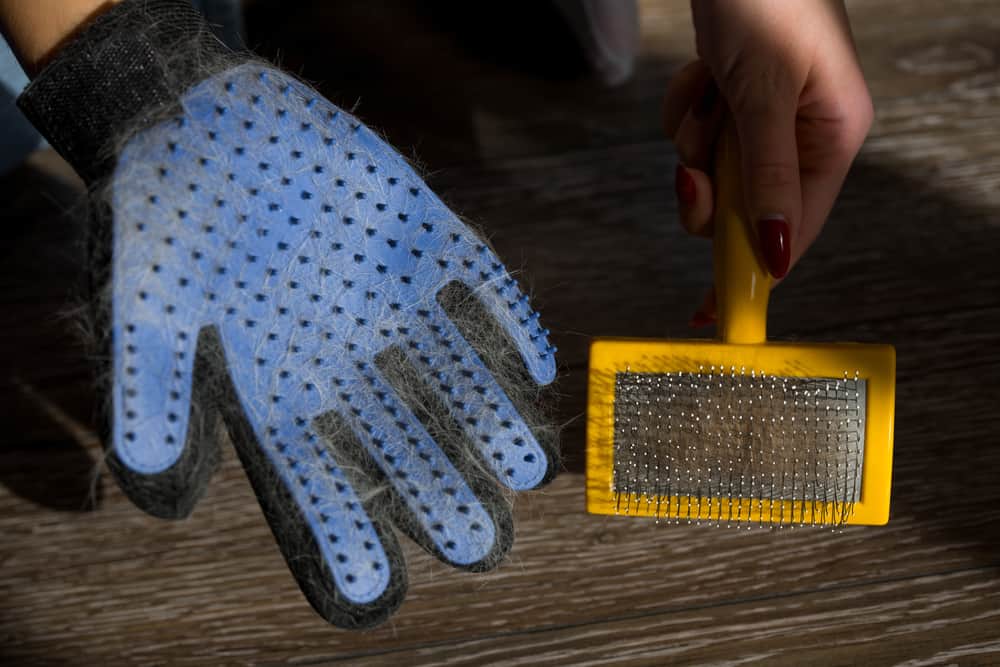 There are a lot of differences between using a cat grooming glove and a grooming brush. However, both these options are great, and oftentimes, pet owners choose to own both of these grooming tools. In truth, it all depends on your cat's comportment.
Grooming gloves make it easy to brush a finicky cat because it mimics the shape of your hand. They are a lot less intrusive, and cats who usually run from the grooming brush will run towards a grooming glove. Grooming gloves are also gentler on a cat's skin, which is why they are often used on short-haired, senior, or skinny cats.
Grooming brushes, on the other hand, are great for pets who are prone to knots because they can detangle them with ease. But, when it comes to covering the most surface area in the least amount of time, grooming gloves reign supreme.
There are a few things grooming gloves can do that brushes cannot, like lather a cat with soap while protecting your hands from their wrath. Nonetheless, pet owners can benefit from owning both of these grooming products. If this is something that interests you, check out the Sopownic Pet Grooming Gloves & Brush Kit. These cat grooming gloves also come with a grooming brush, and for a very affordable price, too.
Frequently Asked Questions (FAQ)
Here are the most frequently asked questions when it comes to cat grooming gloves.
What Is the Best Cat Grooming Glove?
When compiling our list of the best cat grooming gloves of the year, we fell in love with the Pawradise Pet Grooming Gloves for more reasons than one.
First of all, these gloves are made with quality materials that will withstand the hands of time. Secondly, their nodules are long and soft, allowing them to remove loads of hair without harming your pet. They're effective at taking out hair and dirt— no matter the length of your cat's hair. Plus, they can also help get rid of fleas. And lastly, although they may take time to dry, they can fit most hand sizes and have an adjustable wristband that secures them into place.
Is Grooming Good for Cats?
Grooming your cat makes them feel loved and appreciated. It's a great way to bond with your kitty. In fact, cats groom each other to show affection. Cats take great pride in their coats and so grooming them can make them feel happy. If your cat refuses to groom themself or does not want you to pamper them, this could be a sign of feline depression — so pay close attention. Plus, grooming your cat means less fur around the house, which is a bonus for you.
Cats spend a good portion of their day grooming themselves. But during their shedding seasons, they sometimes need some extra help. This is especially true if you're dealing with a senior cat, as they stop habitually grooming themselves as they get older. Brushing your cat also lowers their chances of experiencing hairballs, which can benefit their digestive health. If your cat is prone to hairballs, we highly recommend the HandsOn Pet Grooming Gloves.
How Often Should I Groom My Cat?
If your cat enjoys being brushed, you can groom them for a few minutes a day. However, if your kitty fights the grooming brush or glove every single time, you may want to reserve grooming for when it's clearly needed. But, since cats enjoy looking like a million bucks and spending quality time with their owners, there's nothing wrong with brushing them daily.
However, if you do choose to groom them daily, be sure to select a soft and lightweight glove like the Kavave Pet Grooming Gloves to ensure that your cat's skin isn't being irritated due to the frequency.
How Often Should I Wash My Cat?
Unlike dogs, who roll around in the dirt and need help bathing themselves, cats are very self-sufficient. They give themselves daily baths and so, they do not need to be bathed on the regular. However, this all depends on the length of your cat's coat, their medical conditions, and whether or not they venture into the great outdoors.
A good rule of thumb is to bathe your cat no more than once every two months. However, if you suspect your kitty's coat needs extra love, consult your veterinarian to be sure.
Final Thoughts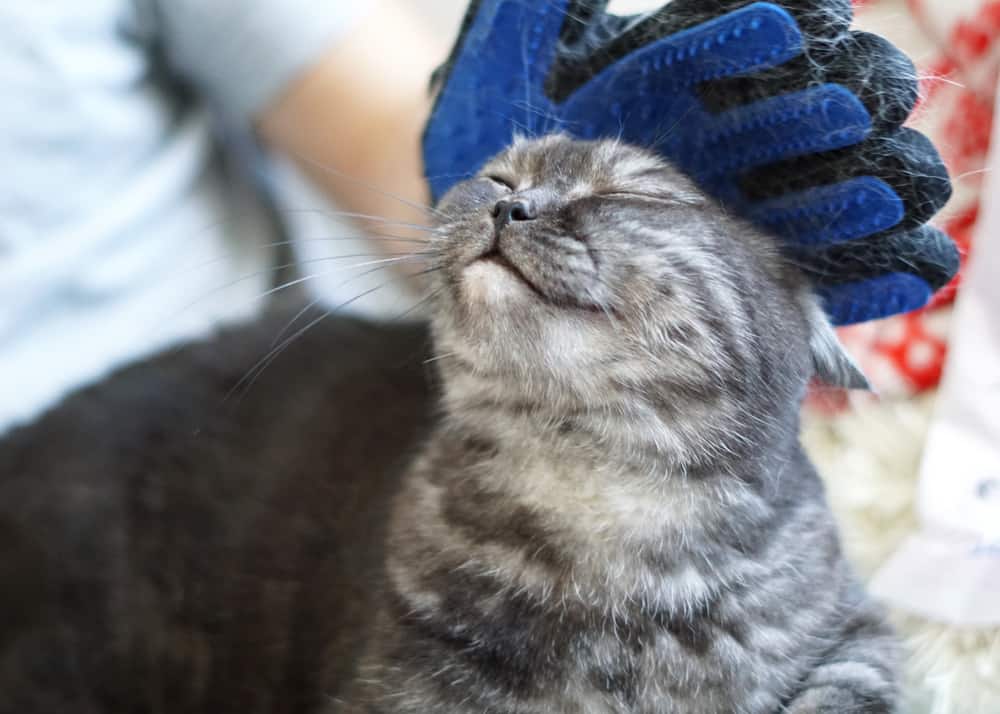 There's nothing we wouldn't do for our lovable furballs, and that includes bathing them, despite the repercussions. Owning a pair of cat grooming gloves can facilitate the grooming process, especially in the summer months, when cats shed the most.
We hope our guide has helped you find the perfect pair of grooming gloves for your little kitty and wish you both a very happy life together.