The 10 Best Dog Perfumes and Colognes in 2023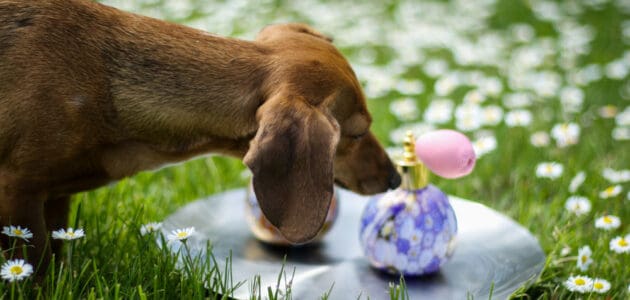 Many dog owners know that an added bonus of sending your pup to the groomer's is the fresh, clean scent they come home with. In between appointments, you may even find yourself missing that pleasant scent and wondering when exactly your dog got so stinky.
Fortunately, there is a growing market of dog perfumes, colognes, and deodorants that can help you ensure your dog stays smelling fresh between baths, and can combat the odors of the stinkiest dogs.
Selecting a dog perfume or cologne is not the easiest task in the world as there a lot of things to consider. You want to be sure to select a product that has the odor coverage and longevity you need, while also being filled with ingredients safe for your furry friend. To help you out, we've collected a list of some of the best dog perfumes and colognes available today. Keep reading to see our top picks!
Why Use Dog Perfume and Cologne?
Whether you bathe your dog at home or take them to a groomer, dog perfumes and colognes can be used to freshen up your dog between baths. If your dog is hard to bathe or simply doesn't require frequent washing, spritzing them with a little scent can ensure they smell good without the stress or cost of a whole bathing routine.
Additionally, if your dog frequently plays in the outdoors or is prone to getting in messes outside, a dog deodorant spray can help cut down on the stink. These sprays are designed to cut through and suppress odors, leaving behind a clean scent. At times when your dog has managed to make themselves stinky, this kind of spray can help make them bearable to be around until you can give them a proper bath.
What to Look For in Dog Perfumes and Colognes
When selecting a dog perfume, cologne, or deodorant, there are several things to consider. You want to be sure to select the right kind of formula for your dog in terms of longevity and scent. You also want to double check that the ingredients of the spray will be well-tolerated by your dog.
Type of Formula
Formulas in dog scent sprays are very varied; each one has a slightly different combination of scent and ingredients that make it unique.
Perfume
Slightly longer lasting than other formulas, perfumes have a thicker, more oily consistency due to their higher concentration of fragrance extracts. Perfumes are more likely to feature essential oils as their main ingredient and are intended to mask odors.
Cologne
Colognes are slightly weaker in scent strength than perfumes. The concentration of fragrance extracts is lower, and they tend to have a waterier consistency. Colognes such as Oster Canine Cologne are great for providing a light, airy scent. Similar to perfumes, colognes are designed to cover up smells instead of eliminating them.
Grooming Spray
Providing all the scent benefits of a perfume or cologne, grooming sprays also bring the added bonuses of conditioning your dog's fur. Many grooming sprays are designed to act as dry shampoos, where they help to remove dirt or oils. Others simply condition and detangle fur while leaving behind a pleasing fragrance.
Deodorant
Dog deodorants are formulated to cut through and prevent the occurrence of strong odors. They often include enzymes or other bacteria-fighting ingredients that reliably reduce the amount of stink that your dog produces. Deodorants like Arm & Hammer Super Deodorizing Spray are perfect if you have a dog that spends most of their time exercising outdoors.
Ingredients
Part of choosing the best dog perfume or cologne is making sure that the ingredients are agreeable with your dog. Try to avoid any products that use chemicals such as phosphates, sulfates, and parabens; look for water-based formulas, not alcohol-based ones, and check for the presence of harmful preservatives.
Naturally-scented perfumes or colognes are usually the most tolerated by your dog. You can also look for formulas that are hypoallergenic and designed for sensitive skin as the ingredients in these products are gentler.
Scent
Scent is one of the most important factors to think about when purchasing a dog perfume. You want a scent that both you and your dog will love. Consider staying away from strong citrus and peppermint scents, as dogs are typically not a fan of these.
Light fragrances, such as baby powder and sweet fruits, are among pet owners' favorite scent profiles. They are not too strong, and still provide your dog with that wonderful aura of cleanliness and freshness.
Lasting Strength
When freshening up your dog, longevity is definitely a factor to think about. No one wants to have to spray their dog every day in order to keep them smelling good. Depending on the product you select, the scent can last from several hours all the way up to a week.
If your dog is outside more or you want a low maintenance option, a longer-lasting perfume like Lambert Kay's Floral Cologne will be better for you. On the other hand, if you just want to make sure your pet is smelling pleasant on special occasions, a shorter-lived product, such as Gerrard Larriet's Aromatherapy Spray may be better.
We've discussed the most important things to look for in a dog perfume or cologne, so let's head straight into our list of the best products out there!
Top 10 Best Dog Perfumes and Colognes 2023
Full Guide to Dog Perfume and Cologne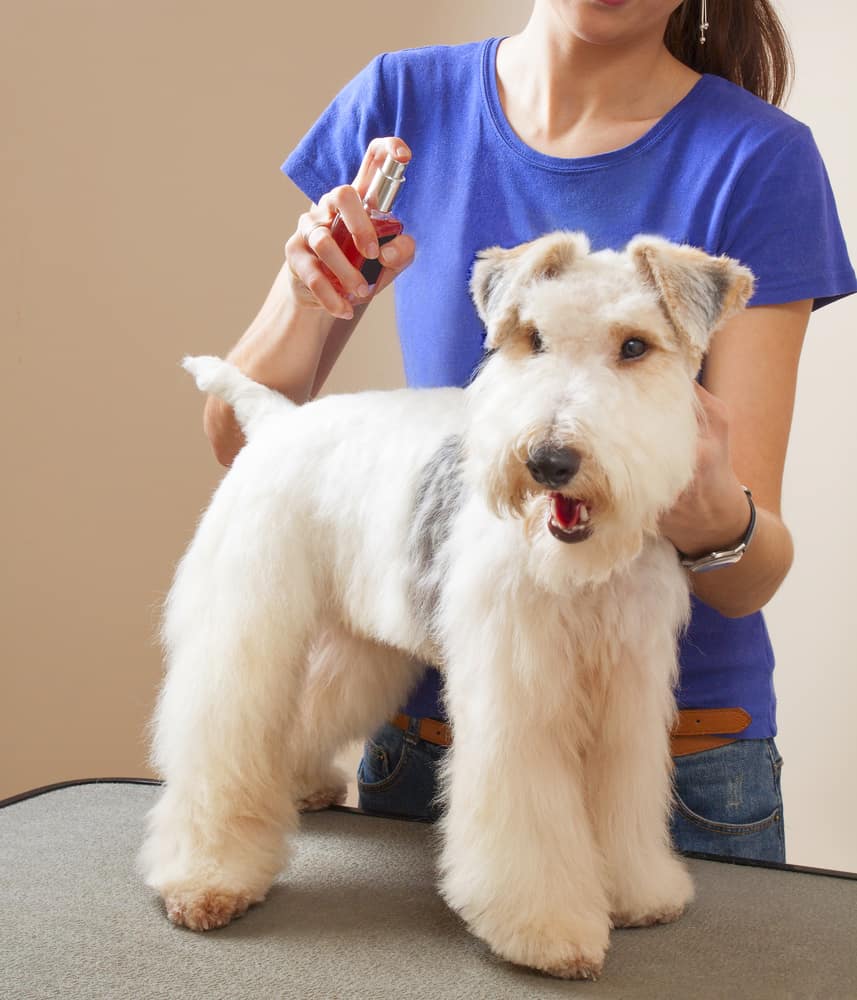 Still have questions about selecting a scented spray for your dog? Look no further than our full guide! We have the answers to all your questions about the safety of dog perfumes, the best way to apply a scented product to your dog, and much more.
Benefits of Perfuming Your Dog
Making sure your dog smells good has its perks. Your home will not be overpowered by the scent of stinky dog, and it will be easier to be around your pet all day. For dogs that spend time a lot of time working or being active outdoors, they can play longer and harder outside without you having to worry about what the stench will be like at the end of the day. When meeting new people or greeting guests in your home, your dog might get more pats and love because they just smell so good.
Are Dog Perfumes and Colognes Safe?
Perfumes, colognes, and deodorant products specifically formulated for dogs are considered safe for use. The formulas and concentration of ingredients in dog-targeted products are lower than in human products, and are specifically developed to be non-irritating to a dog's powerful nose. Additionally, many scented dog products also adhere to the same regulations the FDA places on human perfumes.
Safety Considerations
There are some considerations to keep in mind when thinking about the safety of a dog perfume. To check if a product is tolerated by your dog, try a patch test. This involves spraying a small amount of the perfume or cologne on your dog's upper body however the instructions advise. Wait 24 hours and monitor your dog for any signs of allergies or sensitivity.
If, at the end of 24 hours, your dog seems unbothered and you cannot detect any signs of skin irritation, it is probably safe to use the product on your dog. Occasionally check your pet for signs of developing allergies and sensitivities (dogs can develop these over time), and consult with a vet if anything concerning arises.
Can Human Perfume Be Used on My Dog?
You should not be using human perfumes and colognes on your dog. These scents are too strong and can irritate your dog's sensitive nose. They may also be full or irritating ingredients such as alcohols, preservatives, and high concentrations of fragrance and essential oils. All of these factors can lead to your dog reacting poorly to the fragrance; they may develop skin irritations or an allergy, so it is best to stay away from using human products on your dog.
How Old Does My Dog Need to Be to Use Perfumes or Colognes?
Dogs younger than 6 months of age should not be exposed to any dog perfumes, colognes, or deodorants. Even if a product is marketed as a puppy perfume, it is usually better to err on the side of caution and avoid it.
A puppy's immune system is not developed enough to tolerate the fragrances and essential oils used in dog perfumes. Using these products on a dog that is too young may cause adverse issues, such as skin irritations and life-threatening allergic reactions.
Scents That Are Bad for Dogs
We know that essential oils and fragrances that are too high in concentration can be bad for dogs. But the type of scent used in some products may also be harmful to your pooch. Below, we have a list of the scents you should stay away from.
Cinnamon: Cinnamon contains courmarin, a potentially toxic ingredient that can cause skin irritation even when used as an essential oil.
Peppermint: Peppermint oil is toxic when consumed by dogs, and could potentially be licked off of their fur if applied as a perfume.
Citrus: Most citrus plants are toxic to dogs. They can also cause digestive upset and skin irritation when applied to the skin.
This is not a complete list of scents that may be bad for your dog, and some scents that are generally tolerated may not be the best choice for your pup. Avoid perfumes and colognes with these essential oils in them, and always monitor your dog for any allergies or reactions while using a scented product.
How Often Can Dog Perfume and Cologne Be Used?
The amount of time in between applications of a perfume product depends heavily on its specific formula. As a general rule, it is always best not to over apply a fragrance. After the first application, wait until the scent on your dog has completely dissipated before reapplying. This ensures that your dog stays smelling fresh and avoids a potentially irritating overuse of the scent.

Fragrance Allergies and Sensitivities in Your Dog
There is a chance that your dog may develop allergies or a sensitivity to whichever product you use on them. Monitor your pet while using a perfume or cologne to make sure they are not showing any signs of distress or irritation.
Symptoms
Your dog could exhibit any of these signs, or a combination of them, as a result of a fragrance allergy or sensitivity.
Runny eyes or discharge from the eyes (tearing)
Runny nose
Sneezing
Itching or constant licking at skin
Trouble breathing or wheezing
Patches of red, sore skin
Facial swelling
Hives
Excessive panting or agitation
What to Do
If you notice your dog displaying any of these symptoms, immediately discontinue use of the product. If your dog's symptoms are causing them significant distress or seem to be life-threatening, contact a veterinarian immediately.
In cases of skin irritations and mild allergies, give your dog a bath, preferably with a soothing dog shampoo. Gently towel dry them afterward and keep an eye on them to make sure the symptoms are disappearing.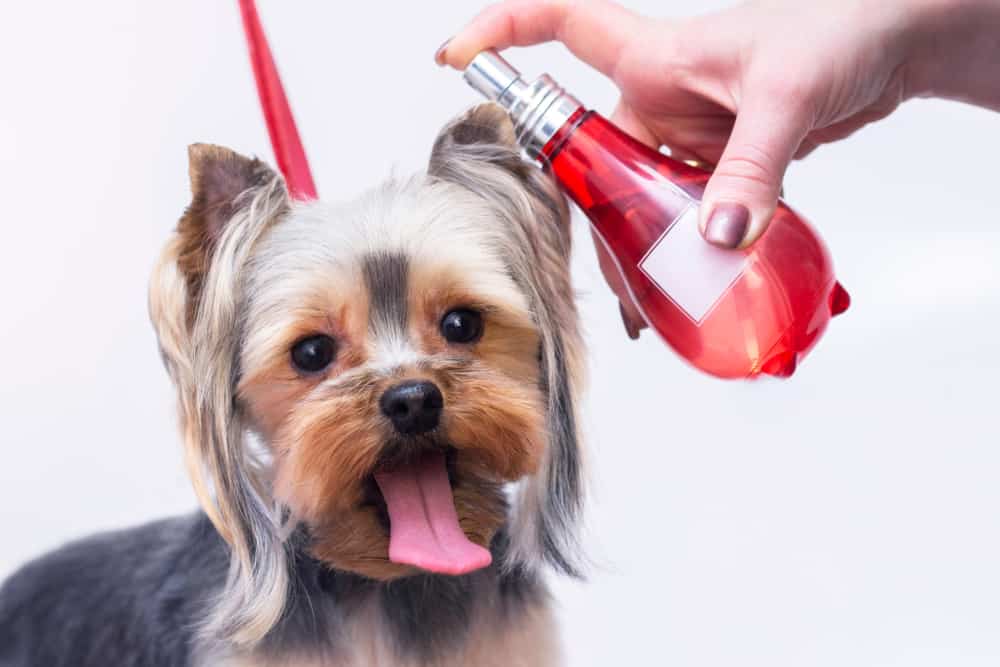 How to Apply Dog Perfume and Cologne
Generally, the best way to apply a dog perfume or cologne is to hold the nozzle of the product approximately 6 inches away from your dog's fur and spray it lightly on their back and chest. For dogs with longer or thick fur, you may want to spray the product on your hands and rub it into for better coverage. This method also works well if you want to control the exact placement of scent on your dog's coat.
Remember, the product you select should have specific application instructions on the packaging. Always read these carefully before use, and avoid getting fragrance in your dog's eyes, ears, nose, or mouth.
The Longevity of Dog Perfume and Cologne
How long a scent lasts on your dog depends on the formula of the fragrance and the type of fur your dog has. Scents will last longer on short-haired dogs or dogs with smooth, single coats; dogs with long hair or thick double coats will require more frequent perfume applications as their fur type causes the scent to dissipate faster.
Fragrances can last anywhere from 4 to 8 hours, a full day or two, or in the case of Lambert Kay's Cologne, up to a full week. Your mileage may vary based how much fragrance you use with each application.
How Else Can I Help My Dog Smell Great?
If you're looking for ways to freshen up your dog besides using a perfume or cologne, you're in luck! There a several easy changes you can make that can reduce your dog's odor over time.
Give Frequent Baths
Increased bathing can prevent odors from building up and leave your dog smelling more pleasant overall. Veterinarians recommend bathing your dog at least once every three months. You can use an aromatherapy dog shampoo, like the one in Gerrard Larriet's line to help fight odors during bath time.
Brush Your Dog
Brushing twice a week, or up to 5 times if your dog has longer hair, can help reduce odors. The act of brushing distributes natural oils throughout the fur and removes stinky dead fur. Regular brushing will also reduce shedding.
Use Baking Soda
For a quick touch up between baths, pat your dog's fur with a small amount of baking soda or cornstarch. These powders act as a dry shampoo and absorb odors and excessive oils from your dog's fur. From our list Arm and Hammer uses the natural cleaning powers of baking soda to enhance their perfumed deodorant product.
Wash Your Dog's Bedding
Regular washing of your dog's bedding or favorite blankets can reduce odors on your dog and around your home. Over time, dog odor will build up on the things they love to lounge around on. Even if your dog has been bathed, as soon as they lay back down on their bedding, they will start to be stinky again. Wash these items in warm water whenever possible to deodorize them.
Dog Perfume DIY
When you want to avoid chemicals and give your dog a quick, natural spritz, you can turn to this DIY dog perfume. It's easy to make and has a low chance of causing irritation.
Gather a spritzer bottle, your favorite dog-safe essential oil, and some water.
Add your water into the spritzer bottle.
Drop the essential oil into the water. For every 4 oz of water you have, you should use 5 drops of oil.
Place the cap on the bottle and shake it, mixing the ingredients thoroughly.
Once mixed together, your perfume is ready for use. Spray it lightly over your dog's fur, being careful to avoid their face. Store your DIY fragrance in a cool, dark place when not using it.
Pampering Your Dog With a Fragrance
There's no doubt about it; if you want to truly pamper your dog, a perfume or cologne is the way to go. And besides just making your faithful pup smell good, they can provide a variety of benefits from detangling fur to fighting against strong odors.
Deciding which product is best for you and your dog may not be a simple task, but it is a very important one. If you dedicate time to understanding the ingredients of a product, its additional benefits, and any safety concerns that may impact your dog, you'll be well on your way to a fresh smelling, happy pooch in no time.