The 10 Best Cat Hammocks to Buy in 2023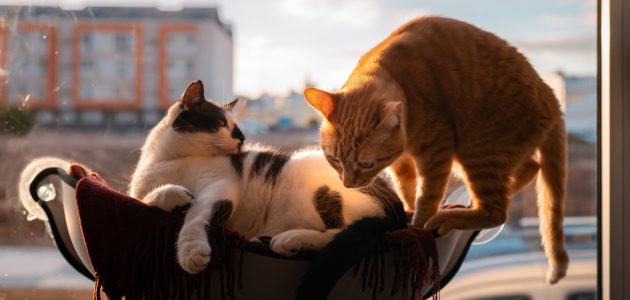 Cat hammocks provide your adorable kitty with the perfect place to perch and relax where they won't knock over glasses or push all the keys on your laptop. The best cat hammock will give your cat a place to nap that feels both comfy and secure.
What to Look for When Buying a Cat Hammock
When shopping for a cat hammock, the first thing you need to decide is which type of hammock your cat needs. Once you've picked the right type, you need to consider specific features like the size, weight capacity, and so on. Here's a quick break down of what factors will go into your decision:
Type of Hammock
While there are a huge number of cat hammock designs, they can all be broadly classified as one of three types: window hammocks, tower hammocks, or cage hammocks. Here are the fundamental differences between those three:
Window Hammock
Window hammocks are small, cushioned platforms that can be mounted directly onto a window or door. They are usually secured to the window using suction cups. Because of this, it is very important to make sure the hammock is able to support the weight of your cat.
These are a great choice for indoor cats or cats that enjoy looking out the window.
Tower Hammock
Tower hammocks come in a wide variety of designs. However, they generally include some kind of hammock supported by a set of scratching posts or climbing platforms. These tend to be sturdier and more versatile than window or cage hammocks.
This makes them a great choice if you have more than one cat. They're also good if you have limited space and want to get something that combines toys or other features in one compact design.
Cat Trees With Hammocks
If you like the format of a tower hammock but want to save space by combining its main feature into a cat tree, purchasing a cat tree with a hammock might be a good choice. Not only will your cats love you for it, but you'll love that you can save floor space by combining both of your kitty's favorite pieces of furniture into one.
Cage Hammock
Cage hammocks are simple pieces of fabric that can be mounted to a cat carrier, chair, or other piece of furniture. They hang from this structure and provide a secure, comfortable space for your cat to relax.
These are the best choice for owners in need of something portable. If you take your cat on trips, you can bring their favorite cage hammock and mount it to a chair or stool wherever you go. This way, your cat always has a familiar place to rest and feel at home.

Hammock Features
Once you know the type of hammock you need, you should decide on specific features and design elements of that type that are important to you. This includes factors like the amount of weight it can support, how accessible it is, and what added features it includes.

Weight Capacity
To ensure safety, you need to make sure the cat hammock is built to support your cat's weight. This is especially important with window hammocks which can become detached and fall if there is too much weight on them.
Size
The ideal size of your cat hammock depends mostly on how many cats you have. For a single cat, something smaller will allow it to feel more secure. For multiple cats, something large enough to be comfortably shared is a better choice.
Accessibility
Your cat hammock needs to be easily accessible for your cat. Kittens or older cats that can't jump too high need something lower to the ground. More playful and agile cats, meanwhile, will probably appreciate something higher up that takes some climbing or jumping to get to.
Added Features
While window and cage hammocks rarely come with added features, tower hammocks almost always come with a little something extra. That might be a plush toy, a scratching post, climbable platforms, or all three.
If you have a cat that scratches, a tower hammock with built-in scratching posts is a great option. Cats scratch because it relaxes them and marks their territory, so being able to do it near their favorite napping spot (the hammock) is a great way to control this behavior.
If you're shopping for your first cat hammock, you might be surprised at just how many options there are. This guide will help you navigate your different options, discuss the top 10 hammocks available, and make choosing the best one for your cat a breeze.
Top 10 Best Cat Hammocks 2023
How to Choose the Best Cat Hammock for Your Home
There are a lot of different features to consider but it really comes down to your own cat's needs. The better you understand your cat's needs and preferences, the easier it will be to navigate those different features and decide exactly which is the best cat hammock for your pet.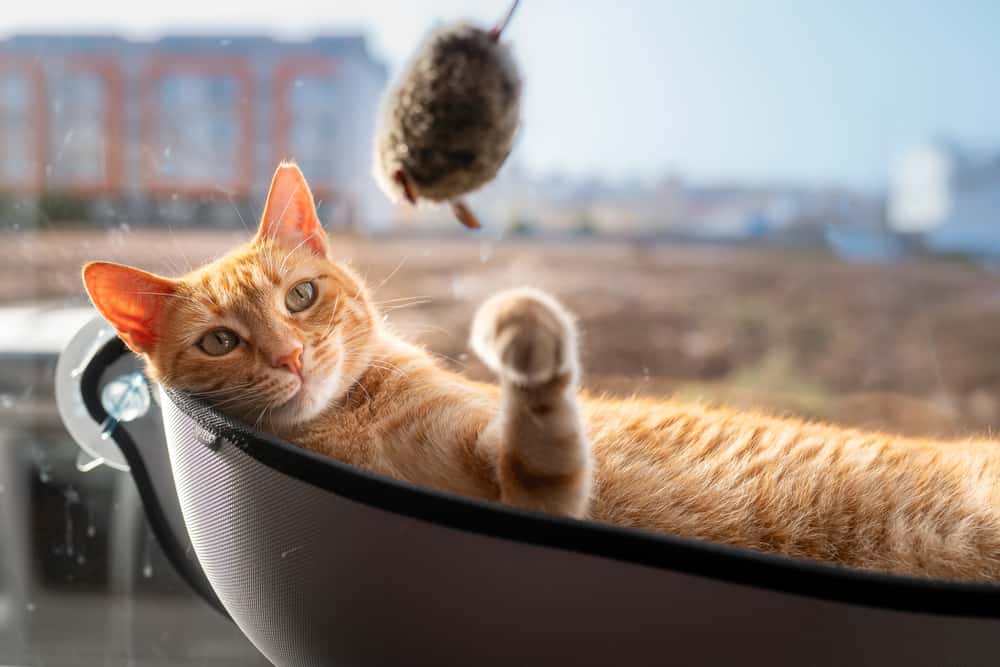 Size and Weight
In terms of safety, the size and weight of your cat are the most important factors to consider. You don't want to buy a hammock that is not strong enough to support its weight. Most cat hammocks are designed to support the average, healthy house cat.
If your kitty is a bit on the chubby side, however, look for hammocks that are extra durable. Better yet, find one that is designed to support multiple cats just to be on the safe side.
If you have kittens, weight capacity won't be as important, but height will be. If the hammock is mounted too high and there is no ramp or other means to get up to it, your small kittens may not be able to get into the hammock to enjoy it.

Health and Agility
Older cats and those with health conditions that reduce their ability to jump or climb need hammocks that are lower to the ground or that have ramps leading up to them.
If you are getting a window hammock, be sure to place it low on the window. You also may want to choose a window that is near a chair or shelf that you know they can get onto so that they can get to the hammock easily.
Personality
Is your cat curious and adventurous? Perhaps they are more the cautious or reserved type. Personality traits can strongly influence which kind of cat hammock your cat is most likely to enjoy.
A cautious or reserved cat will prefer something covered or that can be placed in a more concealed corner. The more adventurous cat will probably want something that's perched up high or that includes lots of levels and platforms for jumping and climbing.
A playful cat will enjoy something with toys built into it so that it can entertain itself while it lounges.
A cat hammock with plenty of stimulating toys and opportunities for climbing and jumping can also provide exercise. This is really helpful if you have a cat that seems to become suddenly possessed by demons around 3:00 A.M each night.
If they have more opportunities to play and exercise during the day, this will help tire them out  so they sleep through the night. If it doesn't get them to sleep, they might at least contain their demon-hour antics to the toy-filled cat hammock instead of knocking over your valuables.
Number of Cats
If you have more than one cat, you need to shop accordingly. While some cats don't mind cuddling up with each other in a single hammock, you still need to make sure the construction is strong enough to handle their combined weight.
If your cats aren't likely to share a single hammock, you should consider investing in a larger tower hammock with multiple seating options. You could also get two or more individual cat hammocks, but these can quickly clutter up your space.
So, if you're in a smaller home, a single tower hammock that's large enough to support multiple cats is a more compact option than a set of multiple hammocks.
Purpose of the Hammock
If you have a specific purpose in mind for the hammock, you definitely want to make sure you choose a type that can actually fulfill that purpose. For example, if you need something that you can use to soothe your cat while they are being taken to the vet, you definitely need a cage hammock.
If you want one your cat can use on a daily basis, a tower hammock is probably the best choice. Even though cage hammocks can often be mounted on chairs and other furniture, it's unlikely you will want to leave these permanently fixed to those places.
A cat, however, thrives on consistency so you want your at-home hammock to be placed somewhere that it can stay for the long term. A tower hammock is ideal for this, but a window hammock can also do the trick.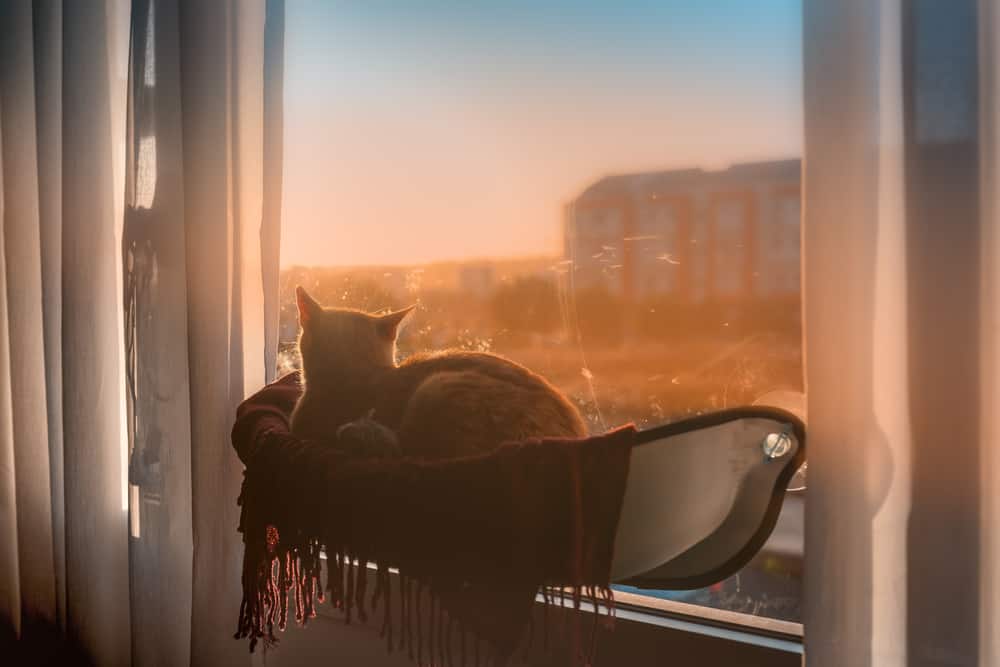 Frequently Asked Questions About Cat Hammocks
Here are some answers to the most common questions owners have about their new cat hammocks:
Do Cats Like Hammocks?
While each cat is unique, they typically will all enjoy a cat hammock. This is because it satisfies their need to feel safely hidden and perched above their environment. Remember, your house cat descends from predators and probably still thinks of itself as a hunter.
In the wild, large cats will hide in trees or surrounded by tall grass as they stalk their prey. They like to be concealed and in a good position to pounce at a moment's notice. A cat hammock provides those same advantages of being concealed and being in a good position to pounce.
So, in general, a hammock will satisfy your kitty's inner hunting instincts. But you need to place it well. Try to channel your own inner predator. You want to be perched somewhere with a good view of the surrounding environment but sufficiently out of the way that you don't feel exposed.
Where Do You Hang a Cat Hammock?
This depends on the style of hammock you choose. If you get a window hammock, it will most likely be held up by suction cups that stick directly to the window. Tower hammocks typically come with their own mounts and the hammock will hang from scratching posts or between platforms.
If you get a cage hammock, it will have straps or clips that either clip on to the cage bars or wrap around them.
Depending on the design, some cage hammocks can be mounted in a variety of locations. This cage hammock, for example, can be hung from a chair, a table, a stool, or anywhere else that you can think to fit it.
In terms of location in your home, remember that this hammock is fulfilling your kitty's predator instincts. Don't place the cat hammock front and center of the living room where they'll be exposed. But don't hide it behind a recliner either. Here are a few suggestions, based on the type of hammock you get:
Place a tower hammock beside a wall or in a corner opposite the couch or bed so that they can see you from the hammock.
Place a window hammock on the window your cat most often likes to sit by. If you haven't noticed a favorite window, pick one with a busy scene below it. For example, the front window where your cat can watch cars go by and see your neighbors going for walks.
If you're mounting a cage hammock to a chair, choose a chair that won't get knocked around too much. Also, make sure that it's one they can see you from. For example, mount it to a dining chair that has a view of the kitchen while you're cooking.
What Kind of Hammock Do I Get for a Cat That Chews?
Cats that have a habit of chewing on things like strings or shoelaces may also chew through the straps that support their hammock. If you suspect your cat will probably want to chew on the strings, the safest option would be a tower hammock that isn't supported by straps or ropes.
However, you don't have to deprive your kitty of a cool window perch or a soothing cage hammock just because of their chewing habit.
You just need to factor this in when you consider which one to get. A window hammock supported by steel wiring will be fully chew-proof and still allow your cat to enjoy the view from the window.

How Do I Get My Cat to Use the Hammock?
If your cat doesn't immediately take to the hammock, you may need to give it a little nudge in the right direction. One of the best ways to do this is to get something they already do enjoy like a blanket or pillow and place that in the hammock. They will be drawn to the familiar scent.
Other strategies to encourage your cat to use its new hammock include:
Pick them up and manually put them in the hammock. Do this regularly but don't do it so much that you annoy your cat or make them feel like they're being forced to stay. When they jump out, let them stay out. Repeat an hour or two later.
If your cat responds to cat nip, sprinkle some catnip on the hammock. By the same logic, you can use your cat's favorite toys or treats to attract them to the hammock.
Put it in the right place. Pay attention to where your cat already likes to hang out. Pick their favorite room and their favorite location in that room. Put the cat hammock near this spot.
Make it the focus of play. Try to get the hammock involved in playtime. That might mean throwing the cat's favorite toy onto the hammock or leading it up there with a string toy.
If they still just don't take to it, you might need to experiment with different locations in your home. The two biggest reasons a cat doesn't use a new hammock is because it either isn't in the right location or it doesn't have the cat's scent on it yet.
Final Word
When choosing the best cat hammock, the most important factors to consider are its type, weight capacity, and accessibility. Once you've chosen one, your new cat hammock can provide your furry friend with the best place to relax, play, and feel safe. With so many different types, you'll be able to find something that perfectly suits your cat's physical needs and temperament!