The 10 Best Cat Treats to Buy in 2023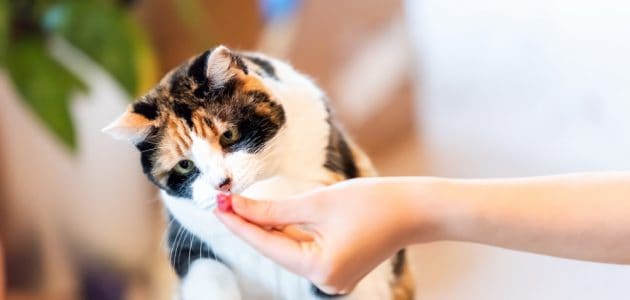 The world may peg cats as ferocious little creatures who don't require much attention but us cat owners see them very differently. While they're more independent than the average house pet, cats do require lots of love and attention. They especially need extra care when it comes to their nutritional health.
Cats love treats as much as the next person, but did you know that some cat treats can actually improve their health while catering to their palates? We compiled a list of some of the best cat treats of the year — each designed to have our lovable furballs licking their chops!
Picking the Best Cat Treats for Your Kitty
There's nothing more important than the health of our furry pals and since they can't verbally speak to us, we have to be extra observant of their physical behaviors. Anything from excessive hairballs to refusing to eat dry food can be a sign that your kitty needs some extra care — and beneficial cat treats are a great place to start! Before revealing our top picks, let's find out a little bit more about the different kinds of cat treats and what they entail.

What Are the Components of an Excellent Cat Treat?
Unlike dogs, who will just about eat anything, cats have refined palates and tend to be strict carnivores. Due to their low amount of taste buds, cats are typically attracted to fragrant food seeing as their heightened sense of smell makes up for their lack of taste. So, the smell of a cat treat plays a big role in whether or not your cat wants to eat it.
When it comes to creating nutritious cat treats there is one superior ingredient: meat. But when it comes to creating tasty cat treats, tons of different ingredients qualify. Depending on the type of cat treat you're looking for, different diet restrictions may apply but for the most part, excellent cat treats are composed of the following:
High protein content
Low sodium content
High-quality ingredients
Grain-free content
Real meat as the first ingredient
If your cat requires a special diet or has any health complications, be sure to consult your veterinarian before making your final pick. To find out which ingredients to avoid when shopping around for cat treats, check out our full guide.
What Can Cat Treats Be Used For?
As a Reward: When your cat does something good — like finally using its litter box or hunting down a pesky fly — giving them a treat can solidify their good deed.
For Training Purposes: If you're training your cat to do some cool tricks, giving them a treat or two can be a huge motivator.
To Improve Their Health: No two cat treats are created equal. Some were designed to improve a cat's overall health, while others were created to improve their dentition, coat, cognitive responses and more.
To Disguise the Taste of Medication: Sometimes, getting your cat to take its medication can be comparable to wrestling a small tiger. Luckily, some medications can be inserted into cat treats, helping to mask the taste.
To Help With Nerves: During a new or stressful situation, giving your cat a treat can help calm them down.
As an Instant GPS: If your cat won't come out of its hiding spot or refuses to come inside after a day in the sun, shaking a pack of cat treats can get them by your side in no time.
As an Apology: Whether you stepped on your cat's tail by accident or gave them too much lip for waking you up at night, giving your cat a treat can be a great way to apologize.
There are so many benefits to giving your cat treats but it's important to know that moderation is key — feline obesity is no joke, after all. For more information on how to keep your cat at a healthy weight, check out our full guide.
Factors to Consider When Choosing the Best Cat Treats
While some cat treats are one-cat-fits-all, others may be targeted to a specific type of cat. As we reveal our favorite cat treats and explain why they've made our list, we'll dive into the following factors to help you wean out the treats you need versus the ones you don't.
Type
We'll let you know which type of cat treat we're dealing with: Crunchy, soft, lickable, meaty cat sticks or food toppers.
Age
Some cat treats were designed for kittens and some were designed for seniors. Who knew that there were cat treats for every phase of a cat's life? We'll fill you in on which cat treats cater to which age groups — or if they can be enjoyed by all cats alike!
Daily Serving
If you plan on giving your cat daily treats, you might want to adjust the size of their meals to compensate for the extra calories. Portion control is an important factor to consider as too many treats can lead to weight gain. We'll explain what the maximum daily intake of treats is for every entry.
Overview
We'll also fill you in on the key features of each cat treat, explaining what makes them stand out from all the rest.
There's a treat out there for every kitty cat — no matter their medical history. Whether you're searching for something that can benefit their health or simply act as a tasty reward, there are plenty of amazing cat treats you can choose from. Now, let's take a look at our top picks.
Top 10 Best Cat Treats 2023
A Guide to Buying the Best Cat Treats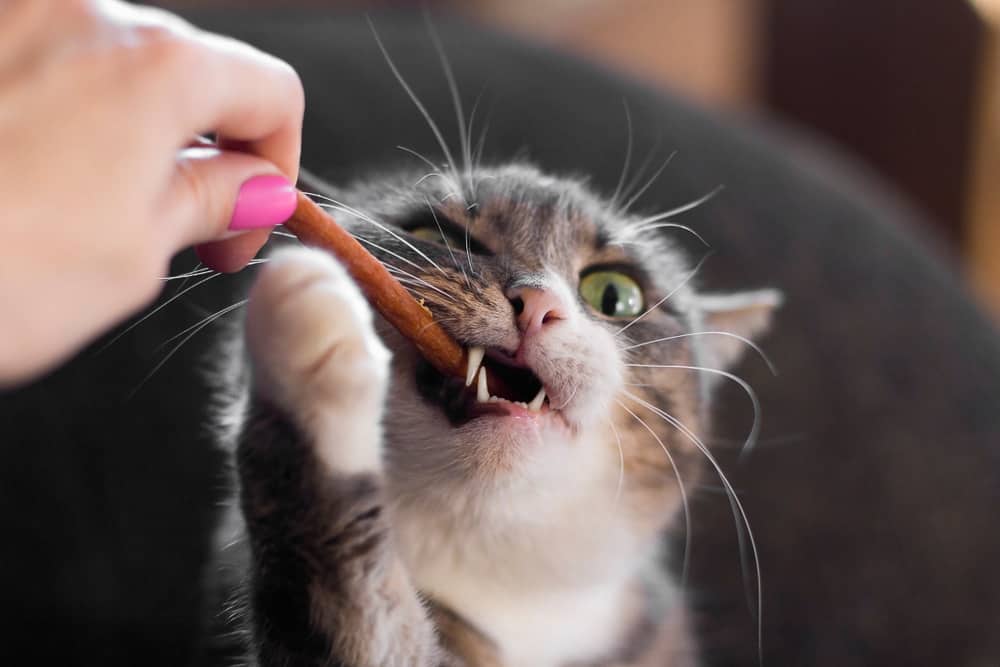 Our fluffy friends might be very different from us but we do have some things in common — like enjoying tasty treats. Finding the best cat treats for your pet can be a challenge when there are so many options to sift through. This guide will help you determine what you're looking for in a cat treat. Let's kick things off with some good old fashioned pros and cons.
Cat Treats: The Pros
Just like humans, cats like to feel like they're appreciated and cared for and treats are a constant reminder of just that. Giving your kitty treats can help them recognize just how much you care, therefore helping you and your pet build a stronger foundation. Cat treats can also be used to win over a rescue cat or help appease a cat's nervous system. They can also help to potty train a new cat or kitten, as giving them a treat after they use their litter box can be seen as positive reinforcement.
Aside from this, cat treats can also be used to improve the overall health of your cat — hard to believe, right? Yes, cat treats can actually be healthy, helping to improve cognitive development in young kittens, or digestive issues in senior cats. There is a treat to help combat anything from dental disease to excessive hairballs and beyond!
Cat Treats: The Cons
There is a flip side to giving your cat daily treats, but there doesn't have to be! If done right, you and your cat can have a positive experience when it comes to cat treats. One of the biggest cons surrounding this topic is how quickly a cat can become dependent on treats. Another major con is that excessive treats can cause your kitty to gain weight. However, this doesn't have to be the case and we're here to make sure that you have all the tools you need to keep your cat at a healthy weight.

How to Prevent Your Cat From Gaining "Cat Treat" Weight
When it comes to overweight animals, house cats take the cake — they aren't all that active, after all. It's easy for them to gain weight and this is especially true if cat treats are introduced into their diets without proper structure. Here are three tricks you can use to maintain your cat's ideal weight while also giving them plenty of tasty cat treats!
Limit the amount of daily cat treats your kitty receives, even if it goes against the recommended daily portion. However, if you're using cat treats for the sole purpose of improving your cat's health, follow the recommended servings.
The more treats you give your cat, the smaller their meals should be. A good rule of thumb is to ensure that 90% of your cat's diet derives from nutritional cat food while the other 10% comes from cat treats. In other words, a maximum of 10% of your cat's daily calorie intake can be set aside for treats, while the rest of their calories should stem from actual meals. This will ensure that their meal-to-treat ratio is well-balanced, therefore helping them maintain a healthy weight.
Lastly, it's important that you try and amp up your cat's cardio before giving them treats. This way, they get a bit of exercise in before chowing down. You can do this by either playing with your cat before giving them some treats or throwing cat treats like you would a ball — causing your kitty to chase them down the hall. If you do not have the time to play with your cat but still wish to give them treats, you can purchase an interactive cat toy that dispenses cat treats, all the while keeping your kitty as active as can be.
How to Prevent Your Cat From Becoming Addicted to Cat Treats
It isn't uncommon for cats to become dependent on treats. Still, the last thing anyone wants is for their cat to begin meowing or pawing at them for treats every two minutes or so. Just like human treats, cat treats can become addictive but there are tons of ways you can prevent this from happening.
Refrain from using cat treats as affection. If you do not have time to play with your cat, don't give them cat treats as compensation. Doing so will inherently tell them that they deserve a treat whenever they are bored.
Start your cat off with one or two cat treats a day, at designated times. Doing this will show them that cat treats don't grow on trees and that there is a time and place for receiving them.
Although cats can't outright ask you for a treat, they can get their point across. Whenever your cat asks you for a treat, refrain from giving them one and wait until they have had time to relax. Rewarding them for their addictive behavior will only make them more dependent.
If all else fails, treat your cat like you would a child and don't let them have treats before their main meals. Instead, serve them treats as if they were a dessert. This can prevent them from thinking that treats can be received before their designated mealtime.
The more you give your cat tasty treats, the more they will begin to expect them. So, be sure that you are giving them treats to reward good behavior and don't make receiving treats too common of an ordeal.
The Ingredients You Want
When it comes to cat treats, you want the ingredient list to be as basic as possible. An easy way to spot a healthy cat treat is to look at the first ingredients listed; if real meat is amongst the first ingredients, chances are you're dealing with a good product.
Cats benefit from a high-protein diet, one that consists of fatty acids and real ingredients. If you're looking for a super healthy cat treat that your kitty will go bonkers for, we suggest looking into Instinct Raw Boost Mixers — these cat treats are as nutritious as they are delicious!

The Ingredients You Don't Want
The feline diet isn't as accepting as the canine diet, which is why we need to pay extra attention to the ingredient list when selecting the best cat treats. When making your pick, you want to stay away from grains, artificial food dyes, wheat, gluten, excessive sodium, sugar and preservatives.
Unfortunately, it can be quite a challenge to find cat treats that do not include at least one of these ingredients. However, it's important to note that most healthy adult cats can properly digest these ingredients, which is why Temptations Classic Cat Treats are so popular today, despite containing many of these ingredients.
All in all, as long as your cat's diet consists of healthy well-balanced food 90% of the time, giving them what is considered cat-junk-food the other 10% of the time isn't all that bad. However, if your cat requires a special diet or has health complications, it's always best to talk to your veterinarian beforehand, should you have any concerns.
What to Consider When Choosing a Cat Treat
There are so many things to consider when buying cat treats but once everything is out in the open, you'll know exactly what you're looking for. We put together some important factors to consider to help you make the best decision for your lovable pet.
FAQs
What are raw cat treats?
We're so used to feeding our kitty's prepared cat food, we forget that they're actually carnivores who enjoy eating raw food more than anything. Raw cat treats can improve your cat's digestion, reducing the volume and smell of their stool. They also improve your cat's dental health and energy levels while adding some shine to their coat. If you're looking for a raw cat treat, check out Instinct Raw Boost Mixers — it's the only raw cat treat on our list.
Why doesn't my cat like his new treats?
Trying out a new cat treat is always a gamble, considering that cats can be picky eaters. If your cat refuses to eat its new treats, it may be because they don't pass the smell test.
How do I get my cat to take its medication?
If your cat is stubborn and refuses to take its medication, there are plenty of nifty cat treats that can trick your kitty into unknowingly swallowing its medicine. Greenies Pill Pockets Cat Treats were designed with this incentive in mind.
Can I replace my cat's food with treats?
If your cat refuses to eat his food after becoming obsessed with a certain treat, it's important to note that you cannot substitute cat food with cat treats. This is due to cat treats lacking certain nutrients for a well-balanced diet. However, many cat treats, like INABA Churu Lickable Purée can be used as a topper to entice your cat into eating her meals.

Let Your Feline Enjoy the Best Cat Treats
Now that you know a little more about cat treats than you did before, you can confidently pick the best snack for your lovable furball. Whether you're searching for a cat treat that will bring you closer to a stray, or a snack that will cure your kitty's stinky breath, we're certain that one of our top picks will stand out to you. We wish you and your kitty cat nothing but the best!