The 10 Best Cat Litter Boxes to Buy in 2023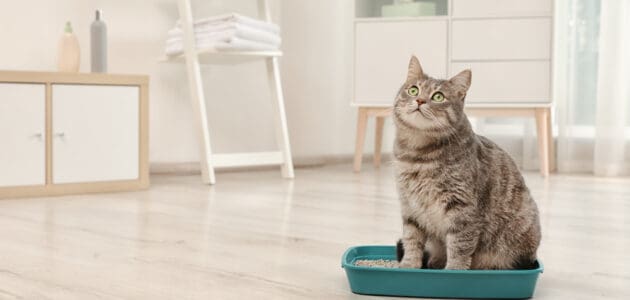 Cats are notoriously picky when it comes to their litter box. If the style isn't to their liking or preference, they have no qualms about doing the deed outside the tray (or worse, on your lovely new carpet!). Therefore, choosing the right litter box that pairs well with your kitty's personality and your human need for cleanliness is important. Finding one that creates less mess and is easy to maintain is essential for a happy cat-owner relationship.
This guide will outline the best litter trays on the market. We'll start with what styles are out there and what to look out for, followed by our top 10 list. We'll then finish things off with a more in-depth look at the features to consider before making your purchase.
What You Need to Know About Cat Litter Boxes
Cat litter boxes come in all shapes and sizes. While the traditional standard litter box styles are still around, many now come with different heights, styles of entry, and cleaning mechanisms. Choosing the right one can be tricky, but this decision is easier once you establish your cat's needs.
Deciding on the Best Style
When selecting a cat litter tray, it's important to think beyond your own desires. While it's tempting to buy a box because it's easy to clean and can be kept out of view, ultimately what matters is whether your cat will enjoy using it. Therefore, you'll need to strike a balance between your preferences and your cat's.
Think About Your Cat's Preferences
Knowing your cat's preferences, personality, mobility, and disposition will go a long way when it comes to choosing the right litter box style. On the market at present are open, enclosed, and self-cleaning options. For a more detailed look at how to determine what type of litter box is best for your cat's personality, see our full guide below.
Open
Open boxes have no lid, and these allow your cat to have plenty of headspace. They are the most traditional type and can make for easy maintenance due to their simple design. Open styles come in a variety of styles though, which we'll cover below. It's also important to note that open styles run the risk of additional mess since litter can be kicked outside the box.
Enclosed
If you've got a feline that loves to climb into small spaces, then an enclosed box may suit them fine. Enclosed boxes often have a small entrance on the top or on the side, which keeps litter contained and gives your cat privacy to do their business. However, if your cat is an anxious type, they might not like an enclosed box that prevents them from seeing what's around them.
Self-Cleaning
Self-cleaning boxes are great because — you guessed it — they do most of the cleaning for you! That probably sounds like a dream, right? These boxes come in open or enclosed versions, but some cats can be startled by ones with noisy motors. There are silent self-cleaning options, but most of these are enclosed, so you'll need to consider what kind of space your cat prefers. Self-cleaning trays can also be expensive, so research this option thoroughly before purchasing (we're here to help with that!)

What to Look out For
Aside from the general box style, there are other finer details to consider. These largely apply to your human needs, but they will pertain to your feline's wishes as well.
Litter Box Design
Most cat owners will want a box that is easy to assemble and clean. This means you'll need to evaluate the style, its materials, and waste removal system. To establish whether a litter box is easy to set up and clean, pay attention to the design. For instance, are there lots of nooks and crannies? Is it easy to take apart? Does it require a lot of assembly?
Design is also important when it comes to litter scatter on the floor. Your cat can track litter around via their paws or when they're kicking it inside the box. If litter scatter is a chronic issue for you, consider enclosed box designs or ones with high walls.
Maintenance
In terms of maintenance, evaluate the waste removal system. Does it require scooping or sifting? How often do you need to change the litter? Also, look at what the box is made from. Generally, boxes made with hard plastic (rather than wood) won't absorb urine. You'll also want to assess whether the walls wipe down easily and if they prevent soiled litter from sticking to the sides.
Odor Control
Another common issue with cat litter is, of course, the odor. Cats are known to have smelly waste, and while this is often dampened by the type of litter you use, the style of box can also go a long way. Enclosed boxes, for example, can help contain the smell. Self-cleaning boxes are even better in this regard as they push the waste under the litter and into a separate compartment.
Now that we've addressed the styles and features to look out for when choosing a litter box, let's review our top 10 on the market.
Guide to Buying the Best Cat Litter Box

When it comes to cat litter boxes, the decision about what to buy can be complicated by several factors. This includes the needs of your feline, as well as your requirements in terms of size, ease of cleaning, and maintenance.

What Style of Cat Litter Box? Why Personality Matters
Selecting the right style of box also requires knowing the personality of your cat. Whether they're old, young, anxious, or adventurous, these factors can greatly influence the type of box you choose.
Skittish Cats
When it comes to anxious felines, traditional open litter trays can be an easier choice. While enclosed boxes provide privacy, nervous cats might prefer to see what's happening around them. Conversely, some nervous cats might not like being seen or exposed in an open tray, so an enclosed version would suit them better.
Automated self-cleaning trays can also create a bad experience for some nervous cats. While this is great for the human, a motorized sound might put your cat off entirely, resulting in a wasted litter box.
Older or Mobility-Restricted Cats
Cats who are older or who have mobility issues can struggle to climb over walls or into enclosed spaces. If your cat's mobility is restricted, an open top might be easier for them to get in and out of. Again though, some open versions have high walls, so an enclosed one with a low entry is another option.
Young or Adventurous Cats
If your cat is sprightly, young, or likes to climb, enclosed boxes can work well. Generally, they should have no problem climbing through a top or side entry and they may even enjoy it! Young cats can also tend to spray more litter if they're energetic, making enclosed boxes a good option.
Additional Litter Box Elements to Consider
Once you've figured out the general style of litter box for your cat's personality, it's important to consider some additional features.
Sizing
Sizing is important for a couple of reasons. Larger cats will need a larger tray and enough space to turn around in. As a general rule, the box should be at least one and a half times the length of the cat.
Another important thing to consider is the height of the walls. High walls are great for privacy, especially if the tray is an open style. However, when it comes to older cats or those with mobility issues, high walls can make access tricky. In this case, you might have to sacrifice your preferences for your cat's comfort and opt for a low entry box.
Ease of Cleaning
As a cat owner, the ability to easily clean the litter box will likely be on the top of your list. To determine whether a box is easy to clean, start with the materials and design. Decent plastic walls won't allow litter to stick and should be easy to wipe down with soap and water. You'll also want to find a box that doesn't absorb urine or waste smells. Plastic is often the best material in this case.
Waste Removal
Waste removal is another important factor to consider. Do you want the least amount of contact with kitty's waste as possible? Or are you happy to get down and dirty?
Basic open kitty litter boxes that require scooping will be more laborious in terms of removal. While it might be a bit messier and less appealing on the nose, some prefer this simplicity. Petmate's Giant Litter Pan, for example, provides this basic option.
However, other boxes that come with a sifting method mean you won't have to do manual scooping. Self-cleaning boxes like PetSafe's Self-Cleaning box are great for this, but you'll need to establish whether your cat will be ok with the motorized sound. Alternatives like SpeedySift's and Omega's sifting mechanisms are quieter options in this case.
Litter Scatter
Litter scatter can be a pain, especially if it appears outside the box and throughout your home. The best way to deal with scattering is to go with boxes that are enclosed or that have high walls. Petmate and Litter Genie provide good open versions with high walls, while Iris and Merry Pet are good enclosed options.
You may also want to consider trays that are specially designed to remove litter from your cat's paws, such as the Booda Dome. Additionally, you could investigate different types of litter that don't stick to the paws as much.
Making Your Choice
Now that we've familiarized you with the different styles of cat litter box and the elements to consider, you'll want to make your choice.
Price
Price matters a lot, especially if you've got more than 1 cat and you require multiple boxes. You'll want to price up additional factors, too, such as how much litter (and what type) is required and what replacements might be needed later.
Standard litter trays are fairly inexpensive, and you can find ones that are reasonably priced and long-lasting, such as Arm & Hammer's Sifting Pan. If you opt for a self-cleaning version, it can rack up the price significantly, but there may be long-term savings if less maintenance and litter are required.
Convenience
Something else to consider when making your final decision is convenience. Is it easy to carry and move to different areas? Is it compact and able to fit into small spaces? Can you take it with you in the car on holiday? Before launching into your choice, weigh up how much convenience matters to you and in what ways.
Final Thoughts
Finding the right litter box amongst a sea of choices can be tricky, but once you establish your cat's preferences and what they need, the decision becomes easier. Pairing this up with your requirements as an owner in terms of cleanliness and maintenance will enable you to make the best choice for your cat. We hope this guide will make your search easier and that you'll soon find a litter tray that is comfortable, clean, and enjoyable for your beloved feline.