The 10 Best Self-Cleaning Litter Boxes to Buy in 2023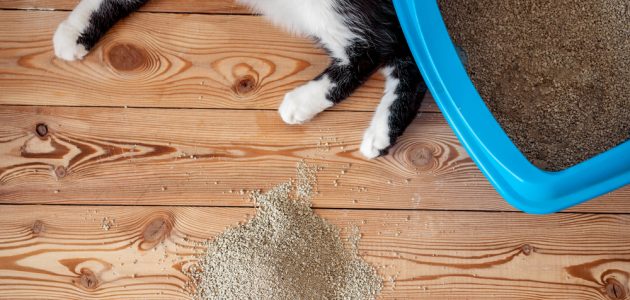 Cats are known for being clean, well-groomed, and low-maintenance pets. In fact, cleanliness is part of the reason kitties are one of our most beloved home companions – along with being cute, playful, and perfect .gif material.
Unfortunately, it's not all pawing and purring, and if your feline friend is unhappy with their litter box, they may (quite literally) kick up a stink in your home. Even if your cat is content, who's to say you are? Nobody dreams of spending their downtime cleaning cat poop.
Thankfully, there are now innovative litter box designs on the market that can take the scooping out of pooping. These self-cleaning litter boxes remove the need for scooping entirely, can help reduce the unpleasant odor of animal waste in your home, and even offer health benefits for both you and your cat. When it comes to choosing the perfect box, there's lots of info to get your paws into; let's start with factors to consider in your buying decision.
Factors to Consider When Buying a Self-Cleaning Litter Box
This guide includes a range of self-cleaning litter box choices to satisfy cat owners in all circumstances. But whether you're after an electronic device with all the bells and whistles, or a simple system to make changing litter quicker, there are some common factors you should look out for. Here's what we deem most important for a well-informed purchasing decision:
Type of Self-Cleaning Litter Box
There are three types of self-cleaning litter boxes: automatic, rotational, and manual.
Automatic Litter Boxes
Automatic litter boxes are typically powered by electricity and do almost all the work in separating litter. They're the most hands-off but most expensive.
Rotational Litter Boxes
Rotational litter boxes usually rotate with a handle, sorting waste from litter with a simple twist of the handle. They're a bit more labor intensive but they don't rely on outlet power.
Manual Litter Boxes
Manual litter boxes use a screen, sieve, or grille to separate waste from soiled litter, although they do require a little bit of dirty look and more frequent effort than automatic litter boxes.
For a more detailed breakdown of these different types, how they work, and which option may be best for you, skip over to our Self-Cleaning Litter Box Designs section. Our product reviews also specify the cleaning mechanism for each product, as well as detail exactly how this works.
Waste Removal
Automatic options use detection sensors to clean the litter box once your cat has done their business. Some only require you to remove waste once the storage receptacle is full – which could be 7+ days. Manual self-cleaning options rely on your nose for detection, and although you can wave goodbye to the days of scooping, these still require you to remove waste regularly.
Litter Required
Several boxes require a special type of cat litter and where this is the case, we've noted it in our reviews. For most cat owners, switching the type of litter shouldn't be a problem, especially if you follow our advice for introducing a new litter box But for those with fussy felines, changing litter type may not be worth the risk of disrupting their habits. Specialist litter can also come at a premium and should form part of your pricing considerations.
Size
Cats can be very picky about where they poop. In fact, experts recommend your litter box is 1.5x the size of your cat, so you'll need to plan accordingly. For those with more than two cats, you'll want an option specially designed for multi-cat homes so that soiled litter isn't an issue.
Noise
Cats are easily spooked, especially during bathroom time when they feel vulnerable. If your cat is the type to dart for the exit when a vacuum is switched on, you may wish to consider quieter options as some automatic litter boxes are pretty loud.
Odor Control
Perhaps you landed here in the quest for a solution to the ever-present smell of cat poop that seems to permeate your home. If so, the ability of a litter box to effectively contain foul odors is essential.
Installation & Maintenance
Self-cleaning boxes make dealing with litter a breeze. But if you need to spend this saved time maintaining the box itself, is it worth it? Manual models are typically easier to maintain, especially for technophobes.
Guide to Buying the Best Self-Cleaning Litter Box
Our product reviews include choices from all different types of self-cleaning litter boxes. But how can you be sure which will work best for you? Let's take a closer look at each to help you decide on the functions to prioritize for your kitty:

Know Your Type: Self-Cleaning Litter Box Designs
Automatic
These litter boxes are outlet powered and use a raking, rotating, or flushing system to separate the litter from the cat waste, completely removing a need for scooping. In-built sensors detect litter box usage automatically and the cleaning process start time can often be set according to your preference. Waste is usually stored in an odor-controlled receptacle that only needs to be emptied infrequently, or is disposed of directly when connected to a water source.
Best For You If: An automatic box is right for you if you find that cat waste sits in the box too long, stinking up your house before you get a chance to clean it. These are great if you want to completely eliminate litter cleaning as a daily chore.
Expected Spend: $50 – $500
Our Top Automatic Pick: ScoopFree Ultra
Rotational
These devices typically have an internal grid filter to separate the clean litter from the soiled clumps. Rotational litter boxes do require some manual effort and you'll either have to pull a lever, turn a handle, or roll the box itself. As with automatic devices, the dirty litter is then left in a waste receptacle, ready for removal. However, these waste receptacles rarely control for odor.
Best For You If: If you don't need the extra frills of an automatic device, but would prefer to be as hands-off as possible, a rotational litter box is good for you. Owners of these litter boxes benefit from reduced cleaning duties with a simple, non-electrical device.
Expected Spend: $30 – $80
Our Top Rotational Pick: Omega Paw
Manual
Manual (also known as sifting) litter boxes are self-cleaning in the sense that you don't need to go hunting through soiled litter granules with a scoop. They still require manual effort, but are much faster and more hands-off than traditional litter cleaning, with a quick shake usually being all you need. Either a set of trays or bags act as a sieve, which separates the litter from the waste. They're much smaller than other box types and cleaning is mess-free, but they can't control odor and require daily changes.
Best For You If: You'd like to speed up the process of daily litter cleaning with a simple, small device. If you don't mind catching the occasional whiff of cat poop to save a few bucks, a manual self-cleaning litter box is right for you.
Expected Spend: $10 – #60
Our Top Manual Pick: PetMate Sifting Pan
PRO-TIP: The cost of any box-specific litter should not be neglected. These are likely to be more impactful to your lifetime cost than the initial layout for the unit itself.
Benefits of a Self-Cleaning Litter Box
In case it wasn't already obvious, there are some clear benefits associated with making the switch from a regular litter box to a self-cleaning option. Here's a quick summary:
Saved Time
The less time you spend scooping poop, the more time you can spend elsewhere, be it spoiling your cat or enjoying home life. This is the number one reason people opt for a self-cleaning litter box, and we can't blame them.
A Happy, Healthy Cat
Cats are notoriously picky about where they relieve themselves, especially if the box hasn't been cleaned since they, or another cat, last used it. If your feline doesn't deem their litter box to be suitable, they may try to stop themselves from going altogether, which can cause serious digestive blockages and kidney issues.
Odor Reduction
Being greeted after work by the scent of cat poop is nobody's idea of a welcome home. The more premium offerings can either dispose of waste before it has a chance to smell, or store it effectively so it doesn't permeate.
Safe Waste Disposal
Cat waste isn't just offensive to the nose, it can also be downright dangerous for you and your cat. As well as regular bacteria and other nasties, cat poop often contains toxoplasma parasites. According to the Centre for Disease Control & Prevention you're at risk when cleaning the litter box. Infection with the parasite results in toxoplasmosis, an infection particularly dangerous for the pregnant or immunocompromised.
Important Cat-siderations When Choosing a Self-Cleaning Litter Box:
Health
The beauty of a self-cleaning litter box is that it clears away waste before you have to see it, perfect for the majority of cat lovers. But poop is an indicator of health, and if your cat is prone to digestive issues, a manual self-cleaning option like the PetMate Sifting Tray allows you to regularly monitor their feces for any signs of blood. Alternatively, some automatic options (like the ScoopFree Ultra) have 'health tracker' counters to monitor how frequently your cat relieves themselves.
Age
Most self-cleaning litter boxes aren't suitable for kittens, either because they're too light to activate the detection sensors, or because their waste is too small to be effectively raked. Manufacturers typically recommend waiting until your kitten is at least 6 months old before introducing a self-cleaning option.
Size
Some cats are big-boned, others just can't keep their heads out of the biscuit bowl. Automatic litter boxes are usually built with the 'standard' cat in mind and as sufficient movement space is important for a cat's comfort, having a large cat should not be overlooked when picking a device. If you're living with a particularly heavy cat, we suggest the Litter-Robot 3 which can accommodate felines up to 20lbs.
Other Pets
According to The Humane Society, it's recommended that your home has one regular litter box for every cat you live with, plus one extra. If you only have one cat a single self-cleaning box should be fine, but for owners with 2 or more felines, this is a good guideline to follow. Alternatively, you could consider the LitterMaid Multi Cat, which is designed specifically for a multi-cat home.

Creating a Positive Poop Environment
Even once you've decided on a self-cleaning litter box, there's still work to do. Here's how to create the best set-up for success in your home:
Know Your Kitty
Consider the temperament of your cat when making any changes to their toilet rituals. Cats do have common habits and tendencies but they also have their own personalities and nobody knows them better than you do. So take the training advice you read with a pinch of salt and if a particular litter tactic seems to be causing distress, don't be afraid of a change of pace.
Buy a Hooded Cover
Some litter boxes are open-top, others come with a fixed, or removable privacy hood/cover. Some cats seem to prefer the extra coverage, others feel too confined and like an open space, instead. There's no right or wrong here, but if your kitty tends to be shy and reserved, you may wish to consider a hooded option.

Choose an Appropriate Location
Cats like their privacy when it's time to relieve themselves and who can blame them? According to Cat Health, you should choose:
A peaceful area away from loud sounds
An area with an escape route so your cat doesn't feel trapped
A hard flooring surface to avoid confusion (i.e., no carpets or rugs)
Many cat owners deal with litter box rejection, only to see instant success when they switch-up the location, so don't be disheartened if you have teething troubles early on.

Five Steps for Successfully Introducing a New Litter Box
The best cat litter box is the one that gets used regularly and choosing the between self-cleaning options is only half of the battle. Here's our 5 step process for successfully introducing a new litter box into your home:
1. Invest in the Correct Set-up
This means following all the steps we've outlined in this guide so far:
2. Learn Your Cat's Routine
Like humans, cats are creatures of habit. They have their routines and will often use the litter tray at similar times of the day. Thanks to the smell, there's a good chance you already know when this is, but if not, take some time to observe and learn their patterns.
If your kitty hasn't yet been litter trained at all, you can physically place them near the litter box at the same times each day. Just don't stare at them. Instead, avert your gaze and act normally so things feel more natural and comfortable.
3. Add Some Old Litter to the Box
If you already have a litter box setup, it can be very useful to place some of the soiled litter (or poop itself) into the new tray, as the scent can act as a useful teaching prompt. But don't remove the old box immediately. Removing the old box before they're accustomed to the new one is a great way to find your carpets soiled or end up with a cat with digestive issues.
Instead, add litter to both boxes and then, over time, gradually add less to the old box so it becomes a less desirable choice. Once your cat is using the new litter box the majority of the time, you can take the old one away.
4. Show Them the Ropes
When your cat's watching, lightly dig at the litter yourself to show them how it's done. If you opt for an automatic box, you can even leave the power off for the first few days if you think the noise will be distracting.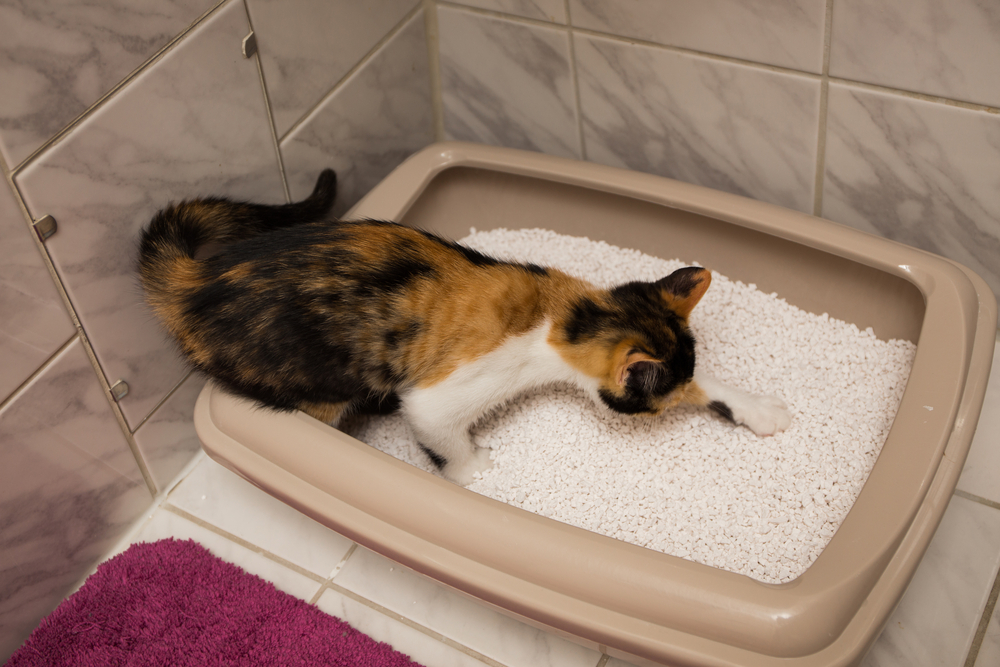 PRO-TIP: don't practice positive reinforcement by giving your cat treats near the litter tray. You may see this suggested elsewhere, but it can be risky. Occasionally some cats develop a dangerous habit for eating litter granules, which can cause bowel blockages and ultimately be fatal. The last thing you want to do is create a strong association between the litter box and food.
5. Stay Patient
Even with a fancy automatic self-cleaning litter box, don't expect this to be a walk in the park. Hey, if it was, you wouldn't need a litter box at all. Whether you're buying the litter box for your brand new pet, or transitioning an old friend to a new box, you'll need to be prepared for this process to take a couple of weeks. Take comfort in the fact that once they're fully litter trained, your cleaning will be hands-off for the long-term.
FAQs
How to Stop My Cat Pooping Outside the Litter Box?
Pooping outside the box is a common problem. Usually, the solution can be found by doing one or more of the following:
Ensuring the box is promptly cleaned after use
Using a different type of litter
Trying a different box location
Buying a bigger box
Setting up an additional box in your home
If the above options don't work, your cat may have a medical issue and we would advise you to visit a veterinarian to rule out anything serious.
Why Has My Cat Suddenly Stopped Using Their Litter Box?
If your cat has suddenly stopped using the litter box, it's a sign they're unhappy. This is likely due to one of the following reasons:
A change in the litter type or location
Difficulty entering the box (especially common in older, arthritic cats)
A medical issue causing painful urination or defecation
A stray cat has been using the box and 'claimed' it
Why Does My Cat Throw Litter Out of the Box?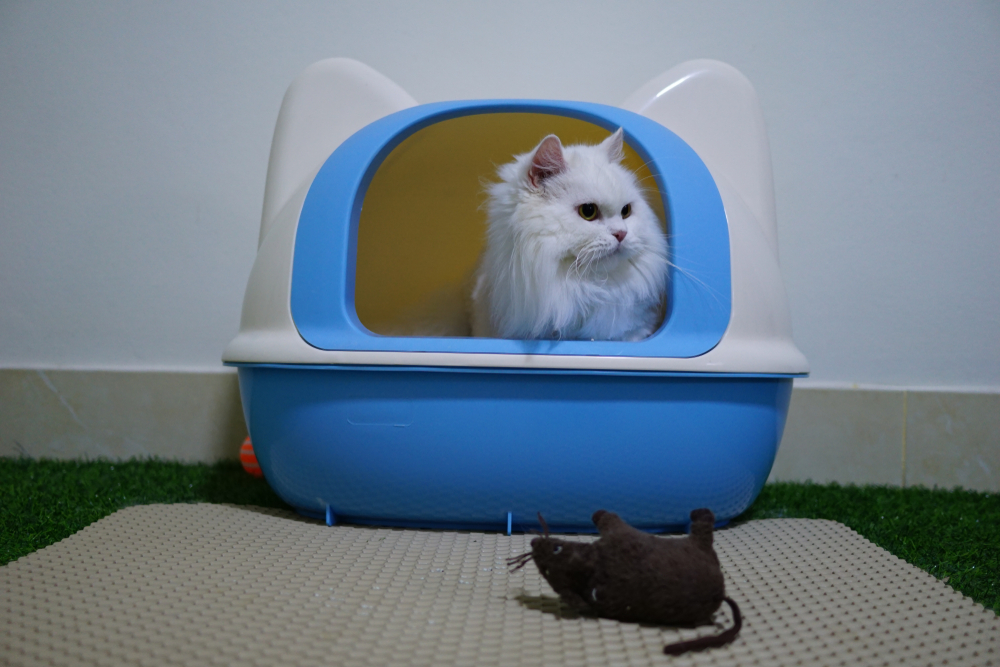 Usually, this isn't a major problem and just requires some 'out of the box' thinking to solve.
It may be that your cat is too energetic for the lightweight litter you use, and a heavier alternative can often provide a quick fix. Another common scenario is that the litter box is either too small or that the sides are too low. Finally, it may be that the litter is simply tracking on your cat's paws and being carried outside the box as they leave.
Most of these issues can be solved with self-cleaning litter boxes, which are often dome-shaped, built with raised sides, or use a specialized, non-tracking litter.
Self-Cleaning Kitty Litter: Welcome to the Future
There's a difference between being a cat person and being that cat person. Now you know everything there is to know about self-cleaning kitty litter boxes, you have no excuse for the lingering smell of cat waste in your home (and yes, your neighbors probably did notice).
After reading our guide, you're equipped with all the info you need to make the best choice for your cat. While transitioning your paw-fect friend to a self-cleaning litter box may take some patience, in the long run, it will save you time and effort, and help create a more pleasant home space for both you and your kitty.