The 10 Best Organic Cat Foods in 2023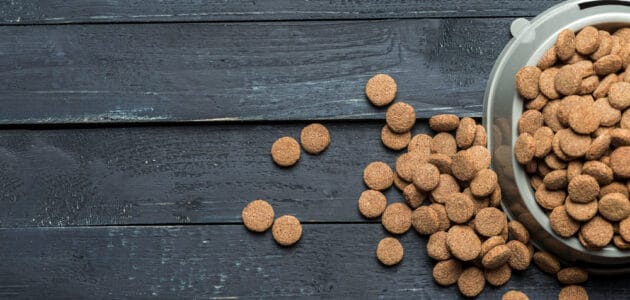 Just like the food we eat, pet food today is far from what it once was. From hormones and antibiotics to pesticides and inhumane conditions, the food on the table isn't what it would be if we farmed our own, which many pet owners believe is less healthy and less ethical.
This is why more and more of us are eating organic and why we want that same ability for our furry loved ones. Fortunately, pet food providers have listened to our concerns, and today there are dozens of natural and organic cat foods on the market.
What Is Organic Cat Food?
Organic cat food is more than just cat food free from hormones and pesticides. To be truly organic, every part of the process must qualify, from the ground that vegetables are grown in to the amount of room chickens have to move around. Organic cat food contains no genetically modified ingredients and is free from any artificial chemicals. For meat to be truly organic, the feed it is given must be organic.
Choosing the Right Organic Cat Food
We refuse to recommend food that contains artificial additives, hormones, or ash, all of which are bad for cats. Still, there are differences between "natural" foods that contain organic ingredients and certified organic cat food. What's more, ingredients, texture, and price can all play a role in what cat food you choose.
Organic Cat Food Certification
Pet food companies take pride in being able to display a United States Department of Agriculture (USDA) "certified" label. By passing their stringent conditions, the companies show a dedication to the organic process. Our Best Organic Cat Foods in both wet and dry categories are USDA certified. Other respected organic food certifications include Oregon Tilth and the Global Animal Partnership.
Health Benefits
Organic cat food is not automatically healthy cat food. The ratio of meats to vegetables, the appearance of grains and gluten, as well as levels of omega vitamins all provide a role in determining the healthiest food for our feline friends.
Healthy cat food should contain:
High levels of animal-based protein
Low or no grains
Only a reasonable amount of liver
A range of vitamins and nutrients including salts, omega-3 and 6, and taurine
For a fuller explanation of what makes cat food healthy and what we can do to ensure the best for our animals, please check out our full buyer's guide.
Choosing Between Wet and Dry Cat Food
Pet owners have a range of opinions about wet and dry food, and as our buyer's guide shows, there are benefits to both. While we recommend using a mix of both wet and dry for the best health of our cats, not everyone thinks the same.
To make choosing easier, we have offered the top five wet and top five dry organic cat foods. Our personal choice would be a combination of the PetGuard All Natural Wet Canned Cat Food and the ORIJEN Dry Cat Food.
Cats that love seafood may prefer a mixture of  Natural Balance Limited Ingredient Diets in Salmon, with the Open Farm Catch of the Season Whitefish Recipe.
Cats can be very picky eaters and are prone to allergies, digestive problems, and special needs (such as kidney or diabetic issues). Included in our list are foods specifically designed for these circumstances.
Now that you have an idea of what to look for, lets dive right into our list.
Top 5 Best Wet Organic Cat Foods 2023
Top 5 Best Dry Organic Cat Foods 2023
Guide to Buying the Best Organic Cat Food in 2021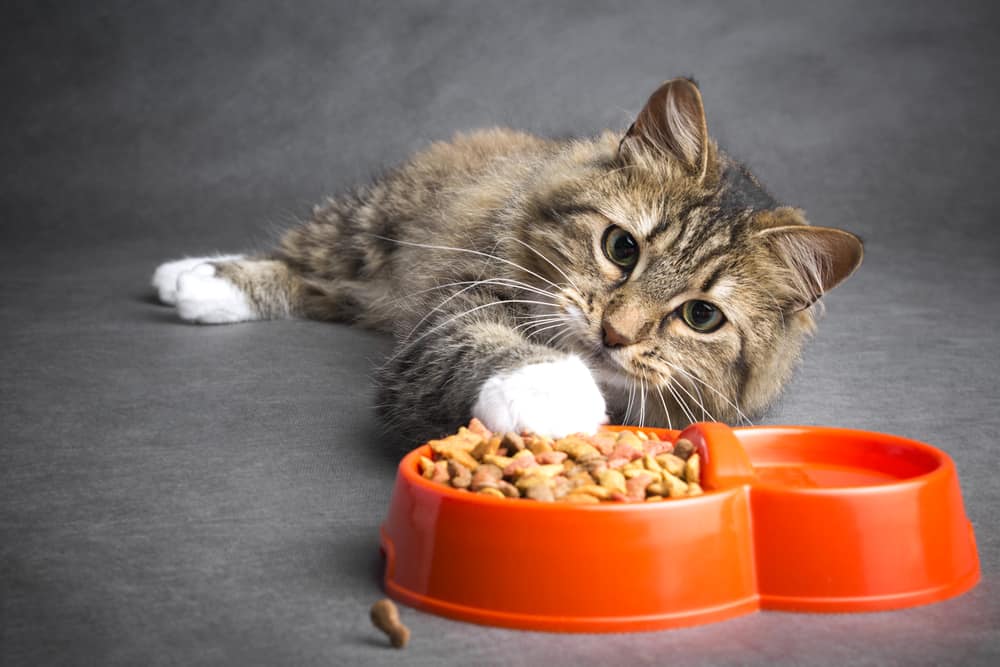 When we care for our cats, we want them to eat as well as we do. This means high-quality ingredients, coming from ethical sources, free from artificial additives and preservatives. Still, it can be different to wade through all the different options out there, to understand what makes something truly organic, and know the difference between cat and human diets.
What Makes a Food Organic?
Any cat food can advertise itself as "having natural ingredients", as it isn't a legal term. They do so when they can say that their food is free from artificial additives, and it helps them stand out. Sometimes it helps them increase their prices.
For food to truly be organic, however, they must be free from Genetically-Modified Organisms (GMOs), radiation, pesticides, and hormones.
USDA Organic Certification Process
The United States Department of Agriculture (USDA) offers a legally-binding certificate to products that meet strict guidelines for being organic. These guidelines include:
Farmyards must have spent the last three years with no prohibited substances used. Such substances include radioactive material, pesticides, and chemicals.
Animals must not be given hormones or antibiotics and must be kept in humane conditions, making them "free-range".
Additional preservatives, flavors, colorings, vitamins, and enzymes must also come from organic sources.
Those products that meet the stringent requirements of the USDA may then show an approved seal on their packaging. While a product without this seal may still be organic, it is a simple way to guarantee the product you are buying. If a product does not have the seal but advertises as "having organic ingredients", it must legally still have 70% or more organically sourced ingredients.
Four of our chosen products have the USDA seal, while another two use the term "organic ingredients". Of the remaining four, our research shows at least three use organic practices.
Ethical Pet Food
Organic cat food is more ethical than other forms, as it requires free-range farming and practices that do not involve hormones or unhealthy antibiotics. However, some organic cat foods want to offer the most ethical options available. For example, the Evanger's Organics Dinner for Cats uses recycled and recyclable packing, while many seafood options include wild-caught fish. For those of us who choose organic food as much for ethics as health, it is important to consider all these extra features.

Organic Cat Food and a Healthy Diet
According to the Mayo Clinic, "There is a growing body of evidence that shows some potential health benefits of organic foods when compared with conventionally grown foods". Organic foods are guaranteed to be free of toxic materials, radiation, and pesticides, while generally having higher levels of omega-3 and vitamins.
Organic food can come with risks, including an increased likelihood of bacteria. However, the way pet food kitchens operate decreases this risk greatly.
While organic cat food is better for our feline friends, there are a number of other factors that we need to consider to offer the healthiest option for them.
Choosing the Ideal Diet for Your Cat
Cats require a balanced diet with enough protein, vitamins, fat, and sugars to have a long and healthy life. All cat food is regulated to ensure that some balance exists, but some cat food companies spend more resources on ensuring the absolute best recipes.
Animal Protein
Cats are obligate carnivores. This means that they need the protein specifically from animal meats and while a vegetarian diet is possible, it is not recommended. Vets recommend cat food that has at least 25% protein, animal sourced. The more, the better. The ORIJEN Dry Cat Food has forty percent protein and is a good choice to be mixed with some of the less protein-rich wet foods.
Grain-Free Diets
Cats don't naturally eat vegetables, and this is especially true for grains. While some researchers dispute the need to avoid grains, cat owners around the world swear that their cats are less itchy, less fat, and less irritable when fed grain-free formulas. Some cats are actively allergic to gluten.
Low Liver Diets
While liver is okay to find in cat food, too much can lead to vitamin A toxicity, which affects their bones, joints, and muscles. Liver and other organs should only be present in food as much as they would be in raw meat.
Which Is Better: Wet or Dry Cat Food?
It's the topic so important that we split our list of best organic cat foods based on it. There is a lot of information we've heard over the years from family, friends, and even vets (who sometimes contradict each other). So what is the truth about wet and dry food, and what should we really be doing?
Is Dry Food Better for a Cat's Teeth?
The simple answer is "yes, but raw food is even better". Dry food provides rough surfaces for those cats who chew their food. The problem is that many cats do not chew dry food (as you would know from any unfortunate time your cat has vomited). Raw foods that contain bones must be chewed, and therefore are more likely to promote dental health. Unfortunately, they come with other risks, and rarely provide everything a cat needs.
How Important Is Moisture in Food?
Very. And this is one of the most important reasons to choose wet organic cat food over dry. Cats who live off dry food alone are more likely to end up with kidney issues, and dry food is often harder to digest. Wet food is also enjoyed by more cats, capturing a stronger taste than dehydrated food. Sure, it's smellier for us, but to our furry friends, that is like experiencing the tempting odors of the family kitchen.
What About Storage?
Dry food stores longer, and leftover wet food will need to get discarded. For a grazing cat on a summer's day, this is an important consideration.
Are There Any Other Factors?
There is a small increase in thyroid disease for cats that only eat wet food, and dry food alone has a chance to cause severe gastrointestinal issues.
So What Is the Best Choice for a Healthy Cat?
The best option for our cats is a mix of dry and wet food. Pet food companies know this, too. That is why Wellness Health designs its wet food to be combined with dry. That is why the nutrient balance is so different between wet and dry. By combining them, there isn't an overabundance of carbohydrates or underabundance of protein. By combining them, there is the right amount of all nutrients, the right moisture, and the right taste to make our cats happy and healthy. Taking the more expensive wet food and mixing it with dry makes it more cost-effective, and it improves cat digestion and oral health.
That's the answer, as simple as it is. Take our list, take one from each category that suits you, and purchase them both. This is the best way.
FAQ
There's always the little questions in the back of mind, from vocabulary to feeding habits, and those common myths about cat food that we might be embarrassed to ask. Hopefully, these little answers can help us all be more confident about how we take care of our kitties.
How Often Should I Feed My Cat?
Cats are natural grazers, and the perfect situation is a bowl always available. Of course, in some climates and environments, wet cat food is not suitable all the time, and some cats are brought up to expect set meal times. This isn't unhealthy but we do recommend spreading food across at least five meals, measuring carefully to ensure we do not overfeed.
What Is Taurine?
Taurine isn't as scary a word as it sounds. It is a natural component of animal meat and important to feline eyesight. It is a good thing when we see it in the ingredients list of our cat's food.
What Is Omega-3 and 6?
Both found very commonly in fish, omega-3 and 6 promote good skin and hair, as well as better brain function. This is equally as true in humans, which is why we are recommended to include fish in our diet as often as our cats are.
Why Do They List Some Specific Ingredients Separately (E.g., Vitamins)?
To ensure a healthy amount of nutrients, companies often add extra vitamins that have been extracted from other sources. In organic cat food, these sources must legally be organic, so while not listed, you can be comfortable in the knowledge that the right thing is being done.
Can I Just Feed My Cat "Human Food" or "Dog Food"?
While you can mix your own cat food if you have the knowledge, just feeding the cat what is on your plate, or choosing a less expensive food for dogs can have serious health implications. This should not be done. That said, if your cat has gotten into the dog food, or stolen a piece of chicken from your plate, it will not make them sick.
Is It Okay to Give My Cat Milk?
Milk is not okay for regular cat consumption. Most cats are lactose intolerant, and those who are not would be receiving too high an amount of fats in their diet by regularly drinking milk.
Why Do I Have to Be Careful About Changing Cat Foods?
Cats are creatures of habit, both in taste and digestion. Sudden changes in diet may cause your cat to eat less and can cause serious stomach issues. It is always better to transition slowly by mixing in quantities of the new food, slowly changing the ratio over several weeks.
Final Thoughts
If we believe that it's more ethical for us to eat organic food, don't our cats have the same rights? There is a range of organic cat food products out there, and the best take into account the special dietary needs of our cats, as well as how they work as ethical companies.