The 10 Best Cichlid Food in 2023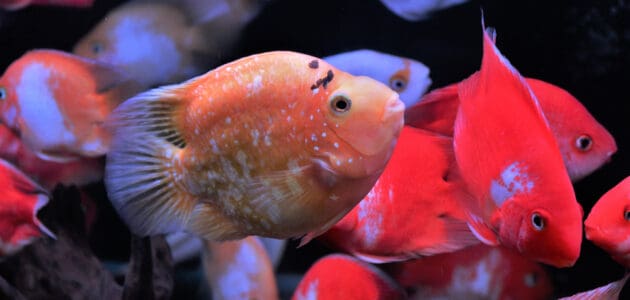 Cichlids are some of the most well-known and sought after fish in the hobby, both by amateurs and experts alike. This doesn't come as a surprise, as they are some of the most diverse, beautiful, and interesting species of fish around.
Anyone would be proud to have such lively, colorful creatures on display in their aquarium, but caring for them isn't always sunshine and rainbows. To raise happy cichlids, you need to consider several things – the most important of which is their diet.
In this article, we'll tell you everything you need to know about feeding your beloved cichlids.
Things to Consider When Buying Cichlid Food
Before we jump to our list of the best cichlid foods, let's take a look at some essential factors to consider first.

Natural Diet
Cichlids are very diverse in more ways than one. You may have noticed this because of their incredibly varied appearance, patterns, and colorations. What you probably didn't know is that their diets differ just as much.
When it comes to diet, cichlids can be divided into three main types: the carnivores, the herbivores, and the omnivores. These fishes have distinct physical characteristics related to their special diets. These attributes and why they're important will be discussed better further below.
Nutrient Balance
Out in the wild, most cichlids don't have a single, specific diet. They are opportunistic creatures and aren't very picky, usually eating whatever they can, whenever they can.
In fact, there are no strict divisions to a cichlid's diet, even across diet types. For instance, while carnivorous cichlids thrive mostly on meat, they wouldn't pass up nibbling on some tasty algae or greens once in a while, especially if they're hungry.
Since cichlids are used to taking in varied nutrients in their wild habitats, you should emulate this in your tank as well and choose cichlid foods made of nutritionally balanced ingredients.
Food Type
Not all cichlid foods are created equal. They come in a wide variety of types such as flakes, pellets, tablets, live or frozen food, or freeze-dried food. These categories all have their own pros and cons, although some are better than others for various reasons.
To give you a thorough understanding of the types of cichlid food available, head over to its specific section below.
Now that you know what to look for, we're going to take you through the ten best chichlid foods.
The Ultimate Guide to Cichlid Food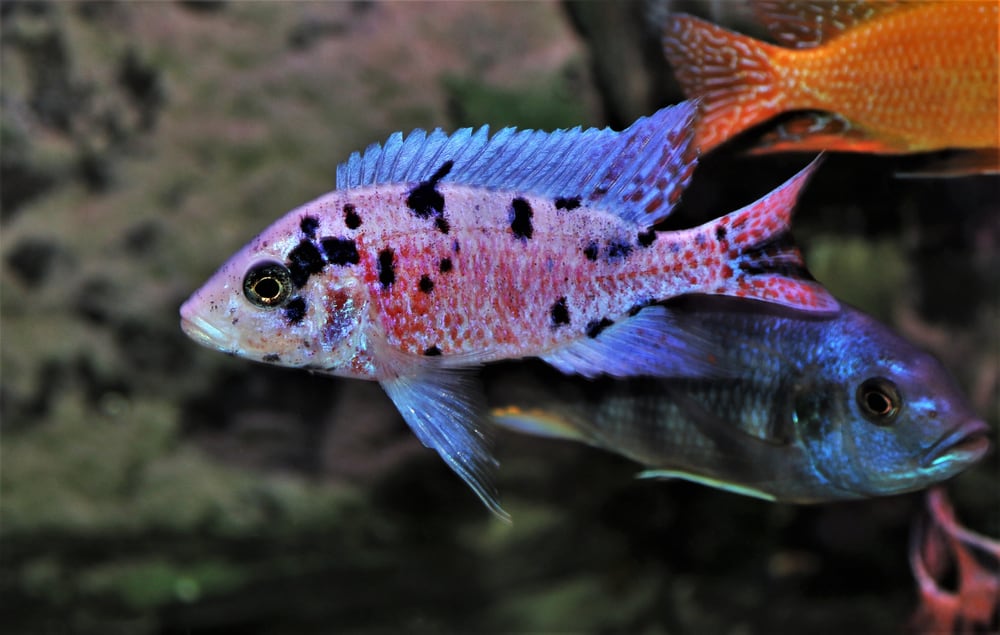 If you've reached this far, then you've probably already realized that there's much more to cichlid food than you thought. As you can see, there's a wide range of products out there, filled to the brim with different nutrients, ingredients, and features.
In the next sections, we'll tell you everything you need to determine which cichlid food works best for you.
What Makes Cichlid Food Special?
Cichlid food is fish food specially developed for cichlids, rather than just for fishes in general. It might sound simple, but there's more to it than that.
Sure, you can feed your cichlid standard fish food, and they'd probably be content living off of that. But for them to really thrive in your tank, you need food formulated especially for cichlid species. After all, different species of fish have different nutrient requirements needed to keep them happy. This is because fish species come from different habitats, and therefore their diet is suited to that too.
Cichlids need to have food that reflects their origins. They'll be much happier if they're fed the proper nutrition, rewarding you with dazzling coloration and interesting personalities.

Types of Cichlid Food
There's a wide array of cichlid food available out there, and not all of them are the same. Some float, some sink. Some are good for everyday use, while some you should reserve for special occasions.
To be able to choose cichlid food properly, you must first know what these varieties are. It's a must to consider their differences to find one that suits your needs, your preferences, and your fishes' nutritional requirements.
Flakes
Flakes are thin, papery slices of food that float on the water surface. This is the most popular fish food type out in the market, which means that cichlid food in this form is widely available. The biggest disadvantage of this food type is its thinness. Flakes are so thin that once they sink, they tend to break down and dissolve in the water. This shouldn't be a problem for fast, top-feeding cichlids, though.
Crisps
Crisps are ideal for small to medium-sized top-feeder cichlids. This type is an improvement to flakes, developed to minimize its disadvantages. They are a little bit thicker and thus stay on the water surface lot longer compared to flakes.
Pellets
Pellets are those small, ball-shaped cichlid foods packed with various nutrients. They're typically further subdivided into three types: floating, sinking, and slow-sinking. As their names suggest, floating pellets tend to stay on the surface of the water, sinking pellets settle at the bottom of the tank, while slow-sinking pellets remain a bit on the surface before eventually falling to the bottom.
Pellets usually come in varying sizes as well, making them suitable for different sizes of cichlids. In fact, our top pick for cichlid food is slow-sinking pellets, that are found in Fluval Bug Bites.
Granules
The only difference between granules and pellets is that granules aren't round-shaped and are therefore easier for fishes to grip with their mouths and swallow in one bite. Granules are also generally slow-sinking, so middle and bottom feeder cichlids can eat this type of fish food as well.
Tablets
Tablets are made mainly for bottom feeders, as they were designed to take on water easily and sink quickly to the bottom. This is the best kind of food for fish that dwell on the bottom of the tank, such as cichlids who like eating off the ground and other potential bottom-feeder tankmates.
Live Food
Live foods are some of the most expensive and difficult foods to acquire for your fishes. Most pet shops don't raise and sell live food, so if you really want your fish food live, then you'll most likely have to do it on your own. In fact, many experienced aquarists prefer raising live foods by themselves, if only to ensure that the food will be fresh and parasite-free.
The cultivation of live fish food varies a lot, depending on what you want to raise. Some of the easier ones to raise are daphnia and brine shrimp. You can also cultivate bloodworms, mosquito larvae, and even live worms.
Frozen Food
Frozen or freeze-dried food is generally made up of preserved live food. They were designed to last longer in preservation while still retaining most of the nutrition that the meat of fresh, live food provides.
There's a wide variety of frozen food available on the market, from frozen beef liver to brine shrimps and daphnia. We recommend frozen or freeze-dried bloodworms as most cichlid varieties love them.
Important Features of Cichlid Food
This section will tell you all the crucial aspects you should be looking out for when searching for your cichlid's daily bread.

Fish Diet
As mentioned above, there are many different kinds of cichlids, and they all have diverse diets. There are carnivorous cichlids, herbivorous cichlids, and omnivorous cichlids. Natural selection has made them develop certain physical characteristics to help them survive better in their respective habitats.
For example, carnivores like jaguar cichlids and Jack Dempseys all have short tracks for digestion, which is ideal for breaking down protein and fat. This means that their bodies are adapted to eating meat, be it from insects, crustaceans, or even other fishes, which also live in their swampy lakes and murky freshwater rivers.
Herbivores, like many varieties of African cichlids, have a much longer intestinal tract than that of carnivores so that they can absorb more nutrients from low-protein and low-cat sources such as plants, algae, and biofilm. Cichlids of this type are meant to graze all day.
Lastly, omnivores like Rainbow cichlids, Peacock cichlids, and Firemouth cichlids have an intestinal system in between that of carnivores and omnivores, meant to break down flora and fauna alike for nutrients. These fish would eat pretty much everything that wouldn't eat them. However, it's important to note that many cichlids are at least partly omnivorous, as cichlids have no clear-cut diet out there in the wild.
Ingredients
It's important to determine which primary ingredient answers your cichlid's dietary requirements. As the tank owner, you should familiarize yourself with your pet's diet. For instance, carnivores would be thrilled to gobble up insect-based fish food, while herbivores would love to receive plant or algae-based fish food.
You should also pick ingredients that have added benefits for your fish. Omega 6 and 3, for example, enhances cichlid growth. You may also want to pick nutrients that are known to improve color and boost their immune systems, such as marigold and astaxanthin.
Solubility
Cichlid foods have a variety of solubility levels. The more soluble the food is, the easier it soaks up–and dissolves in–water. This could be a problem if you want to keep your tank crystal-clear at all times.
That said, you may want to have foods that easily take in water for your bottom feeders, as this type will sink to the substrate better.
Size
Cichlid food comes in various sizes that cater to their wildly different bodies. This is important to consider as well since the size and amount of food that a cichlid can take in is directly proportional to its size.
For example, small cichlids will have a problem fitting bigger-sized foods into their mouths. Large cichlids, on the other hand, will have difficulty catching ultra-small food particles in the water.
To sum it up, a mismatch in sizes can result in hungry fishes, a dirty tank, nutritional imbalances, or all of these at the same time.
Food Buoyancy
This aspect caters to the feeding zones of different types of cichlid. Ideally, a community tank should have top, middle, and bottom feeders. Each zone has a specific fish food specialized for it.
Floating fish food, like flakes and crisps, remain on the water surface for the longest amount of time, making them more suitable for top feeders. Slow-sinking pellets or granules are best for middle feeders, as this gives them time to eat the food before it lands on the substrate. Lastly, fast-sinking tablets give bottom-feeders the most advantage since it goes straight to the bottom.
How Frequently Should I Feed My Cichlids?
How often you feed your cichlids depends mainly on your cichlid's size and how active they are. You need to balance your feeding so that your fishes stay healthy and happy.
If you're a beginner aquarist, we recommend following this simple guide:
Small: Cichlids that are only 1-3 inches typically have faster metabolism, more energy, and smaller stomachs. These species need to be fed small meals throughout the day, up to 3 times.
Medium: Species measuring 3-4 inches have better stamina and don't need to be fed as often. You can feed them two times a day if they're particularly active.
Large: Cichlids that are bigger than 4 inches don't need to be fed as often. In the wild, large predator species are used to not eating every day since their attempts to catch their meals are never guaranteed. In order to avoid overfeeding, you should only give food to these types once a day, or even every other day.
That said, do take note that this is meant to serve as a general guide only. You should always do more research on your specific cichlid variety. A good example would be Kenyi cichlids, which grow up to six inches long. While they can be perfectly happy eating only once a day like other similarly-sized cichlids, research shows that feeding them thrice a day actually has more positive results.
What's the Ideal Amount of Fish Food to Feed My Cichlids?
Just like the previous question, there's no single answer to this one either. The truth is, how much food you give to your pets depends on the fishes themselves.
One of the best methods you can try is to dole out food little by little. Start with a single pinch of fish food and wait for your cichlids to consume all of it. Once they've finished eating, add some more. Continue adding small pinches of food until they slow down or completely lose interest.
Can I Feed My Cichlids Vegetables?
Most cichlids are at least partially omnivorous and will readily eat veggies. However, you should avoid feeding true carnivores like dwarf cichlids vegetables, as they may just ignore it and end up fouling your tank.
Some of the vegetables that cichlids love to eat are sweet potato, squash, spinach, zucchini, peeled-off peas, and romaine lettuce. Be sure to blanch the vegetables before you feed them to your cichlids. Otherwise, they might be too hard and, therefore, difficult to eat.
Could Bad Diet Be the Reason for My Cichlid's Color Loss?
Cichlids are highly prized by many tank owners for their magnificent colors. But a bad diet can lead to color loss, especially if your fishes aren't getting the right balance of nutrients and vitamins. If you want them to really shine, you should feed them with varied, high-quality food that is suited to their species.
That said, the most common reason for color loss is stress. Stress can come from different factors, such as overcrowding in your tank, an especially aggressive tankmate, or low water quality. Be sure to tick off those potential reasons one by one to determine the root of the issue. If you've already done so and your cichlids show no improvement, they could be sick or suffering from parasites.
Final Thoughts
With their charming colors and playful personalities, it's really no wonder why you want to raise cichlids. But just like everything else, they only bloom with the utmost care.
Be sure to think of your cichlid's natural diet, the nutrient balance, and the type of food you're getting for them. For a closer look, remember to examine the ingredients, solubility, and size of your cichlid's food. Choose the best possible diet for your beloved fishes so that they stay healthy and happy. Your cichlids will certainly thank you for it.