The 8 Best Dog Treats to Buy in 2023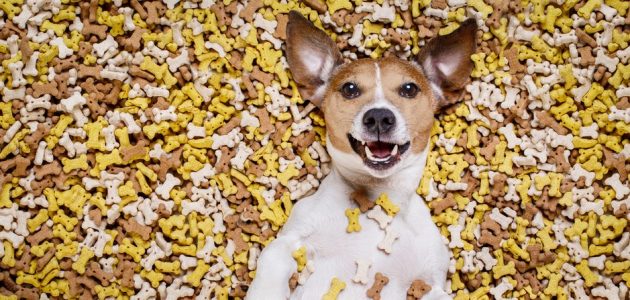 Rewarding your dog with a treat is a great way to either train good behavior or just remind them that you love them. They can even be used to improve your dog's dental and physical health. With the right dog treats, your pup can be the happiest and healthiest it has ever been.
But how do you choose the best dog treats when there are thousands of options on the market?
With so many different choices, it's hard to make sense of what really sets any of them apart from each other.
In this short guide, we'll talk about some of the most important things to consider and then afterwards give you our picks for the best dog treats for 2021.
Now, let's go reward the good boy in your life.
The Most Important Factors to Consider When Buying Dog Treats
When shopping for dog treats, you'll have no shortage of variety. So, how do you go about narrowing down your options and choosing the best dog treats for your furriest of friends? The main factors that you want to look at are the ingredients it contains, nutritional values, how big it is, and its texture. Let's look at the role each of those play in creating the perfect dog treat.
Ingredient Quality
Dog treats can be made of just about anything. Since manufacturers know you probably aren't going to be tasting these treats yourself, certain brands will pack some strange ingredients in there. While most of these strange ingredients are perfectly safe, you still want to choose treats with high quality ingredients.
As a rule of thumb, choose treats made with human-grade ingredients. These are ingredients that meet high enough standards that they are considered safe for human consumption, even if you probably still don't want to eat them. Things like human-grade chicken, salmon and lamb are really healthy for a dog.
There are also some toxic ingredients that are commonly found in dog treats you need to be on the alert for. We'll discuss those in more detail below. But rest assured that none of the dog treats on our list contain any of those dangerous ingredients.
Nutritional Value
Since these are treats that you will only be feeding to your pup occasionally, it's not as important to look for a balanced and complete nutrition profile. It's far more important to make sure the food your dog eats two or three times a day is wholesome and nutritious. With treats, it's alright to spoil your pooch with an indulgent sweet or savory snack once in a while.
Even so, you still have a lot of options for treats that are also healthy. So, if you are concerned about making sure that their treats are just as healthy as their regular food, you'll have no shortage of nutritious treats to choose from.
Nutritious treats can also be a great way to supplement your dog's diet with any missing nutrients. For example, you can find treats designed to improve bone and joint health or treats with added nutrients to help improve cognitive function.
If your dog is struggling to get all the nutrients they need in their regular diet, choosing a treat loaded with the vitamins and minerals they're missing is a great way to fill in those gaps.
Treat Size
Treats come in a range of sizes from extra large to tiny. The size that makes the most sense for your dog really comes down to what the treats are for. In general, the size of the treat should roughly match your dog's size. Larger dogs can eat larger treats, but smaller breeds need something smaller.
With that said, the purpose of the treat will also influence the size you need. For example, treats that you use for training should be small. It should be just big enough to whet their appetite and motivate them to keep practicing the trick you're teaching them. If you're feeding them full treats every time they roll over, they're going to end up getting full and then they'll lose interest in the treats – any maybe in rolling over too.
More to the point, if you keep giving them full sized treats during every training session, you're soon going to have a chunky puppy on your hands. While chunky pups are definitely adorable, they're not the healthiest.
Aside from training, treats are also often used to help dogs with chewing problems, anxiety, or as a way to freshen up that notoriously stinky dog breath. For any of these purposes, you want a larger treat because you aren't feeding them a bunch at once. Instead, you're giving them one treat that you want them to take their time with and enjoy.
Texture
The texture of a dog treat plays a big role in its function and what ages or breeds of dog the treat is most suitable for. Most dog treats will come in one of three textures: soft, hard, or crunchy. Let's look at some of the important things to consider for each one:
Soft
Soft treats are chewy and moist. This texture can make them feel more satisfying and more like food. They are best for puppies and senior dogs. Both age groups tend to have softer teeth and more fragile jaws that would make hard or crunchy treats difficult and potentially painful to chew.
There are a couple of drawbacks and things to watch out for with soft treats, however. Namely, they don't work great as dental chews. For a dental chew to be effective, your dog needs to chew on it long enough to break down the tartar and clean their teeth. If they wolf down the treat in seconds, they're not spending enough time chewing to have any real effect on their teeth and gums.
Hard
Hard treats are usually larger and have a very tough texture, closer to bone or wood. That might not sound so appealing to you, but they make great chews. These will often be seasoned or flavored in some way so that your dog can spend hours gnawing and savoring the taste of their treat. As beneficial as they can be, young puppies and senior dogs can have a hard time with them so it's better to give these to adult dogs.
Crunchy
Crunchy dog treats include biscuits, cookies, and other treats that are meant to be eaten, rather than chewed on like a hard treat. As far as purpose goes, they can do pretty much anything a soft treat can. However, if your dog has sensitive gums or any kind of dental issues, opt for soft treats instead as the crumbs from a crunchy biscuit can scrape and irritate the gums.
If you want a more in-depth look at some frequently asked questions, and suggestions for what treat might be best for you, you can find the answers after the reviews. Now, let's see what's in store.
Every Dog Has Their Day: A Full Guide to Dog Treats

You want the best for your pup but, with all the options out there, most of which claim to be the best, it can be hard..
The truth is, there are many great products on the market today, but each caters to a slightly different need. Some people want them for training, others for dental or health reasons, and others just because they just want the opportunity to reward their loyal companion.
Our full guide will go over the key questions and show you what to avoid when choosing a great treat for your friend.
How Often Should You Treat Your Dog?
You definitely don't want to feed your dog too many treats. In excess, they can lead to weight gain. So, unless you're training your dog, restrict treats to special occasions. Make them a weekly special surprise.
Even dental chews don't need to be used daily to maintain your dog's dental health. Once a week or once every few days is plenty to keep their teeth free of tartar and their breath as fresh as dog breath can get.
In addition to restricting the amount of treats they get, you also need to be careful what you give them. This is why it's important to buy dog treats that have been specifically made for dogs. While your dog might beg for a piece of food from your plate, there's a lot of ingredients that are safe for us but harmful for dogs.
Chocolate is perhaps the most well-known example of this but even breads and dairy products that we can eat with no problem can cause indigestion in dogs. To keep your dog healthy and happy, only feed them food and treats made just for them.
How Should You Use Dog Treats for Training?
The general idea with using dog treats to train your dog is that you can give them a small reward each time they perform the action or exhibit the behavior that you're trying to encourage. It's a great way to train them to do cool tricks or generally behave better.
Here are a few tips for doing it successfully:
Give them the treat as soon as they perform the correct behavior. Ideally, they should still be doing it. For example, when teaching them to shake, give them a treat the second they put their paw in your hand.
Avoid giving them treats when you're not training. Until you've finished teaching them all the behaviors you want them to know, reserve treats for training sessions only. This will help reinforce that link between performing the correct behavior and getting the treat.
Choose a treat they like. Like humans, dogs have their own unique tastes. One dog might have a serious sweet tooth while another might prefer savory treats. If your pup is new to the household and you're not sure what their tastes are yet, just try out a few different brands of treats until you find the one that they get the most excited about.
Are Those "Natural" or "Grain Free" Options Really Worth It?
The short answer is it's your call.
When you're buying dog treats, you're getting something that's meant for special occasions or training purposes. These aren't going to be the foundation of their diet the same way the dog food you buy is. So, honestly, it's alright if you choose something that isn't as nutrient packed.
Just like it's fine for you to enjoy a slice of cake now and then, it's alright if your dog eats an unhealthy but delicious treat now and then.
The important thing is that it doesn't become their daily diet and that you don't give them too many in a single day. They can't live on nutrient-poor dog treats any more than you could live exclusively on cake.
With that said, dogs with health conditions and senior dogs have more stringent nutritional needs. If your dog is unable to exercise as much as they need to, for example, a fatty or sugar-packed treat might lead to obesity which could make their existing health problems worse.
In that scenario, making sure their treats are healthy, such as giving them pure liver can be just as important as making sure their main diet is healthy. In which case, yes, the natural, grain free options are worth it because they're often loaded with nutrient-rich meat and veggies.

What Should You Avoid When Choosing Dog Treats?
While you may not be too concerned about how many vitamins and minerals are in the treat, you still don't want to feed your dog something that will harm it. So, you need to be on the lookout for treats that are made with low quality ingredients.
Before you click that "add to cart" to button, make sure you check the ingredient list for the following:
Wheat Gluten
While other wheat-based ingredients like flour or whole grains are fine, treats that contain concentrated wheat gluten can irritate your dog's digestion. They aren't necessarily toxic but the gassiness that can result from them can certainly smell toxic.
Meat Byproducts
This includes things like powdered poultry flavor instead of actual chicken meat. It also includes rendered animal fat. These are generally made up of the parts of animals that are unfit for human consumption. The reason they aren't fit for human consumption is that they generally aren't handled safely. They aren't refrigerated and they tend to be the parts of the animal that are most likely to be contaminated with waste and other unsavory things. Basically, they're a bacteria breeding ground and one of the most common causes of food-borne illness in pets.
Propylene Glycol (PG)
This is a chemical softener most often found in soft treats. It's also used to prevent meaty treats from turning grey or brown as meat does naturally. It's also a cousin to antifreeze and in large doses can lead to poisoning. So, while a single treat with a little PG is safe, excess consumption of them isn't. If your dog ever got into the bag and scarfed down all the treats at once, it might make itself sick.
Butylated Hydroxyanisole (BHA) and Butylated Hydroxytoluene (BHT)
These are chemical additives used by manufacturers to extend the shelf-life of treats. However, they are illegal to use in food meant for humans because they've been known to be linked to cancer, liver damage, and kidney failure. Due to less strict standards for pet food, manufacturers can legally use them. So, it's up to you to be on the lookout.
Ethoxyquin
This is another chemical preservative that will show up in dog treats. Like PG, a little ethoxyquin isn't going to do damage. However, this chemical can accumulate in the liver and, if it builds up enough, it can cause health problems. While manufacturers claim that they only use very low levels of it in their treats, it's better not to risk it. The FDA currently doesn't restrict it's use in pet food so "low levels" is whatever the manufacturer decides it is. It's not based on any safety standard.
Certain Food Dyes. Namely, Red 40, Blue 2, 4-MIE and Yellow 5 and 6
These have all been shown to have adverse health effects and generally aren't allowed in human food. But, once again, pet food is held to a lower standard. In general, look for treats that use natural ingredients like turmeric or paprika to add color.
Glycerin
Another ingredient you should watch out for is glycerin. There are two types that manufacturers use. One is made from safe, natural vegetable sources. The other is made from toxic petrochemicals. Generally, if it's the safe vegetable kind, the ingredient list will specify "vegetable glycerin." If it's the toxic petrochemical, it will usually just say "glycerin."
This is tricky, though, because the brand might not always bother to specify. They might just list "glycerin" even if they're referring to the safe kind. So, if you see it on the list, be on the alert but don't rule it out until you've confirmed which kind they use. You can do this with additional research or by calling up the manufacturer directly.
If you don't want to be that kind of dog mom or dad, then just play it safe and only buy brands that clearly state "vegetable glycerin" on the ingredient label or that don't contain glycerin at all.
How Do I Decide Which Texture Is Right for My Dog?
It mostly depends on what you're using them for. For example, soft treats – like this one – are a good choice for training.
If they aren't already small, you can easily cut these up into smaller pieces without worrying about them crumbling apart. And the fact that your dog can eat them so quickly means that they can enjoy the reward and get back to training faster than they would if they had to sit down to chew on a hard treat every time they completed a task.
However, they aren't too helpful dogs with a chewing problem. They'll be able to gobble these up and get right back to gnawing on your shoes and table legs.
For treats that are meant to discourage your dog from chewing on your furniture or other household items, choose hard treats. This is also what you want to choose for dental chews like this one. They're one of the most effective textures for both of those because they take time to gnaw through so your dog will be chewing for a while.
It's also a great option for dogs with anxiety. Yes, even dogs can have anxiety! If your dog has a naturally nervous temperament, chewing is a method they use to soothe themselves. Giving them a hard treat that they can work at for a while will help them calm down whenever they get agitated.
However, you need to be careful when giving hard treats to larger breeds. Big dogs come with equally big jaws and they might crunch straight through something that was meant to be chewed on for hours. While the treats are edible and digestible, biting off big chunks can pose a choking hazard. While small and medium breeds are unlikely to be able to bite big chunks off a hard treat, larger breeds certainly can if they get too excited. So, keep an eye on your Great Dane or St Bernard while they're chewing on any hard treats!
Crunchy treats can generally be used for any purpose that soft treats are used for. But they are also a good choice for health-conscious pet owners. There's nothing inherently healthier about a crunchy texture compared to a soft texture. It's just a lot easier to use healthy, natural ingredients and avoid chemical additives because the manufacturer doesn't need to ensure that the treats stay soft. So, they can load them up with vitamins, minerals, and dried natural meat and vegetables without relying on any toxic additives to keep those better ingredients fresh.
You can get crunchy treats at the top and bottom of the range, but note the ones at the bottom use a fair bit of sugar. However, it's a treat after all!
What Else Should I Consider When Choosing Dog Treats?
While ingredients, nutrition, size, and texture are the most important factors you'll be thinking about when choosing dog treats, you might also want to consider the following points:
Check the Expiration Date
If you're buying treats made with higher quality ingredients, they aren't going to have the shelf life that treats made with dangerous chemicals do. It's easy to forget that dog treats can actually go bad. If you don't expect to give your dog treats on a regular basis, opt for a smaller package so they don't expire before you have a chance to use them up.
Choose a Resealable Pouch
This isn't a dealbreaker feature but a package that is airtight and resealable helps preserve the freshness of the treats. It keeps soft treats from getting dry and dry treats from going stale. If your favorite dog treats don't come in resealable packaging, consider transferring them to a storage container or reusable freezer bag as soon as you get them.
Be Cautious of "Hypoallergenic" Treats
When you see "No allergens" on labels, it doesn't really mean anything. At most, it probably means the treats don't contain nuts or soy. But, like humans, dogs can be allergic to a range of ingredients including eggs, grains, and other things that are totally safe for most dogs.
So, brands that make these claims aren't necessarily bad. But if your dog does have an allergy, don't assume that these treats are safe just because the label says, "No allergens." You always need to check the ingredient list to make sure that whatever your pup is allergic to is not in there.
Final Word
Whether you're training your pooch, trying to freshen their breath, or just spoiling them because they're such a good dog, you'll need some high-quality dog treats. Choose treats made with safe, quality ingredients and make sure they are right for your dog's size, age, and breed. Finally, consider the flavor and pick something that your dog really loves! We hope you enjoyed this guide to dog treats and found the right one for you.