The 10 Best Dog-Proof Trash Cans to Buy in 2023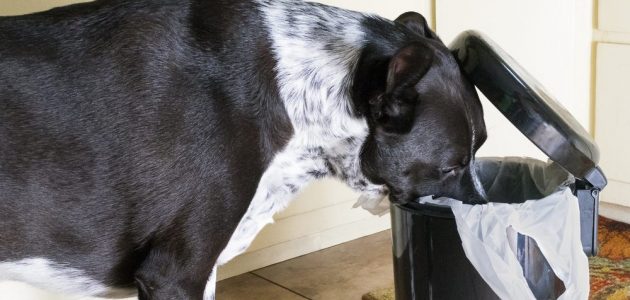 Almost every dog owner has experienced it — the sinking feeling that comes from encountering a floor full of trash you thought was secured in a garbage bin. At minimum, you'll face the hassle of cleanup, and at worst, your trash-curious dog could put itself in danger by ingesting something harmful.
Nearly half of American households are home to at least one canine companion. Keeping your home clean and your pet safe often means going through some trial-and-error to find a dog-proof trash can, which is why we've searched dozens of products to, ahem, sniff out the best trash cans for dog owners.
First up, we have our mini buyer's guide. If you want – as your dog does – a more in-depth look at the The World of Dog-Proof Trash Cansof dog-proof trash cans, we'll rummage through that later with you.
How We Chose the Best Dog-Proof Trash Cans for 2021
What's important to you may be different from the factors we used to make our determination about the best dog-proof trash cans, but here's a look at our methodology.
Sturdiness: First and foremost, any dog-proof trash can must stand up to the wear and tear of a typical household, not just from the dog but from the family.
Ease of use: A dog-proof trash can shouldn't be so secure that it prevents people from emptying or cleaning it.
Security: Some method must be in place to prevent a dog from accessing the trash, and some methods are more likely to be successful than others.
Durability: Dog-proof trash cans should work as well in the second month or third year of operation as they do on the first day. Bins that wear out quickly will need to be constantly replaced.
Value: An expensive trash can isn't necessarily a bad thing, provided the features and quality make it worth the higher-than-average cost.
You can find a fuller examination of our selection criteria in our main guide.
Yet now, the dog is at the trash-can door, so let's review the ones out there available today.
Top 10 Best Dog-Proof Trash Cans 2023
The World of Dog-Proof Trash Cans

The ideal product to keep your dog out of the trash will be based on certain unique aspects of your dog's size, breed, and personality as well as your family and lifestyle, in addition to features of various dog-proof trash can options.
Here we explain how a dog-proof trash can relates to your family's needs, how we chose our favorites, and answer some FAQs.
Your Home and Family
Location
Deciding where the can will be situated in your home — whether a kitchen, bathroom, office, bedroom, or other space — will guide many of the other decisions you make. That said, for most people, kitchen and bathroom trash cans will be the biggest targets for replacing existing bins with dog-proof ones. An additional factor for kitchen trash cans is deciding if the bin could or should be placed inside a lower kitchen cabinet, though not all homes can be retrofit for this type of receptacle.
Trash Can Size
Deciding where the can will be placed will eliminate certain products based on their overall capacity. For example, the space available for a trash can in your kitchen is probably quite different from what's in your bathroom. Generally, kitchen trash cans have a capacity of about 13 gallons, while bathroom trash cans usually have a total capacity of closer to 1.2 gallons.
Types of Trash
What you're throwing away is another primary consideration, and this may depend on where the can is located as well. Bathroom trash cans are more likely to hold tissues and other toiletry refuse, while kitchen trash cans tend to hold food waste. Not all dog-proof trash cans are designed to accept bags or liners, so if the garbage you're tossing is wet or messy, be sure to narrow your focus to bins that are meant to have bags or liners inside them. Otherwise, you may find yourself frequently needing to wash the inside of the garbage bin.
Dog Behavior
Understanding your dog's behavior is important in making a good decision about which dog-proof trash can to purchase. Is your furry friend drawn to all types of trash or only specific scents? If Fido is into garbage of all types, then you probably should consider dog-proof cans for every room of your house; if only human food is what drives them, then narrow your focus to kitchen bins. Your family's behavior could be a factor as well. If your dog is frequently left alone and given access to rooms with trash cans, their bad habit could be a result of anxiety and not actually related to what's inside the trash at all.
Other Family Members
Pet parents who are also human parents will probably need to pick trash cans that are also small child-proof. This could mean selecting a tall can that is out of the reach not only of your dog's nose but also your toddler's quick hands. Parents of teens who want to establish responsible environmental practices could consider a double-duty bin that holds regular trash and has a separate barrel for recycling.

Selection Criteria Explained and Extra Features
This is selection criteria we used up top explained in more detail, as well as going over some extra features to consider.
Sturdiness
A solid build is important for any trash can, and it's crucial when choosing a dog-proof bin. This is especially important for families with large or particularly persistent dogs prone to tipping trash bins over to get to the good stuff inside.
Opening Mechanism
This is largely a matter of personal taste, but trash cans that are most successful in keeping dogs out of the garbage are ones with lids. That means they must be opened in some way to access the bag or bin inside. These typically come with one of a handful of opening mechanisms, including step, touch, and sensor. Keep in mind that not all dog-proof trash cans need lids. Some families will choose to conceal their kitchen trash inside a lower cabinet, for example, and this may be sufficient to keep their dogs from getting into the garbage. But a motivated dog may still be able to figure out a way to get inside a kitchen cabinet, so even for those who choose an under-counter bin, picking one with a lid may be wise — if they have crafty dogs.
Locking
The logical extension of a trash can with a lid is one with a lid that can be locked to add a layer of security. Most commonly, trash can locks consist of designs like plastic sliding mechanisms, plastic or metal latches, and mechanical seals, with specific designs and materials varying by price.
Ease of Cleaning and Emptying
Preventing a dog from getting inside a trash can in the first place is certainly important, but being able to easily remove the bag or inner bucket and clean out the inside of the can also help ensure there aren't lingering smells or overflowing waste. Depending on the size and type of trash can, emptying could mean pulling on and removing a drawstring kitchen bag, or it could mean pulling up on the handle of an unlined plastic tub.
Design and Style
Depending on the décor inside your home and your own tastes, a trash can that has elevated design or is made from modern materials may be especially important. For this reason, some families may limit their scope only to dog-proof trash cans that are made of stainless steel, come in multiple color options, or feature a sleek design aesthetic.
Price
The dog-proof trash cans we considered ranged from about $25 to more than $150, and for many people, spending well over $100 for a garbage can isn't realistic. As with any product, buyers should plan to set an overall maximum budget, think about all the features they want, and be prepared to make trade-offs.
Special Features
Speaking of features, the extreme utility of garbage cans means there's a huge range of special features that designers and manufacturers build into their products to make them appealing to consumers, and these features tend to be unique to specific brands. For example, some brands have made odor elimination a priority, while others focus on sensor technology. These types of features tend to be something of an X factor that could serve to push one product across the finish line over another.
A trash can seems like a product so simple that it's hard to imagine finding the choice between dog-proof trash bins a tough deliberation. But the sheer number of options can make this a difficult calculus between features and price, and if you pick a trash can that isn't actually dog-proof, or at least isn't dog-proof for your pooch, you could potentially be exposing your pet to serious illness or even death.

FAQ
What Can Happen If My Dog Gets Into the Trash?
To be sure, your dog will — at the very least — make a mess if it gets into your trash. Depending on what's in the garbage, this could mean a gross cleanup process. But trash is trash for a reason; it's not good for people or animals to come in physical contact with it.
For dog owners, the biggest concern from dogs chewing up or eating trash is accidental poisoning. In 2019 alone, more than 232,000 pets were poisoned in their homes, according to the American Society for the Prevention of Cruelty to Animals. The most common culprits include items that are routinely present in garbage, like discarded medications, food, and household cleaning products.
Do I Really Need a New Trash Can?
Maybe not. Depending on why your dog is getting into the trash, it's possible his behavior could be related to anxiety, or he could simply need to be trained to stay away from the garbage. Does your dog get into the trash even when there's nothing in it? That's a good sign that your problem is related to anxiety or lack of training rather than your dog's strong desire to get into your discarded avocado peels.
Unfortunately, though, the reality is that some breeds and certain dogs will always be interested in trash regardless of how well-trained they are, and so it may make more sense for you and your pet to replace an open trash can for a more secure one.
What Makes a Trash Can Secure?
You'll notice that each of the trash cans on this list has at least one thing in common — a lid that closes fully. For some dogs, this may be enough to keep them out of the trash, and if that's the case for your house, good news, you've got tons of great options!
But for most dogs, a lid is probably not going to be enough to keep them from accessing the trash. Even medium-sized dogs are usually tall enough when on their four legs to get their noses underneath the unlocked lid of a small- to medium-sized trash can.
If not a lock, a good dog-proof trash can should have some other mechanism to make it difficult or impossible for a dog to open the lid or knock the trash can over. That could be a lid that sits flush with the top of the can so that there's no ledge or portion of the lid that's accessible to the dog's nose. Or it could mean a can so heavy that your dog can't knock it over. What's best for your dog will depend on its size, intellect, and determination to get to the trash.
How Much Should I Spend?
It's unrealistic to expect to spend much less than $50 to find a dog-proof trash can for your kitchen, though it's important to note that bathroom cans are smaller and, therefore, less expensive. So if you want to take a trial run on a trash can with a particular mechanism, like a step pedal, consider one that's designed for bathrooms and see if it helps keep pooch's nose out of the bathroom garbage. If that works and your disposed tissues go unchewed, consider a larger version of a similar model.
Remember that while it's wise as a fallback to purchase a dog-proof trash can, it's well worth your time to work on training your pet to stay away from trash. Most dogs will sometimes be outside of our homes or even outside of our direct supervision from time to time, and it's not the best idea for a plastic lock to be the only thing separating your beloved best friend from a trip to the emergency veterinarian.
Final Thoughts
We hope this guide has helped you in finding a trash can that keeps the dog far hence. A dog-proof trash can is, in short, a very good standard trash can with the extra durability and features required to keep your beautiful tyro of a dog at bay. Thus, hopefully, giving you peace of mind that he's healthy and okay, and that your floor doesn't have yesterdays dinner on it. Enjoy our guide and our list.