The 10 Best Cat Water Fountains to Buy in 2021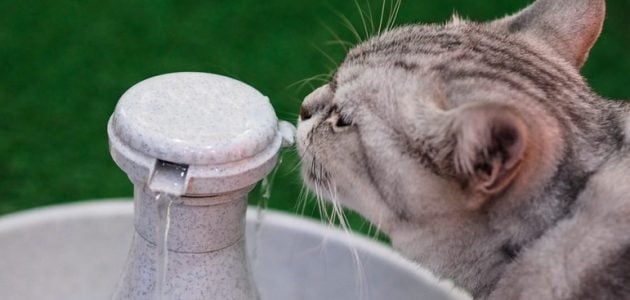 If there is one thing cats hate, it's water. While most people know that cats don't like to be covered in it, our feline friends are picky about the water they drink too. There is a good chance that you've observed your cat stroll over to their water dish, look at it, and walk the other way. You might not think they're thirsty, but cats need water to prevent kidney problems, urinary tract infections (UTIs), and dehydration. To make your cat's water more appealing and to ensure they're getting the hydration they need, a pet fountain is ideal.
Factors to Consider When Shopping for Cat Water Fountains
Cats are furry, adorable, fun, and exciting, but most of all, they're mysterious. While most pets need attention to thrive, cats tend to be more independent. A pet fountain is a great way to let your cat keep their independence, heighten their curiosity, and keep them hydrated. To learn what to keep in mind when shopping for the perfect fountain, read on.
Type
First and foremost, you want to consider the type of pet fountain that you're looking at. There are a handful of pet fountains available, and each one works well, depending on your needs. Keep in mind, the type of fountain is more about preference over performance.
Unfortunately, it might be up to your cat and not you, so don't be discouraged if they don't like your choice. The good news is that there are only two types of fountains to look out for; flower fountains and faucet fountains.
Flower Fountains
Flower fountains tend to be small, and water flows out from a flower-like piece at the top of the fountain. The flower is generally made of plastic, and the water flows out from multiple sides down into a reservoir below the flower. There are a few different flowers you can find, like lotus fountains, but for the most part, most flower fountains work in the same way. Flower fountains are inexpensive and low in capacity.
Faucet Fountains
Faucet fountains function more like a faucet than a fountain, and rely on a single stream of water down into a reservoir. As the water flows down, it circulates the water down below and provides fresh water for your pet to drink. Faucet fountains look simple, but they're more expensive than flower fountains because they can accommodate more pets. These fountains also benefit from a generous water capacity.
Capacity
The second feature you should look for is the amount of capacity that a fountain has. The capacity of a fountain is essential because it tells you how long you can go before you need to fill it again. For example, a fountain with three liters of capacity can last you over a month, while a fountain with less than two liters may only last you a few weeks.
Material
The final feature you want to consider is the material that a cat fountain is made out of. There are three common materials that you'll find, and each one has its benefits and drawbacks. The three materials are stainless steel, plastic, and ceramic.
Stainless Steel
Most stainless steel fountains are not entirely stainless steel, but a mix between plastic and stainless steel. The majority of the unit will be plastic, but when we refer to a product's material as stainless steel, we're referring to the reservoir. The reservoir is where your furry friend will be drinking from, which is why that material is essential.
Stainless steel is an excellent material choice because it's smooth, durable, and inexpensive. Plus, it gives the fountain a classy and expensive charm. Stainless steel is also great because it can be dishwasher-safe, and it doesn't contain BPA. The only issue with stainless steel is that water can destroy it down over time, meaning they have a shorter lifespan than plastic and ceramic fountains.
Plastic
Plastic fountains are the most common fountains you'll find, and there is a good reason for this. Plastic is a versatile material and holds up well against water. Plastic is also cheap, which makes plastic cat fountains an excellent budget option. If you're shopping for a plastic fountain, just make sure that the plastic is food-grade, and doesn't contain BPA. Otherwise, it can be potentially harmful to your little friend.
Ceramic
Ceramic is the least common material you'll find, and the most expensive. The good news is that ceramic fountains are worth the price because they offer versatility and durability. Ceramic fountains can be used outdoors, and your cat will have a hard time tipping them over if they get curious.
Price
You might be thinking that a cat fountain is expensive, but cat fountains tend to be cheaper than you think. We've grouped each fountain into one of three categories.
$: Under $30
$$: Between $30 and $50
$$$: Over $50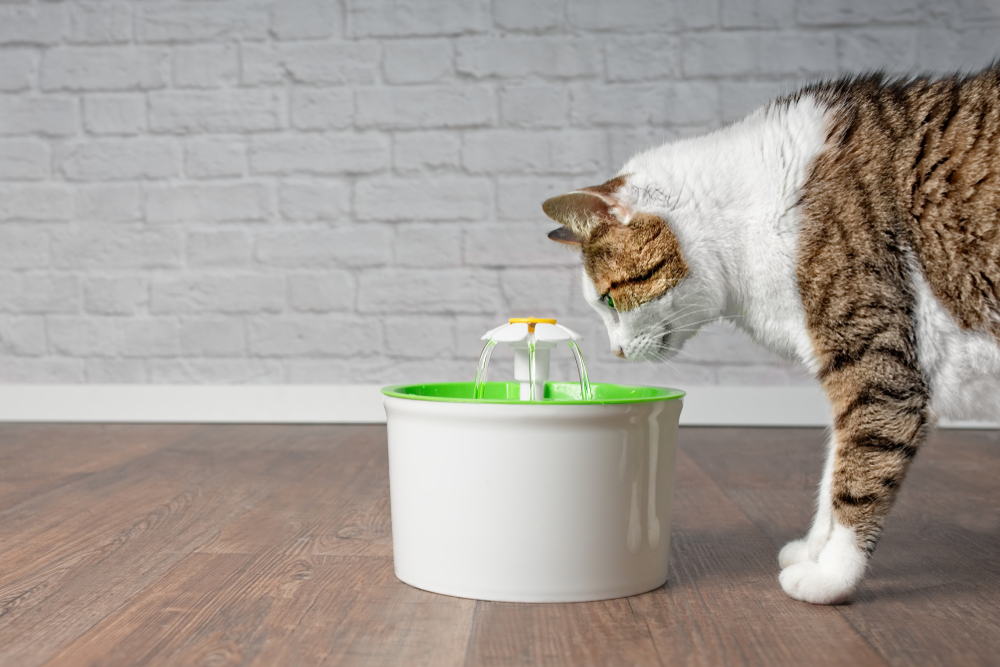 Now that you know what to keep in mind while shopping, let's get into our picks for the 10 best cat water fountains available today.
Top 10 Best Cat Water Fountains 2021
Everything You Need to Know About Cat Water Fountains
It seems like cat fountains are complicated, but they're straightforward once you get to know them. Shopping for a cat fountain is easy when you have the best products in front of you, but that's not always enough. Different pet owners have different needs, so we're going to help you narrow down your options. If you're still on the fence about a cat fountain, or which one you like, read on!
Why a Cat Fountain Is Necessary
If you're reading this article, regardless of how you got here, there is a good chance that you're skeptical about cat fountains. We get it and understand that it might seem over-the-top, so we're going to show you why you might need one. Keep in mind: we're not trying to scare you—we just want you to be well informed.
Cats need to drink between seven and nine ounces of water every day, depending on their body weight. To give you some perspective, that's about half of a water bottle per day. If that's the case, you might be wondering if that's true because you rarely see your cat drink from their bowl, and there is a reason for this. If water is left at room temperature, still, or tasteless, your cat won't be motivated to drink it.
Unfortunately, if your cat fails to drink enough water, there can be a handful of negative health implications, some of which can be deadly. The problem is that cats are excellent at hiding their health issues, making it hard to know whether or not they're drinking enough water. If you're curious to know, be sure to check your cat for sticky gums, bad breath, bowel issues, kidney disease, panting, elevated heart rate, less urination, lethargy, and sunken eyes.
If you notice any of these symptoms, it's time to increase your cat's water intake. This can be done by feeding your cat more canned wet food, stirring their water, or adding ice to their bowl. While this works most of the time, it's not always enough, and this is where cat fountains come into play.
Cat fountains inspire curiosity and help water taste good and remain safe to drink. Cat fountains also make your life easier because you don't need to pay as much attention to them. After all, they store water. A good pet owner wants to make sure their little friend is okay, and a cat fountain is a great way to make sure your cat remains hydrated.
So, If you're still on the fence, or just looking to experiment, we recommend starting with a reliable budget product like the Veken Pet Fountain. This fountain is inexpensive but provides top-tier functionality.
Choosing an Easy Fountain to Work With
If you're worried about the difficulties that come with a cat fountain, choosing one that works with little to no intervention is the way to go. While some cat fountains are hands-on, the Wonder Creature Cat Water Fountain does most of the work for you.
A lot of pumps can burn out if the water level becomes too low, but the Wonder Creature pump notifies you with LED lights and automatically shuts down if there isn't enough water within the unit. If you need an easy fountain, this product is an excellent choice.
Faucet Fountain or Flower Fountain?
Faucet fountains and flower fountains do the same job but handle water differently. Faucet fountains resemble a sink, whereas flower fountains closely resemble traditional outdoor fountains. Choosing between the two types of fountains can be difficult, but each one has strengths and weaknesses.
Flower Fountains
Flower fountains are well-rounded fountains that are designed primarily for cats. The water flows from all sides, and many of them have internal water circulation, oxygenation, and filters to ensure drinking water is clean. If you only have a cat or a few cats, it's a great idea to go with a flower fountain.
Flower fountains are also best suited for older cats. Younger cats tend to have a lot of energy, which can lead to the fountain being tipped or knocked over. Also, if a cat is too small to reach the drinking area, it can lead to neck problems. So, flower fountains should only be considered if your cat is over two years old.
Flower fountains typically come with different flow settings and let your cat drink from them even when they're turned off, which is why they're perfect for cats. If you want the best, the Catit Flower Water Fountain is the best flower fountain around.
Faucet Fountains
Faucet fountains also work well for cats, but can appeal to other pets too. These fountains function the same but use a single-stream to fill the reservoir. Drinking primarily occurs in the pool, but larger pets can drink right from the stream.
Faucet fountains are ideal for kittens because the drinking area is not too high off the ground. Even the smallest cats can reach the bowl, making it safe on their necks. If you have a little cat, either go with a faucet fountain or wait until they reach around two years old.
If you like the idea of a faucet fountain, for a cat, the Pioneer Pet Swan Pet Drinking Fountain is the best option. Not only does the fountain perform as well as flower fountains, but the swan-neck design spikes a cat's curiosity.
Choosing the Right Filter
When you shop for a cat fountain, you'll come across many different filters. There are carbon-based filters and charcoal-based filters, and both filters get the job done. Not every fountain needs to work hard at water purification, and most cats will do fine with tap water, but some filters are better than others.
If pure water is your primary concern, you should consider getting a filter that comes with three layers. These are carbon-based filters that use cotton for debris removal, carbon for purification, and include an ion exchange for taste. The best cat fountains for filtration are flower fountains like the isYoung Cat Fountain and Wonder Creature Cat Water Fountain.
Choosing the Best Pump
The pump of a pet fountain is its heart and soul. With the wrong pump, a fountain will end up clogging, creating noise, or breaking. Shopping for the perfect pump can be difficult, but the best pet fountains all come with great pumps that perform well and offer longevity.
With that being said, the Comsmart Cat Water Fountain has one of the best pumps you can find. The Comsmart pump produces less than forty decibels of noise, is waterproof, and uses less than two watts of power.
Shopping for Cats and Dogs
While many people prefer cats to dogs or vice versa, we know that many of you like both. It's a myth that cats and dogs don't get along, and more often than not, you'll find your pets bonding and playing with each other. If you have both a cat and a dog, and like the idea of a pet fountain, there is no need to feel left out.
Some pet fountains can be beneficial to both cats and dogs. In this case, you'll want to shy away from flower fountains and pursue a faucet fountain instead. An excellent faucet fountain that works well for cats and dogs, even if they're drinking at the same time, is the PetSafe Drinkwell Multi-Tier Cat and Dog Water Fountain because it features two separate drinking levels.
Space-Saving Cat Fountains
The idea of a cat fountain can be alarming because it sounds like a bulky product. When you look at a traditional fountain, most of the time, they're bigger than your average cat bowl.
Luckily, not all cat fountains are massive, and some take up little space. If you need a cat fountain, but don't have a lot of space, the MOSPRO Pet Fountain Cat Water Dispenser is a great compact cat fountain. While it's small, it boasts impressive water capacity and plenty of features for its size.
Need an Outdoor Fountain?
Plastic and stainless steel fountains tend to work well indoors, but on a lovely spring or summer day, your pet can appreciate some time outdoors. While some cats are indoor, we know that some cats love to hang around outside. If you know that your cat likes to spend some time relaxing in the fresh air, an outdoor fountain is a great way to keep them hydrated during a warm day.
An excellent choice for an outdoor fountain is the iPettie Tritone Ceramic Pet Drinking Fountain because of the ceramic design. The ceramic material is strong enough to resist warping in hot weather and stands up well against the elements.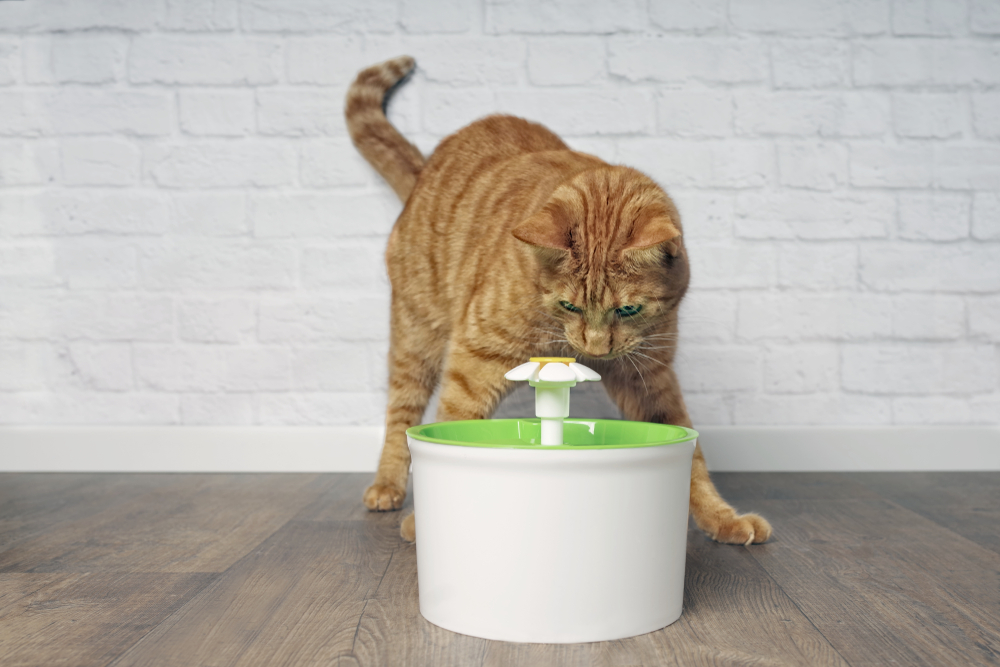 FAQ
How Do Cat Fountains Work?
Cat fountains work by circulating water through a pump and filter. Once the water is filtered, when the pump is turned on, water will flow out from the nozzle into a reservoir. The design is relatively simple, regardless of the fountain. Simply plug it in, fill it with water, and watch the magic happen.
Are Fountains Safe for Cats?
Fountains are safe for cats of all ages, and in many cases, they're more reliable than your average cat bowl. Fountains make sure your cat stays hydrated, which prevents numerous health problems from happening. Most cat fountains also use food-grade and BPA-free materials that make them safe to drink from, even if you want to take a sip.
How Do I Maintain My Cat Fountain?
Maintaining your cat fountain is vital to its longevity. If you fail to keep your cat fountain clean properly, it will end up failing you and your cat. Luckily, maintaining a cat fountain can be simple.
Always be sure to change the filter at least once a month, or every two liters, and check on the pump once a month as well. If you notice that the pump is clogged, be sure to remove any debris to prevent damage.
Where Should I Place a Cat Fountain?
You should place your cat fountain wherever your cat will have access to it. In most cases, the placement doesn't matter because the fountain is guaranteed to grab your cat's attention. On the other hand, you might want to put it somewhere that matches your decor, or it might stand out in a bad way.
Final Thoughts
Shopping for pet fountains is no easy task. They seem complicated and look expensive, but you'll find that most of them will make your life easier. If you want to make sure your cat is hydrated, a cat fountain is a great way to do so. While canned wet food and water bowls work, let's face it, some cats are just picky.
The good news is that most cat fountains are affordable, take up minimal space, and last a long time. Plus, even if you have a dog, a pet fountain can be a great asset for them too. Feel free to experiment with different fountains until you find one that works the best for your furry little friend!