The 8 Best Electric Shavers for Cats in 2023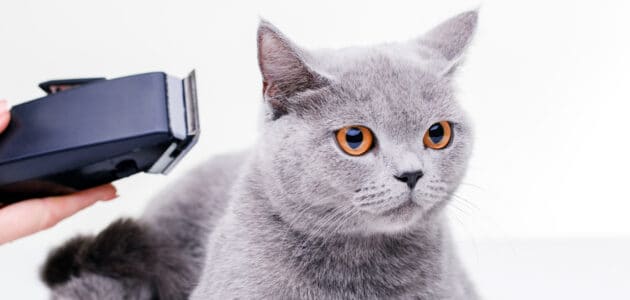 If you are a proud cat owner, you will need no reminder of how difficult it is to keep your furry friend's coat in perfect condition. The chore of feline upkeep is incredibly familiar to long-hair cat owners. To keep a cat's fur looking healthy, you will usually need to groom them once or twice a week. The problem is, no matter how much and how often you care for your cat's hair, it can still end up a tangled mess.
To avoid this hairy disaster, you can take your cat to a groomer. However, a weekly bill from a professional groomer can quickly add up. Additionally, most cats simply hate traveling or going to the groomer. If this sounds like your situation, your best bet is to look into investing in a decent pair of cat clippers to keep your pet happy and tangle-free.
How to Choose an Electric Cat Shaver
Here is a quick look at a few of the most commonly seen product categories of cat shavers and clippers to satisfy your curiosity.
Corded Shavers
Corded shavers are the most traditional design, and they offer outstanding performance due to their consistent power. However, they do require users to plug them into the wall outlet in order to operate. This can be less convenient for some cat owners as the cord might get tangled or even spook your cat when moving around.
Cordless Shavers
Cordless shavers are the modern take on the cat clipper. They come with either a permanent or a removable rechargeable battery pack. These shavers are very convenient due to their ease of movement but are often less powerful than the corded versions. Additionally, like many rechargeable devices, they begin to lose their power capacity over time. To get the most out of your rechargeable shaver, you will need to keep it consistently charged.
Brushless Motor Shavers
The brushless variety of small motors is more power-efficient than the "brushed" DC motors. Cat shavers that feature a brushless motor are typically more powerful than the brushed type.
Kits vs. Single Tool
Some of the features of the shavers featured on this list come with an included kit that can feature items such as combs, scissors, trimming guide combs, or brushes. Other products are the single tool shavers without the extra included products. If you buy the cat shaver without the accessories, you will need to purchase them separately if you want to use them.
Which Shaver Is the Best Option for My Cat?
When searching for the best possible cat shaver, you should note that the quality from one product to another can vary greatly. We will examine the best cat shavers available so you can take the guesswork out of your purchase and make sure your cat has nothing but the best.
Without further ado, here is the list of the best cat shavers available on the market today.
Top 8 Best Electric Shavers for Cats 2023
Guide to Buying the Best Cat Shaver
Now that we have looked at some reviews and detailed the best shavers in each category, it is time to discuss which shavers are best for different hair types and situations. Is your cat's hair matted continuously or tangled? Does your cat have longer than average hair? These questions are essential to consider when looking for the perfect shaver for your cat and your unique situation.
Can Human Clippers Be Used for Pets?
Although some pet owners have no problems using human clippers on their cats or other animals, there are a few reasons why it is not the best idea.
Firstly, pet clippers and shavers are specially designed to dispel heat better than human clippers do. Secondly, human clippers tend to be a lot noisier, which might upset your cat. It is better to buy clippers designed, especially for the density of cat hair and a cat's mannerisms.
What Shaver Is Best for Matted Fur?
Cats with long hair often experience a higher frequency of matted or tangled fur than shorter-haired cats. Even though they have beautiful and soft wispy hair when groomed, it takes no time at all for it to become a tangled mess again, mostly if grooming has been neglected. These tangles and mats can become quite painful for your cat, so they are essential to remove promptly.
When you are removing a clump of hair, be sure to use clippers or a grooming brush. The stainless steel brush in the Bravura kit is perfect for this situation. When you clip out the tangle, be sure their skin is pushed flat, then slowly clip it out.
The best clippers for matted or dirty fur run cool and quiet but are also powerful enough to get the job done quickly. A shaver such as the The Wahl KM10 is perfect for this job.
What Shaver Is Best for Persian Cats?
Persian cats are another breed of cats that have long and thick hair. It is crucial to find a clipper that is strong and durable enough to handle that much hair.
In reality, any of the shavers on this list would work for Persian cats. Still, you will want one that has a strong motor and lots of torque such as the Oster A5 to handle the constant demand of thick and long hair trimming.
These shavers have high powered and durable motors that are the top choice for many pros when dealing with Persian cats. The dual-speed blades also allow for precision trimming around the more challenging areas of your cat's fur. Both of these models operate at high speeds, so it is wise to take a short break here and there to prevent them from getting too hot and making your cat uncomfortable.
Which Shavers Are Best for Long-Haired Cats?
As discussed above, any cat with long hair will likely develop mats or tangles eventually. Hence, it is essential to groom them often to prevent this from happening.
When you select a shaver for a cat with long hair, it is vital to choose one that doesn't get too hot so your cat can remain calm and comfortable. It also needs to have enough power to handle the thick fur.
The Wahl Bravura Lithium-ion Clipper is one of the most widely used shavers for cats with long hair. It is quiet and operates cool, which makes for a quick and easy trim for long-haired cats. The included kit also comes with different comb guides that make styling fur easy and stress-free.
Your Cat's Temperament
When you select the best shaver for your pet, it is paramount that you consider their attitude and their temperament, especially in stressful situations. Grooming can be highly stressful, even for well-behaved cats, so it is essential to think which shaver will make this as quick and painless as possible.
If you are dealing with a cat with anxiety or who is known to claw when stressed, it is best to choose a shaver that runs quiet, cool and comes with a powerful motor. A shaver such as the The Wahl Clipper Pet-Pro will be your best bet when dealing with an unruly cat.
For more tips on grooming your cat without the stress, check out the Vet Derm Clinic's great guide.
How Can I Prevent Hair Matting?
Hair tangles or matting seems almost inevitable in cats, especially those with long hair. However, there are a few tricks you can use to make sure your cat remains mat-free.
Firstly, make sure your cat's teeth and gums are healthy. Your cat's teeth are their natural combs, and they use them to work out their mats on their own.
In addition, it is wise to start a routine of grooming and combing on a weekly basis. This will help to catch small mats and tangles before they develop into an unruly mess. You can buy special brushes at any pet store that work well, even on long-haired cats. Also, a mat breaker will easily break through those hard to handle tangles.
Lastly, petting your cat more often will also help them to prevent mats and tangles before they happen. As an added benefit, petting your cat will help to relieve your stress. It is also of the utmost importance to make sure your cat visits the vet regularly to check on their diet and overall health. If you can afford it, you can also take your cat to the groomer once a month.
For more tips on how to prevent hair matting, check out this blog from the Prestige Animal Hospital.
Finding the Best Clippers Shows Love for Your Cat
It is clear that you love and care for your cat; otherwise, you wouldn't be concerned about finding the best clippers for their needs. The clippers that we have selected are the best clippers on the market today and will allow you to care for your cat with a personal touch. Investing in a decent shaver will save you expensive visits to the groomer and also keep your cat healthier by attacking mats before they develop.
Whichever shaver you decide on, you can rest assured that having a quality grooming tool will save you time and money and bring you and your cat closer together. If you're looking for other ways to boost your grooming time with your cat, we have a guide to the best cat grooming gloves.