The 7 Best Betta Tanks for Your Beautiful Betta in 2023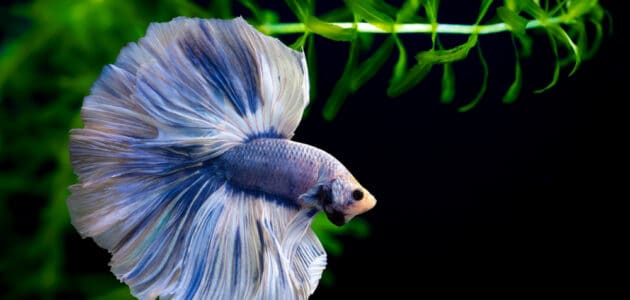 Betta fish are popular pets due to their beautiful, striking appearance and perceived ease of care. Though they are certainly hardy fish, there are many misconceptions about the conditions they can live in.
For instance, we are led to believe that cheap, tiny tanks are appropriate because why else would they say "betta" in the product title? However, bettas should not be kept in such small tanks as they need ample space to swim and explore.
The fact that you're looking for the best betta tank shows that your pet's health is important to you. Not only will we help you find a great tank, but we've also provided a guide to help you properly care for your beautiful fish.
What to Consider When Shopping for Betta Tanks
Getting a betta and setting up an aquarium is exciting. However, picking a tank isn't always easy. There are so many choices at different price ranges, so how will you know which one is the best? Considering the following factors can help you make your decision.
Size
When you buy a betta at a pet store, it comes in a teeny-tiny plastic cup. This leads many to believe that bettas don't need a lot of living space. However, in order to be healthy, bettas actually need a 5-gallon tank or larger.
While small tanks may be enticing due to their convenient size and cheap price tag, they get dirty much faster than larger tanks. This makes it difficult to maintain the nitrogen cycle that is vital to your betta's health (more on this in our guide).
Filtration
A filter is a necessary component of your tank. It helps keep the tank cleaner and aids the growth of beneficial bacteria. Without a filter, you will have to clean the tank frequently.
Filters with strong currents can either suck your betta in or blast it around the tank. In the worst-case scenario, a powerful filter could lead to your betta's death. If possible, choose a filter that has a low or adjustable flow or is designed for a tank smaller than what you have.
You can also modify your filter by adding a "baffle." This is an object that will disrupt the current and/or block a filter's opening. Baffles can be purchased from retailers or made at home using aquarium safe sponges or plastic bottles.
What goes inside the filter (sponges, cartridges, etc.) is referred to as filter media. Filters always come with some sort of media, so beginners won't have to worry about this. Advanced fishkeepers may want to consider filters that allow for customization of the filter media.
Lighting
Just like humans, bettas are diurnal: they're active during the day and sleep at night. Indoors, bettas won't be getting much sunlight, which means we need to provide an artificial sun.
Lights are also necessary for plant growth. If you want to enjoy a planted tank, then you'll need a light that is up to the task.
Lid
A lid is an important component of a tank, especially for bettas. This is because it's not uncommon for bettas to jump out of their tanks. Furthermore, a lid can keep fish safe from other pets. If you happen to have a cat, then you'll know exactly what we're talking about.
Design
Consider the shape of a tank, how it is made (a single curved piece or several pieces glued together), as well as the material it is made of. Tall tanks take up less space, but fish prefer wide tanks because they'd rather swim side to side than up and down. Curved tanks look cool but, from some angles, may distort your view into the tank. Acrylic (plastic) tanks are usually cheaper than glass tanks but are easier to scratch.
Heater
Bettas are native to tropical areas such as Thailand and Cambodia. Therefore, you'll want the water in your tank to be between 76 and 81°F. To achieve that, you need a heater. Unfortunately, many aquariums don't come with one and you'll have to buy it separately.
Top 7 Best Betta Tanks to Buy in 2023
Caring For Your Betta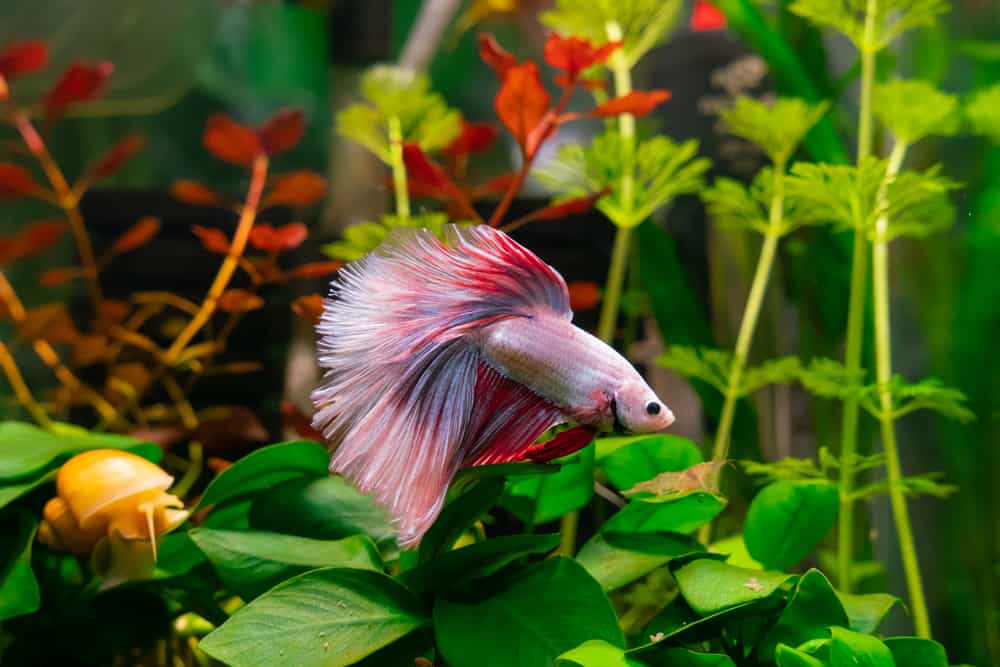 Many people think that bettas are an easy, low maintenance pet to own. However, once you learn more about them, you know that that isn't exactly the case. While bettas are hardy fish that can survive in less than ideal conditions, proper care will bring out their true nature.
We're going to teach you all about how to set-up and maintain your tank so that you can give your betta the best possible life.
Initial Set-Up Checklist
Initial tank set-up is pretty straightforward: put in your gravel and decorations, set up your filter and your heater, and fill the tank with water. However, there are some other important aspects of tank set-up that are necessary to keep your betta happy, healthy, and most importantly, alive.
Refer to this short checklist when setting up your tank:
Use a water conditioner to neutralize chemicals in tap water.
Provide lots of places to hide, but avoid plastic plants that can tear your betta's fins; opt for silk or live plants instead.
Heat water so that it is between 76 and 81°F.
Make sure the tank is cycled (more on that next).
How to Cycle a Tank

Most of us know that we can't just fill a tank with water and throw the fish in. But many new fish keepers don't know that they need to "cycle" their tank.
This refers to the process of nitrogen cycling. Your fish produces waste that turns into toxic nitrogen compounds that can kill your fish if left unchecked: ammonia and nitrites. Beneficial bacteria in the tank consume this waste and turn it into nitrates which you remove with regular water changes. The cycle repeats continuously, keeping your fish healthy.
There are several ways to cycle an aquarium, but we're going to focus on the fishless method. This can take up to six weeks to complete, so you may want to hold off on getting your betta.
Step One: Introduce Ammonia
The first thing you need to do is add ammonia to the water. You can either buy pure ammonia to add directly, or you can use betta food that will produce ammonia as it decays (this takes much longer).
Add about 1 part per million (ppm) of ammonia per gallon. Figuring out how much ammonia to add to get 1 ppm per gallon may take some trial and error, so we recommend using a bucket instead of trying to do this directly in your tank at first.
Step Two: Water Tests
Leave your tank to sit for a few days, and then test the water. Use something like the API Freshwater Test Kit, as test strips aren't always accurate.
If you notice a decrease in ammonia, this means that your beneficial bacteria are growing! Add more ammonia so that your water is at about 3 ppm per 5 gallons, and continue to test daily, adding ammonia as needed. Eventually, you should see nitrite in the water as well.
After two to three weeks, you'll likely see nitrite levels drop and start seeing nitrate in the tank. This is a very good sign. Keep testing your water, and you should see nitrite levels drop as nitrate levels rise. When both nitrite and ammonia readings are 0 ppm, your tank is fully cycled!
To be certain, you'll want to do one final test. Add four ppm of ammonia to the water and let the tank sit overnight. Test it the next day. If ammonia and nitrite read zero with only nitrate appearing in the tank, then you'll know for sure that your tank is safe for fish!
Step Three: Do a Water Change and Add Fish
Now that your tank is fully cycled, it's almost time to add your fish. But first, you will want to do a partial water change. Though bacteria in the tank take care of ammonia and nitrite, it's up to us humans to deal with nitrate.
Remove about 50% of the water from the tank and replace it. Do another test to make sure the nitrate levels are below 40 ppm and ammonia and nitrite are still at 0.
Finally, you can add your fish!
Levels in a Balanced Tank:
pH: 6.5-7.5
Ammonia: 0 ppm
Nitrite: 0 ppm
Nitrate: Less than 40 ppm
Tank Maintenance
If you've managed to successfully cycle your tank, then you're going to want to perform the proper maintenance to keep the process going. There's nothing worse than having your tank's nitrogen cycle crash and needing to start all over again.
Water Changes
Water changes are vital to keeping your tank in good health. Depending on the size of your tank as well as your nitrate reading, you'll want to replace between 10% and 25% of the water each week.
The best way to do this is to get an aquarium vacuum. With a vacuum, you can clean out debris like fish poop and uneaten food from the gravel of the tank, all while removing your 10-25% of water. But don't dump the water you've removed down the drain! You might need it for cleaning.
Cleaning
Any surface in the tank may have beneficial bacteria growing on it, and tap water and soap can kill it. If your bacteria die, the nitrogen cycle could crash, which could lead to dead fish. The best way to keep bacteria alive and well is to clean items with water that you've just removed from the tank during a water change.
Feeding and Tank Mates
Maintaining your betta's environment through tank maintenance is an important part of caring for your pet. Now, we'll address its needs in terms of feeding and tank mates.
How Much Should You Feed Your Betta?
Many of us have had the horrifying experience of finding our betta laying on his side at the top of the tank, wondering if our lovely fish is at death's door. A Google search reveals that his illness is a result of overfeeding, an all too common mistake for new betta owners.
A betta's stomach is about the size of its eyeball. Once you know that, it's easy to understand why they're so easily overfed. We recommend buying betta specific pellets and feeding only two to three of them once or twice a day.

Can Bettas Live With Other Fish?
Many people know of the betta's moniker, "Siamese fighting fish," and assume they cannot have any tank mates. Male bettas will fight one another, but there are other species they can get along with. Female bettas are less aggressive and can even live with other female bettas in "sororities."
The following is a list of appropriate tank mates for bettas:
African dwarf frogs
Clown plecos
Cory catfish
Ember or neon tetras
Ghost shrimp
Guppies
Kuhli loaches
Snails
Just remember that the more fish you have, the larger the tank you need.
Final Thoughts
It's no surprise that bettas are such a popular pet. They're beautiful and hardy. Unfortunately, there are a number of misconceptions about the type of care they need. But you've just finished reading this article, so your betta is going to have an awesome crib with a fantastic caregiver.