The 10 Best Filters for Turtle Tanks in 2023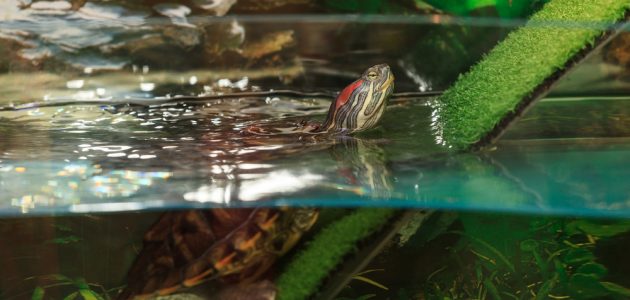 Owning a turtle is like having your very own mini-dinosaur as a pet. While that's every bit as cool as it sounds, it does take a lot of work.
Not for the turtle, of course. For your aquatic friend, life's a joy. If they're not swimming, they're soaking in the UV rays from atop their basking rock, or chomping down on fresh cucumber slices. But as an owner, things aren't so simple. Turtles are extremely messy and their tanks become dirty and smelly at an alarming rate.
In fact, first-time owners routinely underestimate the extra maintenance that's required when compared to fish-keeping, and even experienced turtle keepers get frustrated with the frequency of cleaning. Thankfully there's a simple fix: a high-quality turtle tank filter. Buying an effective and appropriate filter will clear dirty, sludgy water and change a greenish swamp to a crystal-clear reptile haven in a matter of hours. Here's everything you need to know.

How to Choose a Filter for Your Turtle Tank
Many of the best turtle tank filters weren't specifically designed for use with turtles. Some aren't marketed towards turtle owners at all, which can make it tricky to determine a filter's suitability for your hard-shelled friend. So before we go any further, here's an overview of the different aquarium filter types.
The 4 Types of Filters for Turtle Tanks
Canister filters: They sit outside the tank with water passing via intake and output tubes
Internal filters: These are smaller and sit inside the tank, beneath the waterline
Hang-on filters: As the name suggests, they hang from the top of the tank
Undergravel filters: Filters like this sit underneath the tank's substrate
For a full breakdown on the advantages and disadvantages of these different filter types, head over to our canister vs. internal vs. hang-on section. In any case, we've included the best of each in our review list.
Filter type isn't the only consideration you need to make, but fear not, we've done the heavy lifting for you here and developed a handy list of factors to help inform your buying decision.
Size
You need a filter capable of handling the volume of water that your turtle is housed in. Get this wrong and soon enough you'll be back shopping for a filter.
Most capacity recommendations are given with fish in mind. Turtles are much messier, so when a filter isn't specifically indicated for turtle use, we advise that you choose a filter that's designed to handle double the size of your tank.
If you need help with this, head over to our in-depth sizing section, where we give specific filter recommendations for different tank sizes.
Flow Rate (GPH)
Gallons Per Hour (GPH) is a metric for the volume of water that the filter is capable of processing each hour. At a bare minimum, you should choose a filter that can filter the entire volume of your tank within this timeframe.
Importantly, manufacturers measure GPH inside testing facilities and use tanks without decor or turtles inside. As a result, the advertised performance isn't always replicated with regular home use. Where they differ, our reviews note the actual flow rate you can expect, rather than what's written on the box.
Filtration Method
Tank filters use one or more methods of filtration (biological, mechanical, and chemical) with the water passing through multiple compartments. This is pretty important stuff and we have a whole section dedicated to filtration mechanisms later in this guide.
In short, mechanical and biological filtration is essential, and chemical is a bonus. Every filter in our review list uses at least mechanical and biological filtration.
Maintenance
Filter media inevitably needs replacing from time to time, and when it does, the right filter will make this much easier. The best designs keep filter media independently housed, where it can be easily removed from the main unit. Plus, the more space for filter media, the better the filtration will be – you'll have a more stable nitrogen cycle, and the filter will require less cleaning.
Durability
Turtle filters are tasked with a heavy workload and need to run continuously. As such, their durability should be a key factor in your buying decision. Impeller motors are the most common point of failure, but you should also consider the plastic casing and valve quality, too. Generally speaking, canister filters are more durable, but often come with a much higher price tag.
Noise
As many turtle parents keep their beloved aquatic pets close to where they sleep, don't neglect the noise factor during your considerations. This is most impacted by how the water breaks the surface. Canister filters are often the quietest as the tubing sits beneath the waterline, whereas hang-on-filters are the loudest as the water splashes down from above.
Still not sure where to start? You're in luck – we've used the above factors as criteria to review all of the premier turtle tank filters available today. Let's get right to it.
Guide to Buying the Best Filters for Turtle Tanks
Our product reviews should have gone a long way towards showing you why a turtle tank filter is a worthwhile investment. But just in case you need any more convincing, let's start our guide with a quick benefits summary.
The Dirty Truth: Why You Need a Turtle Tank Filter
Turtles create more waste than fish, their habitats smell more, and they're also carriers of dangerous diseases like salmonella. If your tank's filtration is insufficient, dangerous levels of ammonia, fluoride, and chlorine will build up in your tank and can cause your turtle (and even you) long-term damage.
If that's not enough to worry about, filthy glass and dirty water are total eyesores and completely ruin the ambiance of your tank. Thankfully, an effective filtration system handles all of these problems, by doing the following.
Removing visible waste (like poop, uneaten food, and floating algae)
Removing invisible and harmful substances (like ammonia)
Circulating stagnant water to prevent 'dead spots'
Capturing and containing foul odors
While a good filter might feel like magic, there's actually a complex process taking place within the plastic exterior of these filters. Let's take a look.

Methods of Filtration
For beginners, learning about the different filtration types can be overwhelming, but it's important to understand the basics so you can keep your aquatic friend in tip-top shape. Once you know your stuff, you can safely choose a filter that's capable of processing all the typical nasties found in turtle tank water.
Each method works in a different way to help maintain safe water chemistry – here are our no-nonsense explanations.
1. Mechanical Filtration
This is what you imagine when you think of the word 'filter.' It uses filtration media (like sponge, filter floss, or DIY filter media) to physically strain out the 'bad stuff' that you see when you look into a tank. Poop, decaying food, dust, algae – that sort of thing.
2. Biological Filtration
When your turtle takes a pee, ammonia is released into the water. Mechanical filtration doesn't process this, but biological filtration can. This method uses porous, sponge filter media to encourage bacterial growth – the good kind.
This colony of 'good bacteria' can break down the ammonia into nitrite. A second colony of 'good guys' in the filter, then convert this nitrite into nitrate. While nitrate itself can be harmful in higher doses, it will be removed during your routine water changes and is much less of an issue than ammonia.
3. Chemical Filtration
Chemical filtration uses different types of filter media (most commonly activated carbon) to 'patch the leaks' and capture the things that mechanical and biological filtration miss.
While it can really help keep the tank water extra clear and any foul odors to a minimum, it's the least essential filtration type, and it can interfere with any medications you may add to the tank. You should see this as a useful bonus, but not a necessity.

Filter Types: Canister vs. Internal vs. Hang-On
So that's how filtration works. But how does it actually get done? That comes down to the filter type used. Let's start with the two most common types – canister and internal.
Canister Filters
These canisters sit outside the tank and use separate input/output hoses to filter water to/from the tank. Compared to internal filters they use stronger motors, are filtered through more media, and have a much higher GPH.
Overall, when space and cost aren't your primary concerns, a canister filter will usually be the best pick you can make.
Pros of Canister Filters:
Most effective filtration (high GPH flow rate)
Can hold a significant amount of filter media
Don't take up tank space or impact the aesthetic (stored externally)
Easier to maintain
Cons of Canister Filters:
More expensive
Take up more space external to the tank
Internal Filters
Best used for smaller tanks, these filters sit inside the tank itself and are attached to the glass with suction cups, or are built into decorative structures.
Pros of Internal Filters:
Don't require external housing
Can be disguised by rocks and plants
Usually cheaper than canister filters
Less capacity for filter media (needs replacing more often)
Maintenance can get messy
Lower GPH
Take up internal tank space
Sometimes require a high waterline to function (more on that below)
Other Filter Types
Hang-On Filters
As the name might suggest, these filters latch onto the top of tanks, creating a waterfall effect as the filtered water cascades downwards.
They usually require the tank's water level to be as high as the filter itself, meaning the tank must be almost completely filled with water. This can be a problem for turtle tanks – many species require a lower waterline to also accommodate a dry basking space area.
Undergravel Filters
Take our advice and steer clear of these. Undergravel filters are unsuitable for turtle tank filtration because they work by sucking particulate water through a gravel substrate at the bottom of the tank. Unfortunately, turtles dig too much for this system to work. You'll end up with a clogged filter system and the harmful waste being kicked back up to the surface.
How to Pick the Perfect Filter for Your Tank
Still struggling to know which turtle tank filter is right for you?
Our factors to consider explored the general attributes of high-quality filters, but it's not always enough to know the best products – you really need to know the best products for you. Even if a filter has A1 performance, if it doesn't fit with your setup, it's a waste of time and money. Here's how to pick.

1. According to Size
Underestimating your filtration requirements is a sure-fire way to end up with murky swamp water and an unhealthy turtle. This is the biggest mishap when buying filters for turtle tanks, so pay close attention to our recommendations below.
If a filter is advertised for use with turtles, buy per the advertised size suitability. If not, buy a filter that's suitable for twice the capacity of the tank you own. For example, a filter that's 'suitable for tanks up to 100 gallons' should only be used in up to a 50-gallon turtle tank, unless it's specifically indicated for turtles.
To make things even easier, here are our specific product recommendations for common tank sizes.
20-Gallon Tanks
We recommend: ReptoFilter or Tetra Internal Power Filter
20-gallon tanks don't need an elaborate setup or a crazy flow rate, and a good internal filter will be sufficient in most cases. Smaller tank sizes are also most common amongst beginners and if you consider yourself to be one, we'd further encourage using an internal filter – they tend to be a little easier to get to grips with.
Just make sure to keep a regular maintenance schedule because smaller tanks are more susceptible to water chemistry problems. We should also mention that even for hatchlings you should avoid using a tank below 20 gallons. Most turtles will outgrow these small nanotanks within months and you'll be left needing a bigger tank as well as a bigger filter.
20-50 Gallon Tanks
We recommend: Fluval 07 Series or ReptoFilter
Tanks in this range can usually still accommodate internal and hang-on filters, but small/mid-size canister filters tend to be more efficient. If you're not constrained by budget, we'd suggest the latter. If you'd prefer to spend a little less, just make sure the filter you choose is specifically designed for use with turtles and can handle their waste production.
50-100 Gallon Tanks
We recommend: Penn-Plax Cascade Canister or Sunsun HW 304B
For tanks over 50-gallons, you should opt for a sizable canister filter that has 3-stage filtration, with large filter media compartments that can go a few weeks between cleaning.
100+ Gallon Tanks
We recommend: Fluval FX6.
For tanks this big, you want as much filtration power as you can get and a top-end canister filter is the only thing that will do the trick.
2. According to Species
Every species varies in its size, the amount of waste produced, and the basking space needed. All of these factors impact filter suitability. Here's our advice for the most common pet turtle species.
Musk/Mud Turtles
In our experience, common musk turtles and mud turtles species do well with internal filters as they rarely grow longer than 5 inches and aren't the strongest swimmers. In fact, strong water currents may be problematic for them, so high-powered canister filters are not the best choice.
Instead, internal filters like the ReptoFilter or the Penn-Plax Submersible will work well.
Red-Eared Sliders
If you own a red-eared slider, you should always opt for a canister filter, such as the Fluval 07 Series. Even if your little guy is small right now, these turtles can grow to a whopping 12 inches and most internal filters just aren't capable of the kind of filtration these boys need.
PRO-TIP: Don't forget to factor in other tank inhabitants into your filtration requirements. If you own a species that lives harmoniously with community fish, these little critters will further contribute to your tank's bioload, even if they seem tiny in comparison. The same goes for multiple turtles – two turtles require twice the filtration!
Guide to Turtle Tank Cleaning & Maintenance
Now that you've picked your filter, it's time to get those hands dirty! While a high-quality filter sets the right foundation, your hard-earned cash will go to waste if you don't keep a consistent cleaning and maintenance routine.
The ideal cleaning frequency will depend on the filter you buy and the amount of work it's challenged with, but cleaning the filter media every other week is a good guideline to start. Skip a cleaning session and you'll soon be reminded that you did, thanks to one or more of the following warning signs.
Reduced output (GPH drops off)
Unbalanced water parameters
Green, slimy water with visible dirt and debris
PRO-TIP: Struggling to maintain a regular cleaning schedule? If your turtle's running rings around you, you may benefit from a helping hand. Consider adding live plants to absorb ammonia or 'cleaning crew' fish that can tackle excess food and consume algae. Just make sure to check cohabiting suitability with your species of turtle to avoid any nasty surprises!
Here's our step-by-step guide for how to clean your filter media and keep that tank water sparkling.
Step-by-Step Filter Media Cleaning Process
Unplug the filter before you disassemble it to avoid any electrical hazards
Wear gloves to avoid risking transmission of salmonella and other harmful pathogens
Fill a bucket with room temperature water
Disassemble the filter and remove the filter media from the compartment
Hold the filter sponge(s) in your palm and submerge in the water bucket
Lightly squeeze the sponge(s) several times to expel the dirt and draw in clean water
Repeat until the water runs clear when the sponge is squeezed above the bucket
Return the filter media to the filtration compartment
Wipe down any drips or spillages, especially close to wiring
Switch the filter back on
Thoroughly wash your hands and immediately wash any wet clothing with detergent
Frequently Asked Questions
Do I Need Multiple Filters for My Turtle Tank?
As long as your filter has a sufficient GPH flow rate for your tank size, you don't need multiple filters. However, multiple filters can increase ease of maintenance by reducing the necessary cleaning frequency and allowing one filter to keep running while the other is cleaned. Cleaning filter media in turn like this can help prevent a bacterial 'die-off' reaction in the filter media, which can harm aquatic life.
When Should I Replace the Filter Media in My Turtle Tank?
Once you notice that your regular cleaning process doesn't restore your tank to its former glory and you start to long for the days of crystal clear water, it's probably time to replace the filter media.
Remember, it's taken time for this media to build up a colony of good bacteria that keeps your water chemistry stable. Sudden changes could result in ammonia spikes, so we advise that you leave a few days between swapping out each sponge.
Why Is My Turtle Tank Always Cloudy?
Cloudy tank water is usually caused by one of two things.
Your filter's flow rate is insufficient for your tank (i.e., size and bioload)
Your regular cleaning routine is insufficient
Check that your filter has the capability to serve the size of your tank, and the turtle(s) and other aquatic life kept within it. If you're still having issues, replace your filter media and commit to more frequent water changes.
If your tank water still looks like pea soup, you may have fallen victim to a microalgae bloom. A regular water filter won't save you here. You'll need the help of a UV light sterilizer to stop the bacteria from multiplying and allow the water to clarify. The Coospider Sun and the Sunsun HW 304B are the best filters we've seen for this purpose.
Filtering the Good From the Bad
There's no doubt about it, turtle-keeping can be a tricky business, and as many pet species live up to 40 years, you're in it for the long haul.
With the amount of waste turtle's produce, even a slightly under-powered filter will quickly become apparent and soon start to negatively impact your pet's health. Who knows –  leaving your turtle to swim in a tank full of swampy sludge for too long might even turn them into a mutant-ninja? We wouldn't risk it!
Ultimately your turtle(s) deserve a clean, healthy environment where they're living (and looking) at their best. Luckily, you're now armed with everything you need to keep your tank water, and conscience, crystal-clear at all times.