The 10 Best Senior Dog Foods in 2023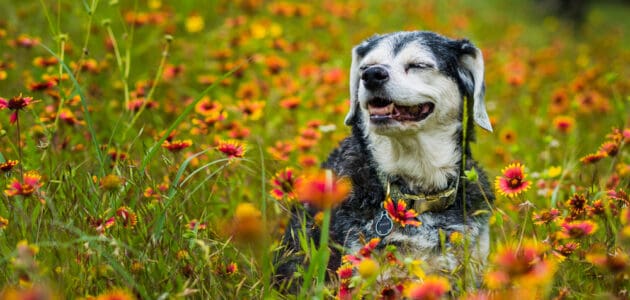 Seeing our dogs slow down as they grow old isn't easy, which is why we want to provide them with the best of everything, including food, to help keep them as happy and healthy as possible. Sometimes, a balanced diet can have positive effects on our dogs' health.
Therefore, we've compiled a list of tried-and-true senior dog foods to help you find the best diet for your senior puppy. There's also a guide that contains tips for feeding senior dogs, including those with sensitive mouths or missing teeth.
But before we get into all that, let's talk about how to go about choosing the right option for your furbaby.
What to Consider When Choosing Dog Food
There's probably nothing more confusing than trying to pick dog food. Knowing that what we choose could directly impact our pet's wellbeing can be somewhat overwhelming, and there are countless products to choose from. By considering the following factors while shopping, you may be able to take some of the stress out of the experience.
AAFCO Statement
The Association of American Feed Control Officials (AAFCO) is an authority on pet nutrition. It researches dog nutrition, and publishes guidelines for pet food manufacturers to follow to ensure their food is balanced and provides all the essential nutrients dogs need.
Whenever you're shopping for dog food, you should always check the label to see if it has an AAFCO statement. The statement is typically located under the guaranteed analysis. All of the foods on our list follow AAFCO guidelines.
Calories
Because old dogs tend to be less active, the caloric content of their food is more important. Even among dog foods marketed to seniors, there will be differences in calorie content. If your dog is prone to gaining weight, then you will want to choose a food lower in calories. If your dog is still relatively active despite her age, then it's okay to choose a formula with a higher calorie content.
Ingredients
The ingredient list is often the first thing people look at when shopping for dog food. However, unless you are a veterinary nutritionist, it probably isn't going to tell you all that much about whether or not the food is good for your dog. In fact, veterinary nutritionists feel that dog owners should stop relying so heavily on the ingredient list.
Instead, we should be using the ingredient list to make sure that the food doesn't contain any ingredients we know our dogs are allergic to. It can also be good to avoid ambiguous ingredients like poultry by-product meal, especially for dogs that have sensitive stomachs.
This is because you have no way of knowing exactly which types of poultry are being used. While poultry by-product meal is not harmful for your dog, should an allergy or intolerance occur, it would be harder to sort out when you don't know what types of poultry are in her food.
When it comes to senior dog foods specifically, it is beneficial to look for ingredients such as glucosamine and chondroitin. These are supplements that support joint health by reducing pain and inflammation. Less pain often leads to increased mobility. Some dogs may still require additional supplementation, but these ingredients are definitely a good addition to a senior dog food.
Palatability
The term palatability refers to how satisfying a food is in terms of flavor. Considering our dogs have to eat the same thing every day, it's important that they enjoy their food. Other factors such as shape, size, or texture can also affect how a dog responds to a food.
Health
Our dogs' health is our number one priority, and nutrition is a big part of their well-being. If a food is good for your dog, you'll often be able to see it physically. Her coat will be smooth and shiny, and she shouldn't have dry, itchy skin. Stools should be firm and regular — the right diet will not cause diarrhea or constipation.
It's common for old dogs to lay around the house, but sometimes a good food can help give them some extra pep in their step. If your dog seems unusually lethargic, then it may be time to try a different diet.
Now that you know what to look for in senior dog food, let's check out the best options available in 2021.
Top 10 Best Senior Dog Foods 2023
Senior Dog Feeding 101: A Guide to Feeding Your Older Pup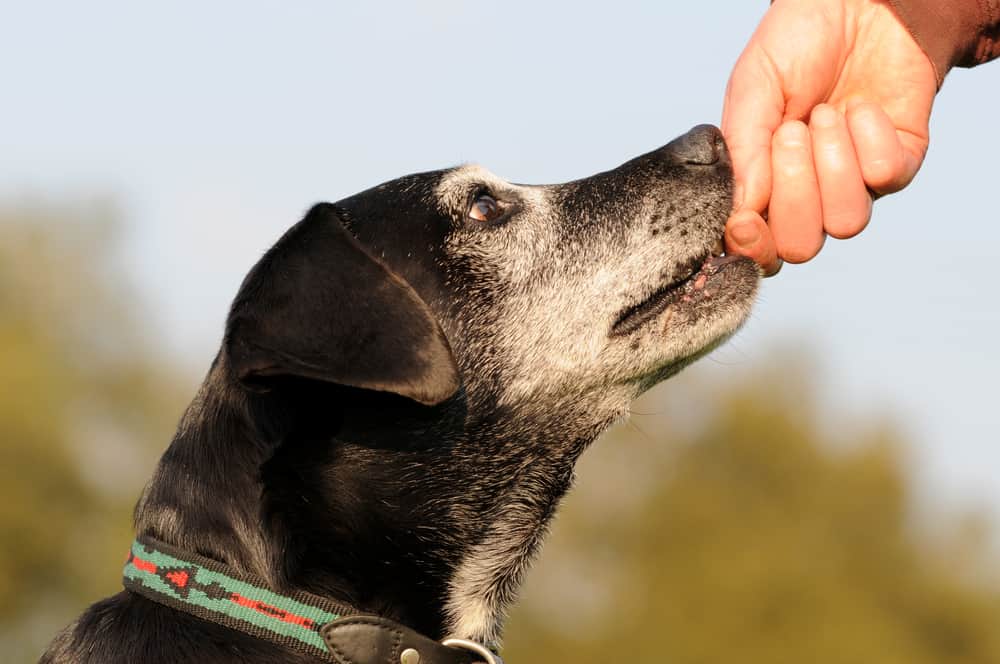 Now that you've got a wonderful selection of dog food to choose from, we'd like to share some helpful tips about online shopping and feeding your senior dog.
A Note on Buying Dog Food Online
Shopping online is incredibly convenient. In a couple of clicks, you can have your dog food purchased and it'll come directly to your door. With how busy life can be, there's often nothing more valuable than saving time. However, online shopping isn't without flaws.
Get a Refund or Replacement for Bags That Arrive Damaged
When it comes to dog food, one of the main issues is that packages are sometimes damaged during shipping. If you ever receive a bag of dog food that is ripped open, you should reach out to the company for a refund.
Once dog food is exposed to air, it loses freshness and will eventually go bad. While the tear hopefully would have happened during transit (because why would an employee think it smart to pack you a ripped bag of food?) you truly have no way of knowing. Do yourself and your dog a favor and get a replacement.
Watch for Expired or Counterfeit Products
On Amazon, in particular, there are a number of curious reviews that describe packages of dog food containing kibble that look different than what they are used to. Sometimes the color or shape of the kibble is different.
If this happens to you, find out if the manufacturer changed their formula in any way (many of them can be called directly). If not, you may want to consider discarding the food and asking for a replacement.
This is because there is a chance that the food is either counterfeit or expired. People who have detailed these strange instances of abnormalities also relay that the unusual kibble caused sickness in their dogs. It certainly is not worth taking chances.
Make sure you always buy dog food on Amazon from the brand that manufactures it rather than from third party sellers.

Tips for Missing Teeth (and Picky Eaters)
Whether it happened due to accidents earlier in life, bad dental hygiene, or genetics (some dogs are prone to having dental issues), it's common for senior dogs to have missing teeth. This is especially true for small breeds. Unfortunately, this can make it tough for old dogs to eat their food, so we'd like to share some tips on how to make it easier for them.
Choose a Food With Small Kibble
Sometimes, all it takes for your dog to be able to eat comfortably is appropriately-sized kibble. Food that has small, thin pieces of kibble is easier to eat than those with larger, thicker pieces.
Diamond Naturals Senior and Nutro Wholesome Essentials both fit the bill. They have Cheerio-shaped kibbles that are small and thin. In fact, it's likely that dogs can safely swallow them whole!
Add Water
Let your pup's food sit in warm water until it gets mushy. This makes it easier to eat and some picky dogs actually like their food better this way, even if it seems disgusting to us. Another added benefit is that your dog will be getting more water in her diet, which is great if she isn't drinking as much as you think she should be.
Add Broth
This trick is basically the same as the previous, except tastier. The broth will make the food mushy and also add some extra flavor to your dog's meal. This is a great option for picky eaters with sensitive mouths.
Be careful with the broth you use, though. Many store-bought broths contain ingredients, like onions, that are unsafe for dogs, and they also tend to be very high in sodium. Look for a low-sodium broth with limited ingredients or one that is manufactured specifically for dogs.
How to Make Your Own Broth
It's also super easy to make your own broth at home. All you have to do is simmer some chicken for a few hours until the meat is tender and falling off the bone. Discard the skin and the bones, and you can use the chicken as a topper on your dog's meals (or eat it yourself).
Let the broth cool and skim any fat off the top. Store and freeze whatever you aren't going to use within a week. Now you have homemade broth for your dog's food! It's easy to make and your dog will absolutely love it. This method is very simple, but you can always get more creative and add dog-safe vegetables like carrots to your broth.
How Much Should You Feed Your Senior Dog?
Determining how much to feed your dog is more of an art than a science. Just like us humans, every dog is different. Even dogs from the same litter may end up eating different amounts based on their lifestyles and health.
So where should you start? There are a couple ways to determine how much to feed your senior dog.
Follow the Guidelines on Dog Food Packaging
The first and simplest method is to look at the chart on your dog's food. It'll usually list recommendations for how much to feed your dog based on weight. Follow these guidelines and keep track of your dog's weight so you can adjust her portion as needed.
Calculate Your Dog's Daily Calorie Requirements
The second method is to calculate the number of calories your dog needs based on her lifestyle. The Ohio State University Veterinary Medical Center describes exactly how to do this on their website, but we'll give you the rundown here.
Step 1: Calculate Your Dog's Resting Energy Requirement (RER)
Convert your dog's weight to kilograms, raise it to the ¾ power, and multiply by 70. So for instance, a 55 lb dog is roughly 25 kg.
Step 2: Multiply by a Corresponding Factor
Next, you'll multiply by another number that corresponds to your dog's age, energy level, or needs (such as weight loss) to determine your dog's daily calorie requirements. We've created a shortened version of the table provided on the OSU's website as theirs includes measurements for puppies, which is not necessary for our purposes.
| | |
| --- | --- |
| Neutered adult | RER  1.6 |
| Intact adult | RER  1.8 |
| Inactive/obese prone | RER  1.2-1.4 |
| Weight loss | RER for ideal weight  1.0 |
| Weight gain | RER for ideal weight  1.2-1.8 |
Now, let's take our RER (783) and multiple it by 1.2, since most old dogs can be considered inactive.
As you can see, a 55 lb senior dog should be getting about 940 calories per day. Most senior dog foods are around 350 calories per cup, so that's a little under 3 cups per day.
While this method can be more accurate than the guidelines on a bag of dog food, you'll still need to monitor your dog and adjust portions accordingly if you see any unwanted weight loss or weight gain.
Step 3: Don't Forget to Factor in Treats!
Because older dogs are less active, they already have a higher risk of weight gain. When people feed their dogs, they often forget to factor treats and table scraps into their dog's daily calorie limit.
Check the labels on the treats you have in your cupboard to see how many calories are in them. Think about how many treats you tend to give your dog per day and reduce your dog's kibble serving based on that.
A treat jar can also be helpful, especially in households with kids who don't understand the importance of moderation. You can fill it up with the amount of treats you feel is appropriate for your dog to be having every day. Once the treat jar is empty, that's it! This can be very helpful for keeping your dog at a healthy weight and preventing yourself or others from giving too many handouts.
Final Thoughts
Even when our dogs are older, they'll always be puppies in our eyes. We want their remaining time to be filled with happiness, love, and good health.
While it is common for old dogs to suffer from certain health issues like arthritis, we can help them out by providing a balanced, nutritional diet. You'll know you've made the right choice if your dog's kibble leaves her with a shiny coat, healthy stool, and maybe even some extra energy.