The 10 Best Koi Foods With the Nutrients You Need 2023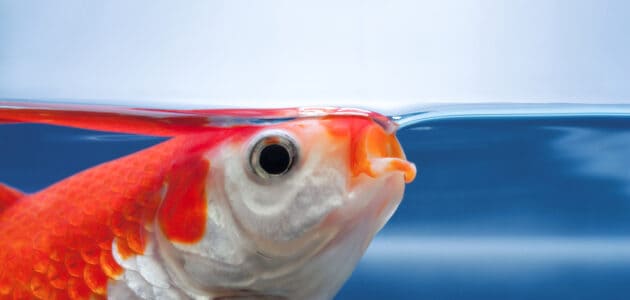 Munch munch munch, yum yum yum.
That's your koi when you buy them some top-quality koi food.
In this guide, we've brought you the best koi food that you can get your hands on – and that your koi can get their mouth around.
We've included an excellent range packed with all the vitamins, minerals and nutrients which are essential for your koi, their health and their longevity. Good koi food can even make your koi look better, with ingredients which enhance and improve their natural colors!
It's important to buy good stuff. If you buy cheap, low-quality koi food, you'll be left with unhappy koi, and you won't be giving them the nutrition they need.
We've included a variety of different koi food with a variety of different ingredients and nutrient profiles. We've also included koi food for a range of different budgets, so you can feed your koi quality stuff no matter how much money you want to spend.
Looking for good koi food? Stick with us. We've brought you a list of excellent food, but more importantly, we've brought you all the information you need to know about it. We've included information about what you should be looking for, and how you know when your koi food is good koi food.
We've included a short introduction to what you need to know and detailed buying guide for you koi lovers keen to learn the details.
Wander over to your pond and join us, as we dive into the stinky world of koi food.

What to Consider When You're Choosing Koi Food
When deciding on the best koi food for you and your koi, here are the most important things to think about:
Nutrient Profile
For healthy koi, you need to buy koi food with lots of vitamins and minerals. Important ingredients are protein, carbohydrates, ash, fat and vitamins. One of the most important vitamins is Ascorbic Acid (or as you probably know it, Vitamin C), while A, B and K are pretty important too. We've included much more information on nutrition in our Koi Food Ingredients section later in this guide.
Season
Different foods are better for different seasons. In colder weather, your fish need more carbohydrates. In warmer months, protein is more important. You can either buy specific foods for specific seasons, or you can buy a multi-purpose year-round feed, which is usually the simplest option.
Color Enhancers
You want your fish to look good – or else you probably wouldn't have them in the first place. Lots of koi food has added color enhancers, which help to bring out the colors of your koi. The most common color-enhancing additives are spirulina, krill, canthaxanthin and astaxanthin, but vitamins can help the color of your fish too.
Pellet Size and Style
Big fish need big pellets, and small fish need smaller pellets. Buy according to the size of your fish. Some pellets float, while some sink to the bottom. Generally, floating food allows you to see your koi, while sinking food can stop koi from getting hurt when eating from the surface. But this isn't typically too much of a consideration.
Below, we've listed the world's best koi food.
We've given you a detailed breakdown of all the stats you need to know, including nutrients, seasonal information, color enhancer details, pellet size and price. We've then included more detailed information for those who want to know the ins and out – and we've included a brief and useful list of pros and cons for each one.
Later in this guide, we've given you every last piece of information you need to know. If you're totally new to buying good koi food, it's a resource you'll enjoy.
But before then, here are our top 10 best koi foods:
Top 10 Best Koi Foods 2023
Everything You Need to Know Before You Choose Some of the Best Koi Food From This List

There you have it – the best koi food in the world!
No matter whether you want protein-packed summer food or quality but affordable year-round stuff, there's something perfect on this list.
But there are some things you need to think about before you buy some koi food. Although all of the food is great, they all have different nutrient profiles, different ingredients and different purposes. Though they're all excellent for koi, it's essential you know what you're buying before you buy it.
Come and join us as we feed your fish and your brain…
Why Is It Important to Buy Good Quality Koi Food? Can't I Just Buy Stuff From the Dollar Store?
No, you shouldn't just buy stuff from the dollar store.
In the same way that you wouldn't just eat dollar store food, you shouldn't feed it to your koi. Good koi food is essential for koi. Over years, koi have been bred for their colors rather than for longevity, so it's important to feed them stuff that will keep them healthy and aid their immune system.
Good food leads to better health, better growth and better colors. It'll also make your koi live longer.

Koi Food Ingredients
This is obviously the most important consideration when it comes to buying good koi food. Here's what you need to know about the ingredients of koi food:
Protein
Naturally, koi are omnivores, so they'll eat both meat and non-meat proteins. Animal proteins are generally better for your koi, as they're packed with amino acids – so you should consider going for a food which is mainly made up of animal proteins if your budget allows. A good choice is the Dainichi Premium.
It's also important to note that, in the summer, your koi need lots of protein. In the winter, they need less protein and more carbohydrates. Here's more information on that balance along with lots of other useful seasonal feeding information.
Fats
Fats are also essential. Younger fish need more fat, and colder months require a little more fat. If lots of the fat content in koi food is coming from fish sources, you know you're getting good food and good fats.
Vitamins and Minerals
The more vitamins you give your koi, the better (of course). The most important vitamin for koi is vitamin C (or ascorbic acid, as it's sometimes known). It helps to boost koi's immune systems, and it's good for fighting bacterial and viral infections. If you're looking for lots of vitamin C, the Hikari Staple is a good choice.
Other important vitamins for koi include A, B and K. They help with healthy eyesight, scales, metabolism and more. These can often be found in protein and fat sources but it's even better if they're also added to the food as part of a vitamin mix.
Immune Boosters
As mentioned, koi don't have the best immune systems, so it's good to make sure the food you're giving them can help to boost their immune systems. Lots of vitamin C can get this job done, but it's even better if the food you're using has some added immune-boosting properties. Two of the best and most popular are calcium montmorillonite clay and brewer's yeast. Dainichi Year-Round includes them both.
Ash
Ash is mainly used as a binder in fish food. Yes, there are a small amount of minerals in ash, which can be good for your fish, but ash is mainly a waste product. Generally, lower ash is better, but anything of around 12% or less is okay. Too much ash will also cloud your pond, which is one of the major reasons why cheaper fish food isn't good for your fish or your pond.
Color Enhancers
If you want colorful fish, color enhancers are important. The most common natural color enhancers are spirulina and krill. Spirulina works best when used together with another color enhancer, whether natural or artificial.
The two most common artificial color enhancers are canthaxanthin and astaxanthin. But though they're both artificial, they're both safe for fish. Having a healthy pond is also an essential step in keeping your koi colorful.
Good nutrition is general is essential for keeping your fish healthy, happy, growing and colorful.
How Often Should I Feed My Koi?
Many people accidentally overfeed their koi. Overfeeding can lead to unhealthy koi and unhealthy pond conditions, and can be fatal and dangerous.
The key is watching your koi eat. Only feed them as much as they can eat in five minutes. Don't just throw a random amount of food into your pond before walking away.
In winter, one 5-minute feed per day is enough. In warmer months, 3 feeds per day is usually about right.
Should I Use Pellets or Sticks? Should They Sink or Float?
Koi food can come in the form of pellets, flakes and sticks. The difference isn't too important, as long as you're providing food which your koi are able to eat and digest. Koi don't chew their food and they don't have a stomach in the normal sense, so they basically eat and digest their food whole.
Smaller fish need smaller pieces of food; bigger fish should be given bigger pieces of food. Smaller koi should be given small pellets or flakes, while bigger fish can eat anything, but pellets are often the most appropriate shape for all koi. You should consider the exact size of your koi in relation to the exact size of the food you give them.
Sticks typically break apart quicker than pellets, while some pellets can be very dense and take a while to break apart. If you want to watch your koi feeding, pellets are therefore usually the best option. Floating pellets are usually best, so you can watch your koi feed, check their health and monitor how much they're eating. But koi are more than capable of bottom feeding, so you don't need to worry if your pellets sink (assuming you're not overfeeding your koi).
Be careful that your koi aren't getting injured when they come up to feed. They can often get hurt or sick by crowding each other out in their feeding frenzy.
Weather, Koi, and Koi Food
As you probably noted in the above link, different protein levels are important at different times of year.
Generally speaking, fish spend less time eating – and therefore less time growing – in colder weather. During colder climes, carbohydrates are more important. During warmer months, they feed more often, they're more active and they require more feeding and more protein. Here's much more information.
Different feeds are therefore appropriate for different times of year, but it's possible to get year-round feeds.
If you want a good year-round feed, the Hikari Staple is our top choice. For summer food, our favorite is the Dainichi Premium. Cold-weather food is rarer, but it's available if you want it. Our favorite cold-weather food is the Hikari Wheat Germ.
Final Thoughts
That's it – everything you need to know about the best koi food you can buy!
We've included budget food, pricier food and everything in between, along with many types of koi foods for different purposes and different times of year.
Before you buy some of the koi food we've featured, make sure you know what you're looking for. Want to enhance the colors of your koi? Want to make them grow? Want to feed them differently in every season? Now, you can!
Happy feeding, happy koi and happy you. Enjoy!