The 10 Best Koi Pond Filters in 2023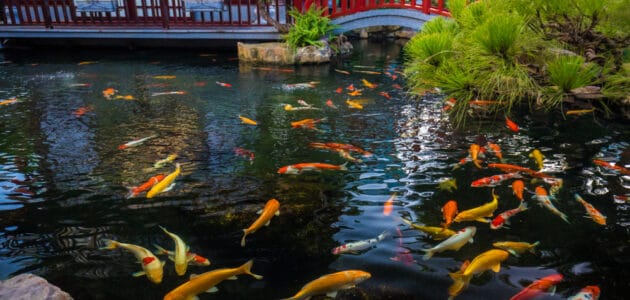 A koi pond can be a relaxing slice of nature to have in your yard. If you're thinking of getting a koi pond for your backyard, or if you already have one, you should know that keeping it well-maintained is of utmost importance.
This is what makes a filter such an important piece of equipment for pond setups. But if you're serious about your koi pond and have already begun to delve into the specifics, then you've already seen the sheer amount of information that you have to consider. There's so much out there that one barely knows where to begin.
Fortunately for you, that's what we're here for! The following guide contains everything that you have to know when choosing the best koi pond filter to bring out the beauty of your pond.
Factors to Consider When Buying Koi Pond Filters
Buying the best koi pond filter for your needs isn't only important for the success of your pond—it's also a significant financial investment. To make sure that you're getting the best bang for your buck, we've compiled a list of crucial factors that you have to keep in mind when choosing a koi pond filter.
Pond Volume
The size of your pond setup–and consequently, its volume–is a huge determinant of the kind of pond filter that you will get. It will dictate the capacity of the unit, the electrical consumption, and the price.
Ideally, your filter unit should be able to cycle the entire volume of your pond at least once per hour. For example, a 500-gallon small pond needs a filter that can run at least 500 gallons in an hour (or 500 GPH). Meanwhile, a 1500-gallon pond should have a filter that's at least 1500 GPH at minimum.
Number of Fish
The number of koi fish in your pond is also a huge factor when choosing the best filter for you. After all, the purpose of a filter is to keep the water clean at all times. And the more fish you have, the more dirt and waste that a filter has to work with.
In other words, the more fish you have in your pond, the stronger your filtration system needs to be. Depending on your stocking situation, you may even want to over-filter your pond just to ensure that the water is kept clean the entire time.
For example, if you have a lot of fish crammed together in a 1000 gallon pond, then having a 1000 GPH filter wouldn't do, as the water would be polluted much faster. You should raise the GPH accordingly to accommodate the density of the waste.
Filter Type
There are many different kinds of filter setups available in the market, with each of them having its own merits and demerits. The basic types are prefilters, pond skimmers, pressure filters, waterfall filters, and UV sterilizers.
There's no one-size-fits-all when it comes to your pond's filtration system, so it's important to pick something that fits the actual needs of your setup. To help you do this, we've included a more detailed guide further below.
Location, Size, and Weight
This pertains to the visibility of your filtration system when viewed with the pond as a whole.
Filters are blocky, hefty things. If improperly placed, they can distract from the beauty of your pond-scape. You should think carefully about where you're planning to put your filter when considering the size, weight, and dimensions of the unit that you want to buy.
Electrical Components
Your filter needs electricity to operate. And since it's located outside, it's exposed to elements and other external factors that might cause it some damage. Before you buy a filter unit, think of how protected and safe its electrical components from rain, snow, freeze, or even animals.
Getting a sturdy filter unit with all the right features for outdoor exposure is important when choosing koi pond filters. To help you out, we will discuss the crucial features that you need to look for later in this guide.
With that in mind, let's get into our list of the ten best koi pond filters you can buy this 2021!
Top 10 Best Koi Pond Filters 2023
The Ultimate Guide to Koi Pond Filters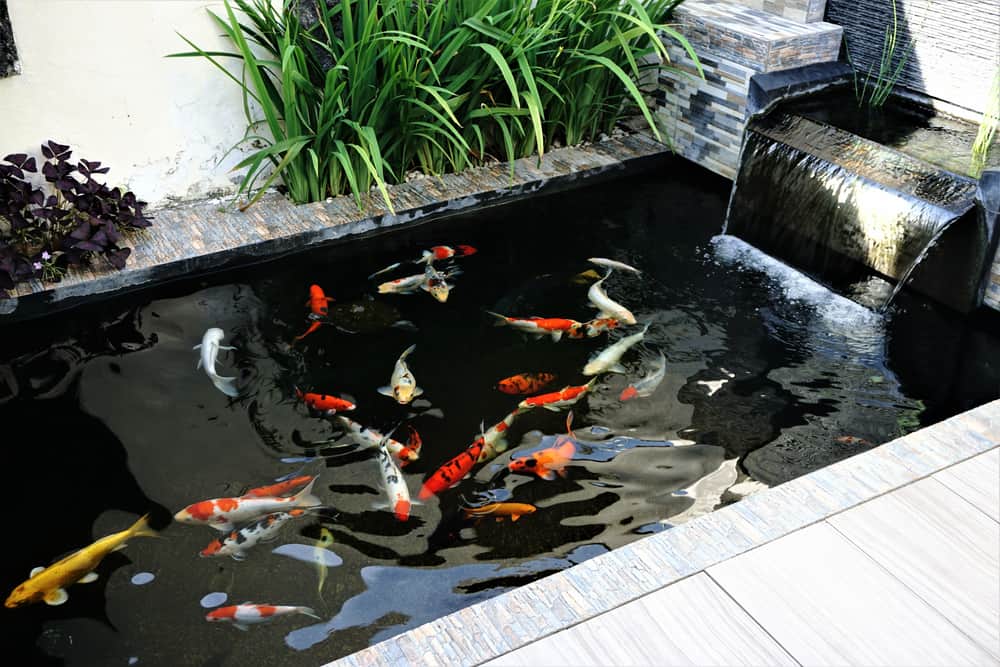 If you're serious about creating a thriving, beautiful pond, then you should know that having ugly, stinky, stagnant water is far from being the first step to achieving your goal.
The answer to this dilemma is a pond filter. Having a filtration system is essential for any pond setups as not only does it keep the water clear and your beautiful koi fish visible, it also keeps your fish healthy.
In this section, we're going to talk about everything you need to know when planning, buying, and maintaining your aquarium filters.
What Are Koi Pond Filters For?
The main purpose of a koi pond filter is to perpetuate the nitrogen cycle within your pond system. The nitrogen cycle is the process of degradation that happens to organic matter, and it is an ongoing, planet-wide process. However, it's all the more crucial in bodies of water as it involves toxic chemicals that may harm the creatures living in them.
Without going into the technicalities, organic matter, such as fish poop and decaying aquatic plants, break down into toxic chemicals eventually. These toxic chemicals are further broken down by a variety of natural processes until the final output becomes harmless chemicals. In the vast nature, this process is carried out automatically.
But a man-made koi pond does not have the same properties that natural, life-sustaining ponds have. As a pond-keeper, you need to simulate this with the use of a pond filter. Instead of nature, your filter will have to do the breaking down process itself.
Benefits of Using Koi Pond Filters
Still not convinced that you need to get a koi pond filter? Here are some benefits to using one.
Keeps your koi pond crystal clear. Filters remove the unwanted debris that eventually ends up on our little man-made body of water. As a result, you'll be able to see your beautiful fish swimming in a glass-like lake, greatly improving the aesthetics and positive vibes of your setup.
Keeps your koi fish healthy. Even the healthiest of fish can get sick due to dirty water. If you don't have a filter, your fish could get poisoned or even killed by the harmful chemicals that build up in the water. Having a filter will prevent this from happening.
Properly oxygenates the water in your pond. By reducing the presence of algae, your fish will have an easier time breathing in oxygen, something that's absolutely necessary for their health.
Simulates nature. In nature, koi fish love swimming in bodies of water that have a little flow to them. Filters provide this subtle flow. Your fish would certainly appreciate your pond's mimicry of natural environments.
Types of Filtration
Filtration is better understood as stages of processing. As the water goes through these stages, they become cleaner and more fit for the fish to live in.
It's important to know what happens during the filtration process and the stages of filtration because this is one of the main things that you will be looking at when choosing your pond filter unit.
Mechanical Filtration
Mechanical filtration is when debris and unwanted particles are filtered out of the water through the use of physical media. The filter media may trap large matters such as leaves, muck, or algae, or it may skim the water for smaller bits of waste. Common mechanical filter media are sponges, floss, or special mats that strain water as it passes through. These will need to be cleaned or replaced periodically to remove the muck that accumulates.
Mechanical filtration removes the dirt that clouds in your water, making it clear. However, this stage of filtration does not remove or process harmful chemicals present in your system. The water may be clear but it can still be full of toxins, as these substances are microscopic and invisible to the naked eye. You shouldn't rely on mechanical filtration as the only form of filtration for your pond.
Chemical Filtration
This stage of filtration is when you use media with specialized chemical components, such as carbon or resins, to remove pollutants from the water. Filter media for this stage often comes in a pad, loose, or bagged form.
Unlike mechanical filtration, chemical filtration uses the physical properties of a substance to its advantage. This makes it very useful in purging specific substances from your pond's water system, such as excessive ammonia or treatment and medicine applied to the pond.
Biological Filtration
This stage works by cultivating beneficial bacteria that thrive on the dangerous toxins present in the pond. These bacteria will be housed in porous, aerated substances where they can thrive and grow microscopic colonies of toxin-eaters that will convert the dangerous chemicals from fish waste, excess food, and other organic material in your pond into harmless forms.
Biological filters may also mechanically strain the water as well, as the water passes through the media bits and pieces of debris will also form. Due to this, some pond owners get away with using only biological filtration in their tanks.
Ultraviolet Clarifiers
Large bodies of nutrient-rich, sun-exposed water are the perfect breeding ground for green algae. These microorganisms thrive on excess nutrients found in the water and, although not necessarily harmful, make your pond look murky and unclean.
This is what ultraviolet clarifiers like those contained within our premium pick are for. Although not technically a filter, UV clarifiers are often used with a filter or are a part of the filter itself. UV light is deadly to not just algae, but other microorganisms present in the water as well. These organisms are usually already too small to be caught by mechanical filters, and so UV light is employed to kill these organisms and clarify the water. If you have an aquarium that you'd like to sterilize, you can take a look at our list of the best aquarium UV sterilizers.

Important Features of Pond Filters
Nowadays, pond filters are filled to the brim with lots of different features. If you're a beginner pond-keeper with little knowledge about the subject, it may become overwhelming for you.
To sift through the unnecessary points, I've made this list of important features of pond filters that you should look at first. These are the core features of what makes a certain filter unit great – all the others come second to these.
Build Quality
Your pond filter is going to run 24/7, and the only time that it can rest is when there is a power outage or when it finally breaks down. That is a long time of heavy lifting for a little machine – no wonder most of them get damaged so easily. It's a huge hassle when they do, as it will most likely create a huge mess. All the while, your pump is sitting there as toxins slowly pollute your beautiful koi pond.
When choosing a pond filter, make sure to buy units that put sturdiness and durability on the top of their list. This will ensure that your product will last for a long time. Also, try to buy from relatively well-known brands that come with easy-to-find parts. Should a replaceable part of the filter break, you shouldn't need to turn over a haystack just to find your precious needle.
Flow Rate
Your filter's flow rate should be able to completely cycle your pond's entire volume at least once every hour. Choose a unit with the exact, or maybe even a little above, flow rate that you need to cover your pond's volume by this amount.
Choosing a filter with the correct capacity will not only do wonders for your pond's water quality but will also save you from expensive hassles down the line.
Cost and Warranty
Always choose filters with at least a year of warranty. Sometimes, products are delivered with factory damage or get harmed on the way – factors that you have no control over. In these unfortunate scenarios, you need to be able to get a different unit or at least get your money back. Not to mention, warranties are a symbol of confidence that the manufacturers have over their products.
Secondly, opt for filter units with realistic prices. This product is going to be a significant investment, and you are looking to use it for a long time. Don't buy cheap knockoffs that you know will break after a few weeks. At the same time, if you don't have the budget, don't go for super expensive ones. Their features are often unnecessary and you'll do just as well with reliable, mid-range brands. Our best budget pick, for instance, has all the features you need for a very affordable price.
Running Costs
Aside from the initial purchase, you also need to consider the electricity consumption of your filter unit every month.
Keep in mind that you're going to be running this filter 24 hours a day, 7 days a week. This is going to add up to quite a significant amount of money, especially if your filter isn't energy efficient. Remember, cheap filters are almost always going to cost more to run than high-powered, efficient ones.
Filter Kit Inclusion
Take note, not all filter systems are sold in a kit. Some come with a pump. Others come with a UV sterilizer. A few come with both, although some don't even come with either one.
If you're getting a product that only includes the actual filter unit, don't be surprised at how much you might end up spending buying all the necessary media, containers, sterilizers, and more.

Kinds of Pond Filters
There are many kinds of pond filters to choose from, each with its own strengths and weaknesses. In this section, let's examine what these are and in what setups they are ideal for.
Pre-Filters
This kind of filter is more commonly seen among small, 100-500 gallon ponds, but can be applied to setups of any size. Prefilters are usually sponge filter-boxes that are located underwater in the center of the pond, hooked to the pump's intake.
These filter boxes are designed to screen solid waste before they reach and do damage to the impellers or clog the biological filters situated further inside the filter unit. They also act as barriers that help pond fish and other animals avoid getting sucked into the filter.

Pond Skimmers
The primary purpose of a pond skimmer is to remove all the debris and unwanted material that may fall onto the water's surface before it sinks to the pond bottom and turns into dirty, smelly muck.
Skimmer filters are installed just on the outside of the pond-liner, at the water level. They continually suck in the surface water and strain the debris to eliminate unwanted objects before they decompose into toxic chemicals. These kinds of filters are effective, and even prescribed, to maintain the water cleanliness of the pond, regardless of the volume.
Pressure Filters
Pressure filters are mechanical filters that force water through a filter medium to collect unwanted particles and debris. They are more flexible in their usage compared to other types of koi pond filters.
Because these filters are pressurized, the container that houses the pump and the medium can be significantly smaller than non-pressurized filters. This means that one can easily hide pressurized filters in the surrounding landscape. They can even be buried in the ground or submerged in water.
Pressure filters work well with surface skimmers – the latter takes care of the surface-level debris, while the former eliminates deeper-set debris.
Waterfall Filters
Although they can also be used in different-sized ponds, waterfall filters are more often seen in small to medium-sized ponds. These units typically contain biological and mechanical filtration media. As a small bonus, they also provide good aeration for your koi pond water.
The main distinguishing feature of this kind of filter is the fact that they're also designed to improve your pond's aesthetics. Water typically flows off from the filter and into the surface of the pond like a waterfall. Because of this, waterfall filters like the CNZ Pond Filter and the TetraPond Waterfall Filter typically need to be placed above the water level of the pond.
UV Sterilizers
Although not actually a filter, UV sterilizers are important for pond water quality management. This is because UV sterilization has been proven to be the most efficient and safest way of eliminating and preventing green algae in the pond. UV light also kills other microscopic organisms in the water, such as bacteria, viruses, and fungi.
This results in clear and healthy water, so although it technically doesn't filter water, it is still used in conjunction with, and even as a part of, pond filter systems.
Getting the Best Koi Pond Filter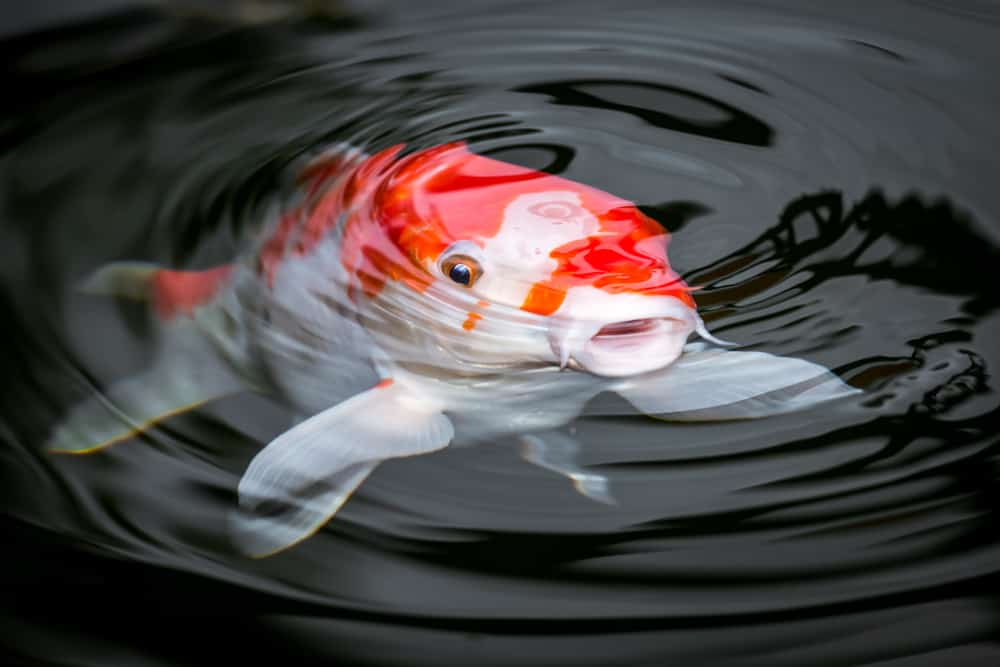 A koi pond filter is a crucial piece of hardware for anyone planning to start a koi pond. When looking for a filter, check out its most important features: its build quality, flow rate, initial cost, running cost, warranty, and what's included in the kit.
With that, you can now enjoy your crystal clear koi pond! And while you're treating your koi to the best, you might want to consider picking up some high-quality koi food — just like filters, they're not all created equal, so it's worth spending the time to find the right one.