The 10 Best Puppy Shampoos to Buy in 2023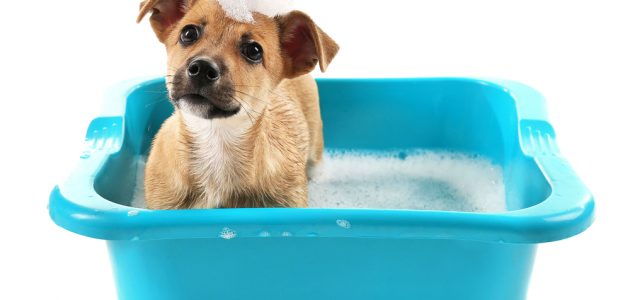 Let's face it, your puppy is going to get dirty and you, the adult in this relationship, are responsible for cleaning it. After all, as cute as they might be, you don't want little paw prints on your floors, couches, beds, and anywhere else your non-stop ball of energy decides to take them, so a good puppy shampoo is essential for your household.
As you look at available options, you'll see that there are dog shampoos and general pet shampoos on the market, in addition to designated puppy shampoos. This puzzle might leave you wondering if a special puppy shampoo is even necessary or if you can get by with a more general option.
Well, the truth is that much like puppy food, companies design puppy shampoo with a young dog's needs in mind, and adult dog shampoos could damage a puppy's skin, coat, and eyes. You don't want that, and neither do we. Here are the key considerations, but you can skip ahead and look straight at the products if you just want to see what's available.
The Main Considerations When Buying Puppy Shampoo
As you consider the abundant available puppy shampoo options, there are a few key factors you'll want to consider and important things to keep in mind, from the obvious to the not so obvious.
Will It Clean Your Dog?
This might seem obvious, but the puppy shampoo that you select should do an excellent job of cleaning your dog. The product should lather up nicely and rinse away cleanly, as this ensures that dirt and anything else your puppy has gotten into is removed not only from its fur but also its skin.
Consider the pH Balance
Puppy owners don't always consider the pH balance of a shampoo, but it's an important concept. The gist is that dogs have near-neutral pH values and, therefore, require shampoos with neutral pH levels. This idea is particularly important for puppies because they're still developing, and acidic shampoos could strip oils from their skin and coat, causing them to dry out and become itchy.
Acidic shampoo could also make the puppy's coat look dull, and many standard pet shampoos on the market fall outside the ideal range. We've made sure to only recommend shampoos that are in a great pH range for your puppy. If you want to find out more, and why you shouldn't use human shampoos on your dog, we have a discussion in our full guide.
A Product Made for Puppies
Going with a shampoo formulated for puppies is important because younger dogs have sensitive skin and should avoid exposure to harsher chemicals. Adult dog shampoos might include ingredients made for detangling or tick removal that could irritate your puppy's skin, as well. We recommend choosing a puppy shampoo that uses natural, non-toxic ingredients and is free from sulfates, parabens, and alcohol. We go into more detail about this after our list.
Does It Have a Pleasant Scent?
The scent of your puppy shampoo won't matter to your dog, but it may well matter to you. A good fragrance can make both bath time and non-bath time more appealing. There are also scent-free or low-scent options if you or your dog are sensitive to smells or the essential oils often used to create them. Keep in mind that although scent-free puppy shampoos will still eliminate odors, they won't mask them.
Is It a Tear-Free Formula?
It won't shock you to hear that puppies are in a state of continual motion, including during their baths. Because your puppy is unlikely to sit still, there's a good chance some shampoo will end up in its eyes during the cleaning. A tear-free shampoo can minimize the irritation to your dog's eyes, so the squirming and splashing become less of a worry.
Now we've covered the basics, let's look at some great puppy shampoos. If you have more questions, we have a full guide below which goes into more detail. Now, the bath has been run, and the dog is dirty. Let's get them clean.
A Guide to Buying the Best Puppy Shampoo for 2021

There are countless puppy shampoos on the market, and there's no catch-all product that works best for every dog and in every household. Before making your final decision on which shampoo to try on your puppy, you'll have to consider all of your options and the following information.

Why Sulfates and Parabens Are Bad
There has been a lot of talk about sulfates and parabens here, so you should know why you don't want them in your puppy's shampoo.
Parabens are preservatives that provide anti-bacterial properties for cosmetic products. Sounds good, right?
Unfortunately, the issue is that parabens could be carcinogenic, meaning they might cause cancer. A 2015 study determined that parabens could cause swift growth of cancerous cells, and their presence seems to tie in with cosmetic product use. There has been an increasing drive in the cosmetics industry to keep away from these, but due to their fast, effective – but aggressive – cleaning capabilities, they are still frequently used in products.
Will parabens give you or your puppy cancer? Probably not, but if you have the choice between a product without parabens and one that contains them, going with the former is a smart idea.
Sulfates are also preservatives that frequently come in hair and skincare products. They are generally safe, as long as you don't have a sensitivity to them. Over one percent of the population is sensitive to them, however, and reactions range from dermatitis to asthma attacks.
As a result, much like with parabens, you're better off without sulfates in your life, and keeping them away from your puppy is also worth the little bit of extra effort.
Scented or Scentless – Which Is Best for You?
You might have noticed that while most puppy shampoos are scented, some are not, and others only have the natural scent provided by their cleansing or moisturizing properties.
So why does this matter?
It comes down to a few different aspects, the most important being whether your dog has dry, itchy, or flaky skin. In this case, scented shampoos are best avoided. Go for something like Burt's Bees if this is the case for you. If your dog's skin is generally robust, then it's more on you and your preference.
You'll find very few puppy owners who love the smell of wet dog, and scented shampoo can cover this odor. This fragrance leaves these people happier with the product because the scent should last at least for as long as the dog is wet.
At the same time, whenever a fragrance is added to a product, it is more likely that your pet will react to it. Essential oils, for example, could cause a rash on some puppies with particularly sensitive skin, even if the shampoo itself is hypoallergenic. Your puppy could also be sensitive to the smell, creating anxiety whenever it's time for a bath, and making your life more difficult.
Some people are sensitive to smells, too, and if you find the fragrance overwhelming, bath time won't be much fun for you either.
Are Natural Ingredients Important?
Most of the top puppy shampoos use natural or naturally derived ingredients because they're generally better for your puppy's skin. At the same time, some cheaper products use ingredients that could irritate your puppy's skin, coat, or eyes.
You don't have to use a 100% natural puppy shampoo, especially as they're usually more expensive, but the fewer harsh chemicals you expose your puppy to, the better. Remember that your puppy could have sensitive skin, and a rash can be painful for a young dog.
In short, we've tried to list puppy shampoos that are mostly natural and don't contain unnecessary chemicals and other toxins. These chemicals might make your life a little easier short-term, but aren't healthy for you or your dog and could do long-term damage.
Pro Tip: Test your shampoo on a small section of your puppy before using it for the first time. That way, any irritation will be small and isolated, making it easier to treat.
How Much Puppy Shampoo to Buy
The amount of shampoo that you need depends on a few factors. First of all, your puppy's size could influence the amount of shampoo you need because larger dogs will require more to clean them. At the same time, small dogs tend to get dirtier because they're closer to the ground and, therefore, the mud.
Your lifestyle is another factor because the more you take your dog out, the more chances it will have to get dirty. If you spend much of your summer camping or hanging out at the beach, you'll probably need more shampoo than someone who spends most of their time at home.
The good news is that you can use puppy shampoo on a full-grown dog. If you buy too much, don't worry because we're sure your dog will have plenty of bathing opportunities even as it gets older.
Can I Use Dog Shampoo on a Puppy?
We've spent a lot of time going over puppy shampoos, but what about using a dog shampoo or a general pet shampoo on a puppy?
The short answer is yes, you can use dog shampoo on a puppy, but it's a little more complicated than that.
We've included a couple of dog shampoos on this list that we recommend for use on your puppy, and the reason is that they don't contain strong chemicals, perfumes, or dyes, all of which can irritate your young dog. Puppies are very sensitive to these additives and could have a reaction.
Puppy shampoos, on the other hand, are milder, gentler, and contain fewer toxins. Many puppy shampoos are tearless, as well, and designed to wash away cleanly without leaving any residue behind.
You're better off using a puppy shampoo on your young dog, but if you choose to go with a dog shampoo, make sure it's a gentle, all-natural formula that won't irritate your pup – like the ones on our list.

Can I Use a Human Shampoo?
No, you should never use a human shampoo on any dog, and a puppy in particular, because it's not formulated for their skin. It all comes down to the pH level, which is the balance between alkaline and acid.
Generally, puppies have a pH level of about 7.5, which means that their skin is more alkaline than acidic. Since human shampoo is formulated for human skin, which has a pH level of about 5.5, it's too acidic for your pets.
Using a product that is too acidic could strip away natural oils from your puppy's coat and skin. When this occurs, your puppy could suffer from inflammation, an eroding of the epidermis, or even an infection.
It's also important to note that many puppy shampoos aren't pH balanced for dogs, which could lead to the same problems. Choosing a product with a proper pH balance is a good idea, especially if you'll regularly bathe your puppy.
How Often Does a Puppy Need a Bath?
Dogs, and even curious little puppies, do a pretty good job of keeping themselves clean. Most experts recommend only bathing your puppy about once a month because overdoing it removes oils from their coat and could dry out their skin.
Of course, a once-a-month bath schedule might not be feasible if your puppy loves the mud or you live in a rainy climate. Choosing a gentle puppy shampoo is essential because it will protect your dog's coat and skin if circumstances cause unscheduled baths to become a regular part of your dog care routine.
At What Age Can I Start Bathing My Puppy?
The age that you begin bathing your puppy depends on your dog's needs. There's no need to wash a puppy when it's still with its mother, as she will keep it clean. Once the puppy is about six weeks old, you can bathe it, but you'll want to avoid using shampoo until it's about eight weeks of age.
Some puppy shampoos will give a recommended age on the bottle, which you should always follow.
Final Thoughts
A great deal goes into choosing the best puppy shampoo to meet your needs because you'll have to consider things like pH balance, the frequency with which you bathe your dog, and any allergies your puppy experiences.
Remember that just because a shampoo is hypoallergenic, doesn't mean that it's impossible to have a reaction. All puppies are different and, therefore, each will respond differently to these products.
By selecting a shampoo with the best possible ingredients and which has been formulated with a puppy's comfort and safety in mind, you can minimize the risk and make bath time a more enjoyable experience for your four-legged friend.