The 10 Best Goldfish Foods to Buy in 2023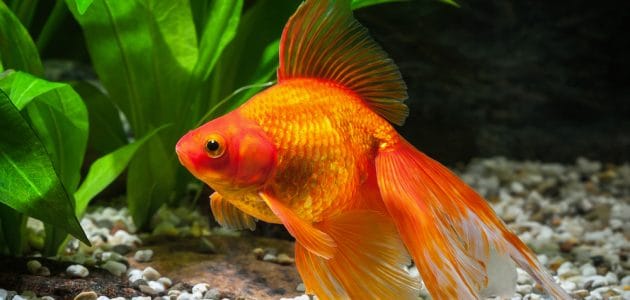 Maybe you won one at a fair. Maybe you passed by a tank in a pet store and absolutely could not leave without one. Either way, you added a goldfish to your family – and they might require a little more maintenance than you would think.
Often considered a "beginner pet" because of their size and short life spans, it might surprise you to know that with the right diet and care, your goldfish friend can lead a very long life and grow to be a very large fish.
Whether you're a longtime fish owner looking to maximize your goldfish's nutrition, or a first-time fish owner exploring your options, the perfect goldfish food is out there, just waiting for you to find it. We've gathered a list of the top 10 best goldfish foods available today and analyzed the best things about them, so you don't have to. In this article you will be able to learn all about goldfish food and find the best one for you.
Important Factors to Consider in Goldfish Food
Before we explore the best goldfish food choices available, here are the most important elements to consider when choosing what to feed your goldfish.
Types of Goldfish Food
There are many types of goldfish food on the market, many tailored to specific dietary needs and preferences. It may take you a couple attempts to find the food that is best tolerated by your fish and your tank.
Flake
Flake food is one of the most popular types of goldfish food. It appeals to most fish, and if you get one of the larger size flakes, like the ones in Wardley's Goldfish Flakes, you can break them down to feed both the large and small fish in your tank.
Flakes are not the best choice if your fish prefer to scavenge the bottom of the tank for food, or if your fish have digestion issues. Fish flakes float, and goldfish can take in a lot of air eating them off the top of the water, causing bloating and further upsetting their stomachs.
Pellet
Pellets are a good option for someone whose fish prefer to eat off the bottom of the tank or have sensitive stomachs. Pellets, in general, are more easily digestible to fish and have a higher nutritional content than flakes. They can also be tailor-made to different fish-keeping environments such as ponds (if you have a pond, make sure to look at TetraPond's Pond Sticks).
On the downside, pellets are more likely to be forgotten about at the bottom of the tank and create dirty water. Fish can also sometimes confuse rocks on the bottom of the tank for pellets, eating them and causing health issues.
Gel
Gel food is often regarded as one of the healthiest types of food you can feed your fish. Because it comes in a powdered form that you mix with water, it lacks many of the common fillers and gluten ingredients some pellet and flake foods contain, making it a nutritional protein powerhouse.
If this sounds good to you, jump straight to our review of Repashy Gel Food.
Treats
Just like with any other pet, you can give your goldfish treats. They love bloodworms, crickets, and brine shrimp. All of these can be given live, frozen, or freeze dried, but like many other animals, your goldfish should not solely eat treats; they should be mixed in as part of a regular nutritional diet.
Check out Omega One's freeze dried brine shrimp if you want an easy way to gift your fish a little something special.
You can also feed your goldfish some types of human food, such as shelled peas or leafy greens. Our section below on human food will go more into detail about what foods are best for your goldfish and how to feed it to them.
Ingredients to Look for and Avoid
The number one factor in selecting a fish food is the ingredients. To maintain a daily balanced diet your goldfish food should contain high amounts of marine-based proteins (things like krill, salmon, and shrimp) and low amounts of wheat, gluten, preservatives and artificial coloring, as these are not something natural for goldfish to eat.
For more information on why diet is so important, jump down to our full guide to goldfish food.
Now that you have an idea of the different types of goldfish food, let's "dive" right into our list!
Top 10 Best Goldfish Foods 2023
Your Complete Guide to Goldfish Food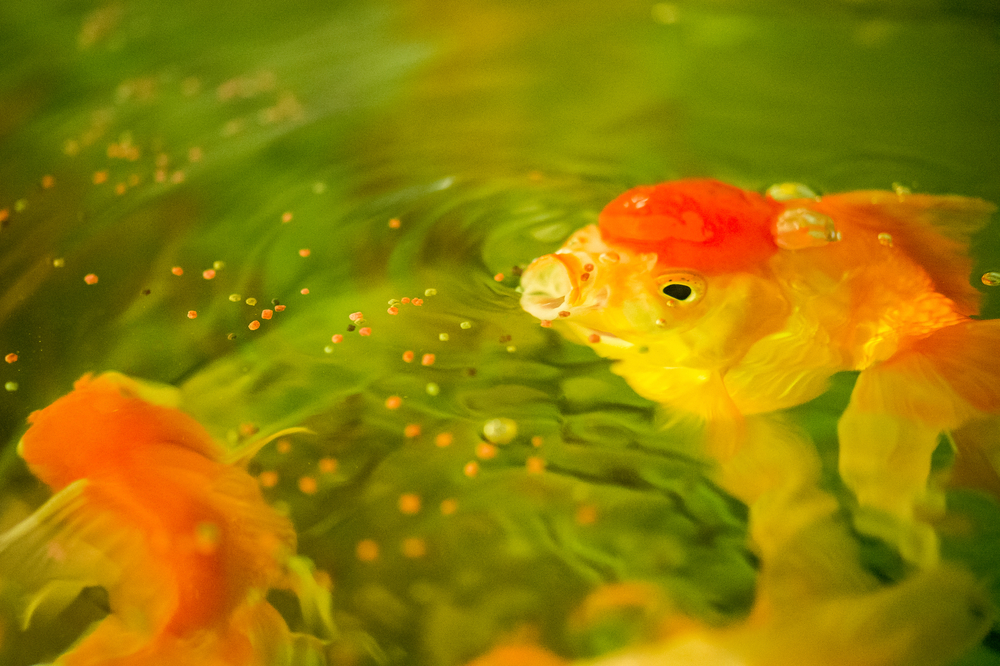 Still have questions about feeding your goldfish? Read on for our full guide on goldfish diets and what to keep in mind when purchasing a food.
Why Is Diet So Important?
Goldfish are omnivores, and it is extremely important for them to eat a balanced diet. Too much of one certain food can throw their delicate digestive systems off track and cause a whole host of health issues like constipation, swim bladder disorders, or even tumors.
While ingredients like protein and fiber are important, you also need to make sure to add a variety of fresh vegetables into your feeding routine so your fish live a long, healthy life.

Human Food That Goldfish Can Eat
Goldfish benefit greatly from the addition of certain human foods in their diet. It keeps them healthy and provides a little bit of excitement when they see it in their tank – because who wouldn't get excited when faced with their favorite foods?
Many of a goldfish's favorite snacks can easily be found in your refrigerator. Make sure that any human food you give your fish is softened and/or cooked thoroughly.
Peas – make sure they are peeled and cut in half for your fish
Lettuce – you can attach this to the side of your tank with a clip for easy nibbling
Carrots – carrots go great in homemade goldfish food
Cooked rice – overcooked is best as it is more easily digested
Apples – softened and cut into small pieces makes for a great treat
How Much Should I Feed My Goldfish?
If you search this question on the web, you are sure to be met with an astounding amount of conflicting advice on how much food you should actually be feeding your fish. You should know that the amount you feed your fish is dependent on how many fish you have and what kind of food you are feeding them.
If you are using a flake food such as TetraFin, you can follow the general rule of feeding your fish no more than what they can eat in two minutes.
Because flakes float on top of the tank you will be able to monitor the exact amount eaten. If the food is consumed very fast, way before two minutes is up, you can consider adding a little more to the water; if there are lots of leftovers when two minutes is up, add less food next time.
For pellet food, it can be harder to follow the two-minute rule, due to pellets being designed to sink to the bottom of the tank where fish can nibble on them. Instead, try feeding just a couple of pellets per fish two to three times a day. It might not seem like a lot to you, but it is a perfect amount for your fish.
Keep in mind that any food that is not eaten will sit at the bottom of the tank and dissolve, creating a toxic environment in the water that can potentially kill your fish.
How Often Should I Feed My Goldfish?
You may often catch your goldfish staring at you with hungry, pleading eyes, and wonder if you need to increase your daily number of feedings. Don't let your fish fool you though! Goldfish don't have stomachs, so any food they eat is digested rather quickly through their intestines. This leaves the fish constantly looking for their next meal source, which is something they would do in the wild.
And while your fish may act like it's always starving, you only need to feed them two to three times a day (depending on how much food you distribute at each feeding) to maintain a healthy diet.

How Long Can Goldfish Go Without Food?
Goldfish can last an unexpectedly long time without food. They can easily make it through one or two days with minimal effects except for hunger, and live up to two full weeks. Though if they are left for two weeks without food, they will likely become malnourished and are at risk of developing health problems or dying.
In very cold temperatures, goldfish hibernate and will not need to eat for months at a time. Water below 50 degrees slows down your fish's metabolism and causes food that would regularly take an hour to digest three to four days to process instead.
Goldfish don't usually turn down food, so if you continue to feed them while the water is too cold, the food will eventually become stuck in their digestive system, constipating and often killing them. Monitor the temperature of your fish's environment to avoid accidentally sending your goldfish into hibernation mode.
Can Goldfish Eat Other Fish Food?
Technically, the answer is yes. A scavenger by nature, a goldfish will eat practically anything you give to them. But you shouldn't be regularly feeding it food that is not specifically designed for the goldfish's gentle digestive system (if your fish has an extra sensitive stomach, look back at Omega One's Goldfish Pellets). Doing so could cause stomach issues and lead to your fish not getting the vitamins and minerals they need to be healthy.
Going on Vacation
If you have to leave your fish for an extended period of time, but want to make sure they are still properly taken care of, you can purchase an automated fish feeder to help while you are gone. These feeders will help by releasing a preset amount of food into the water at certain times, maintaining your fish's regular feeding schedule.
You can also enlist the help of a neighbor or friend. Just make sure to give clear instructions about when and how to feed your fish. Also consider setting aside pre-portioned food for your helper to use in order to lessen the chance of overfeeding.
The Lifespan of a Goldfish
Most people think of goldfish as short-lived fish, maybe even something that doesn't live for more than a few days, but the reality is that common goldfish can live to reach an average age of ten to fifteen years. The oldest goldfish on record is a whopping forty-three years old and was won as a prize at a fair! It just goes to show how important the right diet and environment is to the health of your fish.
And if you're looking for a premium food to take the best care of your fish, definitely go back to look at Hikari Saki's fancy goldfish food.
How Big Can Goldfish Get?
A fish's surroundings have a lot to do with how big and how fast they grow. In the wild, a goldfish can reach an astounding fifteen inches long, and weigh upwards of two pounds. Pretty big for a fish that starts out at less than an inch!
This increased size comes from the larger amount of oxygen available in rivers and streams that can't be provided using tanks and ponds. Goldfish naturally produce ammonia, which reduces the oxygen in the water and can stunt their growth in captivity.
Foods such as the API Goldfish Pellets are designed to reduce ammonia, and a filter will help significantly to add oxygen to the water, but it is unlikely your fish will ever grow that big while in a tank or pond; they will usually only grow to be a few inches long.
Why Is My Fish Not Eating?
There could be many reasons for your fish's change in eating habits. If your fish is avoiding food, not appearing for feeding time, or appears to be swimming differently, look into the conditions of its food and tank to try to find the issue.
Stress
If you've recently added a new fish to the family, changed the water in the tank, or switched to a new food brand, your fish could be stressed. Stress can cause fish to avoid food and hide in their enclosures. Try luring your fish out with some gel food, deshelled peas, or brine shrimp treats.
Once you've got your fish out of hiding, try to monitor the way it's swimming and if they are avoiding their usual food or any other fish to narrow down the cause of stress.
Sickness
It's usually pretty easy to tell when a goldfish is sick. They will often swim close to the top of the tank, bob up and down, or in some cases float upside down.
If your fish is showing any of these symptoms and has stopped being able to eat, it is a good idea to consult a vet on the next steps you should be taking to safeguard the health of your fish.
Water Temperature
Like we discussed above, a goldfish should not be eating food when the water is too cold. If your fish has suddenly stopped showing enthusiasm for dinner, trying checking the temperature of the water. Your fish may be heading into hibernation mode, and eating less food as a result.
Should Goldfish Live Alone?
Fish are social creatures by nature. In the wild, they often swim in large shoals for both companionship and safety. A goldfish living on their own will probably do just fine, but they will undoubtedly be happier if there is at least one other fish in the tank or pond with them.
For multiple fish living in a pond, TetraPond Pond Sticks is a great option for keeping all of your fish happy.
Also, if you are planning on introducing a fish to the environment that isn't another goldfish, be sure that they are a compatible species, so your original goldfish isn't left competing for food.
Can My Goldfish Recognize Me?
It's still out for debate whether or not goldfish can recognize certain individuals, but science has proven that goldfish can learn a routine. This explains why they get excited around feeding time and certain foods they recognize (and if you want a food your fish will always recognize the taste of, Fluval Bug Bites are guaranteed to make them crazy).

Making Your Own Goldfish Food
Trying to avoid gluten in your fish food and Repashy's gel food isn't catching your eye? Or maybe you're trying to add treats that are different from Omega One's freeze dried brine shrimp?
While time consuming, making your own goldfish food is a good way to tailor your fish's diet to be the healthiest it can be. Just make sure you carefully research each ingredient you use to ensure it is safe to feed to your pet. Below are some basic steps for creating a homemade goldfish food.
Chop your chosen vegetables very finely. This makes it easier for the fish to eat them.
Beat an egg with some water in a small heat proof bowl.
Add the vegetables to the egg mixture slowly, being sure to sprinkle them evenly.
Place the bowl into a steamer and steam until the egg is cooked through.
Cut into small pieces and treat your fish
Check out this video if you want to watch the step-by-step process of making goldfish food.
Your Fish Deserves the Best Goldfish Food
To many, fish are just as beloved a pet as any dog or cat. Each fish has their own personality and requires a dedicated maintenance schedule for them to stay healthy and happy. With the right food, you are well on your way to providing your fish with the best life they can have.
We hope this list has given you all the information you need to pick a fish food and start spoiling your goldfish!