Say Aloha to 100+ Hawaiian Dog Names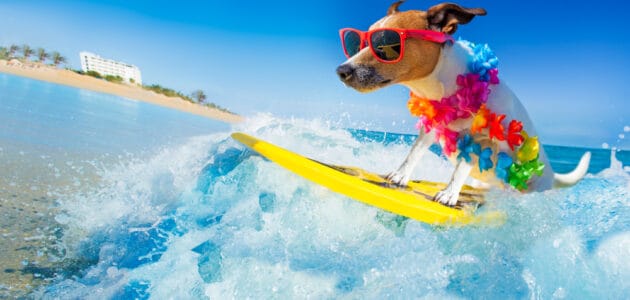 Whether you have ties to Hawaii or have never stepped foot in the Aloha State, the Hawaiian language can offer a great deal of inspiration in picking the perfect name for your pooch. From truly Hawaiian words to ones that are Americanized versions of these indigenous words and phrases, we think you're sure to find options that will give your dog that island spirit.
The United Nations classifies the Hawaiian language as critically endangered (the U.S. is home to about 80 languages that are near extinction), and it's estimated that only a tiny percentage of people can speak Hawaiian. Our list of Hawaiian dog names includes some based on Hawaiian words and phrases spelled with Hawaiian characters and orthography, while others have been changed to make them easier for English speakers to say and spell.
By choosing a Hawaiian name (or an anglicized version of one), you can play a small part in helping keep this language alive.
Hawaiian Dog Names Based on Places
Hawaii's islands, cities, and major cultural sites can provide a bit of history to inspire your pup's name. Here are some dog names based on places in the state:
Hana: Home to the Hana Highway, a famous-but-treacherous stretch of road that features 620 curves and 59 bridges; as a word, hana means "work, labor, or job"
Hilo: The fourth-largest city by population, located on the island of Hawaii ("The Big Island")
Kailua: A city of about 40,000 located in Honolulu County; its name means "two seas"
Kauai: Nicknamed "The Garden Island," Kauai is the northernmost of the six major islands in Hawaii, and its lush, green landscape more than justifies the moniker
Kokee: A 4,345-acre vista on Kauai, Kokee State Park is an ideal place for spotting native plants and birds, and it offers about 45 miles of hiking trails
Kona: A large district on the island of Hawaii that offers many historically significant sites, such as the final home of King Kamehameha
Kula: An area in Maui that's known largely for agriculture with a name that translates to "open meadows"
Lanai: Though it's the smallest inhabited island, Lanai is considered a luxury spot among Hawaii's major islands thanks to five-star resorts and championship-quality golf courses
Maui: Maui's the second-biggest of the six major islands, and many visitors believe "The Valley Isle" offers the best beaches on earth
Molokai: Only 10 miles wide at its widest point, Hawaii's fifth-largest island offers some of the highest sea cliffs in the world
Oahu: Given the nickname "The Gathering Place," Oahu is the third largest island, and it's home to about 70% of the state's population and Honolulu, the state capital
Paia: Located on Maui's north shore, Paia is well-known in surf culture as the home of Hookipa Beach, dubbed the windsurfing capital of the world by many
Poipu: Poipu Beach Park is a popular site for surfing, fishing, bodyboarding, and snorkeling on the south shore of Kauai
Puhi: A small community in Kauai with a name that means "blow"
Wailua: The largest navigable river on Kauai, Wailua River is a popular site for kayaking, canoeing, and boating
Dog Names Based on Hawaiian Culture, Food & Nature
In addition to lush, scenic sites, Hawaii is home to a rich heritage that includes nature, food, and culture, and these elements can provide even more inspiration for your dog's name.
For some names, we've offered pronunciation help, but if you're considering a Hawaiian name for your dog, here are some tips on saying these words correctly.
Aloha: While it's a well-known multipurpose word used to say both hello and goodbye, for indigenous Hawaiians, the term has a far deeper meaning in characterizing the unifying force of the universe; other translations for aloha include love, affection, compassion, and kindness
Hala: A tall tree with flat, pointed leaves that grows both small flowers and large, pineapple-like fruits; other names include Tahitian Screwpine, Pandan, and Tourist Pineapple
Hapu'u: A tall fern tree, also known as the Hawaiian Tree Fern or the Manfern
Hoa: Friend or companion
ʻIʻiwi: Also known as the Hawaiian honeycreeper, this bird (pronounced "ee-EE-vee") and its bright red feathers are found across the Hawaiian islands
ʻĪlio: Dog; pronounced "ee-leo"
Kalo: The Hawaiian word for taro, a tropical root vegetable used to make poi
Laulau: A dish of banana leaf-wrapped pork, beef, fish, or taro tops that's baked, steamed, or broiled
Mahalo: Thanks or gratitude
Moa: A small red bird endemic to Hawaii
Milo: An evergreen shrub with flowers that bloom in a pale yellow and are edible when young; also called Portia Tree or Pacific Rosewood
ʻŌhelo: Pronounced "o-hee-lo," this small native shrub is a member of the cranberry family, and is one of several similar bushes, including ʻŌhelo Kau Lāʻau and ʻŌhelo ʻAi
Poi: A staple of Hawaiian cuisine, poi is a paste made from taro root, combined with sweet potatoes or breadfruit
Poke: Hawaiian sashimi; pronounced "po-kay"
Pua Kala: A native plant with white petals and prickly stems; other common names include Hawaiian Poppy and Beach Poppy
Hawaiian Dog Names for Males
Here's a look at some traditional male names in Hawaii, as well as Hawaiian words that would make good options for naming your male dog.
Ahe: A gentle breeze
Ano: Reverence
Alika: Guardian
Haku: Overseer
Hanale: Man of the house
Hani: Happy
Kahuna: A secret
Kaleo: Sound
Kana: God's judgment
Kapula: Prayers
Kapuni: Favorite
Kawena: Shine or glow
Kawika: The lord's beloved
Keanu: Chill breeze
Keoki: Farmer
Kilohana: Great
Koa: Fighter
Makoa: Bold man
Pika: Rock
Tua: Behind or at the back
Hawaiian Dog Names for Females
Here's a look at some traditional female names in Hawaii, as well as Hawaiian words that would make good options for naming your female dog.
Ailani: High chief
Alani: Orange tree
Apikalia: My father's delight
Haukea: Snow white
Haunani: Snow beauty
Hokulani: Divine star
Iekika: Seer
Kakalina: Pure
Kala: Princess
Kalea: Joyful
Kehaulani: Dew from the sky
Kekepania: Woman with crown
Lahela: Sheep's friend
Leilani: Heavenly woman
Leinani: Gorgeous child
Lokelani: Divine rose
Luana: Happiness
Malie: Serene
Mele: Rebellious woman
Nalani: Quiet skies
Unisex Hawaiian Dog Names
Many traditional Hawaiian names are commonly used to name babies of all genders, and many of them make excellent options for dog names.
Akela: Graceful and noble
Healani: Haze from the heavens
Ipo: Sweetheart
Kahula: Dancing
Kai: From the sea
Kaimana: Power of the sea
Kaipo: Darling
Kalama: Tree of ebony
Kalani: Of the heavens
Kamaka: Child
Kamea: The one and only
Kanoa: Ordinary person
Kawai: From water
Kawelo: Family treasure
Keao: Light of the day
Kini: Abundance
Lono: New information
Makamae: My precious
Makani: The wind
Moana: From the ocean
Find the Perfect Hawaiian Dog Name
The Hawaiian language is as filled with beautiful words and phrases as the islands themselves have breathtaking sights. It's no wonder that when it comes to choosing a unique name for their dog, many people may draw their inspiration from America's youngest state.