100+ Best Pug Names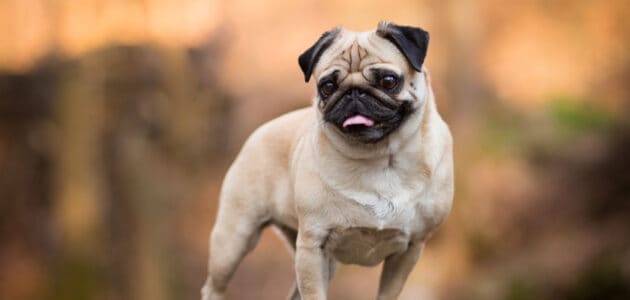 All dogs are cute but let's face it, there's something extra special about a pug's squishy face and bulging eyeballs. This adorable dog breed is not only unique but hilarious. We're serious — everything from their facial expressions to their occasional gurgles will have you clutching your sides in laughter.
Pugs may love to play with their owners and cause mischief around the house, but they're far from the most active dog breed. They require a moderate level of exercise and can live happily in apartments as long as they receive plenty of love and attention. Oh, and don't forget the snacks!
If you're thinking of welcoming a pug into your home, you may be on a quest to find them the perfect name. In our article, you'll find hundreds of funny, sweet, and charming pug names that you, your friends, and your family will love.
Hilarious Pug Names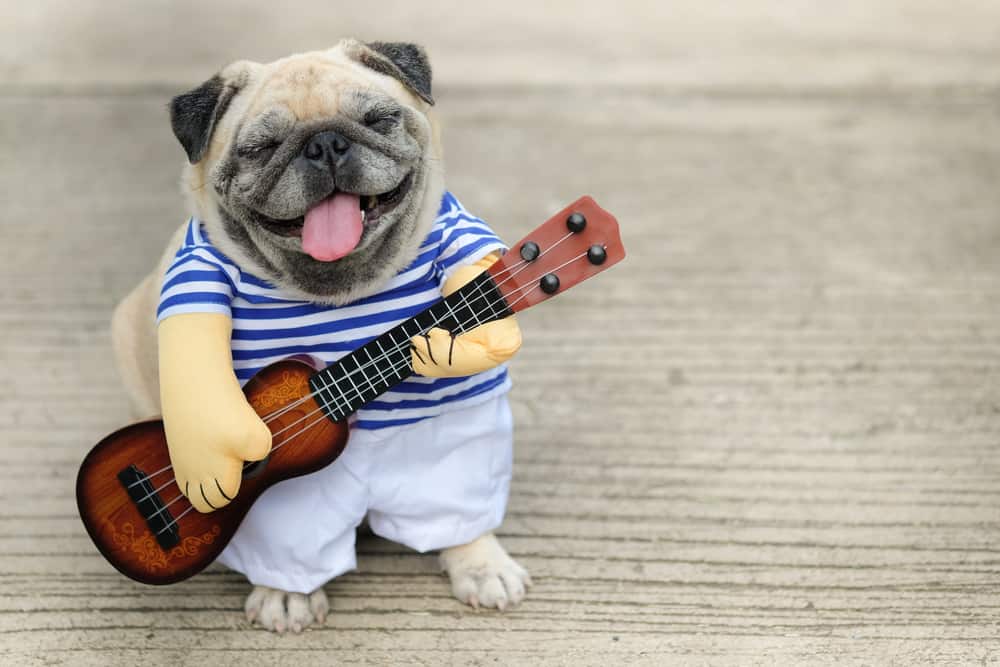 Pugs have unique characteristics and goofy personalities, making them perfect candidates for puntastic names. Our list of hilarious pug names will have you slapping your knee whether you want to give your dog a punny name or not.
Consider one of the following options if you want your pug to have a name no one will ever forget.
Al Pugcino
Notorious P.U.G.
Pugaccino
Puggles
Puginator
Puglas
Pugarito
Pugaritta
Pugs Bunny
Pugsley
Pugsworth
Pugsy
Pugzilla
Sir Pugs-a-Lot
Movie, Cartoon, and TV Show-Inspired Pug Names
Pugs are known for their wide grins and expressive faces. So much so that many of them have been cast in commercials, cartoons, TV shows, and movies over the last several decades. In fact, many pug-owners fell in love with this dog breed after seeing them on the big screen for the first time.
With all the exposure that pugs receive, it's no wonder that they are now one of the most popular dog breeds on the planet.
Below, you'll find the names of some seriously famous show pugs.
Alan (from "King of Queens")
Antonia (from "The Drew Carey Show")
Frank (from "Men in Black)
Jack Bauer (from Kingsman: The Secret Service")
Lieutenant Pug (from "101 Dalmatians: The Series")
Mabel (from "Dog Days")
Mel (from "The Secret Life of Pets)
Mittens (from "The Campaign")
Otis (from "The Adventures of Milo and Otis")
Patrick (from the British comedy "Patrick")
Percy (from "Pocahontas")
Poundcake (from "The Campaign)
Precious (from "The Nut Job")
Rufus (from "Breakin' All The Rules")
Sebastian (from "Beverly Hills Chihuahua")
Best Pug Names
Finding the perfect name for your pug isn't always an easy thing to do — especially when there are hundreds of silly and adorable names to choose from. We selected some of the most popular pug names of the year and split them up by gender, to help you pick the best possible name for your little nugget on four paws. Enjoy!
For Male Pugs
Bean
Bruno
Bruce
Buddha
Buckley
Buster
Deuce
Dexter
Doug
Eddie
Edgar
Henry
Junior
Gus
Pete
Louie
Mambo
Marty
Mojo
Murphy
Rodney
Seymour
Stanley
Stuart
Stumpy
Walter
Winston
Wrinkles
Yoda
For Female Pugs
Baby
Bailey
Bella
Daisy
Dixie
Lily
Lola
Lulu
Maggie
Margaret
Molly
Munchkin
Olive
Penny
Piggie
Pixie
Poppy
Pumpkin
Rosie
Rudy
Shorty
Stella
Teenie
Top Names for Apricot, Fawn, and Silver Pugs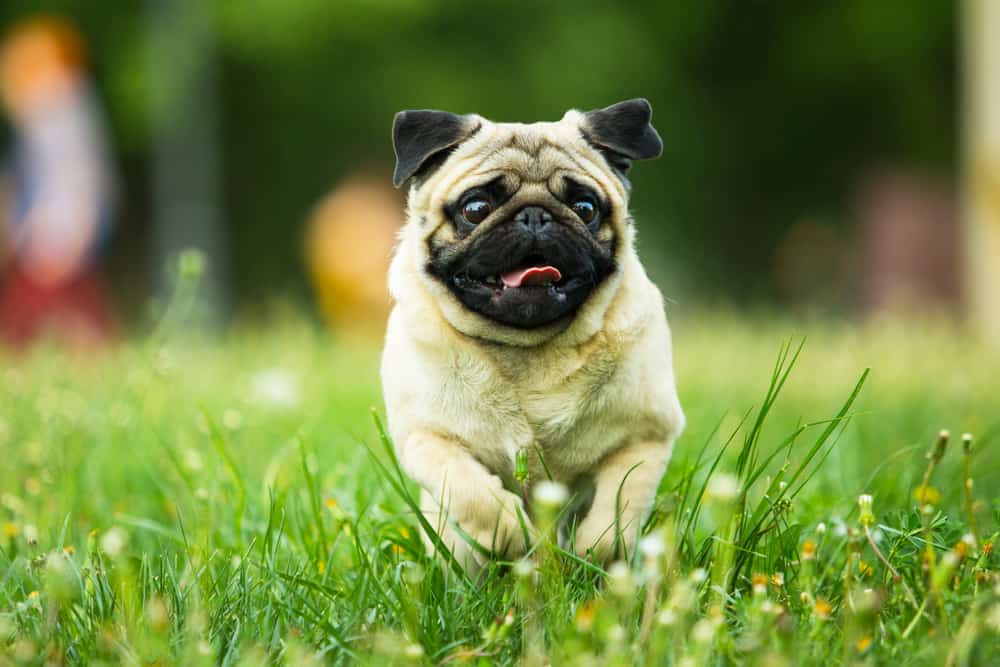 When trying to find a suitable name for your pug, you can consider the color of their coat to narrow down your search. The color of your future pug will depend on the breeder you buy from. So if you'd like to get a pug with a golden coat, keep an eye for a breeder that sells apricot and fawn-colored pugs. Keep in mind, however, that silver pugs are the rarest of all.
If you're looking for the perfect name for your apricot, fawn, or silver-haired pug, you'll love the following names.
Almond
Amaretto
Amber
Bamboo
Banana
Brie
Buckwheat
Butterball
Buttercup
Butters
Butterscotch
Caramel
Cashew
Chai
Champagne
Cheddar
Cheesecake
Chestnut
Cookie
Cornbread
Cream Puff
Dumpling
Goldie
Graham
Hazel
Honey
Ice Cream
Marigold
Muffin
Nacho
Noodle
Nutmeg
Nugget
Peanut
Pearl
Pistachio
Popcorn
Sandy
Sesame
Shortcake
Strudel
Sunshine
Toffee
Twinkie
Waffles
Wheaton
Whiskey
Top Names for Black Pugs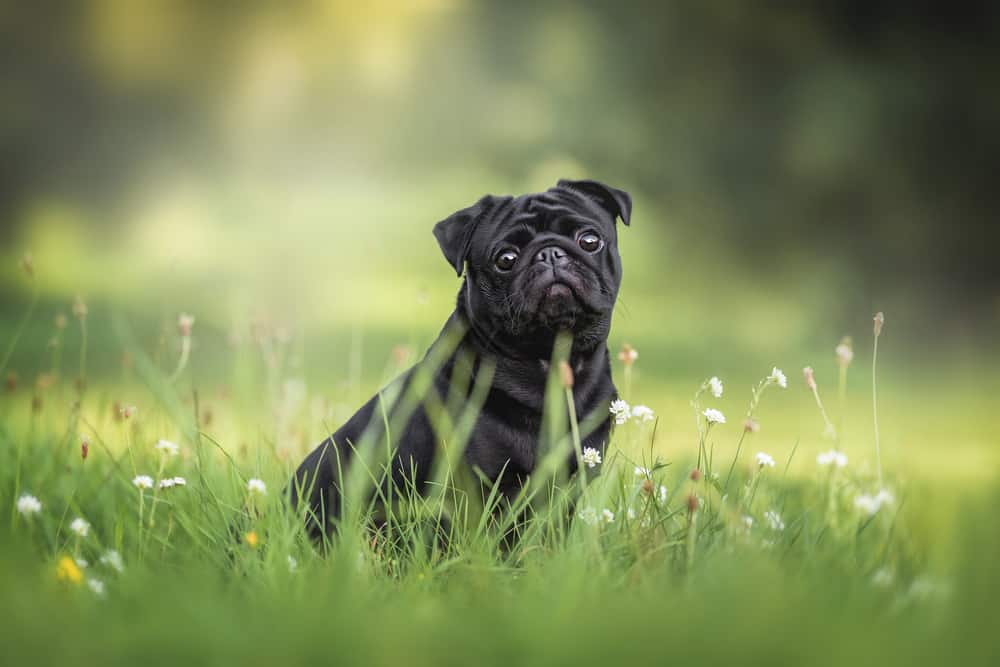 Most pugs have a light coat that borders on apricot to fawn, making black pugs rarer to come by. Besides appearances, there aren't many differences between apricot, fawn, silver, and black pugs. Well, except for the fact that it can be a little more challenging to photograph a black pug. So, keep this in mind if you plan on turning your pug into an internet sensation.
If you're looking for the perfect name for a little, black pug, you'll find plenty of options below.
Ash
Bear
Berry
Charcoal
Coco
Cola
Coal
Coffee
Dahlia
Dakota
Domino
Ebony
Ember
Emery
Espresso
Fudge
Guinness
Hershey
Ink
Jett
Lava
Morticia
Oreo
Panda
Pepper
Pudding
Raven
Roast
Shadow
Smoky
Tux
Twyla
Naming Your Pug
Sometimes, choosing a name for a pug can be a hard thing to do until you have them in front of you. Everything from your pug's coat and traits to their personality and energy levels can influence their namesake. The best thing to do is just take your time and look through the many options the internet has to offer.
If you're thinking of getting a pug, research the breed and take your time when finding a breeder. When you take the steps to find a responsible breeder, you're ensuring that your future pup has the best chance at a happy and healthy life. Although getting a dog is indeed a huge commitment, there are few things better than having a four-legged best friend who loves you more than life itself.
We hope that you find the best possible name for the newest addition to your family. And we wish you both a long and beautiful life together.