180+ Kawaii Japanese Cat Names for Your Gorgeous Feline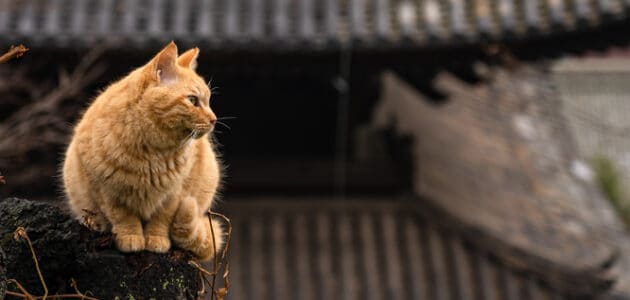 Japan loves cats. Walk down the bustling streets of Tokyo and it won't be long before you spot a kitty café or a Maneki Neko, a beckoning cat statue thought to bring good fortune, adorning a shop window. Go into a grocery store and you'll easily find cat-themed food packaging. There are even several cat islands – yes, islands where there are more feline residents than people – scattered all around Japan.
Clearly, there's no better way to honor your feline than by giving them a name inspired from the Land of the Rising Sun.
Whether you're paying homage to your Japanese ancestry, love Japanese culture, or are a dedicated otaku, here are over 180 Japanese names for your furry feline. You're sure to find one that's the purrfect match for their personality.
Names Inspired by Places in Japan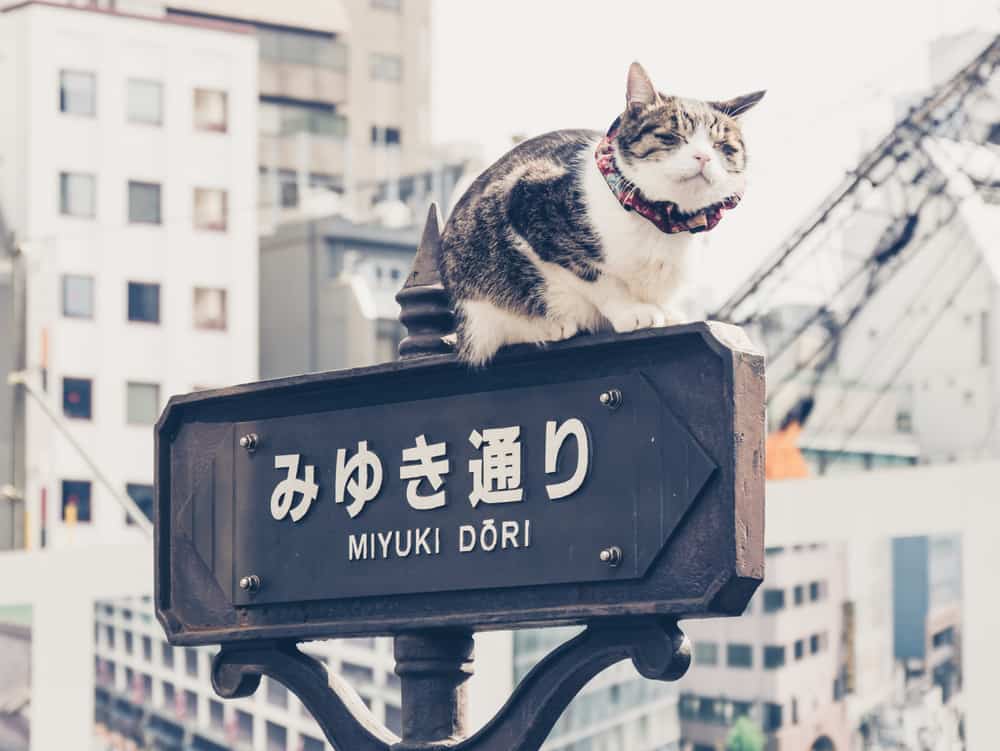 Japan has plenty of places that make for beautiful and interesting cat names. You can even pick a place based on what it's famous for. If you love Japan's traditional culture, you could name your furbaby after the cultural capital, Kyoto. If you're in love with Japanese street food, you could name your kitten after Osaka, a city so famous for its food it's nicknamed the nation's kitchen (tenka no daidokoro).
Speaking of which, if you're a foodie, make sure to also check out our food-inspired Japanese cat names a little further down!
Aomori: Experiencing around 312 inches of snow annually, Aomori City is the world's snowiest city, making it the perfect name for a white feline.
Arita: Recognized as the birthplace of porcelain in Japan.
Beppu: City and spa resort known for its onsen (hot springs), and the Hells of Beppu Beppu is an ideal name for a fierce furbaby.
Furano: Well-known for its beautiful lavender fields.
Hakone: An onsen town known for its natural beauty and breathtaking views of Mount Fuji; an apt name for a gorgeous furbaby.
Hokkaido: Name of Japan's northernmost main island.
Honshu: Japan's largest main island, where Tokyo, Kyoto and Osaka are situated.
Ise: Home to Japan's most sacred Shinto shrine, Ise Jingū.
Kōfu: Famous for its wine and fruit, as well as Kōfu castle.
Kyoto: The cultural capital of Japan, boasting dozens of temples, Shinto shrines and traditional gardens. Also well-known for matcha, tofu, its many tea houses and geisha.
Mito: Known for Natto (fermented soybeans) and Kairakuen Garden, one of Japan's three great gardens.
Nagano: Famous for its large ski resorts and powder snow.
Nara: Famous for its gorgeous temples and friendly deer that bow to visitors. Naming your cat Nara is a great way to honor their friendly nature – even if they don't bow to you!
Nikkō: Nikkō is home to the mausoleum of Edo shogunate founder, Tokugawa Ieyasu, as well as the most lavish shrine, Toshogu shrine. If your kitten loves the finer things in life (aka top-quality meals and sleeping on your expensive cushions), Nikkō will fit them perfectly.
Osaka: A foodie's paradise – the phrase eating yourself bankrupt (kuidaore) is also associated with Osaka.
Otaru: A city famous for glassware, music boxes and its canal.
Sapporo: Renowned for its skiing, yearly Snow Festival and beer. The capital of Hokkaido.
Tokyo: Capital city of Japan; a hub for art and culture, and famous for its stunning modern architecture.
Japanese Cat Names Based on Nature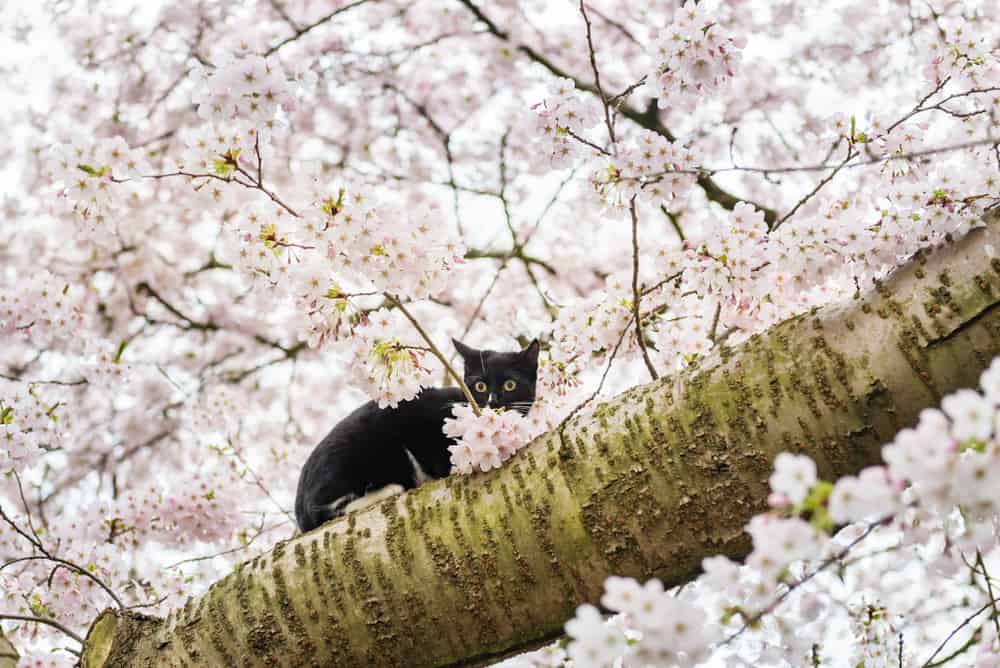 Mount Fuji, Nachi Falls, bamboo groves, Okinawa's deep blue seas – Japan is filled to the brim with alluring natural wonders. Giving your kitten a nature-inspired Japanese name will pay homage to the beautiful nature found all across Japan (and your cat's own beauty!).
Aki:
Ame:
Arashi:
Ayame: Iris.
Fuji: After Mount Fuji.
Fuyu:
Hare:
Hikari:
Ike:
Iwa:
Izumi:
Kawa:
Kazan:
Kaze:
Kemuri:
Kori:
Kosame: Light rain.
Kumo:
Kumori:
Kusa:
Mizu:
Mori:
Moya:
Nami:
Natsu:
Oka:
Shima:
Shimo:
Shizen:
Suiren: Water lily.
Suna:
Taki:
Tsuchi:
Tsuki:
Umi:
Yama:
Yami:
Yoru:
Kawaii Japanese Cat Names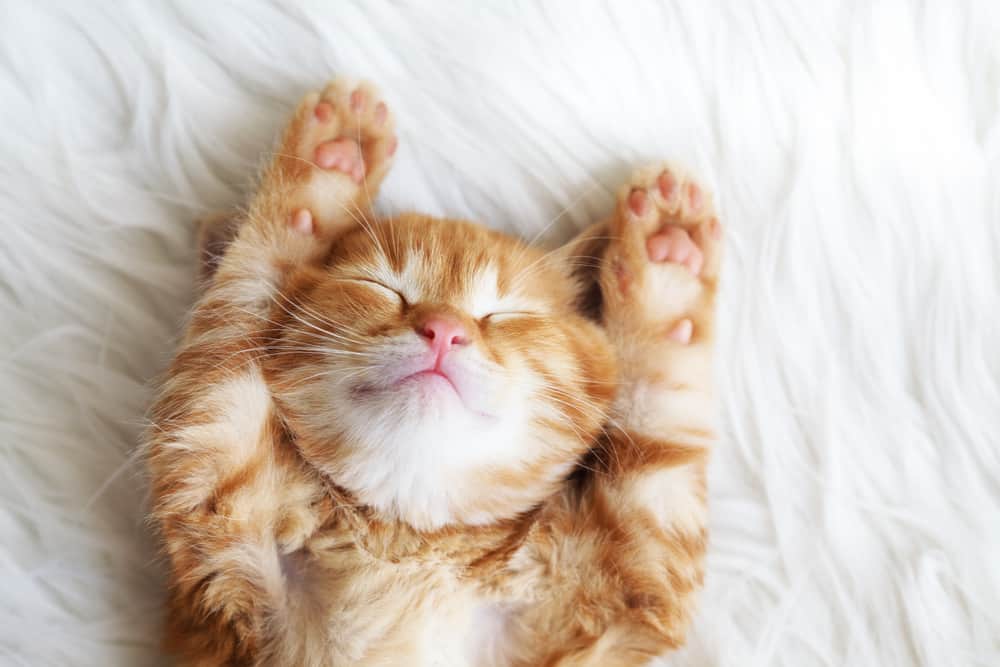 "Kawaii" (cute) culture is prevalent in all aspects of day-to-day life in Japan, from fashion, art and toys, to popular culture and even food. If you too love everything "kawaii," you'll definitely appreciate these adorable Japanese cat names. For even more adorableness, add "chan" after these words – it means you find your furbaby endearing!
Aiko: After Princess Toshi.
Aimi: Beautiful love.
Chibi:
Chō:
Emi: Blessing, beauty.
Fuwafuwa: Fluffy, light.
Hanako: Meaning flower child.
Hashi:
Hayami: Rare beauty.
Hoshi:
Kaida: Small dragon.
Maneki: After the beckoning cat statue.
Miku: After Hatsune Miku, the most famous vocaloid.
Nezumi:
Nyan:
Rilakkuma: After San-X's iconic bear character.
Suki: To love.
Susu:
Suzu:
Takara: Treasure.
Tama:
Tenshi:
Tomoe: Meaning blessing.
Yuki:
Food-Inspired Japanese Cat Names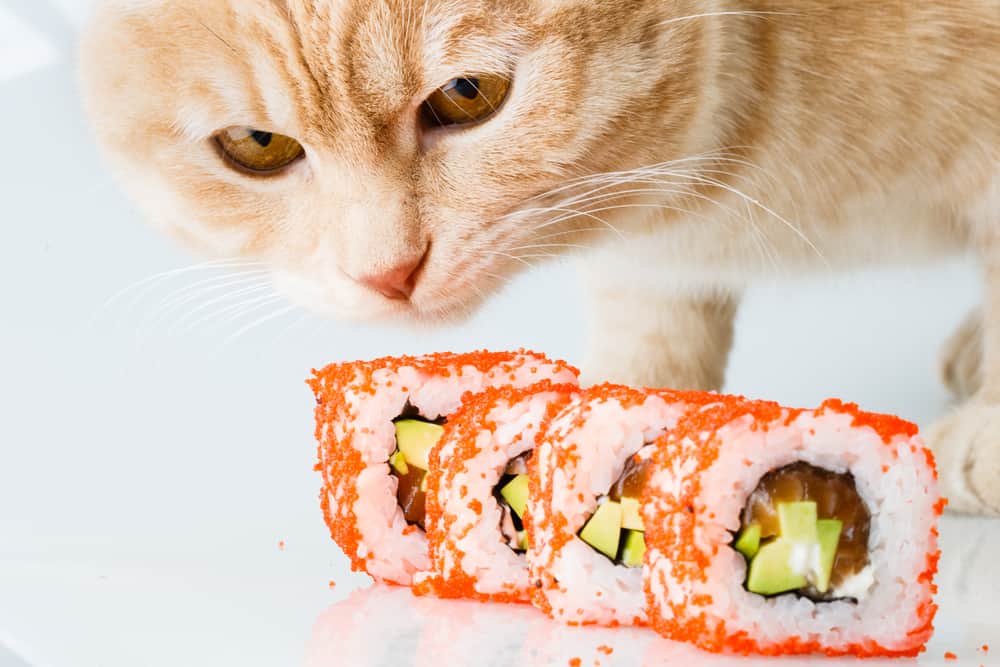 Known for its rich and unique food culture, Japan has plenty of mouth-watering culinary delights, our personal favorites being ramen, yakisoba and wagashi (traditional sweets). If you're a big foodie – and have dreams about slurping up noodles, or trying takoyaki in Osaka – you'll fall in love with these Japanese food-inspired cat names. Hopefully, checking out these suggestions won't leave you too hungry!
Adzuki: Red bean.
Bento: A packed lunch meal, usually in a cute box.
Dashi: A stock known for its umami, used for flavoring.
Ebi:
Gyoza: Japanese dumplings.
Matcha: A beverage made from powdered green tea leaves, revered for its health benefits.
Michelin: Because Tokyo has more Michelin star restaurants than any other city in the world.
Mirin: Sweet rice wine.
Miso: Traditional soup made up of dashi stock and miso paste.
Natto: Fermented soybeans.
Nori: Dried seaweed.
Ocha:
Oden: A comforting hot pot dish typically eaten during winter – the food is simmered in stock.
Onigiri: A rice ball wrapped with nori. It typically has a vegetable, meat or fish filling.
Ponzu: A citrus sauce.
Ramen: A hearty noodle soup, usually served with egg, sliced pork and vegetables.
Sashimi: Thin slices of high quality fresh, raw fish or meat.
Sencha: Type of Japanese green tea.
Soba: Buckwheat noodles, served hot or cold.
Sushi: Rice topped with meat or fish, usually served with wasabi and soy sauce.
Tamago:
Tofu: Bean curd.
Udon: Thick wheat flour noodles.
Umami: Meaning "pleasant savory taste," known as the fifth taste.
Ume:
Unagi: Freshwater eel.
Wagashi: Traditional Japanese sweets, typically served with green tea.
Wagyu: After Wagyu beef, one of the most sought-after delicacies thanks to its exceptional taste.
Wasabi: Spicy green condiment.
Washoku: Traditional Japanese cuisine (washoku) is recognized as an Intangible Cultural Heritage by the United Nations Educational, Scientific and Cultural Organization (UNESCO).
Yuba: Tofu skin.
Cat Names Inspired by Anime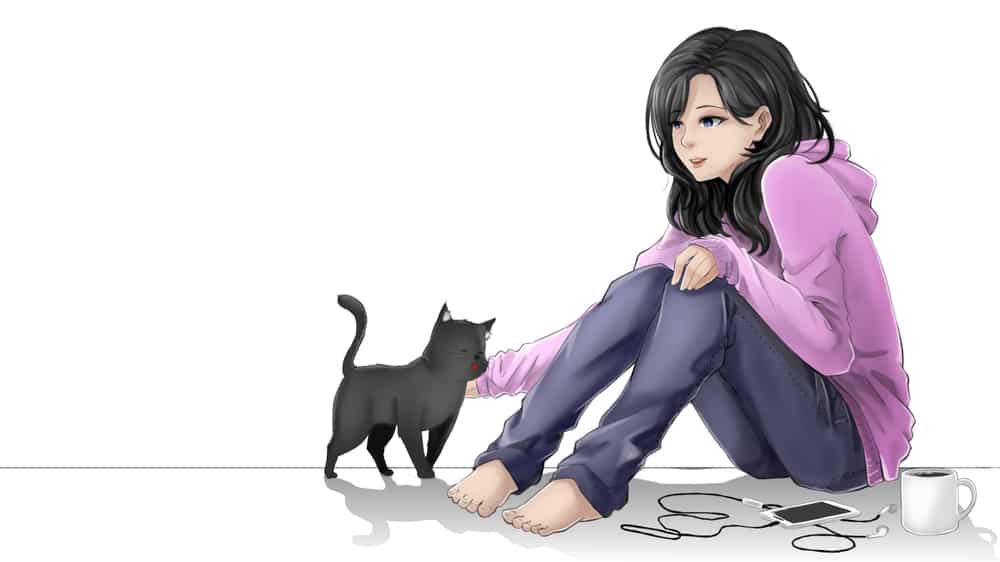 If a trip to Akihabara is on your bucket list, and you spend your evenings binging Crunchyroll, why not pay homage to your passion with these anime cat names? If you don't find one you like here, make sure to also browse our dedicated list for anime-inspired cat names.
Artemis: From Sailor Moon.
Arthur: From Code Geass.
Baron: From The Cat Returns.
Blair: From Soul Eater.
Chi: From Chi's Sweet Home.
Gib: From Mary and the Witch's Flower.
Happy: From Fairy Tail.
Jiji: From Kiki's Delivery Service.
Kamineko: From Azumanga Daioh.
Karin: From Dragon Ball.
Kirara: From
Kyo: From Fruits Basket.
Luna: From Sailor Moon.
Madara (Nyanko-sensei): From Natsume's Book of Friends.
Meowth: From Pokémon.
Mew: From Pokémon.
Puck: From Re:Zero.
Sakamoto: From My Ordinary Life.
Taro: From A Whisker Away.
Tib: From Mary and the Witch's Flower.
Japanese Cat Names Based on Coat Hue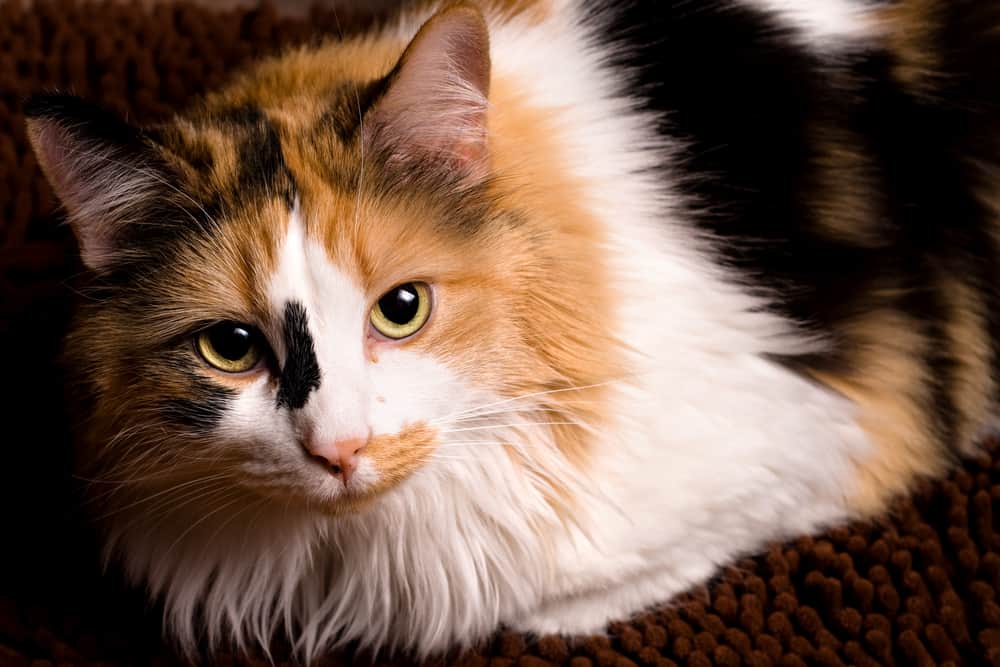 If you want a Japanese name that reflects your cat's appearance, consider translating words associated with their coat hue into Japanese. We've come up with some ideas for you to give you a starting point.
Aka:
Chairo:
Giniro:
Haiiro:
Kiiro:
Kiniro:
Koshō:
Kuma:
Kuro:
Masshiro: Pure white.
Orenji:
Shinku: Deep red.
Shio:
Shiro:
Tora:
Cat Names From Japanese Mythology and Folklore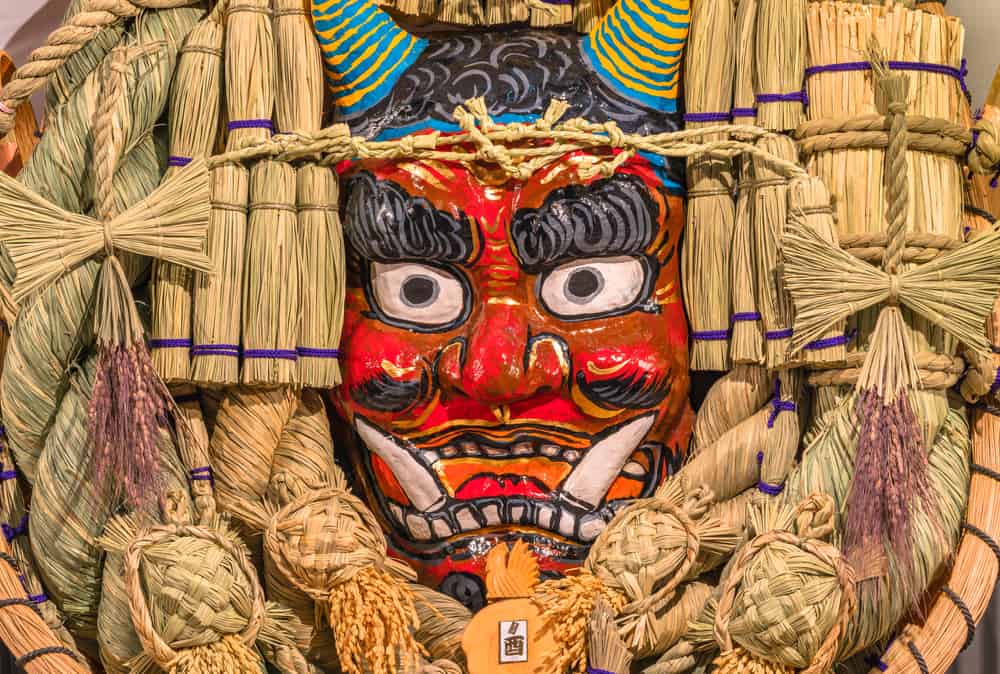 Japanese mythology and folklore are filled with fascinating figures, deities, spirits and creatures. As such, it should come as no surprise that they can serve as fantastic inspiration for your furbaby's name.
Amaterasu: Sun goddess.
Bakeneko: A cat yōkai (supernatural creature).
Ebisu: One of the Seven Gods of Fortune, associated with luck, fishermen and merchants.
Fūjin: Wind god.
Hotei: Another God of Fortune, associated with happiness, generosity and contentment.
Inari: God of prosperity, associated with agriculture and rice.
Kappa: A reptile-like yōkai that inhabits rivers and ponds, known for mischief – a fitting name for a playful feline.
Kintarō: Hero in Japanese folklore, a brave child that possessed exceptional strength.
Momotarō: Meaning "peach boy," a famous hero that fought oni (demons), born from a peach.
Namazu: A giant catfish that lives under Japan and triggers earthquakes, ideal name for a feline that can't help but cause chaos around the house!
Raijin: Thunder and lightning god.
Raijū: Lightning beast, companion of Raijin.
Suijin: Water god.
Tenjin: Deity of scholarship and learning.
Tsukuyomi: Moon god.
Yamato: Short for Yamato Takeru, a legendary hero known for his bravery and courage, a great name for an adventurous kitten.
Yōsei:
Top Japanese Cat Names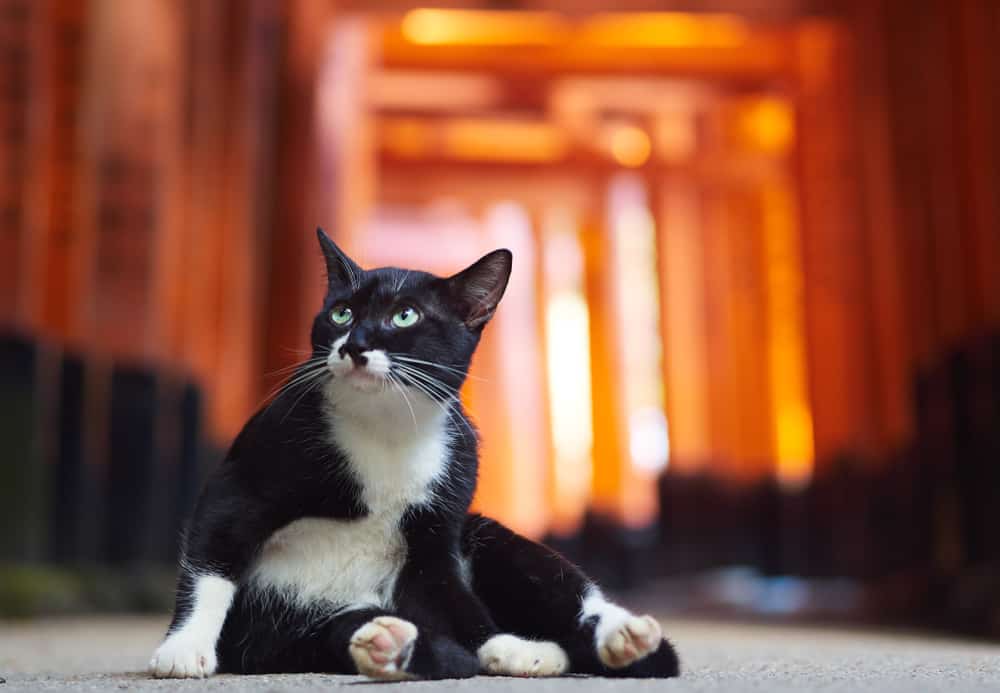 Haven't found the perfect name yet, and still in need of some more inspiration? According to a recent survey conducted by Japanese pet insurance company Anicom, these are the most popular female and male cat names in Japan.
Top Male Names
Chachamaru:
Daifuku: Mochi with a sweet bean filling.
Fuku: Good fortune.
Haru:
Kohaku: Amber.
Kotaro: Male first name.
Kotetsu: Small iron.
Maron: Meaning "chestnut" in French.
Maru:
Mugi:
Reo:
Reon:
Sora:
Ten:
Top Female Names
Chacha:
Hana:
Hime:
Kinako: Roasted soybean flour.
Koko:
Koume: Small plum.
Mei:
Momo:
Mugi:
Nana:
Rin:
Runa:
Sakura: Cherry blossom.
Choosing the Perfect Japanese Cat Name
Japan is a cat lover's paradise, and its beautiful language and rich culture offers limitless inspiration for cat names. Of course, having so many options can make it feel almost impossible to pick just one! If you're getting overwhelmed with all the name ideas, considering your cat's temperament, history, and appearance (like their coat markings or eye color) can help you narrow down your options.
Before you come to a final decision, make sure to listen to how the names written here are pronounced, especially if you have no personal experience of the Japanese language.