150+ Orange Cat Names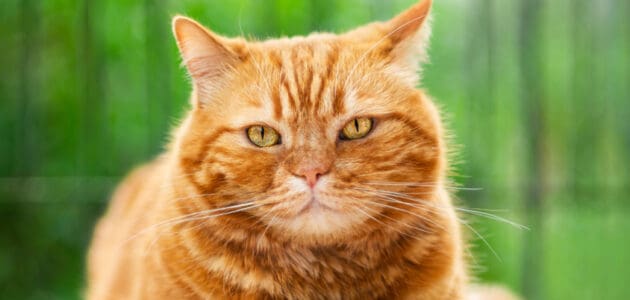 There is no doubt that cats are one of the most satisfying and amusing pets around. Fiercely independent, yet also full of quirky fun, cats can bring oodles of joy and entertainment to a household. While bringing your new cat home is an exciting affair, naming said feline is also a fun job, especially if they are of the orange-colored variety.
Orange cats come in all shapes and sizes, which means there is no shortage of names. We've compiled a list of our top 10 favorite orange cat names, along with recommendations for special categories. Whether you're after a fun name or one that ascribes to your cat's colorful personality, we've got the ultimate list below.
10 Favorite Orange Cat Names
Choosing a favorite orange cat name isn't easy, especially when there are so many fun and unusual options. Below is a list of our favorites, many of which are inspired by food!
Cinder – for a cat with a "smoldering" personality.
Chuck Norris – the famous red-headed action star. This name would suit an active cat.
Heathcliff – the beloved cartoon cat.
Jupiter – great for cats that are big and round.
Marmalade – an orange jam-like spread that suits a cat with a lot of zest.
Nacho – another cute food reference!
Persimmon – the plump orange fruit.
Popcorn – while it is technically white, cheddar popcorn isn't!
Velveeta – yes, like the cheese.
Whiskey – the infamous alcoholic sipping drink.
10 Famous Orange Cat Names

Orange cats are popular in films and animated movies. Below are some of the most well-known orange cats in print and on screen:
Aslan – the bold, talking lion from The Chronicles of Narnia.
Azrael – Gargamel's beloved cat in the Smurfs.
Crookshanks – Hermione's lovely orange cat in the Harry Potter series.
Garfield – one of the world's most-loved sarcastic cartoon cats.
Hobbes – while Hobbes is technically a stuffed tiger, he still fits the bill!
Nala – the strong, wise lioness from The Lion King.
Puss in Boots – that sword-wielding cat from the Shrek films.
Orion – the orange and white cat from the Men In Black film.
Tigger – like Hobbes, Tigger is a tiger, but it makes for a great orange cat name.
Tony – who doesn't love the orange mascot for Kellogg's Frosted Flakes breakfast cereal?
10 Fun Orange Cat Names
Some names are fun because of how they sound and what they refer to. Below are fun orange options to choose from:
Apollo – a word that means "destroyer". Great for orange felines who have a habit of breaking things!
Colonel Mustard – whether they "did it" with the lead pipe in the conservatory, this name is great for cats who get into mischief.
Elmo – the cuddly character from the Muppets. Would suit small, cute cats.
Gingersnap – this is an endearing name that appeals to a light orange cat.
Jack O' Lantern – for cats born around Halloween or who sport bright orange colors.
Marmite – you either love it or hate it! This yeast extract makes for a great name.
Prince Harry – known for his ginger hair, this makes for a 'royal' feline name.
Rusty – great for cats with an orange-brown hue.
Sherbet – a fun name for a cat that's bright and boisterous.
Terracotta – a clay with a reddish-brown coloring. This name would suit cats of a similar shade.
10 Orange Cat Names Associated With Food

When it comes to orange cats, food is something that often comes to mind. Below are our top 10 names that are inspired by tasty delights.
Amaretto – a sweet orange-colored liqueur.
Cheddar – the most well-known cheese of all.
Clementine – a type of small orange.
Creamsicle – the much-loved vanilla and orange ice-cream on a stick.
Dorito – those delicious triangular cheesy nacho chips.
Fanta – the famous orange soda.
Ginger – a spicy root or an orange color.
Honey – the sweet, natural yellow-orange nectar made from bees.
Mango – a luscious tropical fruit.
Sweet Potato – a sweet, orange-fleshed root vegetable.
10 Fiery Orange Cat Names

Orange also conjures the notion of fire. If you want to appeal to the fire-like aspects of your orange cat, here are some good options.
Blaze – if your cat has a lot of energy to burn, this will suit them well.
Ember – for a cat with a bit of "spark".
Firecracker – ideal for felines with "explosive" personalities.
Firefly – great for cats with a "glow" about them.
Flame – suited to cats with bright orange fur.
Fuego – great if you're looking for something Spanish-inclined.
Inferno – ideal for large cats with very orange fur or big personalities.
Phoenix – if you want to capture the notion of "rebirth", this ancient bird is said to regenerate through fire and ash.
Singe – for an orange cat with a bit of "spunk".
Sparks – whether they light up your life through their fur or their character, this is a cute and easy name to say.
10 Badass Orange Cat Names
If your cat is a rebel, a fighter, or just a tough character, below are some names that will appeal to its fiery nature.
Archie – the feisty redheaded teenager from the Archie comic series.
Axl Rose – the rebellious ginger-haired lead singer of Guns 'n Roses.
Clay – a dense earth material that is often reddy-brown in color.
Conan – a fierce character from Conan the Barbarian.
Firestarter – a reference to a Stephen King book about a child who is pyrokinetic.
Mimosa – a cocktail made with orange juice and champagne.
Pepper Potts – a fiery female character in the Marvel comics.
Poison Ivy – a poisonous plant that can have reddish leaves.
Sahara – a famous African desert.
Scorch – a word meaning "to burn".
10 Orange Floral Cat Names

Floral words are great for orange cats. While some of these flowers range between yellow and orange, they make terrific names.
Mimosa – also reminiscent of the cocktail, mimosa's have small and vibrant yellow-orange buds. This makes a great unisex name for a cat.
Sunflower – big and bold, these flowers can reach heights of 16 feet. Great for cats with big personas!
Marigold – these big flowers explode with orange. The name would suit a feminine feline.
Tiger Lily – tropical flowers with beautiful spotted petals. A great name for exotic cats.
Cosmos – this would suit a boyish cat, representing the plant's simple, bright flowers.
Poppy – while these are usually red, poppies can also be orange. A fun and simple name for a fun and simple cat.
Zinnea – these big blooms have intricate petals and would fit a female cat.
Lantana – a multi-colored flower that would suit a cat with a diverse personality!
Tulip – these popular cup-like flowers would make a great name for a playful or boisterous cat.
Buttercup – this flower's delicate petals would also match the name for a delicate cat.
10 Spicy Orange Cat Names
The thought of orange can denote hints of spice! If you're after this kind of connotation for your orange cat, below are some names with a bit of pizzazz.
Chili
Cinnamon
Clove
Curry
Ginger
Nutmeg
Paprika
Pepper
Saffron
Tabasco
Male Orange Cat Names
Appealing to the sex of your cat is another way to go. If you're after something for the male cat in your life, below are names that refer largely to famous men with ginger or orange hair.
Alan Tudyk
Apollo
Archie
Blake Griffin
Chester
Chuckie Finster – from "The Rugrats"
Conan O'Brien
Damian Lewis
Ed Sheeran
Eddie Redmayne
Eric Stoltz
Ernie
Ewan McGregor
Heathcliff
Jesse Tyler Ferguson
Kenneth Branagh
Kennedy
Mario Batalli
Michael Fassbender
Opie
Ossie
Peter Pan
Raggedy Andy
Ron Howard
Ron Weasley
Rufus
Rupert Grint
Seth Green
Shaun White
Sid
Tin Tin
Tom Hiddleston
Weasley
Willie Nelson
Yosemite Sam
Female Orange Cat Names
For the female cat, it is fun to appeal to names that are evocative of feminine energy. Below are famous women or characters with orange hair.
Adele
Alyson Hannigan
Amber Rose
Amy Adams
Anastasia
Annie
Ann Margaret
Ariel
Bella Thorne
Bernadette Peters
Bette Midler
Black Widow
Bryce Dallas Howard
Buttercup
Christina Hendricks
Cynthia Nixon
Daphne
Debra Messing
Ellie Kemper
Emma Stone
Fergie
Fiona (Princess Fiona from Shrek)
Gem
Grace Adler
Isla Fisher
Jessica Chastain
Jessica Rabbit
Julia Roberts
Julianne Moore
Karen Gillan
Kate Mara
Kate Walsh
Kathy Griffin
Kim Possible
Lana Del Rey
Lindsey Lohan
Lois Griffin
Lucille Ball
Lucy
Marcia Cross
Mary Jane Watson
Maureen O'Hara
Miranda Hobbs
Molly Ringwald
Frizzle from "The Magic School Bus"
Naomi Judd
Pebbles Flintstone
Pepper Ann
Pippi Longstocking
Poppy
Queen Elizabeth
Raggedy Ann
Reba McEntire
Ribbons
Rose Leslie
Sansa Stark
Satine
Scarlet Witch
Scully
Sharon Osbourne
Shirley MacLaine
Sophie Turner
Strawberry Shortcake
Susan Sarandon
Tabbytha
Tabitha
Wilma Flintstone
Winnie
Wynonna Judd
Choosing a Name for Your Orange Cat
Choosing the best name for your cat always comes down to personal choice. But, if you're after one for an orange-colored cat, the lists above can be a useful guide for finding the one that fits the appearance and personality of your special feline.
For example, if your cat's coloring is distinct, you could go with names that appeal to categories such as food or flowers.
Alternatively, cats with a bit of "spark" would do well with a name from the fiery category. Or, if your kitty stands out because of its big personality, you could go for a famous orange cat name instead.
Whatever you decide, have fun!