The 10 Best Aquarium Filters to Keep Your Tank Clean in 2023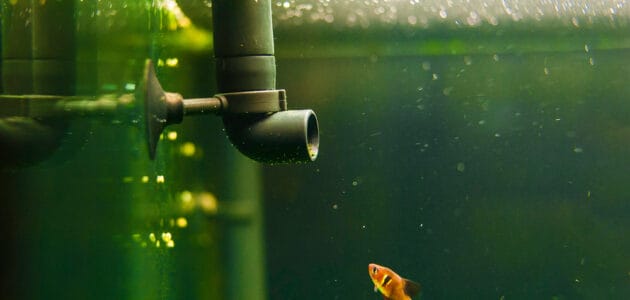 As a fishkeeper, you should know the importance of creating the perfect environment for your aquarium. Filtration doesn't only make your tank clean and sparkly. It also helps keep your aquatic pets healthy. It removes waste, decay, and even invisible chemicals that could be potentially harmful to your tank's inhabitants.
In other words, aquarium filtration is not just something that would be nice to have–it's absolutely essential.
Many beginner tank owners often find it difficult to search for the right filter for their setup. Luckily, we're here for you. This article contains everything you need to know about aquarium filtration as well as our picks for the best aquarium filters, factors to consider before buying, and everything else you need to determine which aquarium filtration system is most suitable for your setup.
Factors to Consider When Shopping for Aquarium Filters
Before you go and buy aquarium filters for your tank, let's first talk about the most critical factors you need to consider in an aquarium filter.
Kind
Filters come in many different kinds, from the basic sponge filter to the more variable internal canister-type filter. For instance, you've got power filters, hang-on-back (HOB) filters, undergravel filters, and fluidized bed filters.
Each one has its own features, benefits, and even styles that will suit different types of tanks. If this is your first time hearing about this topic, don't worry because we'll discuss all the finer details further below.
Wattage
Your filtration system is typically the only aspect of your aquarium that will be operational 24/7, so wattage is a significant consideration when choosing which product to buy. Remember, the larger the filtration and the more volume it can circulate, the higher the power consumption.
Recommended Capacity
This factor is measured in flow rate, which is the amount of water that the filter can circulate through itself in an hour. This will be discussed further in its specific section below.
The higher your bioload is, the higher your chosen capacity should be. After all, your filter must be able to service your system appropriately.
If your filter is too strong for your aquarium, it will disturb the substrate and even rip your plants apart, causing stress to your animals. Too little, and it won't be able to filter out all the harmful stuff in your tank. Evidently, installing a filter with the wrong capacity can harm your aquarium.
Media
This refers to the material that does the filtration within the filter system. The water passes through the media, coming out clean and biologically safe on the other end. There are vast filter media choices out there, from filter floss to bio balls and even more exotic options such as lava rock and specialized fluidized media.
When determining the media you want in your filter, keep in mind the type of filtration that it covers, which we'll also discuss further below. Ideally, a single filter product should be able to provide at least biological and mechanical filtration. Some products also include chemical filtration.
Noise Level
Lastly, flowing water can be quite noisy. Filters themselves are powerful little motors designed to handle heavy loads, so you can probably imagine how loud they can get.
If your aquarium is located somewhere that you don't spend a lot of time in, then this factor may not be as important to you. However, if your aquarium is located in your bedroom, then you should consider going for the noiseless options as the unit is going to be running 24/7.
With these factors out of the way, let's now get into our list of the best aquarium filters you can buy online right now! If you still need more aquarium accessories after finding your filter, we encourage you to check out our list of the best pH meters and heaters for your aquarium.
Top 10 Best Aquarium Filters 2023
Complete Buyer's Guide to Aquarium Filters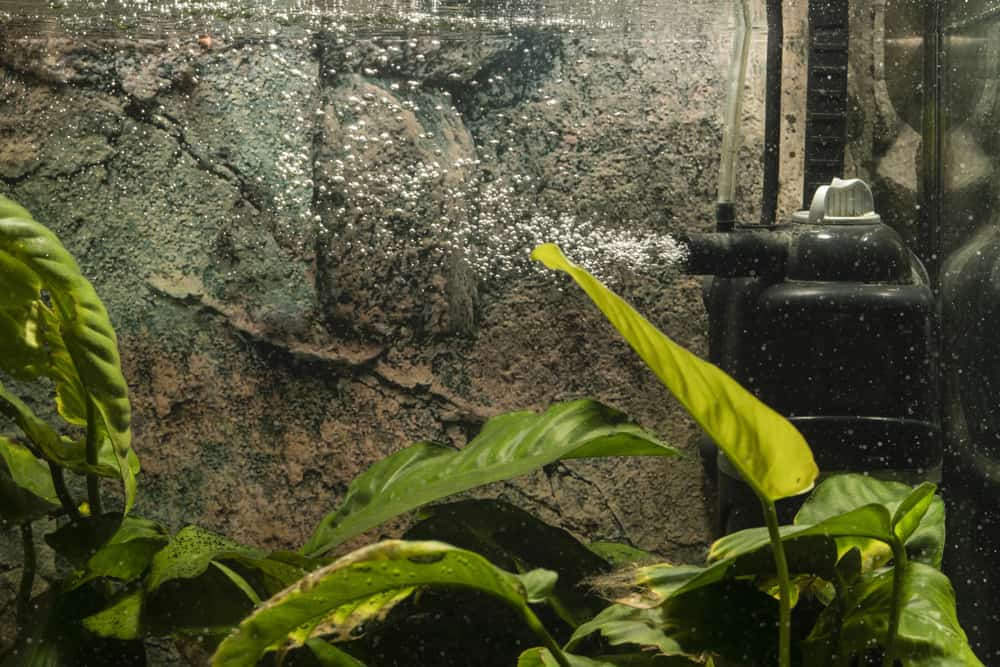 Nature works as a vast system complete with its own methods for mechanical, biological, and even chemical filtration. This is how flora and fauna thrive in their respective environments on the surface of the Earth. Lakes, for instance, where fishes, waterborne critters, and aquatic plants live, have their processes so that the ecosystem remains balanced and life-sustaining.
Of course, compared to lakes and oceans, aquariums are infinitesimally smaller in scale. But if you want a thriving and healthy aquarium, then it's crucial to simulate what happens in nature within our little water-boxes. That is to say; water filtration is an absolute must.
Introduction to Aquarium Filters
Aquarium filters fulfill a lot of different roles in the aquarium. They keep the water running, distributing oxygen, nutrients, and chemicals to various parts of the tank. They provide a current for fishes and other animals to enjoy. Filters even keep the water clear so that your tank remains beautiful and sparkling for you to appreciate.
However, the primary role of an aquarium filter is to keep the water as clean as it can be at all times. And it's not just for aesthetics. Clean water ensures that the environment remains livable for all your aquatic plants and animals. Remember, your fishes depend on their environment to stay alive.
Filters accomplish this by simulating the nitrogen cycle. Decaying organic matter turns into nitrite, a naturally occurring chemical compound that is toxic to animals in large quantities. In nature, there is an abundance of bacteria that feeds on nitrite and turns it into nitrates, which are less toxic but still poisonous in heavy concentrations. However, in ponds, lakes, and oceans, plant life breaks down these nitrates into something else that is harmless for the animals around — an interesting cycle that explains how nature keeps the balance.
Of course, this doesn't happen spontaneously in your little aquarium. You have to do it by design — hence, your aquarium filter. Again, not only does it remove ugly chunks of matter, but it also carries out the nitrogen cycle so that your plants and animals can remain safe and healthy.
Benefits of Using an Aquarium Filter
Keeps the water clean. One of the most noticeable benefits of an aquarium filter is that it keeps the water crystal clear in your tank, improving your aquarium's aesthetics and allowing you to appreciate your underwater kingdom in all its glory.
Makes the nitrogen cycle possible. Your filters also carry out the nitrogen cycle, which breaks down harmful chemicals into harmless ones so that they don't adversely affect your fish and plants.
Fosters a healthy environment. If your flora and fauna are healthy in your aquarium, you're less likely to encounter problems that can cost you both time and money.
Creates water movement. Filters also create currents in your otherwise stagnant aquarium water. These currents distribute oxygen, nutrients, and beneficial chemicals to all parts of your tank. Some fish species also enjoy water movement since it simulates their natural habitat, such as flowing bodies of water.
Introduces other chemicals into the system. Plant fertilizer, medicine, and nutrients can be poured directly into your tank, and you can trust that your filter will distribute it evenly throughout the entire tank.
Important Features of Aquarium Filters
Every aquarium setup is going to have different needs, and every hobbyist is going to have different preferences. This combination of factors is what makes aquarium filters so varied and customizable. With all the options you currently have on the market, it may be challenging to determine what fits you best.
In this section, we'll highlight the important features that you should look for in aquarium filters.
Volume and Occupants of Your Aquarium
The volume and the kind of living things that you keep in your aquarium are of prime consideration when choosing the best aquarium filtration product for your needs. This is because both factors directly impact your filter's primary concern – water.
Simply put, the larger the volume, the stronger the filtration should be. The same goes for the amount of waste that your occupants emit. The more they excrete wastes, the harder your filter works. Thus, these two should go hand in hand for your consideration.
For example, small aquariums with undemanding occupants like plants, shrimps, or Bettas can get away with cheap, low-powered undergravel or sponge filters. Low-capacity internal canisters or submersible filters are also a good choice, as they provide better mechanical filtration than both sponge and undergravel filters.
For aquariums 20 gallons and up with more demanding fishes, like goldfishes, livebearers, or advanced species that require crystal clear water, you should choose hang-on-back systems or larger internal canister filters that could easily handle the load.

Flow Rate
The flow rate is the amount of water that the filter unit can cycle in one hour. This is usually measured in GPH, or gallons per hour. Flow rate is significant because it has direct effects on your aquarium setup. Too much flow can stress your fish and uproot delicate plants, too little can allow harmful chemicals to build up.
A good rule of thumb is to buy a filter unit that can cycle your entire tank 2 to 4 times per hour. To get this, simply multiply the gallons of your tank by the number of desired cycles. For example, the ideal flow rate for a 10-gallon tank is 20-40 GPH, while the ideal flow rate for a 30-gallon tank is 60-120 GPH.
Brand and Build Quality
You also need to consider the brand and build quality. Cheap filters with off-brand parts can sometimes cost you more money in the long run, especially if they malfunction too soon or too many times. A replacement part from an off-brand product could take weeks to arrive, perhaps even causing your fishes and your plants to die during the long wait.
On the other hand, reliable, well-known brands often also have the best quality materials and construction, ensuring that your unit would last for long. Plus, you can easily find replacement parts for standardized products, so if a part of your filter does break, you can replace it faster and with less difficulty.
Filtration Technology
If you want to ensure the best for your tank regardless of the cost, you can find products with advanced models of filtration. Of course, the fancier the system is, the more expensive it is to buy – and the more that could go wrong with it.
This is why it's still more cost-efficient to pursue sturdy, reliable builds that you can trust rather than fancy new models with a lot of frills. If you choose to go down this route, our advice is to look for simple systems that are hard to fail. Features that focus on durability and filtration quality should still be prioritized over other unnecessary tricks.
Size and Visibility
Finally, the size and visibility of your chosen aquarium filter also matter. If you're planning an entirely natural-looking aquarium, for example, a hulking black-and-blue filter pump is going to detract from that look significantly. You need to carefully analyze how prominent the product is so that you can plan your tank's design.

Types of Aquarium Filtration
Fundamentally, every filter works in the same manner. That said, various types of filtration solve different issues in the aquarium. Filter products can have different mixes of these types, but the most necessary filtration to have in your aquarium is mechanical and biological, for reasons we'll outline below.
Mechanical Filtration
Mechanical filtration physically strains out undesirable material from the water. Just think of what coffee filters do for your coffee.
With mechanical filtration, particles that are big enough are caught in the fine filter media, keeping the water crystal clear and free of obscurities. This type of filtration accumulates garbage within itself, so it's still up to you to periodically replace this part of your filter.
Typically, mechanical filtration media includes sponges, filter floss, filter socks, and different kinds of filter foams.
Biological Filtration
Even though the water may look clear, it still contains invisible chemicals that can harm your tank in large amounts.
This is why having beneficial bacteria that will break down these chemicals and convert them into harmless ones is essential in any tank.
Biological filtration can technically be carried out everywhere, as beneficial bacteria have the ability to grow on any surface within your tank. It's still much more efficient to cultivate them in biological media like bio-rings and lava rock, though.
Chemical Filtration
Chemical filtration uses special resins or activated carbon to strip out impurities from the water.
This type of filtration is typically unnecessary unless you're sure that your tank has impurities, such as medications and tannins.
The downside is that chemical filtration media is usually highly absorbent, so you have to replace them once they become saturated with pollutants.

Kinds of Aquarium Filters
Although there are only three types of filtration, you can achieve them by using different kinds of hardware and filter media. This section will discuss the kinds of aquarium filters available on the market today.
Sponge Filter
This kind of aquarium filter is the most basic, requiring only three components: an air pump, a sponge filter medium, and an airline tubing to connect both of them.
It may seem simple, but this system is enough to achieve both mechanical and biological filtration. Mechanical filtration happens when the air from the pump drives water into the sponge filter, drawing the water through the fine pores of the material and straining debris and particles. Meanwhile, biological filtration happens when the sponge starts housing beneficial bacteria, which automatically occurs over time.
Undergravel Filters
A few years back, undergravel filters used to be the preferred choice for beginner aquarists. Today, however, many systems provide better quality filtration and easier maintenance for the same price that you would get undergravel filters.
Just like sponge filters, undergravel filters are powered by air pumps as well. This kind of filter uses your gravel for mechanical filtration, drawing your water under and trapping the large particles in the substrate. It's then broken down by bacteria or eaten by bottom feeders before it passes through a filter pad and circulated back into the tank.
Hang-on-Back Filter
Hang-on-back filters, also known as HOB filters, are some of the most customizable filtration setups for any aquarium.
A HOB filter draws water from your aquarium through a pump and then channels it to a box that hangs outside of your aquarium, through the glass rim. In the box, you can put different kinds of filter media to strain the water and provide mechanical, biological, and even chemical filtration.
Canister Filter
Canister filters do the same thing as HOB filters, except everything happens inside the aquarium.
The canister is typically a cylinder or a box that contains different kinds of filter media, where water can pass through before returning to the tank. The whole process is done with the help of a motor, making canister filters ideal for large or demanding tanks.
Fluidized Bed Filter
Fluidized bed filters need water to flow into a chamber filled with small filter media, like plastic pellets or even sand, making the media swirl like a liquid. This continuous churning greatly encourages the growth of beneficial bacteria as the water that passes through the media is constantly oxygenated.
However, since it relies mainly on just biological filtration, we don't recommend using only this kind of filter. If you really want to use this in your tank, it's still best to have a primary filter to help you with mechanical filtration as well.
Live Aquarium Plants
There is a growing number of aquarists who rely solely on aquarium plants to provide filtration to their tanks.
The pioneer of this method is microbiologist Diana Walstad, who postulated that enough plants in an aquarium could consume the nitrogen and ammonia compounds produced by the inhabitants of your aquarium, providing balance. This practice has since been dubbed the Walstad Method.
That said, just like with fluidized bed filters, we don't recommend depending only on live aquarium plants for your tank's filtration needs. This is especially true if you're a novice aquarist who's not that knowledgeable about aquarium plants yet.
Tips When Installing Aquarium Filters
Of course, different kinds of filters and types of filtration will require slightly different methods for assemblage and installation. But in general, the following tips should help you when putting together and hooking up your filter to your beloved tank.
Prior to installation, lay out all the parts of the filter on a clean, clutter-free surface for easy access. At this point, you should already have a plan in mind as to where you want to put the filter canister or powerhead in your tank.
If you're using an undergravel filter, you should not have gravel in your aquarium yet.
If your filter is an external one, position it where it is least obstructive at the back of the tank. Make sure that the outflow circulates the water evenly within your aquarium.
For ultra-large aquariums, you may find that using multiple, low-powered filters can be better than a single high-powered one. There is no set rule for this, so you may have to do some trial and error to see what works best for you.
Ensure that the power outlet is in a safe location that cannot be splashed by the water near the aquarium.
If you incorrectly install your filter unit, you may damage the filter parts. Make sure to follow the manufacturer's manual, which usually comes with the packaging.
Take note if there are strange sounds, vibrations, or water leaks as the unit operates. If you notice a discrepancy in its operating performance, turn off the unit immediately and contact the manufacturer for guidance.
Final Thoughts
Installing a filtration system in your aquarium is essential for your fish to thrive. As there are a lot of things that you need to consider when choosing the best aquarium filter for you, always keep in mind the important features that you're looking for, the type of filtration that you need, and the kind of filter hardware that you want.
If you keep our guide in mind, you can rest assured that navigating the complex task of choosing the best filter for your aquarium will be a cinch!