The 10 Best Aquarium Heaters to Buy in 2023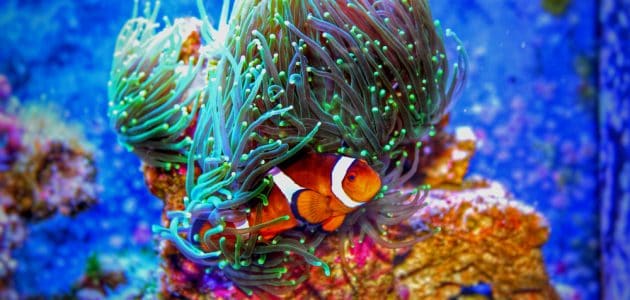 The temperature of the water in your tank is important if you want your aquarium to thrive. The fish, plants, and aquatic life that you choose to place in your aquarium deserve an optimal environment. Whether you're a new or seasoned aquarium owner, to achieve this you'll need to maintain optimal water temperature. The right aquarium heater makes it easy to keep your aquarium looking and operating at its best.
Factors to Consider When Choosing an Aquarium Heater
But with so many different aquarium heater options available on today's market, it's challenging to know where to begin. That's why we've examined various factors, including everything from cost and durability to safety features and temperature range.
Tank Size and Water Type
The size of your tank should factor into the decision you make when choosing an aquarium heater. Recommended wattage figures play an important role in helping you determine what kinds of heaters provide consistent and reliable temperatures in your tank. As a general rule, you'll want about 5 watts per gallon of water.
If you're looking for an aquarium heater that provides a range of wattage options to match several different tank sizes, then you may want to consider taking a closer look at the Cobalt Aquatics Flat Neo-Therm Heater with Adjustable Thermostat.
Don't forget to check for aquarium heaters that meet the needs of a saltwater tank if you have one. Those with freshwater tanks want to make similar buying decisions. You may also want to consider any plans that you have for your aquarium in the future. If you're planning on purchasing more fish or aquatic life, then these additions may require a larger tank size or a change in temperature.
In such cases, remember that you may want to save yourself some time (and money) by buying an aquarium heater that fits both your current tank setup and provides the functionality you may need to pursue your future aquarium plans.
Safety Features
You should never sacrifice safety for convenience or looks. Without the right safety measures, your aquarium heater can quickly cause more problems than it solves. Be sure to keep an eye out for heaters that offer immaculate safety and backup features, like those found in the Eheim Jager Aquarium Thermostat Heater.
Temperature Range and Accuracy
Finally, never lose sight of the original intention of your aquarium heater: to regulate the temperature of your tank's water. Finding a heater with a diverse temperature range gives you the flexibility you need. Some fish and other forms of aquatic life may have special needs that you have to account for as well.
You should also prioritize heaters that are accurate and consistent in their readouts to avoid complications with the health and wellbeing of the life in your tank. Looking at heaters that combine a wide temperature range and accurate readouts such as the hygger Saltwater Tank Titanium Tube Submersible Pinpoint Aquarium Heater with Digital Thermostat gives you the best of both worlds.
Now that you know what to look for, you're ready to jump in to our recommendations for the best aquarium heaters available, all of which will heat your tank up to a temperature that suits a vast majority of fish.
Top 10 Best Aquarium Heaters 2023
Choosing the Right Aquarium Heater for Your Needs
So what else do you need to examine before you buy an aquarium heater? Here's some common but important questions to ask yourself.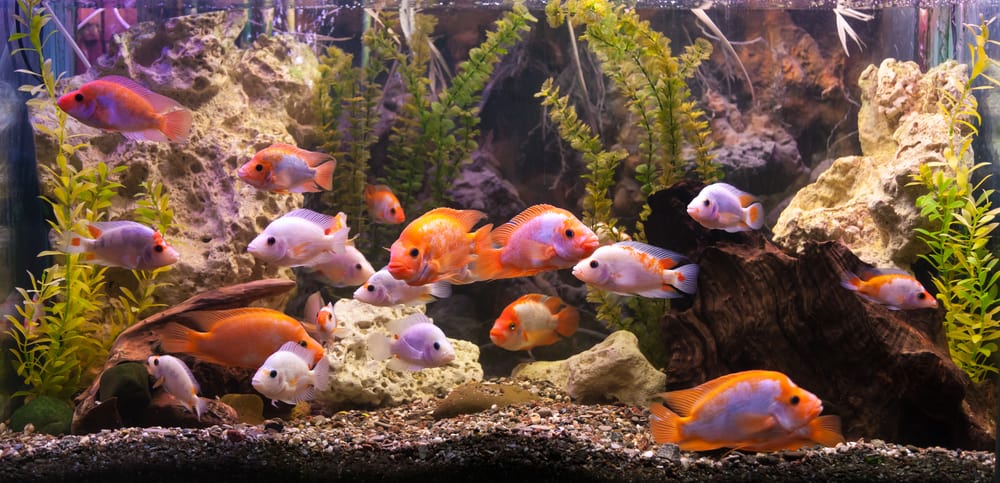 What Temperature Should I Heat My Tank To?
The ideal temperature of a fish tank depends on what species it contains. As a simple guideline, anywhere between 75 and 80 degrees will suit most common tropical freshwater aquarium fish that you would find at most pet stores.
Mixing cool water fish and tropical fish is a recipe for complications when looking at heaters. For example, koi fish, goldfish, and some minnows prefer cool water that sits around 70 degrees. Keeping your tank's temperature too high could lead to some serious health complications for these kinds of fish. Others, like bettas and angelfish, actually prefer water closer to 85 degrees.
Thankfully, in almost all cases, a temperature right around 78 to 80 degrees will be fine for almost all common aquarium fish. Certain species may prefer warmer or cooler temperatures, but it's a good compromise that won't cause problems in most community tanks.
How Many Watts Should My Heater Have?
As a general rule, you'll need about 2-5 watts per gallon to adequately heat your tank. This number varies depending on how much you want to raise the temperature, as well as external circumstances like lighting and room temperature, but if you purchase a heater within this range it should be enough to properly heat your aquarium.

Do You Have Any Special Fish or Aquatic Life to Care For?
Many of the heaters on this list are made to account for tropical fish. That means they keep water warm to simulate a tropical environment. After all, the whole goal of an aquarium is to mimic your aquatic life's natural environment without too many barriers or exceptions. However, if you are intent on bringing certain types of fish into your tank, then your heater could affect their quality of life.
Even if you're aiming to host a diverse set of aquatic life, you can do so by performing thorough research on fish types before you purchase a heater. Informing yourself on optimal water temperatures based on your aquatic life can help you to sidestep problems that can become even harder to correct once you've made them.

Are You Looking to Make Major Changes to Your Aquarium in the Future?
Routine maintenance tasks such as water changes can exhibit some immediate impacts on your water temperature. It's a good idea to account for these when choosing an aquarium heater.
However, you should also bear in mind that larger and more structural changes to your setup will likely dictate alterations to your aquarium's heater. If you're looking to add more fish in the future, then you'll probably need to upgrade your tank size. In most cases, a larger tank size means you'll need a larger heater to keep the water temperature consistent throughout the tank.
If you have plans to breed fish in your aquarium, then you'll also want to keep the water temperature in mind. Once again, the end goal is always to simulate, as accurately as you can, the natural environment of the fish and aquatic life that you're bringing into your aquarium. This means you need to account for any plans that you have for your setup when shopping for the ideal aquarium heater.
How Easy Is It to Set Up an Aquarium Heater?
Most aquarium heaters offer hassle-free setup and installation. Look for those that make use of multiple high-quality rubber suction cups, such as the Mylivell Aquarium Heater Submersible Auto Thermostat Heater for an even easier installation process. You may also want to bear in mind the fact that some heaters make you reach inside the tank to adjust temperatures and set your thermostat. Others allow for external control.

What External Factors Influence the Water Temperature in My Tank?
When looking for heaters, also consider the physical and environmental factors that have an impact on the temperature of the water in your aquarium. Depending on the positioning of your tank, you may be fighting an uphill battle.
If you position your tank right up against a window that gets lots of direct sunlight, the water temperature inside your tank may be raised without the use of a heater. Too much sunlight can create uneven temperatures throughout your tank. On the other hand, too little sunlight can make it so that your heater is working much harder than it has to.
Insulation may also play a key role in your tank's temperature. Try to position your tank in an area that benefits from balanced temperature and humidity conditions. If you live in a particular muggy or dry climate, then you may also want to invest in a humidifier or dehumidifier to achieve optimal air quality in your room.
Do You Need More Than One Aquarium Heater?
Many times, those with larger aquariums feel much better with two (or more) heaters for their tank. Of course, this is by no means necessary for every setup. However, having a backup aquarium heater on hand means you won't have to worry so much if your current heater has some problems.
Furthermore, those looking to sustain higher temperatures may want to consider the potential longevity concerns of a single heater setup.
If you need to keep your aquarium at higher average temperatures to accommodate a large tank size or a particular type of fish, then pushing a single aquarium heater to its limits may present a problem for its long term operation. In such cases, it's far more preferable to lighten the heater's load by giving it a companion.
With two aquarium heaters, each one can "split the difference" so that neither one has to work overtime to produce consistent water temperatures. This not only delivers more even, balanced temperature regulation, but also saves your heaters from the kinds of stress and overuse that can lead to malfunctions, errors, and eventual failure.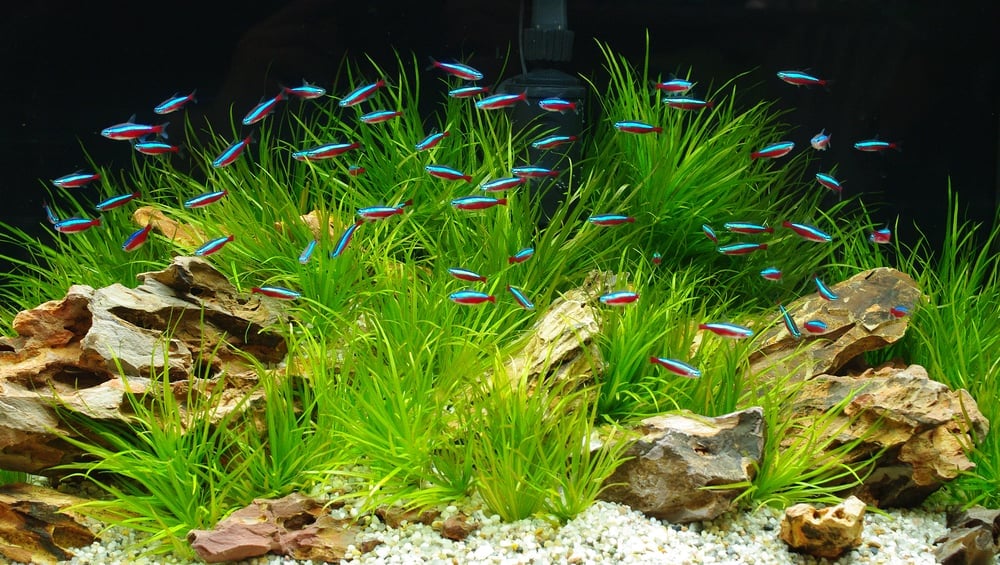 Final Thoughts
There's no denying the fact that there are more aquarium heaters to choose from than ever before. However, if you can take some time to focus on your personal needs and goals with your aquarium, it becomes that much easier to make an informed decision.
After all, the right aquarium heater should make your tank maintenance and upkeep easier and less complicated, not more complicated and time-consuming. By keeping these considerations in mind, we have full confidence that you'll be able to find the best aquarium heater to fulfill your needs.