The 10 Best Chinchilla Cages in 2023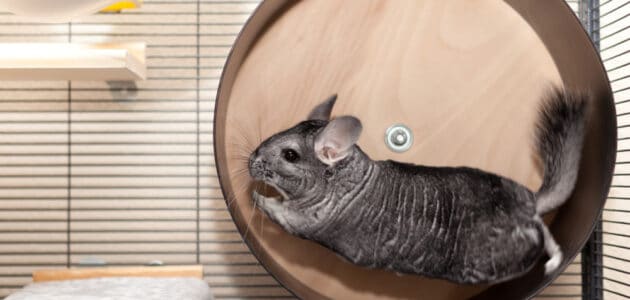 An increasingly popular pet, chinchillas are one exotic furry animal that is easy to love. If you are considering adopting your first chinchilla or are looking to add another small friend to your family, you will need a safe, secure, and comfortable cage in order to properly care for your pet.
Chinchilla cages come in at a wide range of prices and often have a diverse set of pros and cons. You can purchase cages with built-in platforms, rolling wheels, removable trays, and even cages that are collapsible for when they are not in use. The key to selecting a chinchilla cage is to understand each of the features it offers and compare it to your needs.
Looking for a perfect chinchilla cage is not the easiest task in the world; it can be very overwhelming trying to sift through options. To help you out, we've created a list of the top 10 best chinchilla cages and narrowed down what makes them so great. Read on to find out all you need to know!
What You Need to Know About Chinchilla Cages
Before we get to our list, we need to discuss some important selection factors that you should know about when selecting a chinchilla cage.
Size
Chinchillas in the wild are used to having wide open spaces they can climb around and be active in. You should be looking to get as large a cage (in height) as you can accommodate inside your house, preferably one with built-in levels or platforms so your chinchilla can climb. From our list, our best overall pick has both extra space and multiple levels for your pet to play in.
Keep in mind that if you decided to adopt more than one chinchilla, you will have to increase the size of the cage to give them both ample living space.
Material
The material your chinchilla's cage should be made of needs to be non-toxic, escape-proof, and reasonably sturdy. Safe metals like stainless steel, aluminum, and nickel make for great cages, while plastic or plastic-lined bars are a poor choice – your chinchilla would likely chew off the plastic and may experience health issues as a result.
The bars of the cage should be fairly close together to prevent any sort of chinchilla escape; even though your pet looks quite round, that is mostly fur and they can often squeeze themselves into places you wouldn't expect. Try to get bars that are not much larger than an inch apart.
The base of your cage should be sturdy and unlikely to tip or be pushed out of place to ensure the utmost safety of your pet.
Cleaning Ease
One of the less glamorous aspects of chinchilla ownership is cleaning up after your pet. You should be sure to select a cage that is easy to wipe down and remove any waste from, and one that won't absorb any type of smell.
Cages with removable trays, solid metal bars, and wheels may be preferred as these can be much easier to move around and efficiently clean. For more tips on how to clean your chinchilla cage, check out our full guide.
Price
Chinchilla cages are not the cheapest item to purchase, but there are some options that are a little more budget-friendly than others. Keep in mind that it is not always necessary to spend a lot of money to get something that is quality. Most cages will be in the mid-range pricing of about 100 to 200 dollars, while budget cages will come in under 100 dollars, and premium cages with be more than 200 dollars.
Now that we've discussed the most important aspects of chinchilla cages, let's head straight into our list of the top 10 picks!
Your Full Guide to Chinchilla Cages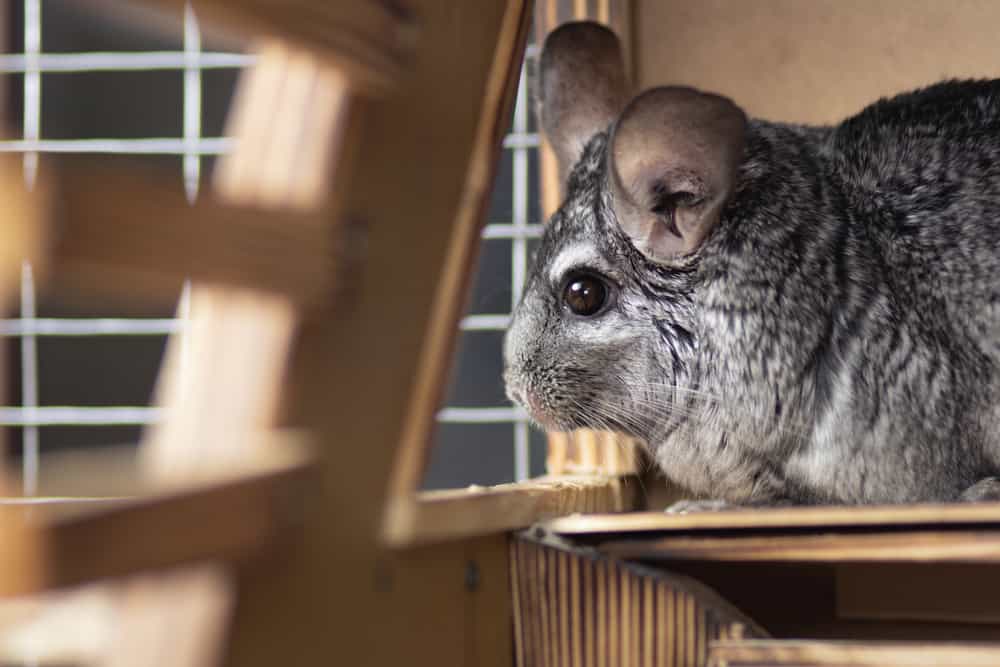 If you want to know more about chinchilla cages so you can get your pet the best of the best, read our full guide for the most important information.
Why Do Chinchillas Need Cages?
Chinchillas are masters of escape and hiding; a sturdy, escape-proof cage is necessary to keep your pet safe, happy, and healthy. Chinchillas should not be kept in open enclosures or be kept anywhere they will not have access to ample areas to run, climb, play and chew.
How Much Space Does a Chinchilla Need?
Bigger is always better when it comes to chinchilla cages. For one chinchilla alone, you will need at least 12 cubic feet of space. This minimum space increases when you are housing a pair of chinchillas.
Your cage should have enough space for your chinchilla to be active, sleep, hold food and water, and store enrichment items like toys and dust baths. Additionally, it is very beneficial for your cage to have multiple levels or at least platforms your chinchilla can climb on.
Accessories for Your Chinchilla Cage
There are several items that should be placed in your chinchilla cage to give your pet their best life possible. Make sure you purchase a cage that is large enough to hold all of these items and still leaves room for playing and sleeping.
Feeders
Your chinchilla will need a food bowl placed on a flat level surface; do not place this bowl on any type of shelf or platform as it may be pushed or fall off and injure your pet. You will also need a water bottle that you can attach to the cage.
Toys
Every animal needs enrichment, and chinchillas are no different! Your cage should have ample room for toys and playtime activities. Chewing toys are a favorite among chinchillas, but they also enjoy hammocks, wheels, and hanging toys.
If there are platforms, levels, and ladders included in your selected cage, take note of the material. Flimsy plastic can be hard on a chinchilla's feet and may be a chewing hazard; it is a good idea to cover any dubious climbing areas with a coating of fleece to prevent chewing or injury.
Hiding and Sleeping Areas
There should be ample space in whichever cage you select to give your chinchilla multiple hiding and sleeping areas. Chinchillas do not create their own burrows or hiding places, so cages with built in ledges, like the Living World Deluxe Habitat are a good choice.
You can also purchase hideouts or huts to place into cages that do not have built in ledges in order to give your pet ample hiding space.
Chinchilla Dust Bath
In addition to toys, hideouts, and food bowls, your chinchilla will need a separate large bowl or house filled with a high-quality chinchilla dust or bath sand. Chinchillas will roll around in this substance several times a week in order to self-clean their coats; it is important to note that you should never bathe or get your chinchilla wet, as this can have serious health consequences for them.
How to Clean Chinchilla Cages
Properly cleaning your pet's cage is a very important part of chinchilla ownership. You should be cleaning the cage regularly, at least once or twice a week, to prevent smells from building up and to give your chinchilla a clean, fresh home to live in.
When cleaning the cage, it is best to take out your chinchilla and leave them in a safe place for the duration of cleaning. If possible, remove the tray from the cage so you can better rinse off any waste and change the bedding. Wash everything with white vinegar and water or dish soap and water. Do not use bleach or anything other type of harsh chemical. Be sure to wipe down the bars of the cage to remove any dirt that could have collected there.
Once the cage is clean, you should replace the bedding. It is important not to use paper or hay bedding in your chinchilla cage, as paper can cause intestinal blockages (your chinchilla will try to eat it) and hay can cause them to overheat. Use large pieces of fleece to cover cage bottoms, or a mix of fleece and kiln fired pine needles for safe, comfortable bedding.
From our list, we recommend the Midwest Deluxe Critter Nation as an extremely easy to clean cage.
Where Should You Keep a Chinchilla Cage?
Your chinchilla cage should be kept away from extreme temperatures and placed indoors to keep any potential outdoor predators from breaking into the cage. The cage should be kept somewhere with natural light that is well-ventilated; chinchillas need to live at temperatures between 60- and 75-degrees Fahrenheit in order to stay healthy.
The cage should be placed somewhere quiet where it is not likely to be bumped into or accidentally pushed around. Your chinchillas will also benefit from having their cage placed in an area where they can see and engage with you to keep them from feeling too lonely or isolated.
Do Chinchilla Cages Need to Be Covered?
Chinchillas are nocturnal creatures and need a well-ventilated cage in order to thrive. You should not cover their cage or use any type of heat lamp on their cage as this may lead to overheating and contribute to interruptions in their sleep cycle.
How Long Do Chinchillas Live?
Chinchillas are a fairly long-lived pet, and can live anywhere between 10 and 20 years when kept as a pet. Occasionally, chinchillas may even live to be older than 20 years.
The best thing you can do for your pet's lifespan is to make sure they are living a happy, comfortable life, with plenty of space to move around, a suitable amount of enrichment activities, and lots of love from their owner.
Should You Adopt Chinchillas in Pairs?
While you don't necessarily need to adopt chinchillas in pairs, it can be beneficial for both you and your pet to add another furry friend to your family. Most chinchillas love attention and cuddles; in cases like these, another chinchilla would be perfect to help keep them happy.
A second chinchilla is also a good idea if an owner does not have a lot of time to spend handling and loving on their pet. In these cases, the chinchillas can keep each other happy between interactions with their owner.
It takes time and caution when introducing a second chinchilla into your family. Don't rush the process and try to only pair same-sex chinchillas with each other, unless you want an accidental litter of baby chinchillas in the future.
If you are interested in adopting a pair of chinchillas, this cage is large enough to hold multiple pets.
Will a Chinchilla Bond With Its Owner?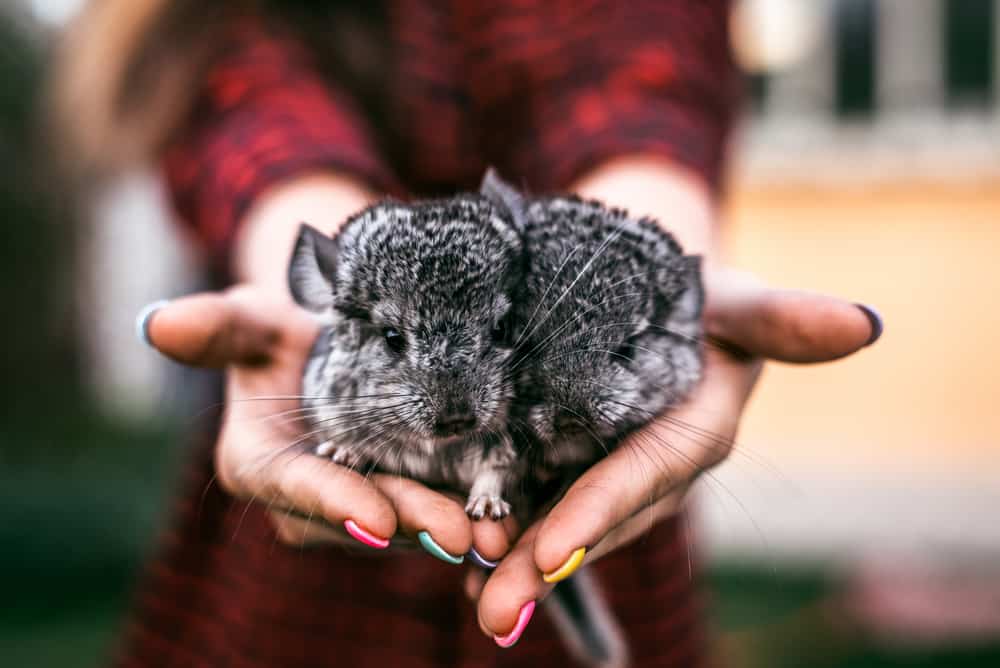 Chinchillas are affectionate animals, and as such do bond with their owners. They enjoy being held and cuddled, and over their lifetime will learn to identify their owner's smell and voice. They can recognize their owners and will greet their favorite person more enthusiastically than others.
Where to Adopt a Chinchilla?
You can adopt a chinchilla from many different places. Pet stores, especially exotic pet stores, will often sell chinchillas. You can also look up rescues that are near you that are dedicated to saving and rehoming chinchillas into more suitable environments.
It is not recommended that you contact a breeder to purchase a chinchilla, as more often than not, breeders do not use the best practices and care for their animals. You may also find yourself paying more for a chinchilla coming directly from a breeder than you would from a rescue or a reputable pet shop.
If you do choose to use a breeder, ask to tour where the chinchillas are kept and see the living quarters in person to judge if they are being bred and raised ethically.
Veterinary Considerations
When adopting a chinchilla, you should be aware that not all veterinary offices will agree to see or treat your pet. Research the closest location to you that is equipped to handle chinchillas and make sure you have a soft, fabric travel carrier for when you need to take your pet in for any exams.
Providing the Best Life for Your Pet
Like many pet owners, those of us who own chinchillas want nothing more than for our furry friend to be happy and healthy. For chinchillas, one of the best ways to do this is to provide them with a sturdy, safe, spacious cage in which they can live comfortably.
When selecting a cage, keep in mind the specific price point, size, and materials you prefer and narrow down your options. Doing this will help you select the perfect chinchilla cage for your pet in no time at all!