The 10 Best Indestructible Dog Beds in 2023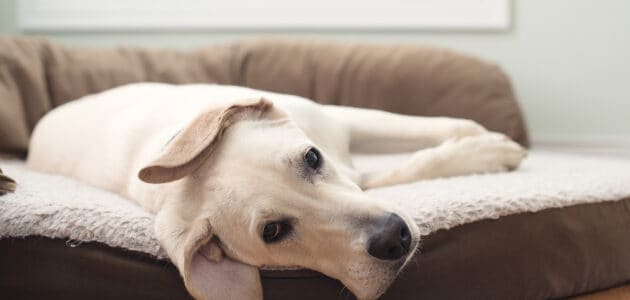 You've just spent your savings on a brand-new luxurious bed for your four-legged pal. You're sure your dog is going to fall in love with it, and from now on sleep peacefully throughout the night. Only your dog shows a little too much appreciation – within a matter of days, they've chewed on every corner, shredded it to pieces, and left the stuffing all around the house.
If this happens again and again with your pooch, you may be thinking no bed will ever survive their jaws and claws. But fear not, we're here to save the day.
Today we'll be telling you exactly which beds on the market can withstand your dog's boundless energy and persistent chewing (or digging), so no longer will you be greeted by the chaotic sight of stuffing all over your kitchen floor.
What You Need to Know About Indestructible Dog Beds
Before we go over the top ten indestructible dog beds of 2021, we'll first cover the most important information you need to know.
What Is an Indestructible Dog Bed?
Sadly, no dog bed is truly indestructible. If a dog bed was indestructible, it would likely be made entirely out of steel, and it goes without saying that no pup is going to enjoy sleeping on a cold, hard surface.
That said, there are dog beds available on the market which are highly resistant to wear, scratches, and bites, and others are built in a way that makes it difficult for dogs to chew on them. These are the beds we classify as "indestructible."
Why Is an Indestructible Dog Bed Important?
Unsurprisingly, an indestructible dog bed is more cost-effective in the long run, but it's also extremely important for your dog's well-being, particularly if they're a chewer. Stuffing, padding, and other material commonly used in dog beds can be harmful to your pup if ingested in large amounts.
Factors to Consider in an Indestructible Dog Bed
It's a given that an indestructible dog bed has to be durable. However, there's a lot more to consider beyond durability. Here, we'll cover what other factors you need to keep in mind when buying an indestructible dog bed for your four-legged pal.
Type
Dog beds come in all shapes and styles. Certain types will be better suited for your dog's needs than others. In our full guide, we go into detail about the different types to help you find the one that will benefit your dog the most.
Size
If the bed is too small, your dog will be forced to sleep in a position that isn't comfortable or natural for them. This can cause a whole host of issues, including sore joints and back problems.
If you're not sure what size your dog needs, measure their length (from muzzle to the start of their tail) using a tape measure. Then, add 4 to 6 inches to that measurement, or 6 to 12 inches for large dogs.
Material
Indestructible dog beds come in a range of durable materials. In our material guide, we cover which material is best for your pup, based on their destructive habits.
Easy to Clean
A dog bed that's hassle-free to clean will save you a lot of time and energy when it inevitably becomes dirty. The best indestructible dog beds have covers that are removable, machine washable, and easy to dry.
Chew Potential
Protruding corners, visible zippers, loose stitching – all of this is incredibly tempting for a chewer. If your dog is a chewer, stick to a bed with low chew potential. Dog beds with low chew potential typically have rounded sides with zippers, positioned in a way where they can't be easily seen or reached.
Features
An indestructible dog bed can have a variety of features, such as a slip-resistant bottom or a water-resistant cover. We'll be noting the features of each bed we review, so you can shop fully informed.
With that said, it's now time for your dog to meet their match. Here are the best indestructible dog beds of 2021. If you need help figuring out which bed is right for your pup (and their destructive habits), make sure to check out our comprehensive buyer's guide below.
Guide to Buying the Best Indestructible Dog Bed

Dogs spend most of their time asleep. In fact, they spend around 14 hours each day snoozing! That's why it's crucial your dog has not only a bed that's indestructible, but also one that's comfortable and considers their needs. After reading our in-depth guide, you'll have a much clearer idea of which bed on our list is best for your pup.

Types of Dog Beds
There are several types of dog beds, each offering different benefits for your dog.
Standard
A standard dog bed is the most common type. It is usually rectangular in shape and has no raised edges. Like a mattress, it is thick and contains a comfortable filling.
Ideal For: A standard dog bed is ideal for most dogs. It's particularly great for dogs that love to stretch out while they sleep. We go over the importance of taking into account your dog's sleeping position when buying them a bed a little further down.
Elevated
An elevated dog bed is a bed that is held up in the air by some sort of frame. The bed, or "sleeping area," is typically made from a highly durable, stretched canvas surface, which is firm and even.
Elevated dog beds are easy to clean, and some are even suitable for outdoor use, like the K&H Elevated Bed.
Ideal For: An elevated bed has low chew potential and is usually made from exceptionally durable materials, making it perfect for excessive chewers and diggers.
It's also a good option for dogs that struggle to regulate their body heat. As it's raised, air can circulate underneath it, which stops a dog from getting too hot, and during the winter, it keeps them off cold floors.
An elevated bed is particularly ideal for dogs with physical issues like arthritis; its firm and even surface takes the pressure off their joints. It also enables them to get onto and off the bed with ease, as they won't have to lift their body as much as they would have to if they were lying on the floor.

Bolster
A bolster bed is similar to a standard bed, but it has raised sides that are filled with a cushion-like material. Usually, a bolster bed only has two to three raised sides.
Ideal For: A bolster bed, like the Blueberry Pet Bed, has the same benefits as a donut bed, which we discuss below. The main difference between them, though, is that a bolster bed is better suited for dogs that struggle to get over high sides, as its non-raised side(s) allows your dog to get in and out of the bed with ease.
Donut
A donut bed is, quite literally, shaped like a donut! It's a circular bed with high, raised sides and a dip in the middle for your pooch to sleep in.
Ideal For: A donut bed keeps your dog cozy and warm, so a short-haired dog will be able to feel snug, even in the winter. An anxious dog will also appreciate a donut bed, as the high sides can help make them feel safe and protected.
If you always find your dog resting their head on something while they snooze, they'll definitely love a donut bed – it provides them with various places to rest their head.
Orthopedic
An orthopedic dog bed is a bed that's specifically designed for dogs with physical ailments. It is made from memory foam, which offers firm support and helps to relieve pressure on their joints. The best orthopedic dog beds use CertiPUR-US certified foam (such as the Big Barker Orthopedic Bed), though they are expensive.
Ideal For: An orthopedic bed is ideal for senior dogs, dogs with physical ailments (or prone to them), and those recovering from surgery. Memory foam is typically a good option for allergy-prone dogs, as its denseness acts as a barrier against allergens.
Crate Pad
A crate pad is simply a thinner version of a standard bed. It can easily fit in a crate or kennel.
Ideal For: If your dog tends to sleep in their crate, a crate pad will allow them to rest in it comfortably.
Travel
A travel bed is even thinner than a crate pad, and it's also lightweight. It can be folded up for easy storage, and it typically has a durable, padded waterproof cover, which makes it comfortable and suitable for outdoor use.
Ideal For: Unsurprisingly, a travel bed is perfect for those who are on the move a lot and are regular guests at camping sites.

Which Material Is Best?
This will ultimately depend on your dog's destructive behaviors.
Chewing
If your dog is an aggressive chewer, you'll need an extremely durable cover material that can withstand their teeth, like the ripstop ballistic nylon that the K9 Ballistics Bed uses. For moderate chewers, stick to heavy denier fabrics. If your dog only chews on the odd occasion, micro-suede should suffice.
Avoid loose stuffing if your dog is a heavy chewer – if the bed's cover manages to tear, the stuffing will go everywhere, including in your dog's stomach!
Digging (and Scratching)
For an excessive digger, abrasion-resistant materials are best. We recommend the Kuranda Elevated Bed, as its cover is made of thick cordura, which is tough and extremely abrasion-resistant. Though, if your dog is a moderate digger, you probably won't need to fork out for cordura. Instead, go for a scratch-resistant material like denim.
Nesting
Nesting isn't really a destructive behavior like chewing and digging, but it does involve your dog scratching at their bed, which can eventually wear it down. Nesting won't cause as much wear and tear as digging does, meaning a bed with a canvas cover, like the Carhartt Dog Bed, should be durable enough.
If your dog causes the bed to move about while they nestle, make sure to opt for a bed that's thick and slip-resistant, such as the DogBed4Less Memory Foam Bed.
Teething
During teething, your puppy is extremely likely to chew and nip on anything in their sight. Teething usually begins at three weeks and lasts for six to eight months. If your puppy is at the stage where their needle-like milk teeth have come out, opt for strong, tightly-woven materials, and avoid beds with loose stitching they can pull at.
Teething can be incredibly painful for your pup, and it's important you're there for them and help to relieve their pain. We recommend buying your pup a durable teething toy that can be frozen. Its coolness will soothe their sore gums.

What Position Does Your Dog Sleep In?
Just like humans, the position dogs sleep in can vary. Most dogs have one or two preferred positions. If you don't take into consideration how your dog sleeps when making your choice, you could end up with a bed that forces them to sleep in a way they hate. This will be uncomfortable for them, and it could even deter them from using the bed.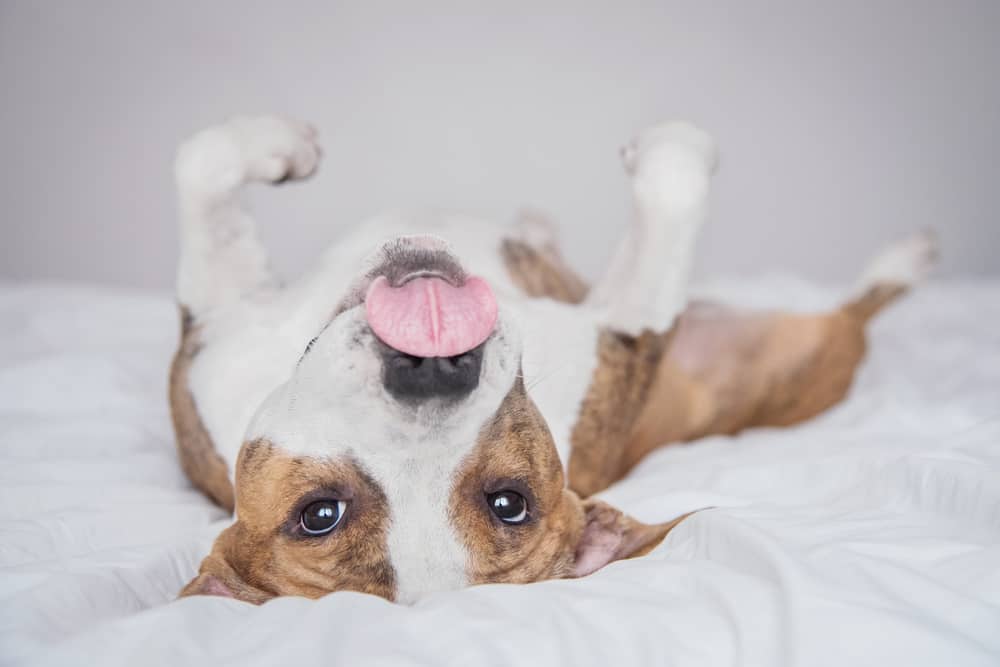 Dogs who sleep sprawled out will need a large bed that lets them stretch out easily. If your dog sleeps stretched out on their back, they'll also benefit from a bed that can support their spine – we recommend the Kuranda Elevated Bed.
A curled-up position is a sign your dog wants to feel safe and/or warm. For this reason, you should get a donut bed if your dog tends to sleep curled up. A donut bed's high sides will make them feel secure and also help to preserve their warmth.
Ways to Further "Chew-Proof" Your Dog's Bed
While the beds in our list are all durable, there are a few extra measures you can take to ensure the one you pick lasts for years to come.
How to Discourage Destructive Behavior
The best way to stop your dog's destructive habits is by figuring out the underlying cause. A dog can engage in destructive behavior due to several reasons, including boredom, lack of exercise and separation anxiety. Once you've found the cause, talk to your veterinarian for further guidance.
Keep in mind that for many dogs, digging or chewing is in their nature, which makes it impossible to get them to stop this behavior completely. If this is the case for your dog, the best way to manage it is with redirection training. The American Kennel Club (AKC) has a handy guide on how to manage digging using redirection training.
Final Thoughts
No dog bed is truly indestructible, but the ones on our list are all tough and offer the best defense against destructive behavior. When compiling our picks, we also made sure to think about every pup, so whether your dog is allergy-prone or needs some extra joint support, you'll find an indestructible dog bed that accommodates their needs.
Now you've got the dog bed sorted, how about dealing with those muddy paw prints?