The 10 Best Cockatiel Toys to Buy in 2023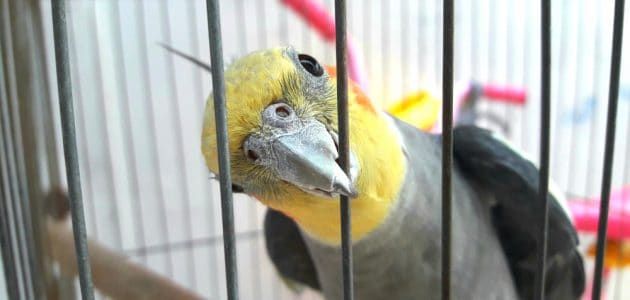 You might not realize it, but toys aren't just for cats and dogs. Toys benefit all animals, cockatiels included! By providing your feathered friend with a toy, you're doing more than just encouraging exercise and playtime; you're keeping your cockatiel in top mental shape too.
Toys prevent your cockatiel from becoming bored and developing unhealthy behaviors such as aggression and loud vocalizations. They stimulate your bird's curiosity and help them to lead enriched, happy lives.
Keeping that in mind, we've gathered a list of the best cockatiel toys available today and broken down exactly what makes them so great. Keep reading to find out which toy is the best for your bird.
Important Things to Know About Cockatiel Toys
Before we fly into our list about the best cockatiel toys available today, here are some important factors you should consider when choosing a toy for your bird.
Material
The most popular material options for cockatiel toys are plastic and wood, but you can also purchase toys that are made out of metal, rope, papers, and woven plant materials.
Make sure when you are buying your toy that every material used is safe for beaks and non-toxic, and that there is no trace of rubber or foam on it. Rubber and foam materials are easily chewed off of toys by cockatiels, and the small parts can become lodged in their intestines, leading to blockages and potential death.
Size
What size toy you need depends on where you will be putting the toy. A fairly large toy like the Penn-Plax Bird Activity Center should be placed outside of a cage for ease of use, while a smaller toy like the Sweet Feet and Beak Shredder Ball is great for hanging inside both big and small cages.
Size is also heavily dependent on your bird's preferences and whether they enjoy small toys they can hold in their feet and reach down to bite, or larger platform toys they can perch on.
Types of Toys
Cockatiel toys come in a variety of different sizes, materials, and functions that are all designed to appeal to specific parts of your bird's natural instincts.
Foraging
Foraging toys, like Bonka Birds Foraging Heart, are made to attract your bird's curiosity and keep them entertained as they use their beak to investigate the toy.
Foraging toys are typically made with brightly colored, beak-safe shredded paper and are held up by plastic, giving your cockatiel something interesting to rummage through and pull apart.
Chewing
In the wild, cockatiels chew on various areas of their surroundings to mark their nesting territory. In your home, cockatiels retain this instinct and love to chew on anything they can get their beak around.
For a bird that loves to nibble, you can purchase chew toys that are made of non-toxic materials like rope or wood. These provide an outlet for your bird's needs and prevents them from chewing up potentially unsafe items around your home.
If you already know a chew toy is the one for you, skip straight to the RYPET Bird Chew Toy.
Perching
Perching is one of the things a cockatiel does best, so why not get them a toy made to enhance their sitting experience? Perching toys are made from materials such as rope, wood, and plastic; they give your bird a variety of different areas to sit and allow an exciting playtime as your cockatiel figures out how to swing the toys back and forth.
A great perching toy to consider is the Prevue Hendryx Rope Ladder.
Noise Making
Cockatiels love toys that make noise. Toys can come with bells or jingling parts that will keep your cockatiel focused on the toy and making less noise of their own. As an added benefit, most noise-making toys are shiny, so your bird can admire themselves in the reflection. We recommend the Bonka Birds Spoon Delight for a durable noise-making toy.
Now that we've discussed the different types of toys available, let's head straight into our list of the best cockatiel toys!
Your Complete Guide to Cockatiel Toys
Interested in learning even more about cockatiel toys? Read on for our full guide on cockatiel entertainment and what you should keep in mind when purchasing for your pet.
Why Does My Bird Need Toys?
You really don't want a bird with too much free time on its wings. While it may sound extreme, without the presence of toys, your cockatiel can become unhealthy, aggressive, and depressed. A bored bird will often turn to plucking its own feathers out, squawking loudly, or engaging in repetitive behaviors that slowly drive it insane.
Toys play an important role in keeping your bird from falling into these unhappy states. The mental stimulation gained from a variety of toys helps your cockatiel stay healthy and content. Keep in mind that the larger the bird, the more toys and attention they will require.
How Many Toys Should My Bird Have?
At a minimum, your cockatiel should have at least 5-6 toys in their cage at all times. This is where a multi-pack of toys such as our best variety pick PETUOL or our best overall pick BWOGUE comes in handy. They are great toy starter packs for your bird.
Ideally, your bird should have enough different toys to keep them entertained all day. There is no such thing as "too many toys" when you own a cockatiel. A good idea is to leave some in the cage with them, and rotate others in and out of the cage routinely to keep them stimulated and excited for each day's playtime.
Other Ways to Keep Your Cockatiel Entertained
Toys are just one way for you to keep your bird active. A cockatiel can also benefit from a number of other activities, including dancing and listening to music.
Sound
Leaving on music, the radio, or the TV for your bird when you leave for the day is a great way to ensure your bird doesn't feel bored or lonely; the sound will act as a companion to your cockatiel. Plus, your bird may even dance to the tune or sing their favorite songs back to you when you return home!
Just make sure when leaving the sound on for your bird that it is at a relatively low volume, so you don't damage their hearing.
Another Cockatiel
The only thing better than one cockatiel is two cockatiels! Another bird may be just the thing to keep your cockatiel entertained if they quickly grow bored from toys. Two birds will interact and keep each other company.
When introducing a new bird, be sure to keep them in separate cages for a month or two to make sure you aren't introducing any kind of illness to your original cockatiel. After this separation period, introduce the two birds to each other slowly, keeping an eye for any signs of aggression or upset.
If you want to read more about how to introduce a new cockatiel to the family, this guide can help you out.

Quality Time
Your cockatiel is likely to become very attached to you, especially if they do not have another bird to keep them company. A great way to entertain the both of you is to let your cockatiel out of the cage and spend some time with it.
Doing this provides your bird with the exercise it needs and will give you both the chance to bond. Don't be surprised if your pet simply enjoys sitting next to you while you do a quiet activity like reading or watching TV.
For added fun, you can play games with your cockatiel during this time. A favorite among cockatiels is hide and seek, where you hide around the corner of a room, peeking back in occasionally until your bird comes to find you. Be sure to give your bird a scratch on the head for a job well done.
This time is also a great opportunity to introduce a toy like the Penn-Plax Bird Activity Center. Your bird can play on it outside of the cage while you keep it company.
Cockatiels and Mirrors
You may have heard that a bird can get heartbroken by their own reflection. While this is a slight exaggeration, the belief is rooted in truth.
Placing a mirror in the cage provides your cockatiel with a companion – their reflection. It appeals to the part of a bird that is attracted to shiny things (this nature is also why a toy like the Bonka Birds Spoon Delight is so popular).
However, since they think this reflection is another bird, your bird might turn to aggression upon seeing it. There is also the chance they might fall in love with their reflection and develop an obsession that can quickly turn to possessiveness in male cockatiels, or cause a female cockatiel to start laying eggs.
The safest thing for your cockatiel is to refrain from placing mirrors in your bird's cage and to keep highly reflective surfaces (ones where they can see their reflection clearly) away from them when they are out and about your house.
Can Cockatiels Recognize Their Owners?
Cockatiels are pretty smart birds. They have incredible memories, and studies show that they can recognize their owners. In fact, some cockatiels even have a preference for one person over another.
If you walk into the room and your bird starts whistling and chirping happily, moving around excitedly, and getting close to the sides of its cage to greet you, it probably likes you. On the other hand, if your bird doesn't make any movement towards you, is very quiet, or raises the feathered crest on its head in annoyance, you might have some more bonding to do.
Keeping a Healthy Bird
There are certain things you can look out for when it comes to your bird's overall health. Keep an eye on your cockatiel's day to day demeanor to make sure they are staying stimulated and happy.
Happy Signs
Signs of a happy bird include soft chirping, whistling, and lots of playing with toys (revisit our list for reviews of the best toys). When happy, your bird will also eat normally, have bright eyes, and appear well-groomed.
Warning Signs
You may need more toys if you see your bird engaging in repetitive behavior like head swinging or swaying, or if they are displaying more aggressive behaviors than usual, such as vocalizing loudly and pulling feathers out.
If you know toys aren't the issue and your cockatiel has lost weight suddenly, seems to be struggling to breathe, or is losing feathers, it may be time for a trip to the vet. Cockatiels can become sick very quickly, and you want to make sure your pet gets the care it needs. Also be sure to separate the sick bird from any others you may have as soon as possible to prevent illness from spreading.
Letting Your Cockatiel Out of the Cage
As we discussed above, letting your cockatiel out of the cage is a great way to spend quality time with them. It helps your bird exercise and bond with you more quickly.
You should always make sure to maintain a strict routine when it comes to caring for your bird. Try letting him out of the cage at the same time every day, and make sure you cover the cage every night to keep your bird on a healthy schedule.
Treating Your Cockatiel
Like with other pets, you can feed your cockatiel treats. Common foods your bird will enjoy are small pieces of dark leafy greens, and fruits such as apples, bananas, and melons. You can also feed your pet honey sticks or millet occasionally.
Remember, treats shouldn't make up more than 5% of your bird's diet to ensure your bird stays at a healthy weight.
DIY Cockatiel Toys
If the store is out of your favorite toy or you're just looking to add some diversity into your cockatiel's toy stash, DIY toys can help you save the day. We've collected a few simple ideas that you can use at home to amuse your bird.
Popsicle Sticks: Cockatiels love to chew, and a popsicle is a great option if you don't have a designated chewing toy like the RYPET Bird Chew Toy.
Decorated Ropes: This toy is effortlessly made with a cotton rope and some beads (make sure they are non-toxic). String the beads on the rope and hang it from your bird's cage to act as a chew toy.
Foraging Box: For this toy, gather several strips of un-colored paper and place them into a small bowl or box. Hide a few of your bird's favorite seeds or treats in the paper, place the toy in the cage, and watch your cockatiel have the time of its life searching through the paper.
For a few more DIY ideas, check out this article.
Your Cockatiel Deserves the Best
Finding a cockatiel toy can be hard; you want to be sure to select something that is both safe and sure to entertain your pet. After all, your cockatiel is part of the family and deserves only the best of toys to play with. Hopefully, with the help of our list, you have a better idea of the different types of toys out there and how to find a toy that suits your cockatiel the best.