The 12 Best Pet Odor Neutralizers to Buy in 2023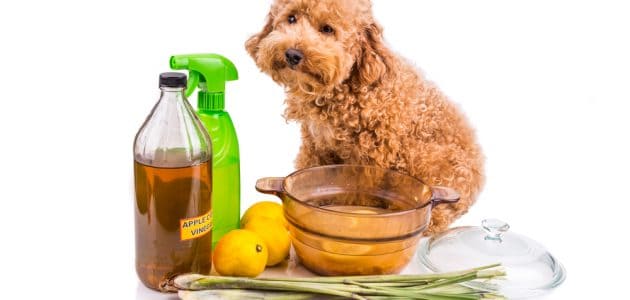 Pets are great companions and often add an element of fun and fulfillment to your home. But even the best-trained pets can have accidents. When that happens, you're left with a mess that can haunt you for years to come.
So whether you've got a stubborn pet who likes to go potty on the carpet or you just want to have something handy for an inevitable accident, pet odor neutralizers are a must for all pet owners.
Since there are many brands and products on the market, finding the right one can be a daunting task. But have no fear! We're here to help you find the best pet odor neutralizer for you and your unique situation.
Do You Really Need a Pet Odor Neutralizer?
The first thing you should consider when shopping for an effective pet odor neutralizer is whether you actually need one or not. For accidents in the house, you may be able to take care of spots before they become problematic with a simple solution of water and vinegar, or vinegar and baking soda.
However, depending on what type of odor you're tackling, this may prove insufficient. These home remedies may only work temporarily, and won't eliminate all odor-causing compounds. This can leave you with faint lingering odors, which may encourage to re-soil old spots.
Also, using improper methods when treating stains and odors can cause them to chemically set into carpets and floors. Consequently, this may require you to seek professional help to remedy. To play it safe, you should consider a product that's specifically designed to neutralize and eliminate pet odors and stains.
Factors to Consider When Choosing Pet Odor Neutralizers
You might not realize it, but there are a huge number of considerations to make when choosing a good pet odor neutralizer. There are tons of reputable companies making high-quality products for many types of pet odors. Below are just some of the things you should account for when shopping for a pet odor neutralizer.
Types of Pet Odor Neutralizers
Besides countless brands and formulations of pet odor neutralizers, there's also many types of neutralizers. We've covered this in more detail later in the guide, but here's a brief rundown of the different types of neutralizing products we've found:
Sprays: Neutralizing formula that comes pre-diluted in a spray bottle to directly spray odorous areas.
Concentrates: Concentrated neutralizer formulas require you to mix with water before use.
Carpet cleaner formulas: Formulated odor neutralizer solutions designed specifically for use in carpet cleaning machines.
Aerosols: Odor neutralizing formulas that come from a pressurized aerosol can.
Air fresheners: Passive fresheners made of gels and oils that work to neutralize odors in the air.
Candles: Candles specifically formulated to neutralize intense pet odors in the air while they burn.
Oxidizing Agents vs Enzymes

While only one product on our list uses oxidizing agents, they're fairly common in this type of product. Likewise, enzymes are common among pet odor neutralizers. However, the two generally aren't compatible with one another, and offer distinct advantages and disadvantages when compared side-by-side.
We'll cover this topic in our more detailed rundown later in the guide. For now, just know that enzymes are typically more effective as a long-term solution than oxidizing agents, while oxidizing agents handle stains exceptionally well and work quickly.
Safety
Since pet odor neutralizers are cleaning products, they may contain harmful chemicals that present a danger to your pets and other loved ones.
While harsh chemical ingredients are easy enough to spot and avoid, even natural ingredients can pose a threat to your pets. For example, citrus oils are toxic to cats and dogs, when they're exposed to a concentrated dose. Likewise, there are many essential oils that can present a danger to your fur babies.
You should also keep an eye out for product certifications from the FDA, EPA, and other established institutions that work with companies to ensure they manufacture and sell safe and effective products.
Suitable Surfaces
Besides keeping your pets and family safe, it's important to consider what type of surfaces you plan to clean. Some products work with all (water safe) surfaces, while others are specifically formulated for certain surfaces, such as carpets and hard floors. You'll want to consider not only the ingredients but also the manufacturer's label and warnings when determining which cleaners are suitable with certain surfaces.
Ingredients
Safety for your pets, families, and homes are an important quality in choosing a good pet odor neutralizer. Clearly, ingredients with big scientific names can indicate harmful ingredients that you should watch out for. But you should also keep in mind that not all ingredients are as harmful as their names seem to imply.
For instance, polysorbate 80 is a surfactant and emulsifying agent commonly used in food and cosmetic products, while tocopherol alpha is a form of vitamin E. Both are non-toxic and safe for use around your home.
Meanwhile, there's a common conflation between the idea of natural substances and safety. While it's true that natural ingredients are typically safer than man-made chemicals, not all natural ingredients mean safety. Things such as essential oils can prove fatally toxic for your pets.
With all of this in mind, let's check out our top recommendations for the best pet odor neutralizers we've found.
Top 12 Best Pet Odor Neutralizers 2023
Everything You Need to Know About Pet Odor Neutralizers
With everything we've covered so far in this guide, there's still more you should know about pet odor neutralizers.

Types of Pet Odor Neutralizers
The right type of odor neutralizer for you can vary quite a lot depending upon the type of mess you're hoping to deal with and a few other factors
Sprays
Odor neutralizer sprays are solutions that come ready-made and ready to use. If you like simplicity, then choosing a good spray, such as the Rocco & Roxie Supply Professional Strength Stain and Odor Eliminator, will help you effectively tackle odor spots. Sprays often come packed with enzymes to help fight odor-causing compounds and will work on most surfaces, as per the formula's instructions.
Concentrates
Concentrates are concentrated formulas that require dilution and mixing with water before use. Concentrates offer a flexibility that other types of pet odor neutralizers don't, allowing you to customize the strength of the resulting solution by adding more concentrate or less water.
This can make them more effective for stubborn stains and odors that normal sprays just won't work on. Some concentrates, like the Angry Orange Pet Odor Eliminator, are extremely potent and smell great. However, it also means that you're going to have to take additional steps in properly mixing the formula.
You'll want to avoid using pure concentrate on odors, as some concentrates are toxic to pets in high concentrations. They may also cause damage to the surface you're applying them to when applied at high concentrations.
Finally, if you want to use a concentrate in a machine cleaner, be sure to take precautions. The Mad Lemon Pet Odor Eliminator seems to be the safest concentrate we've found for this purpose. But you should always take necessary precautions to avoid damaging your expensive machine cleaners.
Carpet Cleaner Formulas
Made specifically for carpet cleaning machines, these are a great solution if you don't want to risk damaging your carpet cleaner. Good carpet cleaning odor neutralizers, such as the Bissell Professional Pet Urine Eliminator + Oxy Carpet Cleaning Formula, are great at cleaning pet stains and tackling tough odors.
Since they're designed for carpet cleaners, it means that they're rather limited in their potential scope of uses. If you'd like to use a carpet cleaner to tackle odors in carpets, then we recommend using an enzymatic cleaner, such as the Simple Solution Extreme Pet Stain and Odor Remover, to pre-treat before using a carpet cleaner, in order to utilize the benefits of both enzymes and carpet-specific cleaning formulas.
Aerosols
Pet odor neutralizer aerosols are, as the name implies, an aerosol spray in a can. The solution comes out of the can in the form of either a foam, as in the case of the Nature's Miracle Pet Stain and Odor Remover, or an aerosol spray that mists in the air, such as the Big D Odor Control Fogger Aerosol.
Air Fresheners
Air fresheners are passive containers containing the odor neutralizer formula. They are meant to slowly evaporate into the air and tackle odors that permeate in the surrounding area.
Air fresheners don't attack the odor at the source, making them unsuitable for odors caused by pet accidents throughout your home. Rather, they're great for recurring odors caused by pets that would otherwise require constant cleaning, such as litter boxes and pet carriers.
Of course, they're no substitute for routine cleaning. But unless you've got the wherewithal to clean your cat's litter box multiple times a day to prevent lingering odors, then air fresheners like the Fresh Wave Odor Removing Gel are a great intermediate option between constant cleaning and having foul odors permeating throughout your home.
Candles
Pet odor neutralizer candles are a great option to keep odors under control, and they add a great ambiance to your home. Candles work like air fresheners in that they don't attack odors at the source, but rather eliminate odors in the air.
While regular candles may simply cover the smell, some candles, such as the Pet Odor Exterminator Candle, contain enzymes that will eliminate these bacteria. As the wax melts and slowly evaporates into the air, the ingredients in odor neutralizer candles will work to neutralize odors throughout the area, leaving behind a fresh scent.
Since candles require lighting, they're not great for tackling odors when you're not home. They also present a fire hazard that other neutralizers don't. Still, they're a great way to remove recurring odors, and are especially a great solution if you like burning candles.
Oxidizing Agents vs. Enzymes: Which One Should You Choose?
Oxidizing agents are chemicals that deliver oxygen to bond with organic materials to break them down. However, oxidizing agents cannot effectively break down all organic materials that cause odors.
For example, a compound that oxidizing agents can't break down is uric acid, which is found in urine. As a result, treating a urine-stained carpet with an oxidizer can lift the stain and eliminate microbial activity that causes its initial odor. Uric acid will also lose its smell when it dries, but as soon as it's exposed to sufficient humidity, the uric acid will cause the old odors to return.
Enzymes, on the other hand, effectively break down organic materials like uric acid. The bacteria and enzymes in a good pet odor neutralizer will work to break down odor-causing compounds by turning them into a gaseous form, allowing them to dissipate into the air.
The caveat with enzymes is that they take longer to work. This is because unlike oxidizing agents, which work on contact, enzymes need time to break down odor-causing compounds. They can take hours, days, or weeks, depending on the enzyme concentration and the amount of compounds there are to break down.
This makes oxidizing agents such as Bissell Professional Pet Urine Eliminator more effective for quick and short-term solutions, while enzyme-based odor eliminators like Rocco & Roxie Stain and Odor Eliminator work for bigger and more long-term odors that have found their way into your floors and carpet padding.
As we've mentioned before, a great idea to combat stubborn odors in carpets is to utilize an enzymatic formula and an oxidizing carpet cleaner. This way, you can utilize the full range of benefits of enzymes and oxidation to eliminate the toughest odors and stains.

Tips for Getting Rid of Pet Odors
The label on the pet odor neutralizer you choose should have all the information you need to effectively use it. However, it's easy to overlook and forget simple precautions that could save you from a big headache caused by dealing with funky odors. That's why we're here to offer tips and simple reminders when choosing and using them.
Spot Test First
Will pet odor neutralizer products stain or damage your floor, carpet, or furniture? They might. That's why it's best to test them on a small inconspicuous area first. Even when a product says it's safe for all surfaces, it's important to do a small test spray, to ensure you're not going to ruin your carpet or your favorite recliner.
When you go in with guns blazing, you run the risk of damaging the area you're applying the solution to. When testing, ideally you should wait 24 hours after your test spray to monitor for adverse effects on the surface. You'll especially want to do a test spray on delicate and expensive fabrics, such as silk, suede, wool, and leather.
Alternatively, if you're unwilling to risk damage to your flooring, you can choose to use a candle or air-freshening gel-based pet odor eliminator—just keep in mind that they're not typically as effective, so you might want to reconsider if you're dealing with a particularly stinky mess.
Keeping Enzyme Formulas Moist
In order for enzymatic neutralizers to start working, they have to stay moist. This allows the bacteria to survive and reach the organic compounds they're supposed to break down. While indoor treatments should naturally stay moist long enough to reach these compounds, outdoor treatments make this more tricky.
For example, if you're using the Simple Green Outdoor Odor Eliminator, you should avoid treating odors during the day. Instead, you'll want to tackle them at sunset so the enzymes can work overnight to neutralize odor-causing compounds. This will prevent sunlight and high day-time temperatures from killing or evaporating the enzymes before they work.
Using Odor Neutralizers in Carpet/Upholstery Cleaners
You might be tempted to use a pet odor neutralizer in your carpet or upholstery cleaner. However, there are some things you should know about them before you go adding them to your expensive cleaning machines.
First, some pet odor neutralizers can cause serious damage to your cleaning machines. Products like Angry Orange Pet Odor Eliminator are all-natural, making them seem harmless enough. But since it's concentrated orange oil, it can eat away at plastic parts in high concentrations.
As such, you'll want to either avoid using it in a cleaning machine altogether, or at least ensure you've properly diluted the product. You'll also want to immediately discard any leftover solution in the tank, and clean the tank and hose thoroughly.
Other neutralizers, such as enzymatic formulas, like the Sunny & Hunny Pet Stain and Odor Miracle, should be perfectly safe to use in machine cleaners. However, because these formulas use enzymes to break down stains and odors, using a carpet or upholstery cleaner could render the solution wholly ineffective. This is for two primary reasons.
First, many carpet and upholstery cleaners use hot water to help lift dirt and other unwanted particles from the carpet. The high temperatures may kill the enzymes before they're able to neutralize the odor-causing compounds. Also, by putting them in a cleaning machine, you're simply putting down the solution and sucking it right back up, largely diminishing the effectiveness of the enzymes.
For carpet cleaners, you're best off using a product made for machines, such as the Bissell Professional Pet Urine Eliminator + Oxy Carpet Cleaning Formula. You can even use an enzyme neutralizer to pre-treat the odor, and hit it with the Bissell formula in your carpet cleaner to get the area truly clean.
Fighting Heavy Fragrances
The odors from pet odor neutralizing formulas are often strong floral, citrus, or "cleaning chemical" fragrances that are meant to cover or replace foul odors while enzymes and other ingredients work to eliminate odors. For most people, this isn't often a problem.
But if you're someone with a highly sensitive sense of smell, this can present a huge headache-inducing problem. You can try a lightly scented product, such as the Simple Solution Extreme Pet Stain and Odor Remover, but even that might be too strongly scented for you.
If that's the case, you can sprinkle baking soda on or around the stain while the neutralizer works. The baking soda can help absorb some of the fragrance in the neutralizer. Leave the baking soda to sit for a while, and sweep or vacuum it up when you feel it's adequately absorbed the odors.
Combining baking soda with proper ventilation in the affected room will help dissipate fragrances and lessen the severity of the smell. Hopefully, this will help you to avoid suffocating in the aroma of your chosen pet odor neutralizer.

Using Pet Odor Neutralizers Around Pets
Since vinegar, baking soda, and hydrogen peroxide aren't the most effective means of eliminating tough pet odors, you'll likely have to resort to using pet odor neutralizers to take care of stubborn pet odors. But these products may contain harmful ingredients that could hurt your pets or family. Even natural solutions can prove harmful to your pets.
Unsafe Essential Oils
A perfect example of the conflation between natural products and safety, there are many essential oils that are unsafe for cats, dogs, and other animals. Essential oils such as pine, tea tree, and wintergreen oils (as well as citrus oils), can pose a serious threat to your animal's health, particularly when exposed to concentrated oils.
Since many natural products use essential oils for fragrance, it's important to keep this in mind. In most odor neutralizers, harmful oils only make up a small part of the overall solution, making them less dangerous. Nevertheless, it's best to take precautions with your animals around these products.
Keep Neutralizers Away From Pets
When using a pet odor neutralizer, you'll want to make sure that your pets are in a different area than the cleaning solution. Whether that means locking your cats up in a different room, or letting your dogs outside while you tackle odorous spots, it's imperative to keep your pets far away from the fresh odor neutralizers. Even after a spot is dry, you'll want to carefully monitor your pets in areas that have been cleaned.
Wrapping Up
We've covered a lot of different types of pet odor neutralizers, things to watch out for, and general tips on using them effectively. They're great for helping to keep your home smelling fresh, free from unwanted stains, and helpful in discouraging repeated markings on floors and furniture.
The next time fluffy has an accident on your favorite rug, you'll be happy you decided to pick a good pet odor neutralizer.