The 10 Best Dog Food Toppers to Buy in 2023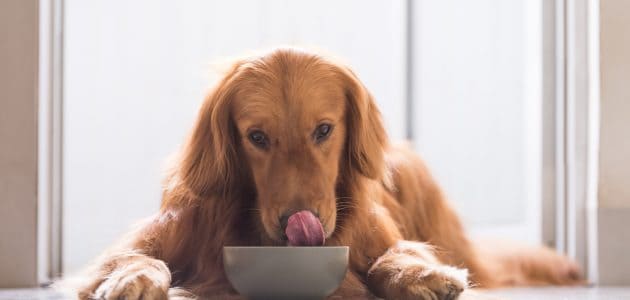 In a lot of ways, dogs are pretty much like people. Just as humans often desire a little extra boost to what we eat (sprinkles or nutrient-dense superfoods, depending on your style), for many pet owners, adding dog food toppers can help round out their best friend's daily meals.
There are seemingly limitless options when it comes to dog food toppers, and sorting through the crowded market of dog food toppers is daunting. But there are a few ways to determine what's best for your pets.
Most Important Factors in Choosing a Dog Food Topper
For most pet owners, balancing a set of needs and considerations is crucial to choosing the best dog food topper. Some may have a clear idea already of what they need, but the sheer number of possible options can make the task difficult even for those pet owners.
Your Dog's Needs
Your reasons for wanting to add a topper will guide most other decisions. This could include helping to treat health problems (like this product for skin and coat health or this one for immune support) or it could be as simple as trying to make your buddy's food more appealing (dogs will love the taste of this one!)
Type of Topper
Toppers generally come in one of three forms: dry pellets, wet chunks, and liquid (or powder that becomes a liquid when water is added).
Ingredients
Though toppers aren't made to meet a dog's complete nutritional needs (there are exceptions to that, such as this one), these products are still food. As you do with choosing the right food, you should look for healthy, nutritional ingredients that are largely free of filler. For those who feed their dogs specific diets, such as raw or grain-free, be sure to read the product labels thoroughly to ensure they follow the diet. If you're unfamiliar with ensuring all foods you're giving your dog meet their nutritional needs, the American Kennel Club offers a crash course in reading dog food labels.
Price
With any product, price is a big factor, and it's just as true for dog food toppers. But while economics should be part of the equation, remember that we're talking about smaller-volume toppers rather than food, so the overall expense is likely to be low. In other words, if you are considering a splurge for your pet, dog food toppers might be a good option.
Top 10 Best Dog Food Toppers 2023
Buying the Best Dog Food Topper
As with anything else we're feeding our pets, choosing the best dog food topper is a complex decision. Let us help you demystify the process and understand how to go about making your choice.
What Is the Purpose of Dog Food Toppers?
The two biggest reasons that dog owners look for food toppers are enhancing the nutritional balance in their dog's food or to make the food tastier for their dogs to eat. That said, "dog food topper" is in many ways a vague category.
That's because many pet owners have been including food toppers without even knowing it. Even water can be considered a dog food topper because it can make dogs more likely to eat their food than they might have otherwise been.
Anything added to your dog's food as an enticement or nutritional enhancer could be considered a topper, including the cottage cheese most dog owners are familiar with, especially after a gastrointestinal incident.
But regardless of the reason for adding a topper, ensuring that everything you're feeding your dog is healthy and nutritional is critical, even if what you're adding is more about enticing your dog to eat his food than health considerations.
Making Diet Considerations for Your Dog
Just as with standard dog food, different considerations must be made depending on the unique characteristics of your dog. The following are the most common:
Breed: Many dog owners don't know that different dog breeds can have significantly different nutritional requirements. Take some time to research your breed's dietary characteristics and adapt their nutrition to those unique constraints.
Age: As dogs age, many begin to lose their appetite and need additional incentives to eat enough: often, this comes in the form of a food topper. As your dog ages, their tastes may change. Be flexible with your food topper to help your dog age gracefully.
Temperament: Some dogs are just picky eaters, and in this case, a dog topper might make sure your peckish pup gets enough nutrition.
Medical Considerations: Some breeds are prone to having cardiac difficulties, other dogs are diabetic, arthritic, or have liver disease. Work with your veterinarian to find a topper that properly meshes with the medical status of your dog.
Introducing New Foods
In many cases, products marketed as dog food toppers have a relatively high fat content so that dogs will be more interested in eating all their food to get to the good parts. This also means that they could be upsetting to some dogs' tummies, especially those who are sensitive to rich foods.
As with any new food, toppers should be fed in small amounts at first to test a dog's tolerance. Particularly for toppers that are intended to make food more palatable, consider ramping up portion size over a few days.
On day one, offer just a taste and monitor your dog's reaction. If all goes well, increase by about 25 percent per day until you've reached the full serving size you plan to feed daily. Remember that serving sizes can be different than what's listed as the recommended package serving, and always adjust based on your dog's calorie requirements.
Treats or Toppers?
Dry dog food toppers can be an excellent alternative to traditional treats, especially the toppers that are meant as nutritional boosts. Though these may be blander than taste enhancers, the fact that they are stored separately from the dog's normal food may help make your pet perceive them as more special than their standard dry food.
The reverse also can be true, though, which may allow pet owners to bypass the need for a new product. For pet owners who have a go-to treat that their dog loves, depending on the nutritional content and their reason for needing a topper, their existing treats could be an ideal topper.
This can be especially useful for finicky eaters who tire of their food but never pass up treats. If your dog has begun turning his nose up at his food but is still interested in treats, break up one or two of his treats and mix it in with his food. Doing this for a few days could break your dog of their finicky habits, but be sure to monitor their overall calorie intake.
Pros and Cons of Dog Food Toppers
Your mileage may vary, but there are generally a few pros and cons that dog food toppers have in common:
Pros
Easy to include with daily food
Lots of flavor varieties
Versatile health benefits
Mostly affordable
Usually come in small bites or liquid format so they can be given to dogs of varying sizes without the need for separate products
Cons
Add calories to a dog's food and require measurement
Limited health benefits due to calorie and ingredient changes
Health supplement toppers and flavor enhancers tend to be high in fat, which can be irritating for dogs with sensitive stomachs
Alternatives to Store-Bought Toppers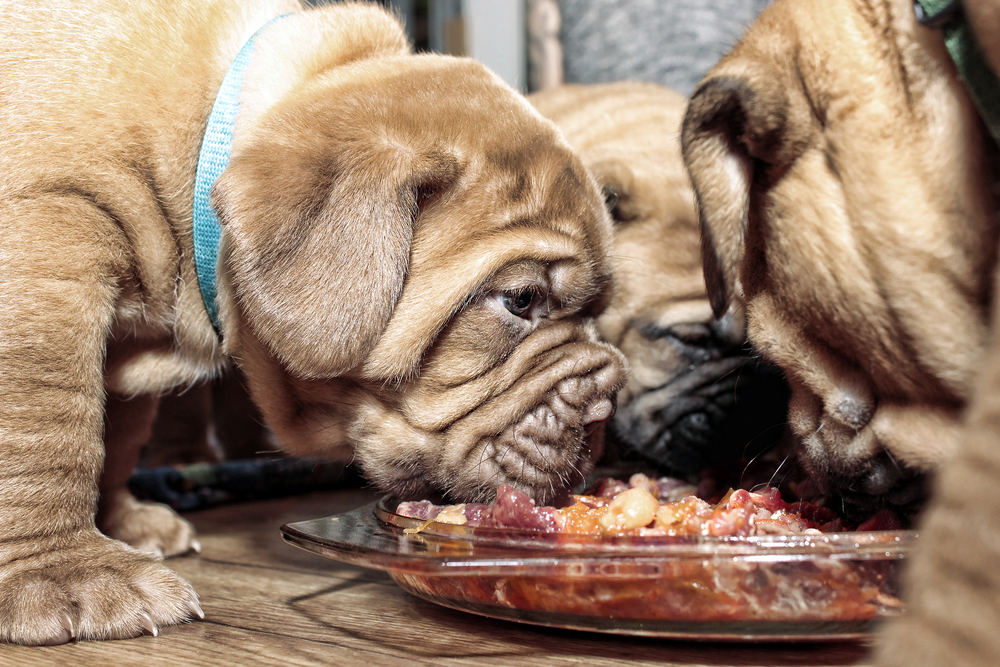 If you don't have the budget to purchase a store-bought topper, there may be some other homemade dog food toppers you could try. Here's a look at some of the most common improvised food toppers you probably already have in your fridge or cupboard:
Cottage cheese: Any owner of a dog that's prone to gastrointestinal upset is familiar with adding a dollop of cottage cheese. It's not much in the flavor department, but the textural difference and fat content can be an excellent enticement for finicky eaters.
Scrambled eggs: Eggs are another food commonly recommended for dogs experiencing digestive upset, and it's easy to whip up a couple days' worth of egg toppers at a time. Remember that making scrambled eggs for a dog is different than for people, so lay off the butter, salt, and pepper for the canine version.
Carrots: Add a few slices of raw carrot or a couple of pieces of canned cooked carrots and toss them into your dog's food for a vitamin boost. Be sure to take your dog's size into account not only in serving size but also portion size. Smaller dogs will need carrot cut into smaller chunks. (Here are a few more tips on feeding your dog carrots.)
Pumpkin: You probably don't have canned pumpkin on hand when it's not around Thanksgiving, but it is a great way to boost the fiber content of your dog's food. This can be especially helpful for dogs who have trouble fully emptying their anal glands.
Meat: A few bits of meat, such as chicken, beef, or fish, will no doubt be a popular addition to your pooch's supper. Again, as with other foods that require preparation, remember that anything you add to the food will make its way into your dog's mouth, so you don't need to worry about making a roast chicken worthy of a cooking show. Some cuts of meat are high in calories, so don't forget to monitor your dog's intake for the day.
Types of Toppers
Whether they're used for flavor enhancement or have a health-related purpose, dog food toppers come in a wide variety of forms and formulas. Here's a look at the various types you're most likely to come across:
Liquid
This includes products that are purchased already in liquid form, such as broth-based toppers (like this product), as well as those that come in a powder form to which you add water and create a liquid or gravy-consistency booster. Some liquid dog food topper products have a condiment-like consistency that's thicker than broth.
Wet
Non-liquid wet dog food most often comes in chunks and is typically packed with liquid or oil in the packaging. Some owners will add the entire contents of a packet to their dog's food, while others may choose to pick out the solid bits from the material it's packed with. This is largely a matter of personal preference, but for dogs with sensitive tummies, the water or oil residue left behind by chunk-style wet toppers can cause upset in the digestive system.
Dry
Dry dog food toppers consist largely of bits of kibble or freeze-dried raw pellets that can be placed on top of or mixed in with your dog's regular food. This format also is commonly given as a treat instead of traditional treats that can be high in filler content. Most dry dog food toppers are softer than normal kibble, which helps make it feel special for dogs.
Raw
Pet owners are increasingly embracing the raw trend in dog food, and there are a few options for raw dog food toppers as well (like this one or this one). With this product type, the meat is freeze-dried before it's packaged, which almost eliminates the moisture in the food. This makes it shelf-stable, meaning it can be stored in the pantry instead of taking up fridge space, and it means that the flavor of the meat becomes heavily concentrated, which makes it delicious for dogs.
Supplements
Fish oil supplements are the most common supplement-style dog food topper, but there are other supplement dog food toppers out there (like this chewy version). Supplements that come in oil form generally are easy to give with your dog's food. In many cases, (like with this option it's as easy as just hitting a pump-action dispenser a couple of times. Some oil-based supplements can be messy, so figuring out a system that works for you is important.
Given the nature of oil-based supplements (mostly coming from fish oil), these are usually advertised as benefiting a dog's immune, skin, and coat health. These are many of the same benefits that humans experience in using fish oil supplements.
Powder
As we've mentioned, powder-based dog food toppers sometimes are designed to be put directly into dry food, but they're most often meant to be mixed with water to create a gravy or broth that's then poured over or mixed into the dog's food. This is largely a matter of what your dog prefers. Some dogs respond better to moisture in their food, while others are put off by it. Understanding your dog's quirks is important here.
Dog Food Topper FAQs
Here's a look at some of the most frequently asked questions when it comes to dog food toppers.
Are Food Toppers Good for Dogs?
Short answer: Yes. Long answer: It depends. Not all dog food toppers will be good for every dog, though they're rarely harmful. Dogs can be quite sensitive to food, especially when something new is introduced. So, while it may seem like a casual decision in terms of giving a food topper, you really need to consider your individual dog's food-related history before deciding. The most common issue is digestive upset.
That said, there are many dog food toppers that are specially made to provide boosts to a variety of areas of canine health, including joints, immune system, and skin and coat. So, in some cases, food toppers can make a dog healthier than standard dry food alone.
Are Homemade Dog Food Toppers OK?
We listed some possible homemade dog food toppers above, and for the most part, if a food is fine to give to dogs, it's probably fine to give as a topper.
Remember to consider how often you're going to be including a topper and account for the calories and fat involved. When it comes to diet, you may need to reduce the amount of regular food your dog eats to balance out their overall calorie intake when adding a topper.
Can I Feed My Dog Only Food Toppers?
Usually not. Most dog food toppers do not have sufficient nutritional content to completely replace your dog's normal food. While some do, the cost involved in expanding their use to provide all your dog's food would be too expensive for many pet owners. The only time we'd recommend this is if your dog won't eat enough calories otherwise.
How Often Are Dog Food Toppers Meant to Be Used?
Most dog food toppers are designed to be added to each of your dog's meals in a day, though serving recommendations vary depending on the product. Importantly, you should be sure to introduce food toppers gradually to ensure your dog doesn't have a sensitivity.
Final Thoughts
Responsible pet owners take the time to properly consider what goes in their pets' mouths. This is true for the all-important dog food discussion, and it extends to special items like dog food toppers. No one product is perfect for every pup, but for those considering adding a topper to their dog's food, it could be a perfect way to get your dog the nutrients they need.