The 9 Best Dog Water Fountains to Buy in 2023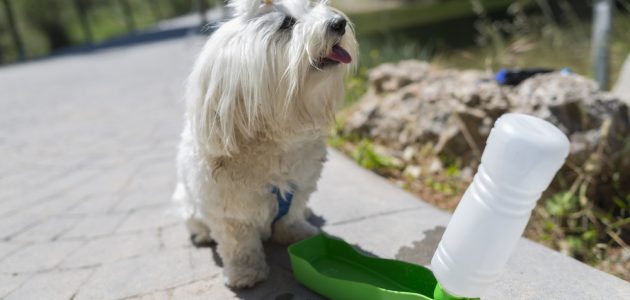 Everyone wants a dog — until they realize how hard it is to look after one. If you're reading this and you happen to be a chihuahua or a poodle, I mean that in the nicest way possible.
If you want to make your life easier by purchasing a cool gadget that will help you take care of your furry child, you should. And, since science is yet to invent a robot that will clean your dog's feces while you take care of cuddles and walks, a water fountain will have to do.
Despite their inability to help with toilet duties, the capabilities of our top best dog water fountain picks should pleasantly surprise you.
What You Need to Know About Dog Water Fountains
Before we dive into the best dog water fountains on the market now, let's explore the most vital info to know about these helpful devices.
What Are Dog Water Fountains?
Otherwise known as automatic waterers, dog water fountains are basically high-tech water bowls. Instead of you requiring you to top up your pet's water every few hours, water fountains store a significant supply of water and continuously top up the amount available to your dog. Smart, right?
So, you'll still need to add more water, but far less frequently. Perfect for anyone who leaves the house for long periods and worries about their pet dehydrating.
What to Look for in a Dog Water Fountain
The world of dog water fountains has produced some weird and wonderful options. It might be tempting to go for the biggest, shiniest item available, but keep these practical considerations in mind, too.
Type
The most basic factor to consider is how the fountain powers itself and releases water — by electricity or good, old-fashioned gravity. While this is a simple, straightforward option, it lacks a lot of extra features you and your dog may appreciate, like a controllable flow.
Most of the water fountains on the market are electric. This allows them to offer all kinds of fancy functions, like an adjustable flow and decorative lights.
But it's not all sunshine and rainbows. Electric fountains only work when you plug in their cords, which isn't always practical. Especially if your dog is prone to freaking out when you leave them home alone.
They can also be noisy, although some items have added features to make them quieter, like the Veken pet fountain.
Water Capacity
Most brands sell water fountains in a few different sizes. As common sense dictates, the bigger your dog, the bigger the fountain you need. Otherwise, you risk your chihuahua drowning in its hydration station, and nobody wants that.
Generally, smaller fountains store around 64 oz of water, medium options closer to 128 oz, and larger items 320 oz. If you're ready to do some math, you can find out how much capacity your pet requires now.
Materials
Not everyone cares about what their dog is drinking out of to the same extent they care about what goes into their pet's food. But maybe you should — many animals suffer from allergies, infections, and other irritations.
The majority of fountains out there are either plastic, stainless steel, or a mix of the two. Which should you choose?
Stainless steel is the more hygienic option; it's easy to sanitize in your dishwasher. Plastic is less ideal on a hygiene basis — but, unlike steel, it doesn't rust. If you do opt for plastic, make sure it's free of BPA to minimize your pet's exposure to microplastics.
Ease of Cleaning
You wanted a dog water fountain so you'd have one less chore to do, right? Either that or you just wanted to show off to your friends. Either way, don't make your life even harder by choosing something that's difficult to clean.
Fountains come in all shapes and sizes; not all of them lend themselves to easy cleaning. Avoid anything that has a narrow top you'd struggle to get your hand or cleaning equipment into, or you'll live to regret it. A few fountains come with helpful cleaning brushes, though.
Also, look out for parts you can put in the dishwasher. The best type of cleaning is automated cleaning done by a machine.
Flow Control
Many (electric) water fountains have pumps that let you adjust the flow of the water. This might sound pointless, but it has a few advantages.
Some pets like to drink water flowing fast or slowly. Some would call them divas, but we all have our preferences.
Another advantage of adjustable fountains is making the water flow slower and therefore quieter if the fast-moving water gets annoying. Some people find the sound of water falling soothing and relaxing, while it drives others crazy. We just hope you don't get into any heated arguments about it with your dog!
Tiers
The most basic dog water fountains look exactly like a normal dog bowl, but with a fountain added on top. Others are elevated above the ground or contain multiple tiers. Why, you ask?
If you have a few pets of different sizes, it's multi-tiered systems are well worth the investment. It's far more efficient than getting the same fountain in three different sizes.
In special cases — like an arthritic dog — you might also find that your pet needs to drink from an elevated level.
Filters
We've all heard the nightmare stories about arsenic and lead in our tap water. As far as we know, arsenic is also bad for dogs, so you don't want them to drink it if you can avoid it. It's not just nasty chemicals that you need to worry about, either — dog water bowls also tend to fill with hair, dirt, and just about everything else you can imagine.
Luckily some fountains kill two birds in one stone by filtering and circulating the water to remove all kinds of rubbish. But bear in mind filters require more expense and more cleaning.
Now, let's check out our reviews of the 9 best dog water fountains available.
Our Top Water Fountain Picks
Assuming you diligently read our guide, you'll probably have figured out there's a wide range of water fountains on the market. Depending on the size of your pet, your budget, and how important extra features are to you, your ideal water fountain will help you choose.
We've outlined the best choices for different priorities to help you choose.
Top 9 Best Dog Water Fountains 2023
Guide to Buying the Right Dog Water Fountain
You know the basics now. Still trying to narrow down which dog water fountain is the one for you? Or rather, for your dog?
Here's some more detailed information to help you choose.
Considering Your Budget
A dog water fountain is a considerable investment compared to buying a bowl for a few dollars from Walmart. It's worth the money to keep your pet hydrated, but there's no need to go overboard if you can't afford it.
It's tricky to make direct comparisons between the waterers since they all have different capacities and features, but you could end up paying anywhere between $10 and $60.
If your primary concern is hydration, you can get your hands on a gravity waterer for a very reasonable price. The Petmate Gravity Waterer is a prime example.
However, if you can afford better, why not give your pet everything they could ever wish for? The PetSafe Seaside Water Fountain is expensive but has more features.

Choosing the Right Size
There are fountains available that hold varying quantities of water, but it's all meaningless without answering one simple question. How much water will your dog actually drink?
That depends on how big your dog is. Dogs should drink up to 50 ml of water per kilogram of body weight.
That means the average 2kg chihuahua only needs 100ml a day, while an average 30kg dalmatian should drink 1.5l a day. So, you don't want to buy the wrong size!
For larger pets, the PetSafe water station is a great option, with a capacity of 320 oz (9.5 l).
If you have multiple pets, that's something else to consider.

Benefits and Drawbacks of Filters
On paper, it seems better to have a filter than no filter, given the choice. Clean water is always a good thing, right?
Well, not always. As you may have figured out already, filters are more than just an upfront financial investment. You'll need to clean them every couple of weeks or so. If you won't be able to put the time into this, it's probably better to have no filter at all.
Also, remember you must buy replacement filters regularly, too.
However, given you can look after your filter properly, they're a brilliant idea. Activated carbon filters absorb chemicals to purify the water, cotton filters out coarse particles and rust, and ion exchange resin filters reduce water hardness (the concentration of magnesium and calcium) to improve the taste.
The best filters on the list offer all these things. Dogs deserve yummy water, too!
Looking After Your Fountain
All the waterers in this article require some level of care and maintenance, but some need far more than others.
The advantage of gravity fountains isn't just their lower price, it's the lower level of maintenance involved with them.
Electric water fountains have various parts: power adaptors, pumps, impellers, stators, flow control dials, and more. Then you have to consider the parts involved with the filter and the fountain itself.
Every time you clean your water station, you must disassemble each item, and they all need to be cleaned except for the motor itself. Think you're up for it?
You should also have a think about where you're going to keep the fountain. Most are only suitable for indoor use unless they state otherwise. Also, consider putting a mat under your fountain — some come with one, but not all do.
Encouraging Your Pet to Use the Dog Water Fountain
It's important to bear in mind that not all pets immediately like water fountains. If this happens, don't panic that you've bought the wrong item or think you need to return it.
See it from your dog's perspective — all their life, they've been drinking from a familiar, unassuming water bowl. Then one day, you suddenly plonk some huge machine in front of them, that may spurt out water in a very different way or make a loud noise.
To ease the transition, it can help to use the lowest flow setting possible (if the flow is adjustable) or leave it unplugged for a while.
Comparing Different Flow Types
Some of the best fountains on the market offer different flow types to choose between. Amongst the most common are a gentle fountain that bubbles and circulates the water around, and a waterfall that drips the water down from the top to the ground.
If you've ever taken a dog for a walk in nature, you probably noticed they have a thing for drinking from streams. The water in these natural water sources flows in a circular motion, so it makes sense.
Even if you never let your dog leave the suburbs, you might have found your dog playing with water from a shower or garden hose. So, it makes sense that moving water is naturally appealing to animals.
Then again, a thirsty dog will drink anything. Even swamp water. So, take this with a grain of salt. You know your dog better than some company claiming all dogs prefer to drink from their fountain.
On another note, the sound of the waterfall is divisive among humans. Relaxing and soothing or tedious?

Considering Other Special Features
Flow type isn't the only feature you might be in two minds about. Some fountains on the list have an LED light, like the PETKIT water fountain.
In some ways, this makes sense. We give our kids nightlights, so why not our pets, too? Or, you might find the prospect ridiculous.
It turns out that dogs can be afraid of the dark — in fact, most are. Even though the darkness barely affects their eyesight, it often freaks them out. Well, they're only human — wait, hang on a minute.
If your dog has a serious fear of the night or the separation anxiety that comes with it, common-sense solutions like leaving the light on at night or letting your dog sleep near you might help. However, a night light can offer an extra layer of security and protection. Suit yourself.
Time to Decide on the Right Dog Water Fountain
You probably didn't click on this article thinking your dog needs an LED nightlight or a flower-shaped waterfall on their fountain. Now, you'll probably feel like you're cheating them if you don't provide it.
It's easy to get caught up in thinking about the many cool features available, but don't forget that the core purpose of a water fountain is to drink. Yes, it sounds obvious, but it's worth reminding yourself!
How much water does your dog drink each day? How big are they, and can they bend down comfortably to drink from a bowl close to the floor? Boring as they sound, these questions should be at the forefront of your mind.
Of course, once you have the basics covered, there's no harm in having some fun with it. Choose a fountain in your dog's favorite color. Buy a rug with a complementary pattern to stand it on. You have our blessing!