The 8 Best Doghouse Heaters to Buy in 2023
When winter rolls around and you find out that your furry friends aren't quite furry enough to keep them warm and cozy, you've probably thought about building a doghouse with climate control. While certainly an effective solution, though, it's not very practical. Thankfully, there's a better option: Install a heater in their existing doghouse or purchase one of the many affordable pre-built heated doghouses available.
When the pet industry realized the widespread need to keep dogs cozy in their outdoor shelters—indeed, even huskies, Saint Bernards, and Newfoundlands are vulnerable to hypothermia and frostbite in extreme temperatures—manufacturers stepped up.
What to Look for in a Doghouse Heater
Since there are now dozens of options to choose from, though, narrowing them down can pose a challenge. Fortunately, we're here to help. Here's what you should consider before checking out what's available.
Type
There are three main types of doghouse heaters, and the best one for you is largely a matter of personal preference. Existing dog houses can be heated either by a standalone heating unit or a heating pad, while those looking for a brand-new house can find several options on the market that come with built-in heating systems.
Safety
Safety is the single most important feature to consider when evaluating doghouse heaters. Your pets are part of the family, after all—there's a reason so many people lovingly refer to their pups as "fur babies"—and you don't want to install anything that might pose a hazard.
Efficiency
No one wants to spend an exorbitant amount of money heating their own home, let alone their dog's house. A heater's efficiency depends on a number of variables, including its power source, size, materials, controls, and cycling habits.
Adjustability
Some doghouse heaters run continuously, while others respond to adjustable thermostats, much like those you'd find in residential HVAC systems. Devices with adjustable controls are generally preferable because they won't run the risk of overheating the space. Overheating will not only make your dog uncomfortable but could also pose a fire hazard.
Capacity
The total square footage of the structure in question will determine the minimum heating power you'll need to keep your pets nice and cozy despite frigid temperatures. n general, an electric heater should be capable of heating one square foot per 10 watts. Some units are equipped to heat medium to large rooms that have a footprint of up to 400 square feet. Others are better suited for heating igloo-type houses that are no more than about 30 cubic feet. I
Durability
Once you invest in a doghouse heater, you'll want it to last. As such, it's important to find one that can withstand the elements. Depending on where you live, the device may have to run nonstop for weeks—or months—at a time.
After conducting extensive research, we've found the best doghouse heaters on the market so your pups will stay comfy and cozy all winter long.
Top 8 Best Doghouse Heaters 2023
Complete Guide to Doghouse Heaters
Determining how best to heat a doghouse can be daunting. After all, your best friend's health and safety are at stake. In addition to preventing life-threatening conditions like hypothermia, you need a device that won't cause electrocution or ignite in flames, no matter how rambunctious your pup might be. As such, it's important to do your research before purchasing any kind of heating component.
Once you're well-versed in the ins and outs of doghouse heaters, you can install the right unit for your needs with total peace of mind. For help getting started, here are the answers to some of the most frequently asked questions about this essential pet appliance.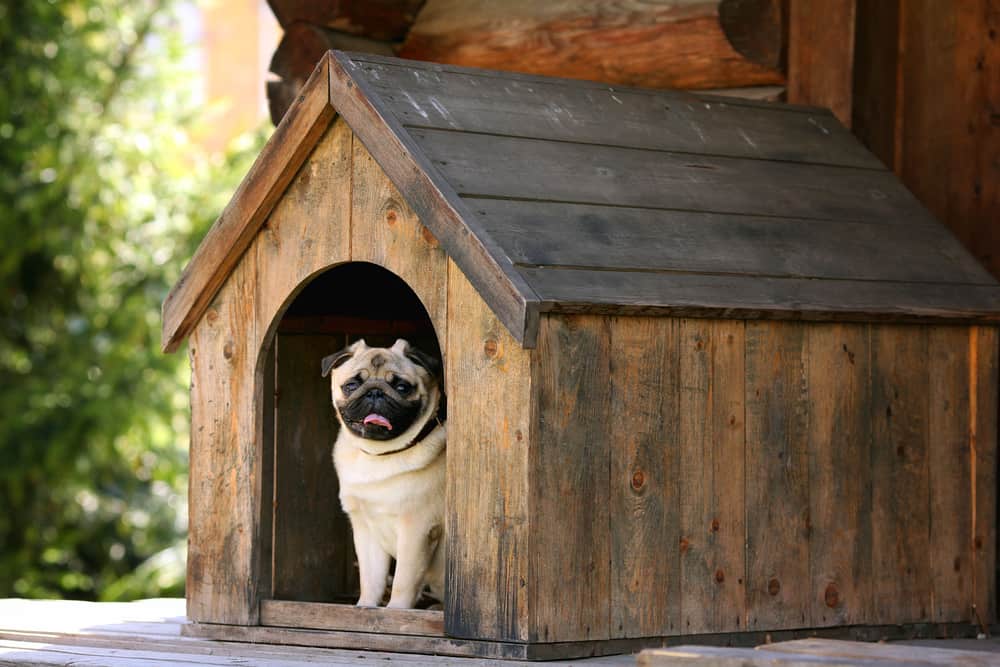 Do I Need a Heated Dog House?
If your dog spends any amount of time outdoors in the winter, chances are a heated dog house would increase their quality of life. Generally, dogs start to feel cold at about 50 degrees farenheit. In this weather, they'll appreciate a heated dog house—but at any temperature below that, a heated living space becomes a necessity. Temperatures below freezing will cause most dogs to seek shelter and can be dangerous in a few hours, while anything below around 20 degrees could harm your dog in just a few minutes.
What Are the Signs of Hypothermia in Dogs?
Even after installing a heating element in the doghouse, it's important to monitor your best friend closely for any signs of distress. If your dog's health is compromised—or the heating element malfunctions—hypothermia could strike. Since prompt intervention is essential for combatting hypothermia and ensuring a full recovery, all pet owners should familiarize themselves with the warning signs of hypothermia.
The earliest and most telling sign of a dangerous drop in body temperature is violent shivering or shaking. You may also notice pale skin on the belly or underneath the fur. Listlessness and lethargy will develop as body temperature drops further.
If you think your dog has hypothermia, bring him or her inside immediately, and place a heating pad or hot water bottle against his or her abdomen. Just make sure to wrap it in a towel first to avoid scalding the delicate skin.
While your dog warms up, put some towels or blankets in the dryer. After about 10 minutes, take them out, and remove the heating pad or hot water bottle. Wrap your dog in the towels or blankets, and then check his or her temperature. If it's below 98 degrees, head to the vet right away.
If it's at least 99 degrees, keep your dog warm, and check his or her temperature every 10 minutes. You can remove the blankets once the body temperature reaches 100 degrees, but continue monitoring your dog closely for any signs of distress, and keep checking the temperature every 10 minutes to confirm it's still rising. A dog's normal body temperature is between 101 and 102.5 degrees Fahrenheit.
Are Doghouse Heaters Safe?
Doghouse heaters are perfectly safe. As long as you install a unit that was designed specifically for outdoor use, your furry friend shouldn't be at risk of getting hurt. Just make sure the device is well out of reach if it's hot to the touch, like the Infrared Heat Emitter.
Likewise, make sure any power cords that will be accessible after installation are 100% chew-proof. From the Akoma Hound Heater to the K&H Heated Dog Bed, all the best doghouse heaters have steel-encased cords to keep ambitious chewers from getting electrocuted.
If an unanticipated cold snap occurs, you may be inclined to heat the doghouse using items from around the house until you can order something more appropriate. Whatever you do, though, don't improvise by using appliances like space heaters without auto-off technology, electric blankets, or heating pads. These kinds of devices were not made to withstand the demands of heating a doghouse, and they should never be left unattended.
Even when used indoors as instructed, malfunctioning space heaters are responsible for more than 25,000 house fires annually. An additional 500 house fires are caused by electric blankets and heating pads every year.
If you do use a heater that wasn't made specifically for dog houses, make sure that it doesn't get hot to the touch, includes an auto-off tip-protection sensor, and wrap the cord in a chew-proof protector before use.
Many powerful doghouse heaters can also be placed outside of the doghouse, further reducing the chances of any mishaps.
How Do You Maximize the Efficiency of a Doghouse Heater?
The products reviewed here are highly effective at keeping dogs warm in outdoor shelters in cold environments. To get the most out of the unit you end up installing, though, it's wise to take additional steps to maximize efficiency and heat retention. For example, if you'll be installing an overhead heater, start by lining the floor of the doghouse with hay.
Straw is an inexpensive and widely available material that retains heat while combatting moisture. Just make sure to change it often for optimal cleanliness and effectiveness. As hay absorbs moisture, it becomes less effective at retaining heat. Keep in mind that this approach is not recommended if you'll be using a floor heater or heated bed, as the close contact with the dry hay could pose a fire hazard.
Insulating the walls, windows, and doors of the doghouse will also increase the efficiency of any heating devices you install. Just make sure the insulation is out of reach because your dogs may be inclined to chew on it. For example, if you want to line the walls with foam, add a second wall over the foam layer to serve as a kind of protective barrier. Vinyl sheets or plywood panels are generally preferred as they're durable, affordable, and easy to install.
No matter what precautions you take, a heater can only be as efficient as its design allows, so in addition to following the above advice it might be wise to choose an exceptionally-efficient heater like the BYB Ceramic Infrared Heat Emitter.
How Can I Heat a Doghouse Without Electricity?
If using electricity to heat your doghouse is not an option, there are a number of alternatives worth considering. Naturally, the best approach will depend on your dog's needs, the configuration of the structure, and your total budget. Some of the most viable strategies include:
Sealing doors, patching holes, and weather-stripping windows
Spreading pine or cedar shavings across the floor before laying down thick bedding
Elevating the floor so it won't be in direct contact with the frozen ground;
Placing the structure in direct sunlight and orienting the largest sides toward the sun so they can absorb as much heat as possible during the daytime
Painting the doghouse a dark color, like black or blue
Piping in warm air from your own home through dryer ducts
Installing solar panels on the roof to power adaptable heating units without having to funnel electricity from your home
Many of these ideas can be done in conjunction with the products on this list—but be careful not to introduce any flammable materials line wood shavings if you're combining strategies.
Don't Leave Your Best Friend in the Cold
Just because your dogs have a thick coat of fur doesn't mean they can withstand low temperatures for extended periods of time. If you live in a climate where it gets chilly, purchasing a doghouse heater will be a sound investment in your pup's health, wellness, and continued comfort—not to mention your own peace of mind.